Pebble Beach Tour d'Elegance Brings Show Cars To Life
As one of humanity's greatest inventions, the automobile has been cherished throughout its existence by generations of people the world over. More than simply a means for moving from place to place, the automobile has become a status symbol, an outlet for passion and for many, a way of life. No where is this more evident than at classic car events, when vehicles representing all eras of automobile history come together in celebration of their storied past. The Monterey Classic Car Week is North America's greatest reunion of classic cars, with the Pebble Beach Concours d'Elegance acting as the grand finale to this week of intense and joyous activity. Yet while the Concours celebrates the ultimate preservation of these historic vehicles, it is the Concours' road tour that highlights the magnificence of the automobile in motion. The Pebble Beach Tour d'Elegance presented by Rolex Created in 1998, the Pebble Beach Tour d'Elegance welcomes participating Concours cars on a driving tour of Monterey's most famous roads. Rolex is proud to be the Title Sponsor of the Pebble Beach Tour d'Elegance, an event that displays some of the world's most elite cars as their creators had originally intended: in action. There is nothing like gunning the engine to bring these mechanical works of art to life, proof that these beauties are more than something simply to behold.
Led by police escort this morning, the participating cars puttered, purred, rumbled and roared across the start line, past the Pebble Beach Lodge and on to the famous 17-Mile Drive to mark the beginning of the 15th edition of this classic road outing. Passing through the region's valleys, hills, forests and dramatic cliff sides, the cars took breaks from driving to gather at Tehama Monterra properties and on Ocean Avenue for public display. Following lunch for participants in Devendorf Park, the cars returned to Pebble Beach for a champagne finish. A special Tour ribbon is awarded to every vehicle upon completion of the Tour, to be displayed on Concours Sunday when the Pebble Beach judges begin their selection of class winners. The Tour and Concours are directly linked in this regard: if two vehicles tie in class competition at the Concours, it is the vehicle that has completed the Tour that ultimately 'steals the show'. The union of these two complementary Pebble Beach events allow participating vehicles, owners and drivers to truly demonstrate their commitment to excellence and their passion for motor history. Having already proven their driving merits in the Tour d'Elegance presented by Rolex, this year's participants now ready themselves for their next great challenge: Sunday's Concours event, where they will be judged for historical accuracy, technical merit, style and elegance. Title Sponsor of the Pebble Beach Tour d'Elegance since 2007, and Official Timepiece of the Concours since 1997, Rolex is proud to present two events that, in combination with the Rolex Monterey Motorsports Reunion, represent the ultimate in car collector passion during Monterey's Classic Car Week. About Rolex Leading brand of the Swiss watch industry, Rolex, headquartered in Geneva, enjoys an unrivalled reputation for quality and expertise the world over. Its OYSTER watches, all certified as chronometers for their precision, are symbols of excellence, performance and prestige. Pioneer in the development of the wristwatch as early as 1905, the brand is at the origin of numerous major watchmaking innovations, such as the OYSTER, the first waterproof wristwatch, launched in 1926, and the PERPETUAL rotor self-winding mechanism introduced in 1931. Rolex has registered over 400 patents in the course of its history. A truly integrated manufacturing company, Rolex designs, develops and produces in-house all the essential components of its watches, from the casting of the gold alloys to the machining, crafting, assembly and finishing of the movement, case, dial and bracelet. Rolex is also actively involved in supporting the arts, sports, the spirit of enterprise, and the environment through a broad palette of sponsoring activities as well as philanthropic and patronage programmes.
Recent Articles
Tom Fritz Creates The 19Th Annual Amelia Island Concours D'elegance PosterThe posters for the Amelia Island Concours d'Elegance have become collectible car art and the 2014 edition is no exception. Today the Concours revealed that the 19thannual event poster was created by famed hot rod artist Tom Fritz and honors Jochen Mass on the 25th anniversary of his victory in the 1989 24 Hours of Le Mans driving his Mercedes-Benz Sauber C9. The beautiful piece takes creative cues from the first Amelia poster in 1996, well-known for honoring the record-setting drive of Sir Stir....
1958 FERRARI 250 GT LWB CALIFORNIA SPIDER STARS AT RM'S 15TH ANNUAL ARIZONA SALE• RM Auctions announces latest highlights for its two-day Arizona auction, January 16 – 17 in Phoenix, led by a highly prized 1958 Ferrari 250 GT LWB California Spider
• Most recent blue-chip entries join a spectacular roster of more than 120 handpicked automobiles for the sale at the beautiful Arizona Biltmore Resort & Spa
• Frequently updated list of entries available online at www.rmauctions.com

BLENHEIM, Ontario (December 10, 2013) – RM Auctions, the world's largest auctio....
Maserati Celebrates 100th Anniversary as Featured Marque of the Rolex Monterey Motorsports ReunionAugust 14-17 at Mazda Raceway
MONTEREY, Calif., December 10, 2013 — The Rolex Monterey Motorsports Reunion will celebrate the rich 100-year history of Maserati, one of Italy's iconic luxury sports car brands that throughout the century has been deeply rooted in racing. The celebration will be held August 14-17, 2014 at Mazda Raceway Laguna Seca.

The Monterey Classic Car Week and Rolex Monterey Motorsports Reunion is a haven for international classic car enthusiasts. Centered a....
Car Expert Hans Wurl Joins Gooding & Company's Team of Classic Automobile SpecialistsSANTA MONICA, Calif. (December 9, 2013) – Gooding & Company, the official auction house of the Pebble Beach Concours d'Elegance®, is expanding its existing team with the addition of Hans Wurl, a well-known classic car specialist with a strong technical background. Wurl has served as advisor to noted collectors and participated in some of the best collector car events around the world. Based in Seattle, Wurl joins Gooding & Company's team of respected automotive specialists David Brynan,....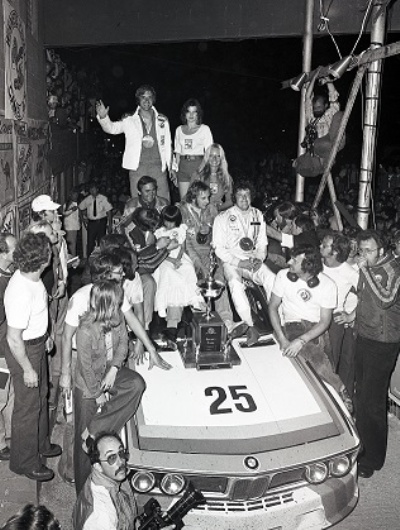 BMW's 'BATMOBILES' SET FOR 19th ANNUAL AMELIA CONCOURSScheduled to appear in the 19th Annual Amelia Concours' BMW 3.0 CSL 'batmobile class' are not only the 1975 Sebring 12 Hour and '76 Daytona 24 winners, but Alexander Calder's 1975 Le Mans 3.0 CSL with his trademark signature on the left rear fender.

BMW's 'Batmobile' racers were glorious mutants. They arrived from Europe wearing a frosting of giant wings, huge fender boxes and big spoilers, all powered by a 430 hp straight-six engine that made a glorious noise and propelled BMW's luxury cou....
2014 Ferrari LaFerrari
---
2013 Aston Martin Vanquish Volante Neiman Marcus Edition
---
2013 BMW Concept M4 Coupe
---
2013 BMW Zagato Roadster
---
2013 Bugatti Veyron Grand Sport Vitesse Legend Jean-Pierre Wimille
---
2013 Bugatti Veyron Jean Bugatti
---
2013 Dodge Viper GTS Launch Edition
---
2013 Ford GTR1
---
2013 Laraki Epitome Concept
---
2013 McLaren MP4-12C Can-Am Edition Racing Concept
---