TIMES ARE SET, GRIDS ARE FORMED
Even though the Rolex Monterey Motorsports Reunion is feverishly busy celebrating Shelby Cobra's 50th Anniversary, it is simultaneously revealing the rich heritage of historic automobile racing as a whole with 17 different period-specific race groups running the road course at Monterey, California's Mazda Raceway Laguna Seca. The event, in its second day of well-attended qualifying rounds, will swell with even more spectators come tomorrow, when weekend competition begins and the natural rhythm of Monterey Peninsula's Classic Car Week swings attention from today's champagne receptions at The Quail, A Motorsports Gathering to the only driving-at-speed event in Car Week's richly-stocked smorgasbord of offerings for vintage automobile lovers. While serving in Europe during WWII, many American soldiers learned to appreciate the two-seat roadsters they saw there. As they returned home, they began importing one of the especially coveted makes, the legendary MG, thus setting alight the sports car craze in America. It is in the Rolex Monterey Motorsports Reunion Pre-1940 Sports & Touring Car group that Peter Thelander (Orange County, Calif.) will drive his 1934 MG NE Tourist Trophy Magnette. He and his wife Frances embody the love of MG sport cars having 'raised their family' on MG T series cars, MGAs and MGBs. 'This car is one of seven that was specially made for the 1934 Irish Tourist Trophy Race,' said Thelander. 'MG won the race in 1933 with the MGK3, which had a supercharger, but superchargers were banned for 1934, so the company had to quickly come up with a car to compete that year. This car is one of them. For 70 years old, it handles very well around this course.' The modern era of Formula 1 began in 1950, and great names like Ferrari, Alfa Romeo, Maserati, Cooper and Talbot Lago were the marques of the day. At this year's Rolex Monterey Motorsports Reunion, several cherished cars from this period occupy the field in the group for 1927-1951 Racing Cars. One of them is the pristine 1949 Talbot Lago T26 owned by David Duthu (Houston, TX). It is the very last of the Talbot Lago Grand Prix cars to be built, totally restored and with an extensive racing history.
'It was a factory team car in 1950 when the company went into receivership, and after the South American Grand Prix, all the cars were sold off,' said Duthu. 'That year, Juan Manuel Fangio and José Froilán González drove this car and another Talbot Lago car, and what is interesting about that is nobody knows which one drove which car.' Duthu, who also has a 1956 Jomar Mark II entered in the group for 1955-1961 Sports Racing Cars under 2000cc, is typical of the owner and drivers here who not only relish the past, especially relative to their own car collection acquisitions, but also live for the present where it is considered an honor to give an old car new racing life. 'I've had this car for four years and it has been wonderful,' said Duthu. 'The car is quite agile, and I think of it as an elegant driving car due to its long wheel base. It's not quirky or darty, so you can actually work the car beautifully, put it into a nice drift and hold that drift while keeping up the power and then power out of the turn, which makes it so much fun to drive.' Duthu added that his Talbot Lago has a lot of torque, is normally aspirated, and even though it is heavy at over 2,000 pounds, it is very well balanced. The engine has two spark plugs per cylinder and develops 280 horsepower at 5,000 RPMs. It also has a Wilson pre-selector four speed gearbox and aircraft magnetos. 'Driving here at Mazda Raceway Laguna Seca is fun, but I can really feel it in my shoulders today after driving this car through all the twists and turns of this circuit,' said Duthu. In its day, Formula Atlantic was the stepping stone for any driver whose desire was to race Indy cars or Formula 1. Names like Bobby Rahal, Gilles Villeneuve and Keke Rosberg were the star drivers of the day and just a few of the many who had successes in major league racing after a period of time in Formula Atlantic. The fastest driver on Thursday and Friday in the Rolex Monterey Motorsports Reunion's group for Formula Atlantic Cars was Wade Carter III (Seattle, Wash.) with his 1976 March Formula Atlantic. 'We're fastest in both practice and qualifying sessions; therefore, so far, so good,' said Carter. 'The car has been a dream to drive, so hopefully we will be able to keep it up front for the rest of the weekend. In its day, the March chassis was a front runner, always one of the fastest cars in the field. What I can tell you now is the car is a delight to drive, and I have a smile on my face every time I hop out of it. As for the Rolex Monterey Motorsports Reunion, this is the event we look forward to all year; this is the best event going.' Carter's Crew Chief Pierre Phillips has been involved in race preparation for Formula Atlantics since the series began in the early 1970s. 'It's really kind of gut wrenching to see all these beautifully turned out Formula Atlantic cars racing today in vintage race events; it brings back so many wonderful memories for me. The cars all look great, and the top cars are really flying.' So while 18 Cobras from the Rolex Monterey Motorsports Reunion today motored on their 'Quail Run' to share their classic brilliance with those attending The Quail Lodge events, several hundred more Cobras stayed behind to be enjoyed by Reunion goers in the paddock and corral areas at the raceway. And even if these, too, had left, there would have been no shortage of other magnificent historic automobiles to admire. For more information on the Rolex Monterey Motorsports Reunion, visit www.MazdaRaceway.com.
Recent Articles
SZYMCZAK TAKES MAZDA MX-5 CUP RACE ONE AT MAZDA RACEWAYMONTEREY, Calif. (May 10, 2013) – Christian Szymczak, of Palos Verdes, Calif., won Round Three of the SCCA Pro Racing Playboy Mazda MX-5 Cup doubleheader at Mazda Raceway Laguna Seca. Elliott Skeer, of Carlsbad, Calif., crossed the line in second, followed by John Dean, of Sebring, Fla.

Szymczak, in the No. 34 ALARA Racing MX-5, set himself up for a clean sweep at the 11-Turn, 2.238-mile Mazda Raceway, with a 9.5-second gap. Szymczak was the fastest in qualifying and each of the practi....
SNOW CLAIMS RACE ONE VICTORY AND FOURTH CONSECUTIVE POLE AT MAZDA RACEWAY LAGUNA SECAMonterey, Calif., (May 10, 2013) - The first race of the IMSA GT3 Cup Challenge by Yokohama at the American Le Mans Monterey presented by Patrón got off to an exciting start this afternoon as the green flag dropped on the 24-car field, and incident on the first lap of competition immediately put a new 'spin' on the action.

There was an immediate full course caution as the car No. 20 of Effort Racing's Sloan Urry apparently dropped two wheels off track exiting Turn 2 and made contact with the....
PORSCHE ON FRONT ROW IN ALMS GT QUALIFYING FOR SECOND CONSECUTIVE EVENTNew Long/Core Porsche and Sellers/Team Falken Tire Porsche 2nd and 3rd

Monterey, Calif. - Patrick Long (USA) took the new CORE autosport team Porsche 911 GT3 RSR onto the front row of the grid in qualifying for tomorrow's American Le Mans Series race at Mazda Raceway Laguna Seca.

Long, who will share the Porsche with British driver Tom Kimber-Smith, finished less than a tenth of a second off the time of the pole-sitting Ferrari, was enthusiastic as he spoke about the effort of the whole ....
BMW TEAM RLL QUALIFIES 5TH AND 8TH FOR ALMS MONTEREYWoodcliff Lake, N.J. – May 10, 2013 . . . BMW Team RLL will start in the fifth and eighth positions in tomorrow's four-hour American Le Mans Monterey race at Laguna Seca, the third round of the 2013 American Le Mans Series.

Maxime Martin, driving the No. 55 Z4 GTE, set his quickest time in this afternoon's 15-minute qualifying session on his seventh lap of the 2.238-mile, 11-turn circuit. His lap of 1:22.990 minutes was only 0.258 seconds from the class pole time. Class co-leaders in D....
SPANISH GP - FIRST DOUBLE PODIUM OF THE YEARMontmelo, 12 May – The Spanish crowd got what they wanted today at the Catalunya circuit, as Fernando Alonso drove brilliantly to secure his first win here in Barcelona since 2006. Adding to the delight in the Prancing Horse garage, Felipe Massa made sure that two Ferrari drivers were on the podium for the first time this season with a fantastic drive from a grid-penalised ninth place to third at the end of the 66 laps. Splitting the two men in red was the Flying Finn, Kimi Raikkonen. The....
RED BULL IS FOURTH AND FIFTH AS ALONSO REIGNS IN SPAINSebastian Vettel retained his lead in the fight for the Formula One Drivers' Championship with fourth place at the Spanish Grand Prix, while Mark Webber improved from seventh at the start to a well-deserved fifth place.

After qualifying third, Seb made a great start to pass Lewis Hamilton for second place and set about chasing down pole winner and leader Nico Rosberg. However, in his first stop Sebastian lost his position to Alonso and dropped back. Alonso soon passed Rosberg for the lead and....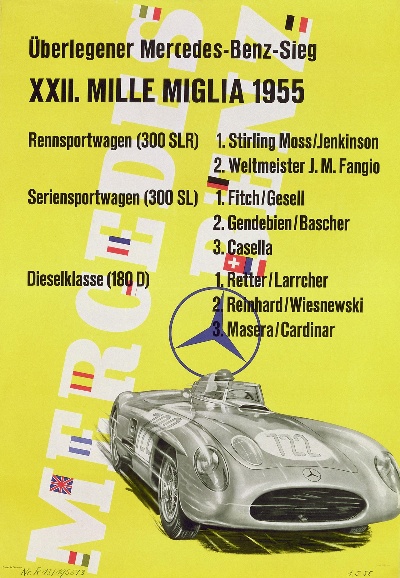 MILLE MIGLIA: MERCEDES-BENZ AS MAIN AUTOMOTIVE SPONSOR- Green light given for long-term partnership
- Another brand ambassador at Mille Miglia 2013: Marcel Tiemann

Mercedes-Benz is the main automotive sponsor of Mille Miglia. The corresponding agreement was reached between Mercedes-Benz Classic and 1000 Miglia S.R.L. in Brescia (Italy), with the aim of establishing a long-term collaboration. Mercedes-Benz Classic will be represented at this year's event with a number of vehicles, as well as five famous faces taking up their position at the star....
BMW TEAM RLL FINISHES THIRD AT ALMS MONTEREY; MÜLLER TAKES GT DRIVER POINTS LEADWoodcliff Lake, N.J. – May 11, 2013 . . . Dirk Müller and John Edwards, driving the No. 56 BMW Z4 GTE, scored a third place finish in today's four-hour American Le Mans Monterey race. A second consecutive podium finish for the No. 56 machine and a win for the No. 55 car at Long Beach in only the third race of the new program keeps BMW in second place in the GT class manufacturer point standings and moves Müller to the top of the GT class driver points.

Müller started the car from the ....
2013 Z4 GTE BMW
---
2013 CX-5 Mazda
---
2013 W04 Mercedes-Benz
---
2012 MP4-27 McLaren
---
2012 DTM AMG C-Coupé Mercedes-Benz
---
2012 W03 Mercedes-Benz
---
2011 R18 TDI Audi
---
2011 R8 LMS Audi
---
2011 GranCabrio Sport Maserati
---
2011 W02 Silver Arrow Mercedes-Benz
---
blog comments powered by

Disqus