Rolex Monterey Motorsports Reunion : Cobras Take It To The Limit
Today was the day everyone was waiting for, or at least the 30 or so thousand people flocking to the Rolex Monterey Motorsports Reunion were waiting for it: the chance to see 45 competition Shelby Cobras charging around California's famously challenging 2.238-mile road course known as Mazda Raceway Laguna Seca. The Cobras are part of the Reunion's celebration of the Shelby Cobra's 50thAnniversary, and besides those signed up for racing, there were hundreds more in the paddock, surrounding corrals, and even in a museum-quality Heritage Display, not to mention those driving the streets in Monterey these past few days as their owners went to and from Classic Car Week's concours events, tours, car shows and auctions that are now signature around the world as among the finest in the automotive world. The featured Cobra race was one of nine official Rolex Races held after lunchtime today, and it had to be the most watched, running chills up spines with the rage of roaring engines made more intense at the wave of the green flag by celebrity starter Edsel Ford II. It was billed as a tribute race to honor the Cobra's originator Carroll Shelby, who had planned to be here, but, sadly, died in May of this year at the age of 89. For Jim Click, who drove his 1964 Cobra 289 to win, that poignant fact made his victory a significant moment in time. Back in the paddock, celebrating with his crew and race fans who had surrounded his car, he said, 'I knew Carroll Shelby; he did so much for racing and for Ford, so it is an honor for me to have won this race for Mr. Shelby. This is the biggest win of my life.' Click explained that he started third on the grid today, but the second-place car broke down. 'I was chasing car #81 (also a 1964 Cobra 289) for the lead, and I knew I was faster going through the turns; he is a really good driver, but he finally made a bit of a mistake exiting a corner, so I was there to take advantage,' said Click. Race day drama was heightened when a rare Daytona Coupe suddenly wound up off-track as well with apparent damage to its front end. The Coupe, one of only six ever built, had held a seemingly comfortable third-place position for the first half of the 20-minute race. At the Rolex Driver's Club, which allows a birds-eye view of the 'Andretti Hairpin' turn 2 and the short straights leading into and exiting turn 3, the atmosphere could not have been more electric, and after the checkered flag, the reverence of fellow drivers from the 16 other classes here was made clear as the Cobra's slowed their pace to loud cheers and waving caps in recognition of their collective accomplishment. For Charles Firmenich (Geneva, Switzerland), racing his 1965 Cobra in the race was less about winning and more about gaining experience. 'I've had this car for two years, but this is my first year of racing,' said Firmenich, adding that he has 20 years experience doing track days with car clubs. 'I have been itching for a long time to do some actual racing, so when I got this Cobra I felt the time had come. I raced this car at the Le Mans Classic this year and at first it was horrible, because in the rain in a car like this it is frightening, but after a while I got used to it. I have never been to Mazda Raceway Laguna Seca before, and I find it very challenging because it has so many different shapes and turns. We have a few tracks in Europe that are also fast and technical, but this one is special. As a Swiss citizen it is great for me to see a Swiss company, Rolex, promoting motor racing around the world and especially vintage racing because it has become so popular in Europe as much as it has in America.'

Just prior to the race, 169 Cobras thrilled the crowds with yet another screaming salute to Carroll Shelby in 'Parade Laps' that converged 50 original Shelby Cobras (2000s and 3000s) with 25 continuations (4000s and 6000s that were built by Shelby American with Carroll Shelby's blessing 20 years after the originals), 19 replicas of the Cobra Daytona Coupe (the lead car of which the Coupe's designer Peter Brock had command) and 75 more Cobra replicas. The Nor Cal Shelby Club was behind growing its typically 75-car Cobra Corral at this event to 315 in this special year when Cobra was made the Rolex Monterey Motorsports Reunion's special marque. 'We pulled it off despite ourselves,' chuckled Orion Felles (Redwood, Calif.), secretary of the club. 'I'm glad we could put on a good show and that it was so appreciated. And the drivers, when they found out about the parade, some of them came because Mazda Raceway Laguna Seca is world-famous, and they said, 'We want to do this track!'' As if the race and the parade were not enough, Ford's Shelby Cobra Heritage Display—a giant tented attraction at the center of the race paddock--featured Cobra serial number CSX2001, the very first production Cobra built, among its 12 historically fascinating Cobras that, with the help of story boards, mapped the heritage of the iconic marque. It is owned by Bruce Meyer (Los Angeles, CA), who like most car collectors, strives for the most unique and rare machines he can find and will show the Cobra at the Pebble Beach Concours d'Elegance on Sunday. 'We have been fortunate to have cars worthy of the lawn,' said Meyer, 'and I feel that I am just a caretaker of these cars, since none of us can take them with us; it's a real privilege.' Meyer explained that Cobra #1 was assembled in Pittsburgh and did all the East Coast auto shows. It then went off to Le Mans at the end of 1963 to race there in 1964. After Le Mans it went to Ford Racing of Europe and raced throughout Europe. 'It's a very significant car, since it is the very first one and also the first Cobra taken to Europe to race. Loyd Lucky Casner was a close friend of Carroll Shelby and bought this car to race at Le Mans with co-driver Jean Louis Vincent. Vincent bought the car from Casner after Le Mans and raced it in the Tour de France and it became the only Cobra to ever race that event.' Meyer's collection runs the gamut from Duisenbergs to dragsters to hot rods to Bonneville cars, but he has always been interested in performance cars. 'I have the first Corvette to race at Le Mans and the last production Porsche (a 935) to win overall there…I think I will bring the 935 Porsche here to the Rolex Monterey Motorsports Reunion next year to race. I don't do a lot of wheel-to-wheel racing, but I do a lot of track days because it suits my schedule better.' Meyer was appreciative of all around him at Classic Car Week, including Rolex's involvement as a sponsor here as well as at Pebble Beach Concours d'Elegance; Pebble Beach Tour d'Elegance presented by Rolex; and The Quail, A Motorsports Gathering. 'I want to say that I am delighted that Rolex is part of all this, because Rolex and automobiles are just the perfect pairing, like the perfect pairings of fine wine. So many car collectors appreciate fine time pieces and Rolex is the one most people associate with exquisite automobiles, for me it's a privilege to participate in these events.' For more information on the Rolex Monterey Motorsports Reunion, visit www.MazdaRaceway.com
Recent Articles
Esteemed Pray Collection To Headline RM's 16Th Annual Amelia Island Sale• RM Auctions announces exceptional estate collection of Malcolm S. Pray Jr. for its 16th annual Amelia Island sale, March 8
• Renowned businessman and philanthropist's collection features no less than 17 automobiles, headlined by a 1937 Delahaye 135 Competition Court Roadster by Figoni et Falaschi that he owned for half a century
• Held in conjunction with the famed Amelia Island Concours d'Elegance, RM's well-established single-day sale will feature a roster of more than 80 blue-chip motor c....
Concours d'Elegance of America Names New ChairmanConcours d'Elegance of America at St John's names Larry Moss Chairman of the Board of Directors and Event Chairman

Troy, MI-December 17, 2013. The Concours d'Elegance of America Board of Directors is pleased to announce that Larry Moss has been appointed Chairman of the Board and Event Chairman for 2014.

Moss has a long history with the Concours. He served as Event Chairman of the Meadow Brook Concours in 1999 and 2000. He was Chairman of the Car Selection Committee from 200....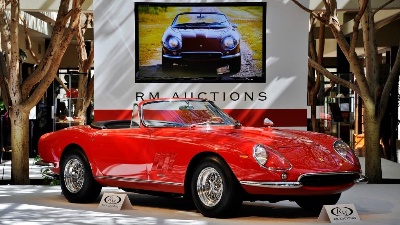 RM Group of Companies Celebrates Record-Setting 2013 With $442 Million in Sales and 'Best of Show' at Pebble Beach• RM group of companies, including RM Auctions and Auctions America, realizes an outstanding $442 million in auction sales in 2013
• RM Auctions secures 78 individual million-dollar-plus transactions and redefines the high-end collector car auction experience with record Monterey and New York sales
• Auctions America expands national footprint with highly successful California debut and live broadcasts on NBC Sports Network
• RM Auto Restoration confirms status as world's premier restorati....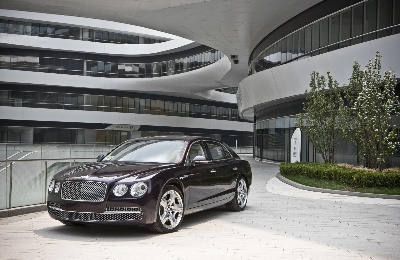 2013 Bentley News HighlightsBentley SUV confirmed
• Three new models unveiled
• Strong sales growth through first three quarters of 2013
• Company returns to motorsport with Continental GT3

(Crewe, England. 17 December 2013) 2013 has been a year of key landmarks and achievements for Bentley and its customers.

The company confirmed it will build the world's fastest and most luxurious SUV at its Crewe headquarters, creating a further 1,000 jobs at Bentley and its suppliers, as well as taking Bentley d....
Tom Fritz Creates The 19Th Annual Amelia Island Concours D'elegance PosterThe posters for the Amelia Island Concours d'Elegance have become collectible car art and the 2014 edition is no exception. Today the Concours revealed that the 19thannual event poster was created by famed hot rod artist Tom Fritz and honors Jochen Mass on the 25th anniversary of his victory in the 1989 24 Hours of Le Mans driving his Mercedes-Benz Sauber C9. The beautiful piece takes creative cues from the first Amelia poster in 1996, well-known for honoring the record-setting drive of Sir Stir....
2014 Ferrari LaFerrari
---
2014 Ford Mustang U.S. Air Force Thunderbirds
---
2013 Aston Martin Vanquish Volante Neiman Marcus Edition
---
2013 BMW Concept M4 Coupe
---
2013 BMW Zagato Roadster
---
2013 Bugatti Veyron Grand Sport Vitesse Legend Jean-Pierre Wimille
---
2013 Bugatti Veyron Jean Bugatti
---
2013 Dodge Viper GTS Launch Edition
---
2013 Ford 1000 S/C
---
2013 Ford GT500 Super Snake Wide Body
---