Jaguar Celebrates The Launch Of Its Most Exclusive Production Jaguar, The XJL Ultimate, At Private Event Hosted With Playboy Magazine
Jaguar turned up the heat on automotive enthusiasts in Pebble Beach last night at an exclusive reception with Playboy Magazine to celebrate the debut of the XJL Ultimate, Jaguar's most luxurious sedan. The XJL Ultimate was shown for the first time in the United States earlier in the day at The Quail, a Motorsport Gathering during the Pebble Beach Automotive Weekend. The VIP Jaguar Playboy evening celebrated the Jaguar brand in high style with live music at a private estate in Pebble Beach, Calif. Joining Jaguar to launch the new XJL Ultimate were singer, producer and humanitarian, Wyclef Jean; guitarist for the Cult, Billy Duffy; Emmy- nominated actress Christina Hendricks; and Oscar-winning actor Adrien Brody. Other vehicles on display were the 185 MPH Jaguar XKR-S Coupe (Playboy's 2012 Car of the Year) and the red 1963 Jaguar E-Type, which was prominently featured on AMC's Mad Men this season. Many will recall Hendricks' character, Joan Holloway, asking Don Draper, 'Oh honey, what's that?' as she approached the eye- catching iconic E-Type. When Hendricks first saw the new Jaguar XJL Ultimate on display at the reception she said, 'The XJL Ultimate is a car you don't want to get out of - you'll never want to call shot gun in that car.' 'Jaguar and Playboy set out to create something new, a private fun evening to get the Pebble Beach Automotive Weekend going and to showcase the new Jaguar XJL Ultimate,' said David Pryor, Brand Vice President, Jaguar North America. 'The evening brought automotive aficionados and friends of Playboy and Jaguar together, without all the crowds and sales pitches experienced the rest of the weekend. Owners of Jaguar cars like an upscale, but relaxed and fun environment, and that is what we created with Playboy for this event.'
The Jaguar XJL Ultimate captures the essential Jaguar design elements of elegance, muscularity, sleekness and strength. The model, in a full size luxury sedan featuring bespoke British craftsmanship, boasts a lightweight aluminum construction that provides benefits in terms of emissions and fuel consumption, allowing the XJL Ultimate to provide astonishing performance with respectable efficiency. The Jaguar XJL Ultimate offers appointments usually found in a private jet, extending the car's appeal to provide a fully-appointed luxury business class experience. Features include a rear seat business table that elevates at the touch of a button, a rear center illuminated chiller box, and bespoke beverage flutes available in a dedicated storage area beneath the powered table. The XJL Ultimate is priced at $155,000* and will have production exclusivity, with only 30 models to be made available in the U.S. in the bespoke color of Black Amethyst. About Jaguar Jaguar Cars Limited is a premier manufacturer of luxury sedans and sports cars offering unparalleled design with tremendous performance. The company's vision throughout its storied history has been simple: To produce beautiful, fast cars that are desired the world over. Jaguar strives to provide a world class ownership experience to every owner. Today's Jaguar lineup consists of the XJ luxury sedan, XF sports sedan and the XK coupe and convertible sports cars. Jaguar designs, engineers and manufactures exclusively in the United Kingdom, at the Castle Bromwich manufacturing plant in the British Midlands. Jaguar is fully engaged with sustainability initiatives and social concerns with continuous involvement in environmental and community programs. About Jaguar Land Rover North America, LLC Jaguar Land Rover is a business built around two great British car brands that are designed, engineered and manufactured in the United Kingdom. Jaguar Cars Limited, founded in 1922, is one of the world's premier manufacturers of luxury sedans and sports cars. Since 1948, Land Rover has been manufacturing authentic 4x4s that define 'breadth of capability' in their segments. Jaguar manufactures all their cars exclusively in the United Kingdom, at the Castle Bromwich manufacturing plant in the British Midlands. Land Rover and Range Rover models are built in the United Kingdom at the Solihull and Halewood plants. Land Rover exports to 169 countries and Jaguar exports to 63 countries, with global sales for both brands exceeding 240,000 vehicles annually. The Jaguar Land Rover business employs 16,000 people in United Kingdom, including 3,500 engineers at two product development centers. Headquartered in Mahwah, New Jersey in the United States, Jaguar Land Rover North America, LLC has offices across the USA and Canada and is represented by more than 330 retail outlets. About Playboy Enterprises, Inc. Playboy is one of the most recognized and popular consumer brands in the world. Playboy Enterprises, Inc. is a media and lifestyle company that markets the brand through a wide range of media properties and licensing initiatives. The company publishes Playboy magazine in the United States and abroad and creates content for distribution via television networks, websites, mobile platforms and radio. Through licensing agreements, the Playboy brand appears on a wide range of consumer products in more than 150 countries as well as retail stores and entertainment venues.
Recent Articles
Italian Sports And Racing Exotics Head To RM's Eagerly Anticipated Monterey Sale• RM Auctions announces stunning early roster of blue-chip Italian exotics for its flagship Monterey sale, August 16–17 in California
• No less than 21 Ferraris already consigned alongside two spectacular Maseratis
• Eight Ferraris offered without reserve from the Estate of William H. Tilley
• Additional early highlights include a fabulous 1931 Duesenberg Model SJ Murphy Convertible Coupe and a 1935 Hispano-Suiza K6 Brandone Cabriolet
• Frequently updated list of entries available online a....
McLAREN AUTOMOTIVE RETURNS TO SALON PRIVÉ AS PART OF 50-YEARS ANNIVERSARY CELEBRATIONSSalon Privé 2013: from Wednesday to Friday the 4th to 6th September

Syon Park, London, 20 May 2013 – Salon Privé is delighted to confirm McLaren Automotive will be returning this September as part the marque's 50-years anniversary celebrations.

This is the second year McLaren Automotive has featured on the Super Car Lawn at Salon Privé, with the 12C and 12C Spider sure to be amongst the highlights.

September 2nd marks McLaren's 50th birthday, just two days before Salon Privé 20....
Pinehurst Concours Economic Impact Approaches $2 MillionVILLAGE OF PINEHURST, N.C. (May 13, 2013) – The inaugural Pinehurst Concours d'Elegance and the events surrounding the vintage auto showcase attracted more than 5,000 fans, and its economic impact approached $2 million despite unseasonably cool temperatures the first weekend of May, officials said.

'Having an event the caliber of a Concours in Moore County is significant, especially as it grows in recognition and importance in the Southeast,' said Caleb Miles, president and CEO of the Pinehur....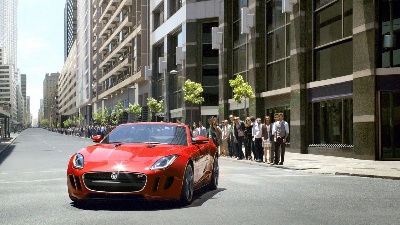 JAGUAR UNVEILS GLOBAL ADVERTISING CAMPAIGN TO LAUNCH THE F-TYPE- Jaguar F-TYPE arrives in U.S. retailers this month, starting at $69,000*
- Primary spots focus on F-TYPE's visceral impact
- Jaguar North America launches social media campaign, #MyTurnToJag, engaging consumers with the opportunity to experience the all-new F-TYPE
- U.S. campaign extensions include driving features with San Francisco 49er Colin Kaepernick; ESPN's Stuart Scott, and an initiative with ABC's 'Jimmy Kimmel Live'

(MAHWAH, N.J.) – May 13, 2013 – Today, Jaguar announced ....
1938 Steyr Roadster Wins Best in Show at Pinehurst ConcoursA rare 1938 Steyr Roadster captured the 'Best in Show' at the inaugural Pinehurst Concours d'Elegance as more than 5,000 car enthusiasts strolled the fairways at Pinehurst Resort, viewing a show field of 118 pristine vintage automobiles.

Peter Boyle of Oil City, Pa., owns the winning automobile that was entered in the American/European Classic 1925-48 Class. Boyle purchased the car two years ago, restored it in 2012 and won Second in Class at the Pebble Beach Concours last August before capt....
Salon Privé Announces Most Prestigious Judging Panel In Its Eight Year HistoryNew Chubb Insurance Concours d'Elégance judges for 2013 to include F1's Murray Walker OBE and Pebble Beach's Sandra Button

Syon Park, London, 3 May 2013 – Salon Privé, which takes place from the 4th to 6th September, is proud to announce the line up of 2013 judges for the Chubb Insurance Concours d'Elégance, as follows:
• Derek Bell MBE (Chief Judge)
• TV's Fifth Gear presenter, Vicki Butler-Henderson
• Chairman of Pebble Beach Concours d'Elégance, Sandra Button
• Motoring journali....
RM Auctions In Association With Sotheby's To Showcase Automotive Artistry At New York Sale• RM Auctions, in association with Sotheby's, announces exclusive New York collector car auction, November 21

• Groundbreaking sale to celebrate the automobile as an art form and feature an elite, handpicked selection of approximately 35 significant motor cars

• Early highlight: bespoke, one-off 1956 Aston Martin DB 2/4 MkII 'Supersonic' embodies wonderful concept of 'rolling sculpture'


BLENHEIM, Ontario (April 30, 2013) - RM Auctions, in association with Sotheb....
RM Auctions' Don Davis Collection Attracts Texas-Size Bids• RM Auctions posts over $21.2 million at the record-breaking sale of the distinguished Don Davis Collection, April 27 in Fort Worth, Texas
• Top seller: a rare 1967 Ferrari 330 GTS sold for $1,936,000, to establish a new auction record
• Five lots achieve million-dollar-plus results, with numerous auction records shattered
• Toyota 2000GT enters history books with seven-figure sales price
• Exceptional collection attracts bidders from 14 countries around the world

FORT WORTH, Texas (A....
2014 LaFerrari Ferrari
---
2013 Zagato Roadster BMW
---
2013 Viper GTS Launch Edition Dodge
---
2013 MP4-12C Can-Am Edition Racing Concept McLaren
---
2013 MP4-12C SPIDER McLaren
---
2012 Mulsanne Convertible Concept Bentley
---
2012 F12berlinetta Ferrari
---
2012 X-1 Concept McLaren
---
1966 275 GTB Ferrari
---
1959 750 GT Zagato Fiat
---
blog comments powered by

Disqus