Jaguar Celebrates The Launch Of Its Most Exclusive Production Jaguar, The XJL Ultimate, At Private Event Hosted With Playboy Magazine
Jaguar turned up the heat on automotive enthusiasts in Pebble Beach last night at an exclusive reception with Playboy Magazine to celebrate the debut of the XJL Ultimate, Jaguar's most luxurious sedan. The XJL Ultimate was shown for the first time in the United States earlier in the day at The Quail, a Motorsport Gathering during the Pebble Beach Automotive Weekend. The VIP Jaguar Playboy evening celebrated the Jaguar brand in high style with live music at a private estate in Pebble Beach, Calif. Joining Jaguar to launch the new XJL Ultimate were singer, producer and humanitarian, Wyclef Jean; guitarist for the Cult, Billy Duffy; Emmy- nominated actress Christina Hendricks; and Oscar-winning actor Adrien Brody. Other vehicles on display were the 185 MPH Jaguar XKR-S Coupe (Playboy's 2012 Car of the Year) and the red 1963 Jaguar E-Type, which was prominently featured on AMC's Mad Men this season. Many will recall Hendricks' character, Joan Holloway, asking Don Draper, 'Oh honey, what's that?' as she approached the eye- catching iconic E-Type. When Hendricks first saw the new Jaguar XJL Ultimate on display at the reception she said, 'The XJL Ultimate is a car you don't want to get out of - you'll never want to call shot gun in that car.' 'Jaguar and Playboy set out to create something new, a private fun evening to get the Pebble Beach Automotive Weekend going and to showcase the new Jaguar XJL Ultimate,' said David Pryor, Brand Vice President, Jaguar North America. 'The evening brought automotive aficionados and friends of Playboy and Jaguar together, without all the crowds and sales pitches experienced the rest of the weekend. Owners of Jaguar cars like an upscale, but relaxed and fun environment, and that is what we created with Playboy for this event.'
The Jaguar XJL Ultimate captures the essential Jaguar design elements of elegance, muscularity, sleekness and strength. The model, in a full size luxury sedan featuring bespoke British craftsmanship, boasts a lightweight aluminum construction that provides benefits in terms of emissions and fuel consumption, allowing the XJL Ultimate to provide astonishing performance with respectable efficiency. The Jaguar XJL Ultimate offers appointments usually found in a private jet, extending the car's appeal to provide a fully-appointed luxury business class experience. Features include a rear seat business table that elevates at the touch of a button, a rear center illuminated chiller box, and bespoke beverage flutes available in a dedicated storage area beneath the powered table. The XJL Ultimate is priced at $155,000* and will have production exclusivity, with only 30 models to be made available in the U.S. in the bespoke color of Black Amethyst. About Jaguar Jaguar Cars Limited is a premier manufacturer of luxury sedans and sports cars offering unparalleled design with tremendous performance. The company's vision throughout its storied history has been simple: To produce beautiful, fast cars that are desired the world over. Jaguar strives to provide a world class ownership experience to every owner. Today's Jaguar lineup consists of the XJ luxury sedan, XF sports sedan and the XK coupe and convertible sports cars. Jaguar designs, engineers and manufactures exclusively in the United Kingdom, at the Castle Bromwich manufacturing plant in the British Midlands. Jaguar is fully engaged with sustainability initiatives and social concerns with continuous involvement in environmental and community programs. About Jaguar Land Rover North America, LLC Jaguar Land Rover is a business built around two great British car brands that are designed, engineered and manufactured in the United Kingdom. Jaguar Cars Limited, founded in 1922, is one of the world's premier manufacturers of luxury sedans and sports cars. Since 1948, Land Rover has been manufacturing authentic 4x4s that define 'breadth of capability' in their segments. Jaguar manufactures all their cars exclusively in the United Kingdom, at the Castle Bromwich manufacturing plant in the British Midlands. Land Rover and Range Rover models are built in the United Kingdom at the Solihull and Halewood plants. Land Rover exports to 169 countries and Jaguar exports to 63 countries, with global sales for both brands exceeding 240,000 vehicles annually. The Jaguar Land Rover business employs 16,000 people in United Kingdom, including 3,500 engineers at two product development centers. Headquartered in Mahwah, New Jersey in the United States, Jaguar Land Rover North America, LLC has offices across the USA and Canada and is represented by more than 330 retail outlets. About Playboy Enterprises, Inc. Playboy is one of the most recognized and popular consumer brands in the world. Playboy Enterprises, Inc. is a media and lifestyle company that markets the brand through a wide range of media properties and licensing initiatives. The company publishes Playboy magazine in the United States and abroad and creates content for distribution via television networks, websites, mobile platforms and radio. Through licensing agreements, the Playboy brand appears on a wide range of consumer products in more than 150 countries as well as retail stores and entertainment venues.
Recent Articles
400TH BUGATTI VEYRON SOLD – THE VEYRON BEGINS ITS FINAL LAPJust 50 models of the super sports car are still available

• 400th Veyron is a Grand Sport Vitesse 'Jean-Pierre Wimille' of the six-part edition 'Les Légendes de Bugatti'

• Head of Bugatti Wolfgang Schreiber, 'A unique success story about the most exclusive and luxurious super sports car brand in the world'


Molsheim, 5 December 2013. Bugatti has sold its 400th Veyron. Since the production run of the Veyron and its variants is limited to just 450 models, thi....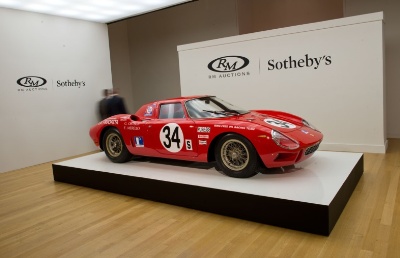 RM Auctions and Sotheby's Stun the Market with Incredible $63 Million 'Art of the Automobile' Sale in New York• RM Auctions and Sotheby's momentous Art of the Automobile auction generates $62,797,500 of sales in two hours of furious bidding
• Records tumble with the historic 1964 Ferrari 250 LM by Carrozzeria Scaglietti achieving $14,300,000 while the stunning 1938 Talbot-Lago T150-C SS Teardrop Cabriolet by Figoni et Falaschi sells for $7,150,000
• 93 percent of all lots sold to an international audience of bidders representing 17 countries
• Full results are available online at www.rmauctions.c....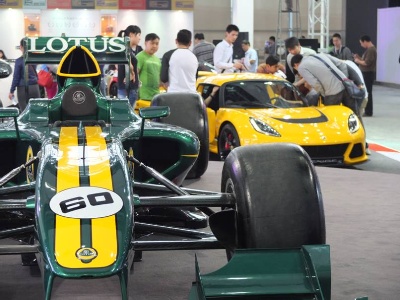 Lotus Gets Supercharged for Guangzhou MotorshowBritish sports car manufacturer Lotus showcases the jewels from its product line-up at the 2013 Guangzhou International Automobile Exhibition, further asserting its presence in the Chinese market as its popularity grows amongst China's fashion-conscious elite.

Chinese trend-setters looking for the ultimate in exclusivity and style, are warmly invited to the Guangzhou International Automobile Exhibition, where from 21 November, the iconic British sports car brand Lotus, affirms its commitment ....
Expert Symposium Delivered to Packed Room Ahead of 'Art of the Automobile' New York Sale• RM Auctions and Sotheby's deliver highly outstanding expert symposium to more than 700 people
• Six hugely influential and respected specialists set the scene in advance of truly groundbreaking Art of The Automobile sale
• Anticipation building for what is being regarded as one of the finest and most innovative collector car auctions ever held

NEW YORK, New York (November 20, 2013) – The eyes of the collector car community are firmly fixed on New York, as RM Auctions and Sotheby's,....
AMELIA ISLAND CONCOURS D'ELEGANCE WINS PRESTIGIOUSThe annual International Historic Motoring Awards, in association with EFG International and Octane magazine, announced this week that the Amelia Island Concours d'Elegance has been named the recipient of the 2013 Motoring Event of the Year award.

The Amelia Island Concours d'Elegance is the third winner of the Motoring Event of the Year Award, which honors automotive celebrations from Australia, Germany, Italy, the United States and the United Kingdom. Finalists in the 2013 events category ....
Gooding & Company Celebrates 10th Anniversary as Global Appreciation of Cars Push Markets to New High in 2013SANTA MONICA, Calif. (November 11, 2013) – The mystique of collectable cars continues to expand enthusiasm and buyer participation around the globe. In 2013, Gooding & Company, the auction house acclaimed for selling the world's most significant and valuable collector cars, celebrated its 10th anniversary and saw new and returning bidders flock to its three auctions. Demonstrating Gooding & Company's power in the marketplace is an annual auction total of $192.6 million for 286 lots with a....
PEBBLE BEACH CONCOURS d'ELEGANCE ADDS TO LEGENDARY TRADITION OF GIVING IN 2013Celebration Raises More than $1.45 Million for Charity

PEBBLE BEACH, Calif. (Nov. 13, 2013) -- In 2013, the Pebble Beach Concours d'Elegance lived up to its historic reputation of exemplary automobiles, stunning scenery and unprecedented charitable giving. Before the final awards were presented on Concours Sunday, organizers announced the 2013 event had once again raised more than $1 million for charity. Final donations now total $1,458,000 for this year's show, exceeding early ....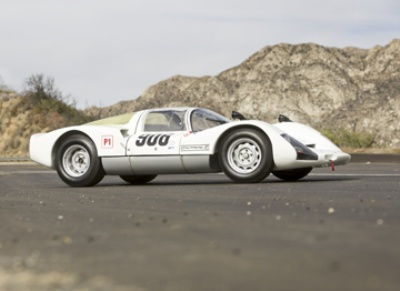 Sports and Racing Rarities Lead Early Highlights For RM's Two-Day Arizona Sale• RM Auctions returns to the Arizona Biltmore Resort & Spa in Phoenix from January 16–17 to kick off its 2014 collector car season
• Expanded to two days in 2014, the well-established sale will celebrate its 15th year by lifting the gavel on approximately 120 handpicked motor cars
• Early highlights span the spectrum of the market, led by a superb trio of sports and racing Porsches
• Annual sale kicks off RM's 2014 international auction calendar, which includes the company's highly anticipate....
2014 Ferrari LaFerrari
---
2013 Aston Martin Vanquish Volante Neiman Marcus Edition
---
2013 BMW Concept M4 Coupe
---
2013 BMW Zagato Roadster
---
2013 Bugatti Veyron Grand Sport Vitesse Legend Jean-Pierre Wimille
---
2013 Bugatti Veyron Jean Bugatti
---
2013 Dodge Viper GTS Launch Edition
---
2013 Ford GTR1
---
2013 Laraki Epitome Concept
---
2013 McLaren MP4-12C Can-Am Edition Racing Concept
---