A Piece of Hollywood and Jaguar History
Clark Gable's 'Best in Class' 1949 XK120 This weekend, a very special XK120 graced the judging field at the 62nd Pebble Beach Concours d' Elegance. This particular XK120 is significant, not only because it was named 'Best in Class,' but because its first owner was none other than Hollywood icon Clark Gable, a devoted Jaguar enthusiast. Gable's XK120, chassis No. 670003, was judged 'Best in Class' in the 'Postwar Sports Open' category. The car is owned by Mr. Jeff Lotman, of Los Angeles and was restored and prepared for the Pebble Beach Concours by Derek Hood of JD Classics in Maldon, Essex in the U.K. Gable was a self-admitted 'car nut,' who was already the proud owner of a Jaguar Mark IV Drop Head Coupe. When the XK120 was announced, Gable said that 'he wanted it like a child wants candy!' A friend of West Coast Jaguar distributor Charles Hornburg, Gable went to International Motors on Wilshire Boulevard in Hollywood and insisted that he be sold the very first XK120 to arrive on the West Coast.
Gable was initially disappointed as the very first XK120 delivered to International Motors was for display purposes only and could not be driven or sold. In fact, the 3.4 liter XK engine in the car did not even have a crankshaft. The cars were at a premium after their unveiling at the Earl's Court Motor Show in 1948. In fact, as would later happen again with the Jaguar E-Type a decade later, Jaguar thought they could probably sell 250 of the new cars. But demand was so high, 240 hand-beaten aluminum bodied cars were made to fill some of the outstanding orders until the actual production tooling for steel bodied cars could be installed. While most of the early aluminum-bodied XK120s were intended for racing, this XK120 was the first customer car to leave the Holbrook Lane production line in June 1949. Built as a left-hand drive car, Gable's XK120 was exported to California in September 1949 to Charles Hornburg's Los Angeles distributorship before finally reaching International Motors, the Hollywood dealership of Roger Barlow. Originally painted Suede Green, the car was re-sprayed to Gable's specifications. Its unique color is known as 'Gable Grey' and it was actually mixed by Roger Barlow and Clark Gable. During the restoration process, UK classic car specialist JD Classics then recreated the color as part of its painstaking 17-month restoration of the vehicle. While researching this car, JD Classics discovered a feature article written by Clark Gable himself in the March 1950 issue of Road & Track magazine. In it, he mentions his attempt on one of Southern California's dry lakes to reach the XK120's official 132 mph top speed, which was a world record at the time for standard production vehicles. He managed to 124 mph in his completely stock and unmodified car. Derek Hood, the driving force behind JD Classics, found Gable's XK120 outside of Dallas, Texas, where its then owner had disassembled the car and had parts in baskets, scattered between three sheds. At that point, chassis No. 670003 had been 'lost' for many years. It is the only one of the three XK120s Clark Gable owned to be found and verified as one he had owned. Jaguar Cars and the Jaguar Heritage Trust are delighted that this car has now been restored and has taken its rightful place among some of the most exquisite cars in the world as a winner at this year's Pebble Beach Concours d'Elegance.
Recent Articles
Car Expert Hans Wurl Joins Gooding & Company's Team of Classic Automobile SpecialistsSANTA MONICA, Calif. (December 9, 2013) – Gooding & Company, the official auction house of the Pebble Beach Concours d'Elegance®, is expanding its existing team with the addition of Hans Wurl, a well-known classic car specialist with a strong technical background. Wurl has served as advisor to noted collectors and participated in some of the best collector car events around the world. Based in Seattle, Wurl joins Gooding & Company's team of respected automotive specialists David Brynan,....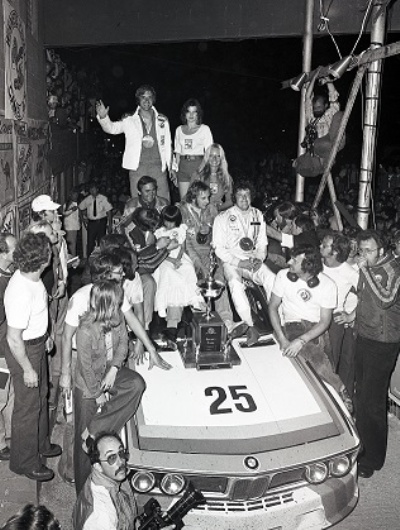 BMW's 'BATMOBILES' SET FOR 19th ANNUAL AMELIA CONCOURSScheduled to appear in the 19th Annual Amelia Concours' BMW 3.0 CSL 'batmobile class' are not only the 1975 Sebring 12 Hour and '76 Daytona 24 winners, but Alexander Calder's 1975 Le Mans 3.0 CSL with his trademark signature on the left rear fender.

BMW's 'Batmobile' racers were glorious mutants. They arrived from Europe wearing a frosting of giant wings, huge fender boxes and big spoilers, all powered by a 430 hp straight-six engine that made a glorious noise and propelled BMW's luxury cou....
400TH BUGATTI VEYRON SOLD – THE VEYRON BEGINS ITS FINAL LAPJust 50 models of the super sports car are still available

• 400th Veyron is a Grand Sport Vitesse 'Jean-Pierre Wimille' of the six-part edition 'Les Légendes de Bugatti'

• Head of Bugatti Wolfgang Schreiber, 'A unique success story about the most exclusive and luxurious super sports car brand in the world'


Molsheim, 5 December 2013. Bugatti has sold its 400th Veyron. Since the production run of the Veyron and its variants is limited to just 450 models, thi....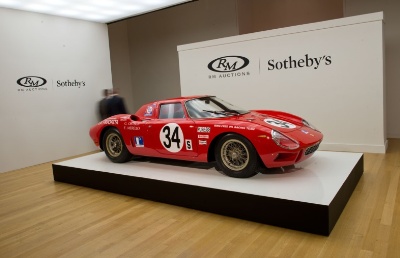 RM Auctions and Sotheby's Stun the Market with Incredible $63 Million 'Art of the Automobile' Sale in New York• RM Auctions and Sotheby's momentous Art of the Automobile auction generates $62,797,500 of sales in two hours of furious bidding
• Records tumble with the historic 1964 Ferrari 250 LM by Carrozzeria Scaglietti achieving $14,300,000 while the stunning 1938 Talbot-Lago T150-C SS Teardrop Cabriolet by Figoni et Falaschi sells for $7,150,000
• 93 percent of all lots sold to an international audience of bidders representing 17 countries
• Full results are available online at www.rmauctions.c....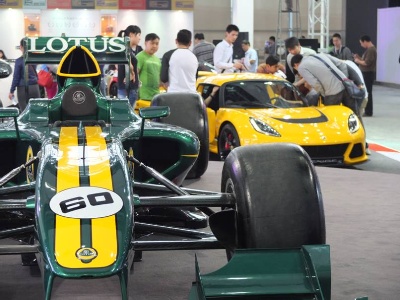 Lotus Gets Supercharged for Guangzhou MotorshowBritish sports car manufacturer Lotus showcases the jewels from its product line-up at the 2013 Guangzhou International Automobile Exhibition, further asserting its presence in the Chinese market as its popularity grows amongst China's fashion-conscious elite.

Chinese trend-setters looking for the ultimate in exclusivity and style, are warmly invited to the Guangzhou International Automobile Exhibition, where from 21 November, the iconic British sports car brand Lotus, affirms its commitment ....
2014 Ferrari LaFerrari
---
2014 Nissan Pixo
---
2014 Rolls-Royce Phantom
---
2013 Aston Martin Vanquish Volante Neiman Marcus Edition
---
2013 BMW Concept M4 Coupe
---
2013 BMW Zagato Roadster
---
2013 Bugatti Veyron Grand Sport Vitesse Legend Jean-Pierre Wimille
---
2013 Bugatti Veyron Jean Bugatti
---
2013 Dodge Viper GTS Launch Edition
---
2013 Ford GTR1
---