All-New British Sports Car - The Trident Iceni - Confirmed For Salon Prive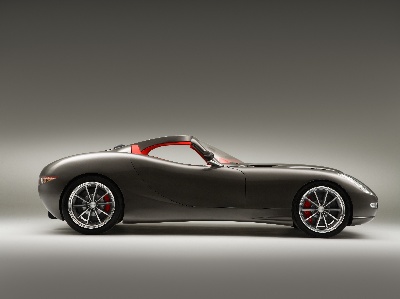 Iconic British sports car maker, Trident, will display its all-new Iceni Grand Tourer at Salon Privé 2012, held at West London's Syon Park from the 5th to 7th September. Beautiful, innovative and unique, the Iceni's outstanding performance and vital statistics are thanks to Trident's patented Torque Multiplication technology. With a top speed of nearly 200mph and a 0-60mph sprint in just 3.7 seconds, the Iceni is built to order in Norfolk and priced from £75,000. A mid-front mounted 6.6-litre turbo-diesel is used to capitalize on the Torque Multiplication technology, capable of running on mineral diesel, bio diesel, palm oil and linseed oil, it delivers 430bhp and a staggering 950lbs ft of torque at under 3250rpm. An option to upgrade to 660bhp is also available, delivering 1050lbs ft of torque. At a constant 70mph the specially tuned engine runs at just 980rpm, produces 700lbs ft of torque, is capable of 68.9mpg and will keep going for over 2000miles on one full tank of diesel.
Trident Sports Cars managing director, Phillip Bevan, says: 'We are very pleased to be at Salon Privé which this year is a great celebration of all things British and home grown talent - something we feel very strongly about at Trident. It is also a place where sports cars and super cars of this calibre are sold, and we look forward to taking new orders for the Iceni at Syon Park this September.' FORMAT OF THE SHOW Wednesday 5th September 2012 – Salon Privé Tour d'Elégance from The Royal Automobile Club at Woodcote Park (Leaves at 10am) Salon Privé Press Day and product debuts (11am to 5pm) Thursday 6th September 2012 – Boodles Ladies' Day (11am to 5pm) The Diamond Jubilee Ball in support of Rainbow Trust Children's Charity (7pm to 1am) Friday 7th September 2012 – Chubb Insurance Concours d'Elégance Judging Day (11am to 7pm) Tickets for Salon Privé can be purchased at www.salonprivelondon.com or by calling the Ticket Hotline on 0808 100 2205. Entry is fully inclusive of Pommery champagne, lobster luncheon, English afternoon tea and full access to all areas.
Recent Articles
CHEVROLET CRUZE DIESEL 46 MPG SETS HIGHWAY FUEL ECONOMY BENCHMARK• Best Highway Fuel Economy of Any Non-Hybrid Passenger Car in America

• Can travel 700 highway miles on single tank


DETROIT – The new 2014 Chevrolet Cruze Clean Turbo Diesel, delivers an industry best EPA-estimated 46 MPG on the highway – better than any non-hybrid passenger car in America. It will be available in certain cities this spring and nationwide and in Canada in early fall.

Equipped with a six-speed automatic transmission, the latest addition to the Cruze powertra....
LA AUTO SHOW GREEN AND ADVANCED TECHNOLOGY RIDE & DRIVE TO PREVIEW LATEST CAR INNOVATIONS AND FUEL-EFFICIENT VEHICLESOpen Exclusively to Media Attending the Second LA Auto Show Press Day Nov. 29

The Los Angeles Auto Show announced today that its media-only Ride & Drive will expand this year to present not only fuel-efficient vehicles, but also vehicles featuring the most advanced in-car technologies. Approximately 25 vehicles from 12 manufacturers will be featured in the new Green andAdvanced Technology Ride & Drive representing the leading edge of automotive innovation today. The event represents a ....
Scarlet Fever At Silverstone Classic•Biggest ever parade of Ferrari's finest supercar

A world record 60 Ferrari F40s took to the full Silverstone Grand Prix circuit during Sunday's Silverstone Classic powered by the AA event to mark the Italian supercar's 25th birthday.

The phalanx of scarlet red F40s led a glittering parade of marques, models and car clubs celebrating special milestones in the sun at the world's biggest classic motor racing festival.

On Saturday it had been the turn of hundreds of BMW's Z1, Z3, Z4 and....
2014 Cruze Clean Turbo Diesel Chevrolet
---
2013 Express Cargo Van Chevrolet
---
2013 TrailBlazer Chevrolet
---
2013 Trailblazer Chevrolet
---
2013 Savana GMC
---
2013 Ghibli Maserati
---
2012 Captiva Chevrolet
---
2012 Express Chevrolet
---
2012 Ypsilon Chrysler
---
2012 F-Series Super Duty Ford
---
blog comments powered by

Disqus