Seven original Tuckers on display at 2012 Glenmoor Gathering
Seven 1948 Tucker automobiles will be on display at the 18th annual Glenmoor Gathering. Of the original 51 Tuckers built, 49 remain. In addition, there'll be a movie prop car used in the 1988 movie 'Tucker: The Man and his Dream.' And, there'll be a 'modern' Tucker, as well! More than 220 vintage and classic American and European automobiles and motorcycles will be on display, including Tucker automobiles, Allard sports cars, early supercharged automobiles and steam-powered cars. On Friday afternoon, there'll be two seminars. The first will feature a fresh look at the legendary Studebaker Avanti by Andrew Beckman, archivist of the Studebaker National Museum.That seminar will be followed by 'How to Buy a Collector Car' with Wayne Carini of 'Chasing Classic Cars' and long-time car collector Ralph Marano. Other weekend activities include the Passport Transport Countryside Tour, Classic Motorcars Collector Car Auction, cocktail party and Gala Dinner, cooking demonstrations, a Junior Judges'program, the Glenmoor Garage and other family activities. During the concours, automotive art by a variety of artists will be on display and for sale. Automotive authors will also be on hand to autograph their books.

On Sunday, there will again be a separate, special display on the club's front lawn of 'World Class Performance Cars,' featuring Lamborghini and including Ferraris, Maseratis, Vipers and Porsches. September 14-16. For more information visit www.GlenmoorGathering.com or call (330) 966.3600.
Recent Articles
Lamborghini Aventador Heads Stellar Line-up of World Class Performance Cars at this year's Glenmoor GatheringOne of four Lamborghini Aventadors in the United States will head an incredible line up of World Class Performance Cars on the front lawn of Glenmoor Country Club on Sunday, Sept. 16. The 700 horsepower Aventador can go from 0-62 in 2.9 seconds. Andrew Romanowski, president of the Lamorghini Club of America will attend the Gathering. This special class will include more than 20 Lamborghinis, including Murcielago, Gallardo, Countach, Diablo, Jarama, Jalpa and 400GT. Other marques on display incl....
Wayne Carini Headlines Excellent Seminar Line-up At this year's GatheringWayne Carini, who appears in 'Chasing Classic Cars' on the Velocity Channel, will headline this year's seminar line-up. Carini will appear with noted car collector Ralph Marano to discuss 'How to Buy a Collector Car' on Friday, Sept. 14 from 4 – 5:30 p.m.That seminar will be preceded by a presentation by Andrew Beckman of the Studebaker National Museum on the Avanti. That presentation will take place from 2:30 – 3:45 p.m. Tickets for each seminar at $10 each and can be purchased at Glenmoor Coun....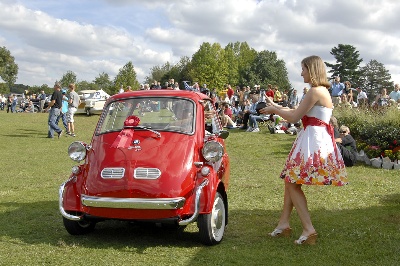 Micro cars at this year's Glenmoor GatheringOne of the fun categories of cars is the 'Micro cars,' such as the BMW Isetta cabrio owned by Michael D. McCloskey, from Finleyville, Pennsylvania pictured above. These are cars—but just a bit smaller that you'd expect! Several of them are obscure makes no longer in production such as the Peel Trident, Iambetta Innocenti, Mini Moke, BMW Isetta, Lloyd and Vespa. Three of the popular American manufacturers were Crosley, Bantam and Nash Metropolitan. They'll all be on display at
the 2012 Glen....

2012 Gathering Poster Artwork Created by AFAS Artist Jack JuratovicThe poster artwork for the 2012 Glenmoor Gathering poster was created by Jack Juratovic, a founding member of the Automotive Fine Arts Society and editor of the AFAS Journal. His work has appeared in numerous publications and at concours throughout the United States. His poster subject is the legendary 1935 Duesenberg SJ roadster known as 'the Mormon Meteor,' which was raced on the Utah salt flats in the 1930's. Today, the car is owned by collector Harry Yeaggy, who will display it at this yea....
See Vintage Steam Cars at this year's Glenmoor GatheringOne of the highlighted features of the 2012 Gathering will be steam-powered automobiles. At the end of the 19th century, steam was king—and proven. It powered industrial machinery, ships and railroad locomotives. It was only natural that steam was used to power early automobiles. The most famous of these was the Stanley (shown above) but another well-known steam car was built in Cleveland—the White—and Locomobile began as a steam car.

In all, more than 200 vintage and classic American and E....
Early Supercharged Automobiles Will Be Featured at 2012 Glenmoor GatheringOne of the highlighted features of the 2012 Gathering will be early supercharged automobiles. Here's a special example—a 1929 Stutz type MC with custom coachwork by Lancefield. This one-of-a-kind Stutz is owned by noted collector Richard Mitchell of Montgomery, Texas. Among the famous marques equipped with superchargers were American automobiles such as Auburn, Cord, Graham and Duesenberg as well as foreign makes such as Bentley, Mercedes-Benz and Alfa-Romeo.

In all, more than 200 vintage....
Wayne Carini Named Honorary Chairman of the Grand AscentWayne Carini, popular host of the Velocity HD Channel's 'Chasing Classic Cars' will serve as Honorary Chair for the 2012 Grand Ascent, a revival of the historic Hershey Hill Climb featuring more than 50 vintage race cars June 8 and 9 at the Hotel Hershey, it was announced today by The Elegance at Hershey, the event organizers.

In addition to driving in the Grand Ascent competition, Carini will be taping an episode of 'Chasing Classic Cars' for later airing on the Velocity HD channel that is p....
blog comments powered by

Disqus