A one-off factory supercar and a host of outstanding pre-war American classics slated for Worldwide's 5th annual The Auburn Auction
Many of the world's finest motorcars have changed hands in Auburn over the years and Worldwide is gearing up to continue the tradition this Labor Day Weekend, right at the heart of where it all started. Visitors to its fifth annual The Auburn Auction can anticipate the usual spectacular selection of important pre and post-war American classics, including a very desirable 1934 Auburn 12 Salon Cabriolet, multiple award winning 1937 Packard Twelve 1508 Convertible Sedan and a freshly restored 1913 Peerless Model 48-Six Roadster. Woodie fans can look forward to a highly original barn find 1941 Packard 120 Station Wagon and a 1934 Ford 'Strathglass' Estate Wagon, with one of a kind coachwork. An awesome 1966 Shelby GT350 Race Car is just one of a sensational line-up of exotic sports cars and racers slated to go under the hammer, fully documented, owned, and raced by legendary driver, Sir Stirling Moss. Those looking for the ultimate supercar need look no further- the 2004 Ford GT Factory Test Mule offers enthusiasts an absolute one-off chance to acquire a unique piece of Ford history, as well as a 'rip-snorting rocket of a sports car,' set up by some of the best engineers in the world. The Auburn Auction is a two evening catalogue sale scheduled for August 31 and September 1, in the heart of Auburn's Museum District, at the National Auto & Truck Museum in the former factory L29 building of the Auburn Automobile Company itself. The event kicks off on August 31 with All Ford Friday, a fun and fast paced sale of significant Fords, with The Main Event on September 1. All consignments are extensively showcased in Worldwide's signature auction catalogue, which is hot off the press this week. 'We're privileged to be looking forward to a wonderful weekend of collector cars on the very site where some of Auburn's greatest vehicles were made,' said Rod Egan, Principal & Chief Auctioneer. 'The cars manufactured here have remained significant and highly desirable vehicles far beyond their expected lives, influencing generations of designers. The Auburn Auction is all about hand selecting the highest quality motorcars and there is no more appropriate stage on which to showcase them than right here where it all started.' Proceeds from the sale of many of the vehicles consigned to The Auburn Auction will benefit Auburn's great Museums, including the National Auto & Truck Museum and Auburn Cord Duesenberg Automobile Museum, both National Historic Landmarks. These include the 2004 Ford Factory GT Test Mule and a meticulously restored 1918 American LaFrance Type 40 Pumper fire truck. Worldwide Auctioneers is also the official auction company of the Early Ford V-8 Foundation and proceeds from the dedicated All Ford Friday sale on August 31 will support the Foundation and Museum, whose goal is to create a new automobile museum attraction in Auburn- a tribute to the famous Ford Rotunda building in Dearborn, Michigan. The Burr Joslin Estate Collection of Motorcars & Memorabilia is one of the sale's highlights, a wonderful all no reserve collection lovingly built up by a Ford purist and lifelong employee of the Ford Motor Company, which includes such rarities as a 1907 Ford Model S Roadster and 1912 Model T Torpedo Runabout. Everyone buying a Ford during the All Ford Friday event will also be treated by Worldwide to an annual membership to the Early Ford V-8 Foundation. 'We at Worldwide applaud Auburn's famous Museums and the entire community for their hard work and dedication to supporting these great institutions,' said John Kruse, Principal & Auctioneer. 'This is our hometown and we are proud to punch in and help. Labor Day weekend in Auburn has long been a stalwart of the collector car community and we are committed to the future of our wonderful Festival and great historic buildings. Our thanks go to the community, our Museums, the Foundation, Club Partners, City officials and of course, all the collectors, for allowing us to be part of this great New Tradition in Auburn.'
Full details on The Auburn Auction are available online at www.worldwide-auctioneers.com, or by calling 800.990.6789. The Auburn Auction catalogue is obtainable now, offering detailed descriptions and full color photography on all consignments, with a downloadable digital version available online. The catalogue is $75, which includes weekend admission for two. Vehicles may be previewed from 9am-5pm on Thursday, August 30 through Saturday, September 1. All Ford Friday starts at 5pm on Friday, August 1, with The Main Event running from 6pm to 11pm on Saturday, September 1. Media inquiries should be directed to Jo Snyder at 512.507.7867 or jo@worldwide-auctioneers.com.
Recent Articles
Italian Sports And Racing Exotics Head To RM's Eagerly Anticipated Monterey Sale• RM Auctions announces stunning early roster of blue-chip Italian exotics for its flagship Monterey sale, August 16–17 in California
• No less than 21 Ferraris already consigned alongside two spectacular Maseratis
• Eight Ferraris offered without reserve from the Estate of William H. Tilley
• Additional early highlights include a fabulous 1931 Duesenberg Model SJ Murphy Convertible Coupe and a 1935 Hispano-Suiza K6 Brandone Cabriolet
• Frequently updated list of entries available online a....
Aston Martin Celebrates Centenary At Nürburgring 24 HoursNürburgring, 20 May 2013 – Aston Martin's weekend of centenary celebrations at the ADAC Zurich Nürburgring 24 Hours (N24) concluded this evening (Monday 20 May) with a thrilling top-ten result for its Bilstein-liveried V12 Vantage GT3 and a historic finish for its unique Hybrid Hydrogen Rapide S in one of the most grueling 24-hour races in recent years.

In a weekend that started with the British luxury sports car maker entering the history books with a zero CO2 emissions hydrogen-power....
Aston Martin Wows The Crowds At Nürburgring 24 HoursAston Martin's global centenary celebration programme powered into Germany yesterday (Sunday 19 May) as the great British sports car maker marked its first 100 years with a 100-plus car parade at the Nordschleife.

Just ahead of the start of the 41st ADAC Zurich Nürburgring 24 Hours a cavalcade of more than 100 Aston Martin sports cars took to the infamous road circuit for a celebratory parade lap.

Led by Aston Martin CEO Dr Ulrich Bez at the wheel of the stunning new CC100 Speedster Concep....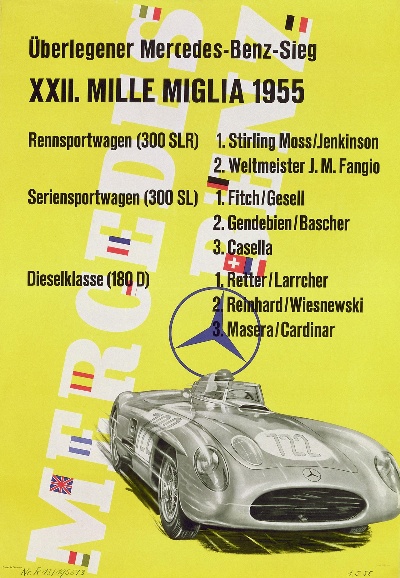 MILLE MIGLIA: MERCEDES-BENZ AS MAIN AUTOMOTIVE SPONSOR- Green light given for long-term partnership
- Another brand ambassador at Mille Miglia 2013: Marcel Tiemann

Mercedes-Benz is the main automotive sponsor of Mille Miglia. The corresponding agreement was reached between Mercedes-Benz Classic and 1000 Miglia S.R.L. in Brescia (Italy), with the aim of establishing a long-term collaboration. Mercedes-Benz Classic will be represented at this year's event with a number of vehicles, as well as five famous faces taking up their position at the star....
Stars Of Film, Fashion, Sport And Motorsport To Drive With Jaguar Heritage Racing In Mille Miglia 2013- Jaguar previews its entry into the 2013 Mille Miglia with short film featuring David Gandy, Yasmin Le Bon, Norman Dewis and Alex Buncombe: http://www.youtube.com/watch?v=eEkckuR8E-k&feature=youtu.be
- Jaguar Heritage Racing enters three C-Type and three XK120 classic cars into famous event
- Jaguar 'Bloodline' of sports cars to be celebrated with new F-TYPE joining the 1,000 mile tour

(MAHWAH, N.J.) - May 10, 2013- Jaguar has curated a unique team of drivers for its Jaguar Herita....
MOTOR SPORT'S FINEST HOURS WITH MERCEDES-BENZ CLASSIC- Jochen Mass pilots 300 SLR 'Uhlenhaut Coupé'
- Goodwood Festival of Speed: the unique motor sport festival will celebrate its twentieth anniversary

At the Goodwood Festival of Speed (11 to 14 July 2013), Mercedes-Benz Classic will draw a good deal of attention to itself by presenting legendary racing cars. There will be a taste of this at the Goodwood Press Day: racing driver Jochen Mass will be piloting the 'Uhlenhaut Coupé', the closed version of the 300 SLR (W 196 S) racing car.

'The....
KARL LUDVIGSEN SPEAKING IN WATKINS GLEN ON APRIL 13Automobile industry insider and author/historian Karl Ludvigsen will speak about his experiences in the worlds of cars and racing on April 13 at the International Motor Racing Research Center.

The free talk, part of the on-going Center Conversations speaker series, will be at 1 p.m. at the Center located at 610 S. Decatur St., Watkins Glen, N.Y. It is open to all.

'A Lifetime on Wheels' will be an illustrated presentation based on Ludvigsen's careers as an executive in the motor industry....
AUDI MAKES SEBRING THE 'HOME OF QUATTRO'First race for the Audi R18 e-tron quattro in the USA
•Farewell event for LMP1 class with historic automobile exhibition
•Dr. Wolfgang Ullrich: 'Emotional race weekend'

Ingolstadt, March 8, 2013 – It is a debut and a farewell at the same time: the Audi R18 e-tron quattro contests the 12-hour race at Sebring (Florida) in the USA for the first time on March 16 and, in doing so, makes the legendary racetrack 'home of quattro'. At the same time, it is provisionally the LMP1 sports car....
2013 CC100 Speedster Concept Aston Martin
---
2013 W04 Mercedes-Benz
---
2012 Evantra Mazzanti
---
2012 X-1 Concept McLaren
---
2011 Threewheeler Morgan
---
2010 XKR GT2 Jaguar
---
2010 GT-R Nissan
---
2009 Corvette C6.R GT2 Chevrolet
---
2009 XK Jaguar
---
2009 McLaren SLR 722 S Mercedes-Benz
---
blog comments powered by

Disqus