Mercedes-Benz wins Best of Show title at the 2012 Pebble Beach Concours d'Elegance
• A Mercedes-Benz Saoutchik S Type receives the coveted award • Originally delivered in 1928 • Seventh Best of Show title for Mercedes-Benz Stuttgart – A Mercedes-Benz Saoutchik S Type has won this year's Best of Show title at the Pebble Beach Concours d'Elegance. The car, whose 'torpedo' bodywork with low windscreen was designed by French coachbuilder Jacques Saoutchik, captured the hearts of the judges, who named it the finest vehicle on display at the prestigious event. The Mercedes-Benz Classic Archives have information on the winning car to offer. It was originally ordered by Mercedes-Benz Comp. Inc., New York, for a Mr. Charles Levine, New York. On 2 August 1928, the chassis was delivered to Saoutchik in Neuilly-sur-Seine, France. The company manufactured and mounted the sports two-seater body and charged 72,327.25 French Francs (equalling 11,572.35 Reichsmark) to Daimler-Benz AG in December 1928. The exact date of delivery is not documented, but it is supposed to have happened in December 1928.
Current owners Judy and Paul Andrews of White Settlement, Texas, had the car extensively restored before presenting it to the panel of judges in Pebble Beach. Before that the vehicle had been kept in storage for around 30 years. The Mercedes-Benz S Type – also known as the 680 S because of its 6.8-litre engine capacity – was launched in 1927 as an evolution of the Mercedes-Benz Model K super sports car. It established the legendary family of heavyweight supercharged cars that included the SS and SSK models from 1928. The cars dominated racing history over the years, but could also be bought as conventional road vehicles. All vehicles in this family had a six-cylinder in-line engine with a supercharger to increase output. Power was also boosted by the dual ignition. Each cylinder had two spark plugs, one fired by a battery ignition and the other by a high-voltage magneto ignition. Exclusive high-performance sports car The 6.8-litre engine of the S Type, the model on which all the others were based, produced an output of 120 bhp (88 kW) without a supercharger and 180 bhp (132 kW) with the supercharger engaged. This made the S Type one of the fastest and most sought-after sports cars of its time. Its debut public appearance at the opening race at the Nürburgring in 1927 ended with a threefold victory for Mercedes-Benz. Rudolf Caracciola drove his S Type across the finishing line in first place. Only 146 of these exclusive high-performance sports cars were ever made, the vast majority of them sold as open-top four-seaters with a Sindelfingen body. A select few, however, such as this year's Best in Show winner at Pebble Beach, were delivered as a chassis to have their bodywork made by the most famous coachbuilders of the era. For many years now, the Mercedes-Benz S Type has been one of the most popular collector's cars and also one of the most valuable. At a Gooding & Company auction held at the Pebble Beach Concours d'Elegance, a Mercedes-Benz 540 K Special Roadster from 1936 was sold for $11.8 million. 'Mercedes-Benz vehicles always achieve top prices at international auctions,' says Michael Bock, Head of Mercedes-Benz Classic. 'And the Special Roadster is one of the most coveted cars among prominent collectors.' This particular vehicle has an fascinating history. First bought by an aristocratic Prussian family, it soon passed into the ownership of Baroness Gisela von Krieger. During the Second World War, she took the Special Roadster first to Switzerland and from there to the USA, where it remained unused in a garage for more than 40 years until her death. The car was then restored to immaculate condition. The Pebble Beach Concours d'Elegance in the USA is among the world's most prestigious classic car shows. This year there was a separate class for the creations of Jacques Saoutchik. Originally from Russia, the cabinetmaker had emigrated to France and established a coachbuilding company that enjoyed widespread fame in the 1920s and 1930s. He produced many extravagant designs for Mercedes-Benz vehicles. Mercedes-Benz cars have a very special place on the hallowed turf of the Pebble Beach Concours d'Elegance, winning Best of Show seven times and collecting more than 120 First in Class and Special Awards as part of a long list of successes since 1950. Did you know ...? At the Goodwood Revival (14-16 September 2012) Mercedes-Benz Classic will be represented by five original Silver Arrows from the 1930s – and is organising a staged race for them together with Auto Union which will be the biggest gathering of Silver Arrows for a number of decades.
Recent Articles
STARS, STRIPES AND VICTORY FOR 'THE AMELIA'S' AUSTIN KIMBERLY IN BRITISH ROAD RACING CHAMPIOSNHIPAmerican teenager Austin Kimberly scored his first victory in the 2013 Avon Tyres National FF1600 Championship season at the 2.1 mile Anglesey road racing circuit in Wales (UK) last weekend (May 12). After qualifying third, the young American racer led every lap of the 25.1 mile championship race for 1600cc Formula Ford racers.

A go-kart racer since the age of nine, Austin opened the British Racing Sports Car Club's 2013 national Formula Ford Championship season with two podium appearances....
Grand Prix Circuits: Pau CircuitSome grand prix circuits just have a mythical status about them. Besides the drivers and great races, a lot of the equation comes down to how memorable the circuit truly is. In the case of the Pau Circuit, its sheer place in motorsport history and lore makes this tight, twisting circuit a true legend.

From its very beginnings, Pau would be at the heart of travel and transportation. Situated in a rather deep valley with the Pyrenees mountains lending an imposing back-drop, the area that would ....
McLAREN AUTOMOTIVE RETURNS TO SALON PRIVÉ AS PART OF 50-YEARS ANNIVERSARY CELEBRATIONSSalon Privé 2013: from Wednesday to Friday the 4th to 6th September

Syon Park, London, 20 May 2013 – Salon Privé is delighted to confirm McLaren Automotive will be returning this September as part the marque's 50-years anniversary celebrations.

This is the second year McLaren Automotive has featured on the Super Car Lawn at Salon Privé, with the 12C and 12C Spider sure to be amongst the highlights.

September 2nd marks McLaren's 50th birthday, just two days before Salon Privé 20....
Spectacular 1936 Delahaye Type 135 Competition Court Coupe and 1969 Ford GT40 MKI take Best in Show at the Concours d'Elegance of TexasHouston, Texas. May 17, 2013. Last weekend, the award winning La Torretta Lake Resort & Spa in Montgomery, Texas, played host to the biggest celebration of vintage motoring in Texas, welcoming thousands of visitors through its doors for The Houston Classic Weekend and 2nd annual Concours d'Elegance of Texas. The weekend got off to a high-octane start when Concours participants took to the open road on the Texas Tour d'Elegance, led by Richard Rawlings of Fast N' Loud fame, in a newly re-s....
ICONIC BLOWER BENTLEYS PRIMED FOR MILLE MIGLIA CHALLENGEFamous, supercharged Bentleys set for 1,000 mile Italian epic
•'Bentley Boy' Tim Birkin's 1930 Le Mans racer leads charge
•Original Bentley Motors 'demonstrator' completes team

(Crewe, 14 May 2013) Bentley Motors will compete in this year's Mille Miglia with two unique 4 ½ litre Supercharged 'Blowers'; a 1930 Le Mans race car belonging to perhaps the most famous and daring of the Bentley Boys and a company demonstrator that is still going strong even after nine decades on the road.

The N....
Pinehurst Concours Economic Impact Approaches $2 MillionVILLAGE OF PINEHURST, N.C. (May 13, 2013) – The inaugural Pinehurst Concours d'Elegance and the events surrounding the vintage auto showcase attracted more than 5,000 fans, and its economic impact approached $2 million despite unseasonably cool temperatures the first weekend of May, officials said.

'Having an event the caliber of a Concours in Moore County is significant, especially as it grows in recognition and importance in the Southeast,' said Caleb Miles, president and CEO of the Pinehur....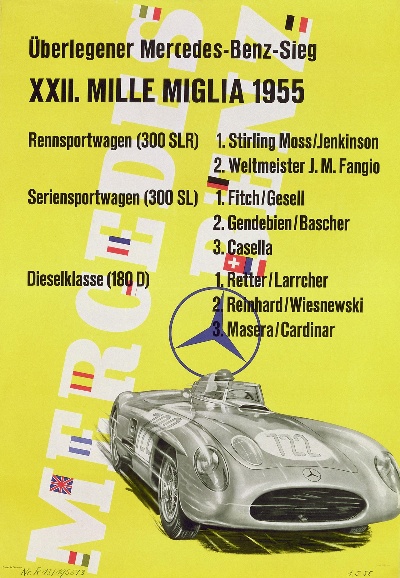 MILLE MIGLIA: MERCEDES-BENZ AS MAIN AUTOMOTIVE SPONSOR- Green light given for long-term partnership
- Another brand ambassador at Mille Miglia 2013: Marcel Tiemann

Mercedes-Benz is the main automotive sponsor of Mille Miglia. The corresponding agreement was reached between Mercedes-Benz Classic and 1000 Miglia S.R.L. in Brescia (Italy), with the aim of establishing a long-term collaboration. Mercedes-Benz Classic will be represented at this year's event with a number of vehicles, as well as five famous faces taking up their position at the star....
2014 LaFerrari Ferrari
---
2013 Zagato Roadster BMW
---
2013 Viper GTS Launch Edition Dodge
---
2013 MP4-12C Can-Am Edition Racing Concept McLaren
---
2013 MP4-12C SPIDER McLaren
---
2013 W04 Mercedes-Benz
---
2012 Mulsanne Convertible Concept Bentley
---
2012 F12berlinetta Ferrari
---
2012 X-1 Concept McLaren
---
2012 W03 Mercedes-Benz
---
blog comments powered by

Disqus