Mercedes-Benz wins Best of Show title at the 2012 Pebble Beach Concours d'Elegance
• A Mercedes-Benz Saoutchik S Type receives the coveted award • Originally delivered in 1928 • Seventh Best of Show title for Mercedes-Benz Stuttgart – A Mercedes-Benz Saoutchik S Type has won this year's Best of Show title at the Pebble Beach Concours d'Elegance. The car, whose 'torpedo' bodywork with low windscreen was designed by French coachbuilder Jacques Saoutchik, captured the hearts of the judges, who named it the finest vehicle on display at the prestigious event. The Mercedes-Benz Classic Archives have information on the winning car to offer. It was originally ordered by Mercedes-Benz Comp. Inc., New York, for a Mr. Charles Levine, New York. On 2 August 1928, the chassis was delivered to Saoutchik in Neuilly-sur-Seine, France. The company manufactured and mounted the sports two-seater body and charged 72,327.25 French Francs (equalling 11,572.35 Reichsmark) to Daimler-Benz AG in December 1928. The exact date of delivery is not documented, but it is supposed to have happened in December 1928.
Current owners Judy and Paul Andrews of White Settlement, Texas, had the car extensively restored before presenting it to the panel of judges in Pebble Beach. Before that the vehicle had been kept in storage for around 30 years. The Mercedes-Benz S Type – also known as the 680 S because of its 6.8-litre engine capacity – was launched in 1927 as an evolution of the Mercedes-Benz Model K super sports car. It established the legendary family of heavyweight supercharged cars that included the SS and SSK models from 1928. The cars dominated racing history over the years, but could also be bought as conventional road vehicles. All vehicles in this family had a six-cylinder in-line engine with a supercharger to increase output. Power was also boosted by the dual ignition. Each cylinder had two spark plugs, one fired by a battery ignition and the other by a high-voltage magneto ignition. Exclusive high-performance sports car The 6.8-litre engine of the S Type, the model on which all the others were based, produced an output of 120 bhp (88 kW) without a supercharger and 180 bhp (132 kW) with the supercharger engaged. This made the S Type one of the fastest and most sought-after sports cars of its time. Its debut public appearance at the opening race at the Nürburgring in 1927 ended with a threefold victory for Mercedes-Benz. Rudolf Caracciola drove his S Type across the finishing line in first place. Only 146 of these exclusive high-performance sports cars were ever made, the vast majority of them sold as open-top four-seaters with a Sindelfingen body. A select few, however, such as this year's Best in Show winner at Pebble Beach, were delivered as a chassis to have their bodywork made by the most famous coachbuilders of the era. For many years now, the Mercedes-Benz S Type has been one of the most popular collector's cars and also one of the most valuable. At a Gooding & Company auction held at the Pebble Beach Concours d'Elegance, a Mercedes-Benz 540 K Special Roadster from 1936 was sold for $11.8 million. 'Mercedes-Benz vehicles always achieve top prices at international auctions,' says Michael Bock, Head of Mercedes-Benz Classic. 'And the Special Roadster is one of the most coveted cars among prominent collectors.' This particular vehicle has an fascinating history. First bought by an aristocratic Prussian family, it soon passed into the ownership of Baroness Gisela von Krieger. During the Second World War, she took the Special Roadster first to Switzerland and from there to the USA, where it remained unused in a garage for more than 40 years until her death. The car was then restored to immaculate condition. The Pebble Beach Concours d'Elegance in the USA is among the world's most prestigious classic car shows. This year there was a separate class for the creations of Jacques Saoutchik. Originally from Russia, the cabinetmaker had emigrated to France and established a coachbuilding company that enjoyed widespread fame in the 1920s and 1930s. He produced many extravagant designs for Mercedes-Benz vehicles. Mercedes-Benz cars have a very special place on the hallowed turf of the Pebble Beach Concours d'Elegance, winning Best of Show seven times and collecting more than 120 First in Class and Special Awards as part of a long list of successes since 1950. Did you know ...? At the Goodwood Revival (14-16 September 2012) Mercedes-Benz Classic will be represented by five original Silver Arrows from the 1930s – and is organising a staged race for them together with Auto Union which will be the biggest gathering of Silver Arrows for a number of decades.
Recent Articles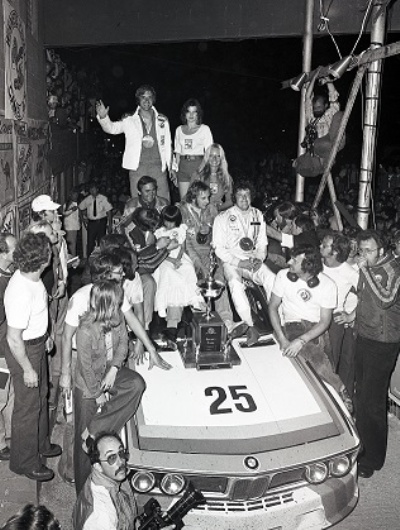 BMW's 'BATMOBILES' SET FOR 19th ANNUAL AMELIA CONCOURSScheduled to appear in the 19th Annual Amelia Concours' BMW 3.0 CSL 'batmobile class' are not only the 1975 Sebring 12 Hour and '76 Daytona 24 winners, but Alexander Calder's 1975 Le Mans 3.0 CSL with his trademark signature on the left rear fender.

BMW's 'Batmobile' racers were glorious mutants. They arrived from Europe wearing a frosting of giant wings, huge fender boxes and big spoilers, all powered by a 430 hp straight-six engine that made a glorious noise and propelled BMW's luxury cou....
400TH BUGATTI VEYRON SOLD – THE VEYRON BEGINS ITS FINAL LAPJust 50 models of the super sports car are still available

• 400th Veyron is a Grand Sport Vitesse 'Jean-Pierre Wimille' of the six-part edition 'Les Légendes de Bugatti'

• Head of Bugatti Wolfgang Schreiber, 'A unique success story about the most exclusive and luxurious super sports car brand in the world'


Molsheim, 5 December 2013. Bugatti has sold its 400th Veyron. Since the production run of the Veyron and its variants is limited to just 450 models, thi....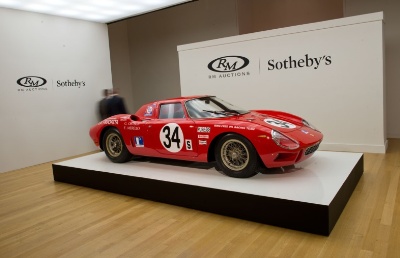 RM Auctions and Sotheby's Stun the Market with Incredible $63 Million 'Art of the Automobile' Sale in New York• RM Auctions and Sotheby's momentous Art of the Automobile auction generates $62,797,500 of sales in two hours of furious bidding
• Records tumble with the historic 1964 Ferrari 250 LM by Carrozzeria Scaglietti achieving $14,300,000 while the stunning 1938 Talbot-Lago T150-C SS Teardrop Cabriolet by Figoni et Falaschi sells for $7,150,000
• 93 percent of all lots sold to an international audience of bidders representing 17 countries
• Full results are available online at www.rmauctions.c....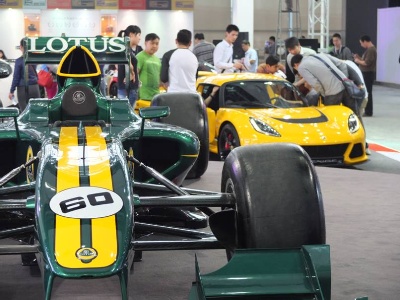 Lotus Gets Supercharged for Guangzhou MotorshowBritish sports car manufacturer Lotus showcases the jewels from its product line-up at the 2013 Guangzhou International Automobile Exhibition, further asserting its presence in the Chinese market as its popularity grows amongst China's fashion-conscious elite.

Chinese trend-setters looking for the ultimate in exclusivity and style, are warmly invited to the Guangzhou International Automobile Exhibition, where from 21 November, the iconic British sports car brand Lotus, affirms its commitment ....
Expert Symposium Delivered to Packed Room Ahead of 'Art of the Automobile' New York Sale• RM Auctions and Sotheby's deliver highly outstanding expert symposium to more than 700 people
• Six hugely influential and respected specialists set the scene in advance of truly groundbreaking Art of The Automobile sale
• Anticipation building for what is being regarded as one of the finest and most innovative collector car auctions ever held

NEW YORK, New York (November 20, 2013) – The eyes of the collector car community are firmly fixed on New York, as RM Auctions and Sotheby's,....
2015 Nissan GT-R Nismo
---
2014 Ferrari LaFerrari
---
2014 Lamborghini Aventador LP 700-4
---
2013 Aston Martin Vanquish Volante Neiman Marcus Edition
---
2013 BMW Concept M4 Coupe
---
2013 BMW Zagato Roadster
---
2013 Bugatti Veyron Grand Sport Vitesse Legend Jean-Pierre Wimille
---
2013 Bugatti Veyron Jean Bugatti
---
2013 Dodge Viper GTS Launch Edition
---
2013 Ford GTR1
---