1967 Can-Am Road America: The Beginning of the 'Bruce and Denny Show'
By: Jeremy McMullen
While Formula One will be forever considered the pinnacle of motorsport, from a period between 1966 and 1986 there existed a series that would likely be the closest to 'anything goes' as any motor racing series could truly get. Based upon the FIA Group 7 cars but allowed to showcase unlimited engine sizes and unfettered aerodynamics, the Can-Am cars would have to be considered the pinnacle of motorsport technology and power of their era. And for more than a couple of years there would be one team that would utterly dominate the proceedings so much so that the whole of the series would simply become known as 'The Bruce and Denny Show'. And, at Road America in 1967, the show would air for the first time. Bruce McLaren had been blessed with an incredible gift for motor sport. Not only was he a quick driver, but he also possessed an engineer's mind, and therefore, understood aerodynamics, car design and setting up cars for each particular venue. By the mid-1960s, McLaren's Formula One career was certainly off and running but facing a plateau at Cooper. In addition, McLaren had become interested in other forms of motor sport and had even begun driving for Ford as part of its GT40 program. McLaren's engineering mind would encourage him to start his own team to take part in sportscar racing, which he would do with a Zerex Special throughout 1964. However, by the end of the 1964 season, McLaren had built his own chassis, the McLaren Elva. With the new chassis Mclaren was showing great speed and would even come away with some impressive results. After a number of other successes in endurance sportscar racing, many of which would come around circuits dotted all over North America, he would come to hear about a new series that would be intended to debut in 1966 called the Canadian-American Challenge Cup, or, Can-Am. Based upon the existing Group 7 FIA regulations but unhindered in a number of ways, McLaren would become immediately interested in the new series as the 'no holds barred' series would enable him to put his engineering prowess to work.

Unfortunately, starting his own racing team was not a cheap endeavor, especially when he would be involved in creating Formula One and Can-Am cars at the same time. The limited amount of capital meant his first experience in the series would come at the wheel of the McLaren Elva Mark II B, otherwise known simply as the M1B. The Elva was still a great car and McLaren would prove this during the first round of the series, the Can-Am St. Jovite, when he finished the race in 2nd place behind John Surtees. However, the car was still not up to par with the Lola T70. But while many would say the Elva was certainly capable, in McLaren's mind, there was still a vast amount of potential that could be unlocked in a series that had virtually no limits. And he would set out to unlock that potential. The McLaren M1B Elva had first been developed for use in endurance sportscar racing and had been adapted for use in Can-Am. By the end of the 1966 season, McLaren and his team was busy preparing a car strictly for Can-Am, which meant it was strictly unrestricted. McLaren's first car prepared for Can-Am racing would be M1B. This car would utilize an 5.4-liter Oldsmobile 90 degree V8 engine capable of producing 340 bhp. With the steel tubular spaceframe body, the engine produced enough power to be more than adequately competitive. But this was Can-Am where there were practically no limits. Therefore, 340 bhp would be nothing compared to where McLaren would take the design. As the team developed its new car, it would continue to evolve the M1 to test new technology and components. Before McLaren debuted its new car at Road America on the 3rd of September, McLaren's team would create the M1C. This would provide the team with a glimpse of the direction things would be going when it rolled out with its 6-liter Chevrolet V8 engine producing a snarling 500 bhp. Weighing just 1300 pounds altogether, the M1C would be a leap forward in performance and would form a great testbed for the chassis soon to be mated with the powerful engine. The Can-Am season, at least in its first few years of existence, would take place during a narrow window of time. With Le Mans in the spring and Formula One throughout, Can-Am was left with just the fall of the year, in the northern hemisphere, in which to conduct its season. This, however, would provide teams, like McLaren to get their new cars ready in time before the first race of the season. McLaren would finish its new car in time for the first round of the Can-Am season. And as the teams arrived at Road America, near Elkhart Lake in Wisconsin for the race on the 3rd of September, McLaren's team would be busy unloading its newest challenger in the series, the M6A. Finished in the bright orange livery, the overall profile of the new M6A would be similar to the M1 design but would certainly have some improvements nose to tail. The engine itself would also be improved upon by September as well. Instead of the 6-liter Chevrolet V8 pumping out 500 bhp, the M6A would come with a 5.9-liter Chevrolet V8 engine. But despite being ever-so slightly smaller, the engine power would be increased up to 525 bhp. In addition, the steel spaceframe chassis would be gone and an aluminum monocoque chassis would be found in its place with an all fiberglass body. Despite the changes, the M6A was actually a little heavier than the M1C, but it was certainly stronger and much less complicated. Throughout the inaugural season of Can-Am racing, McLaren remained competitive but was never able to break through to victory. As the cars headed out onto the 4.0 mile Elkhart Lake road circuit for practice, it would become abundantly clear McLaren wasn't just competitive, but dominant. By the end of qualifying, McLaren M6As occupied the first two positions on the grid with McLaren on pole and Denny Hulme, a fellow New Zealander, occupying 2nd. The 3rd place starting car would be a Lola T70 driven by Dan Gurney. Despite all of his racing experience, Gurney would only manage to be just under two seconds slower around the 4.0 mile circuit. It was clear after qualifying that McLaren had set out to become a dominant force in Can Am and when he smashed Road America's previous lap record by no less than ten seconds, it was clear why Can-Am and McLaren would become synonymous for the next few years. Admittedly, McLaren would catch most of teams 'napping' and would surprise just about everyone. By the end of practice, the topic of conversation would be the McLarens at the front of the field. It was clear that McLaren had focused on Can-Am for 1967 and would certainly end up looking superior to any other car in the field. Despite the sheer speed, McLaren still had to be concerned about his cars completing the whole of the 200 miles. And as the cars rolled over the line and were showed the green flag to start the race, Hulme would jump into the lead ahead of McLaren while Bruce seemed to carefully make his way through the first few turns. Heading down the backstretch, Hulme had already begun to open up a few car lengths lead over McLaren who was steadily, and unhurriedly, pulling away from the rest of the field himself. By the end of the first lap, Hulme led the way still with McLaren a couple of car lengths back. The 3rd place car would already be a couple of seconds slower, just like in qualifying. Within just a couple of laps, Hulme and McLaren would have four seconds in hand over Gurney in 3rd place. However, Gurney would have to relinquish his position as his car would run into trouble. Gurney's woes would continue throughout the race and would see him drop well down in the order. Unfortunately, not all was well for the McLaren team despite leaving the rest of the field well behind. While Hulme continued in the lead without issue, the number 4 McLaren of Bruce McLaren would begin to slow. Though he would try to continue, it would become evident very quickly that the problem was terminal. It would be discovered that an oil leak in the bearings was the culprit. This would be a little worrying for the team, especially after the two cars were absolutely running away with the race. Now, Hulme would need to remain fast, but would certainly need to look after the car. Despite McLaren's troubles, Hulme would only continue to add to his lead of Surtees and the rest of the field following along well behind. Though McLaren had departed the scene, the team would find itself well represented and Hulme was certainly more than capable of carrying the team forward. More than 50,000 spectators would be on hand to witness Hulme powering his way to a lead of more than a minute and only going faster as the race carried on. Hulme's pace would be such that he would even lap Jim Hall in his Chaparral before the end. Even on the last lap of the race he would not ease off the pace any. Blasting his way through Thunder Valley and making his way up the hill and across the line, Hulme would be uncontested throughout the whole of the 200 mile race. It would be an absolutely dominant performance with Hulme setting a new record for average speed. The 2nd place finisher would be Mark Donohue driving for Roger Penske in a Lola T70. The margin back to Donohue would be just a mere one minute and thirty-three seconds. Nearly two minutes would be the difference back to John Surtees in 3rd place in another Lola T70. The beginning of the 1967 Can-Am season would not start out as a highlight for Bruce McLaren but it would certainly be a special moment for his racing team. McLaren had set about designing a car that would not only provide his team victory in Can-Am, but that would also dominate the proceedings as well. Denny Hulme would do just that though McLaren retired. It was clear the team had faith in what it had produced and the success the team would achieve over the next few years only provided proof. Despite Hulme going on to take victory in the first three rounds of the championship, McLaren would take two straight victories himself and would come away with the championship at the end of the season. It was only fitting that the man with the idea for the car would take the championship. But, McLaren placed the team ahead of himself and would experience the incredible fruits of his labors. The 1967 Can-Am race at Road America would offer spectators their first glimpse of an indomitable team that would absolutely control Can-Am even up into the early 1970s. The strength of the team would come not just from the car, but from the team on a whole. Even after McLaren's untimely death in 1970, McLaren's Can-Am team would carry on without missing a stride. In fact, even in the year of his death, McLaren's team would destroy all comers in Can-Am and Hulme would power his way to a convincing title having scored more than double the points of the 2nd place driver in the championship. Yes, during the 1967 season the car would be a star, but it would be the pairing of Hulme and McLaren that would be the real show and that would carry the team on to become one of the most popular highlights in Can-Am. When one struggled another thrived and carried the team on to victory. At the next race it wasn't unlikely the roles would reverse. Both more than capable of carrying the day, it was little wonder why it would become known as 'The Bruce and Denny Show'. And one glance at the achievements of the team in Can-Am and it would be little wonder why McLaren and Can-Am would become synonymous. Sources:
'Can-Am Road America 1967', (http://www.racingsportscars.com/photo/Road_America-1967-09-03.html?sort=Results). Racing Sports Cars. http://www.racingsportscars.com/photo/Road_America-1967-09-03.html?sort=Results. Retrieved 28 August 2012.

'1966 McLaren M1B News, Pictures and Information', (http://www.conceptcarz.com/vehicle/z11342/McLaren-M1B.aspx). Conceptcarz.com: From Concept to Production. http://www.conceptcarz.com/vehicle/z11342/McLaren-M1B.aspx. Retrieved 28 August 2012.

'McLaren M1B Chevrolet', (http://www.ultimatecarpage.com/car/4876/McLaren-M1B-Chevrolet.html). Ultimatecarpage.com: Powered by Knowledge, Driven by Passion. http://www.ultimatecarpage.com/car/4876/McLaren-M1B-Chevrolet.html. Retrieved 28 August 2012.

'McLaren M1C Chevrolet', (http://www.ultimatecarpage.com/car/308/McLaren-M1C-Chevrolet.html). Ultimatecarpage.com: Powered by Knowledge, Driven by Passion. http://www.ultimatecarpage.com/car/308/McLaren-M1C-Chevrolet.html. Retrieved 28 August 2012.

'1967 Can-Am Road America', video. http://www.youtube.com/watch?v=y2mdNT0JsRo. Sep 3, 2010. Retrieved 28 August 2012.

'McLaren M6A Chevrolet', (http://www.ultimatecarpage.com/car/311/McLaren-M6A-Chevrolet.html). Ultimatecarpage.com: Powered by Knowledge, Driven by Passion. http://www.ultimatecarpage.com/car/311/McLaren-M6A-Chevrolet.html. Retrieved 28 August 2012.

Wikipedia contributors, 'Riverside International Raceway', Wikipedia, The Free Encyclopedia, 23 July 2012, 02:00 UTC, http://en.wikipedia.org/w/index.php?title=Riverside_International_Raceway&oldid=503689994 accessed 28 August 2012

'Drivers: Bruce McLaren Archive', (http://www.racingsportscars.com/driver/archive/Bruce-McLaren-NZ.html?page=3). Racing Sports Cars. http://www.racingsportscars.com/driver/archive/Bruce-McLaren-NZ.html?page=3. Retrieved 28 August 2012.

Wikipedia contributors, 'Can-Am', Wikipedia, The Free Encyclopedia, 12 June 2012, 02:46 UTC, http://en.wikipedia.org/w/index.php?title=Can-Am&oldid=497161549 accessed 28 August 2012
Recent Articles
Maserati Celebrates 100th Anniversary as Featured Marque of the Rolex Monterey Motorsports ReunionAugust 14-17 at Mazda Raceway
MONTEREY, Calif., December 10, 2013 — The Rolex Monterey Motorsports Reunion will celebrate the rich 100-year history of Maserati, one of Italy's iconic luxury sports car brands that throughout the century has been deeply rooted in racing. The celebration will be held August 14-17, 2014 at Mazda Raceway Laguna Seca.

The Monterey Classic Car Week and Rolex Monterey Motorsports Reunion is a haven for international classic car enthusiasts. Centered a....
Seb and the Team Crowned ChampionsPARIS – Sebastian Vettel and Infiniti Red Bull Racing were awarded their trophies for winning the 2013 Drivers' and Constructors' Championship titles respectively at last Friday night's FIA's annual Prize-Giving Gala in Paris.

Held at the Cité du Cinéma movie studios complex built by legendary French film director Luc Besson, the Formula One awards section of the evening kicked off with Mark receiving his trophy for finishing in third place in the Drivers' standings in his final Formul....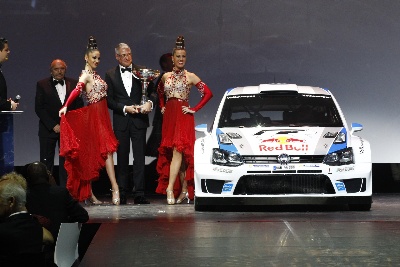 GREAT HONOUR, GRAND CELEBRATION: WORLD CHAMPIONSHIP TROPHIES PRESENTED TO VOLKSWAGENA celebratory end to an incredible season: Volkswagen Board Member for Technical Development, Dr. Heinz-Jakob Neußer, and World Rally Champions Sébastien Ogier and Julien Ingrassia were in Paris to receive their FIA World Rally Championship (WRC) trophies. Making its debut in the World Championship with the 315-hp Polo R WRC this year, Volkswagen won every title at the pinnacle of rallying. FIA President Jean Todt was on hand to personally present the trophies to the Volkswagen team at the glamo....
KATY PERRY TO PERFORM AT INFINITI BRAND FESTIVAL IN CHINA• Katy Perry's first ever performance in China

• Major public event to celebrate the Infiniti brand in China

• Infiniti retail and manufacturing business growing rapidly in China

Beijing / Hong Kong - Infiniti announced that U.S. singer, songwriter and actress, Katy Perry, will perform as a special guest at the 2014 Infiniti China Brand Festival in Beijing. Several thousand guests are expected at the Beijing indoor Olympic Stadium on Saturday, January 11, to par....
PORSCHE: MOST SUCCESSFUL MANUFACTURER IN ALMS HISTORY WITH 12 CLASS CHAMPIONSHIPSAtlanta. Official testing for the new TUDOR United SportsCar Championship (TUSCC) series has already begun, and sports car fans everywhere are discussing the new classes, the new rules, the new cars, the new venues and how it will all come together on the track.

However, let's take one last look in the rear view mirror at the American Le Mans Series (ALMS), which started in March, 1999 at Sebring, and ended just weeks ago at Road Atlanta. The retrospective provides a basis for what Por....
LE MANS GREATS HEAD STUNNING ROSTER OF ADDITIONAL ENTRIES FOR RM'S 2014 PARIS SALE DURING RETROMOBILE WEEK• Anticipation builds ahead of RM's €25 million debut Paris sale on 5 February 2014
• More Le Mans greats join stunning competition car line-up at saleLatest highlights include a 1982 Rondeau M482 Le Mans GTP, a veteran of five Le Mans 24 hours races, and a mighty 2008 Peugeot 908 HDi FAP Le Mans Prototype, which finished 2nd at Le Mans, was driven by Jacques Villeneuve, and has been entrusted to be sold by RM by the Peugeot factory
• Other recently secured entries include a Bugatti Type 40 Ro....
McLAREN P1™ JOINS THE EXCLUSIVE SUB-SEVEN MINUTE CLUB AT THE NÜRBURGRING◾The McLaren P1™ achieves its one remaining performance target
◾An average speed in excess of 178 km/h (111 mph) necessary to achieve the required lap time around the 20.8km (13 mile) circuit
◾Short film celebrating the team's achievement at the Nürburgring is available to view and embed at: http://youtu.be/E9IWiTpWeiM

The McLaren name was born on the racetrack and, 50 years on, is the most successful name in global motorsport. That desire and determination to push for every extra tenth of....
Infiniti To Reveal Formula One Inspired Concept At Detroit ShowHong Kong – Infiniti will reveal a Formula One inspired concept car based on the Q50 premium sports sedan at the North American International Auto Show in Detroit.

The concept car represents Infiniti's design vision of a high performance variant of Q50. Called 'Q50 Eau Rouge,' the car is named after the world-famous corner at the Formula One track in Spa-Francorchamps, a corner which requires extraordinary strength, courage and commitment; it has seen some of the most incredible drivin....
2014 Dodge SRT Viper TA
---
2014 Dodge Viper TA
---
2014 Ferrari 458 Speciale
---
2014 Ferrari F12berlinetta
---
2014 Ferrari FF
---
2014 Ford Expedition
---
2014 Ford George Follmer Edition Mustang
---
2014 Infiniti Q50
---
2014 Lamborghini Gallardo LP 570-4 Performante Edizione Tecnica
---
2014 Mercedes-Benz CLA-Class
---