DP Season Championship Hangs in Balance; GT Champions Crowned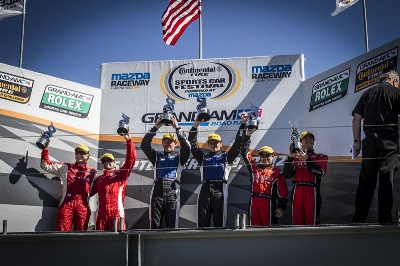 The track at Mazda Raceway Laguna Seca felt more like a boxing ring as the gloves came off for the penultimate race of the 2012 GRAND-AM Rolex Sports Car Series. From the drop of the green flag, through most of the race, teams were in full combat mode as the series championship title remained within grasping reach of several. Spectacular conditions at the track only served to enhance the fan enjoyment of the two hour and 45 minute sprint race for the 10 Daytona Prototypes and 17 Grand Touring cars. Starting from pole position, the #90 Spirit of Daytona Racing Corvette DP carried through to win their third race of the season while also becoming the only team to achieve three DP wins thus far in the 2012 GRAND-AM Rolex Sports Car Series. Richard Westbrook (London, England) and Antonio Garcia (Madrid, Spain) saw their two previous wins also arise from pole starts: at Barber Motorsports Park and the Mid-Ohio Sports Car Course. 'Richard drove a brilliant two stints and half the job was done by him,' said Garcia, who drove the final laps of the race and brought the car in with fuel running low. 'This is our third win this year and I put it down to fuel strategy. It was a great day for us and I am thrilled to have won today. I knew it was going to be a difficult race and we had to rely on the team and follow team directions. It was an awesome day for a race and I am very happy.' 'We got here nice and early and got rid of the jet lag,' said Westbrook who explained that strategy and track position are very important at Mazda Raceway Laguna Seca because overtaking is so difficult. 'This track has been good for us. We needed a trouble free weekend and that's what we got. I knew at some point that we had a good chance of winning, but I was basically hoping that we would stay fast enough and nobody would go off and bring out the yellow. Our tires held up pretty good and that was a pleasant surprise. This track is very slippery and really sensitive to temperature changes. We were essentially going into the unknown in the race because we have never done a long run on these tires during practice. It was key for us, and I am sure it was key for the #99 car as well and I believe that is how we got back into the lead at the end.'
Asked about the recently announced merger of GRAND-AM and the American Le Mans Series, Westbrook commented: 'As far as the merger with ALMS there is nothing I can think of that is negative, I can only think of pluses. It's a brilliant thing for sports car racing on this side of the pond and if they get it right, sports car racing in North America will be the biggest thing in the world and rightly so.' Second across the finish line were the defending race winners, Jon Fogarty (Bend, Ore.) and Alex Gurney (Irvine, Calif.), in the #99 GAINSCO/Bob Stallings Racing Corvette DP, followed by the #8 Starworks Motorsports Ford Riley driven by Ryan Dalziel (Orlando, Fla.) and Alex Tagliani (Montreal, CAN). Finishing sixth in the DP class were series points leaders Memo Rojas (Mexico City, Mexico) and Scott Pruett (Auburn, Calif.) driving the #01 Chip Ganassi Racing with Felix Sabates BMW Riley. 'We have to keep our eye on the big picture with the championship on the line,' said Pruett before the start of the race. 'We're racing real close with the #8 Starworks car, so we'll keep that in our sights the whole time. Yes we want to win the race, and yes we want to be up front as much as we can, but at the end of the day it's about points and winning the championship.' While Pruett and Rojas had wanted to finish ahead of the #8 Starworks car in order to not loose points in the championship, they ultimately were able to retain their position as series standings leaders. The DP championship winners will now be determined at the 14th and final race of GRAND-AM's 2012 Rolex Sports Car Series which will be run Saturday, September 29, at Lime Rock Park in Lakeville, Conn. In the GT class, Dane Cameron brought the #43 Team Sahlen Mazda RX-8 across the finish to win the GT class. The 23-year old California native (Newport Beach), a driving school instructor currently residing in Sonoma, was overcome with emotion following the race. 'I have no words,' said Cameron, who shared driving duty with Wayne Nonnamaker (North Canton, Ohio). 'We were fast all weekend. We were up front all day….we won at home!' The 2010 series champions in the GT class came into this race holding the lead in the standings and needing to leave MRLS with a 35 point lead in order to put a lock on the 2012 championship. The winners of the Grand Prix of Miami, the Global Barter 250 and Road America, Emil Assentato (Locust Valley, N.Y.) and Jeff Segal (Miami, Fla.), driving the #69 AIM Autosport Team FXDD Ferrari 458, put up a second-place finish that resulted in a 39-point cushion and made them mathematically unbeatable. It's unbelievable to win the championship again, it's the second time in two years,' said Assentato who admitted he was really looking forward to going to Lime Rock and enjoying it. 'Without Jeff and the support we get from FXDD and AIM Autosport and all the work they did this year, it wouldn't be possible… it's a total team effort and it was a fantastic job everybody did. I can't believe we won the championship here, it is so exciting; no words can describe how I feel right now.' 'I hope the fact that we won the championship sinks in shortly,' added Segal. 'It is so unbelievable that we have won it twice in three years and it is so great that we won it for Ferrari upon their return…. unbelievable. There was never a dull moment during the race from the very start. There was lots of contact and no shortage of close moments right to the end of the race. I just want to sit down now and calm down a little bit.' The third spot on the GT podium was taken by Andy Lally (Northport, N.Y.) at the wheel of the #44 Magnus Racing Porsche GT3 Cup car with co-driver and team owner John Potter (Salt Lake City, Utah). The pair won the first ever North American Endurance Challenge earlier in the season based on their class wins at the Rolex 24 At Daytona and the Brickyard Grand Prix. Prior to the start Potter was predicting a tough race. 'The Grand-Am Rolex Sports Car Series always has tough competition. We have a great car setup for the long run because like everyone else we've been having some tire wear issues so the goal is to outlast everyone else. The third year is here and it has been with a great group of guys all putting in amazing efforts and all with amazing abilities. Little things have kept us from reaching the top level in past years so it's nice to let people see where we finally are and what this group of people is capable of.' 'I haven't had the kind of experience as a driver that other drivers here today have had, such as my co-driver Andy Lally. I started off with the Skip Barber School and race series, then with the GRAND-AM Rolex Sports Car Series with other teams, and then I formed my own team, Magnus Racing, and you can say it was an accelerated path to get here. It may not have been the easiest path, but it has paid off in the end.' Alessandro Balzan (Rovigo, Italy), who made his debut in the series and won the class pole position in the #63 Scuderia Corsa Ferrari 458, finished fourth in the class with co-driver Olivier Beretta (Monaco). The team is using this event to warm up for the 2013 GRAND-AM Rolex Sports Car Series and their auspicious start this late in the 2012 season will undoubtedly make them a team to watch at the 2013 Rolex 24 at Daytona. The 2012 GRAND-AM Rolex Sports Car Series will conclude on Saturday, September 29, at Lime Rock Park in Lakeville, Conn.
Recent Articles
HONDA ANNOUNCES MAJOR USAC PARTNERSHIP PROGRAM05/23/2013 - TORRANCE, Calif. American Honda Motor Co., Inc., today announced a comprehensive motorsports partnership program with the United States Auto Club (USAC), including title sponsorship of several USAC racing series and a new role as Official Engine Supplier to the Ignite Midget Series. Implementation of these programs will begin this year, and will be fully in effect for the 2014 race season.

Under terms of the multi-year agreement, Honda will become title sponsor for USAC'....
Road To Le Mans – Planning Is Key To Handling Overseas LogisticsMay 23, 2013 , Mooresville, N.C. - Destination – Le Mans, France.
For those in the world of sports car racing receiving an invitation to compete in the 24 Hours of Le Mans – the most prestigious sports car endurance race in the world – the weeks leading up to making the trip is filled with excitement and anticipation but requires extensive planning.

On February 1, SRT Motorsports accepted an invitation from the Automobile Club de I'Ouest (ACO) to field two SRT Viper GTS-Rs in the 81....
Goodyear Kicks Off 4Th Annual 'Gives Back' Campaign• Goodyear Transforms NASCAR Tires for Memorial Day Race Weekend and Launches Charity Auction to Benefit Support Our Troops®


AKRON, Ohio, May 23, 2013 – Continuing its long history of supporting the men and women of the U.S. Armed Forces, The Goodyear Tire & Rubber Company, exclusive tire supplier of NASCAR's three major national series, is waving the green flag on the fourth annual 'Goodyear Gives Back' charitable program benefitting the Support Our Troops® organization.
....
Honda Chases 10Th Consecutive Indy Triumph05/21/2013 - TORRANCE, Calif. An accomplished 16-driver lineup, including two previous race winners and 11 graduates of open-wheel training-ground series, make up the Honda-powered effort for the 2013 Indianapolis 500, as the company seeks its 10th consecutive '500' victory – and fourth-in-a-row with engine-manufacturer competition.

In 2012, Target Chip Ganassi Racing's Dario Franchitti scored his third Indy triumph in a thrilling battle to the finish with fellow Honda drivers Takuma S....
SRT VIPER SET FOR RETURN TO THE 24 HOURS OF LE MANSMay 21, 2013 , Auburn Hills, Mich. - The 24 Hours of Le Mans is the world's oldest active sports car race. The first event was held in 1923 and for driver and machine, it's the ultimate test of speed, efficiency and endurance. Participation is by invitation only as the Automobile Club de I 'Quest (ACO) selects the 56 entries. The 81st edition is set for June 22-23 at Circuit de la Sarthe in Le Mans, France.

Two identically prepared SRT Viper GTS-Rs will return to the Le Mans stage for....
Audi Customers Pass Tough Eifel Test◾Race interruption and high retirement rate due to extreme weather
◾G-Drive Racing by Phoenix best Audi customer team in fifth place
◾Three Audi R8 LMS ultra cars among the top ten

Ingolstadt/Nürburg, May 20, 2013 – The customer teams of last year's winner Audi experienced one of the toughest events of the Nürburgring 24 Hours this year. Heavy rain forced race control during the night to interrupt the race for more than nine hours. Numerous accidents caused a treacherous mix of oil, ....
Aston Martin Celebrates Centenary At Nürburgring 24 HoursNürburgring, 20 May 2013 – Aston Martin's weekend of centenary celebrations at the ADAC Zurich Nürburgring 24 Hours (N24) concluded this evening (Monday 20 May) with a thrilling top-ten result for its Bilstein-liveried V12 Vantage GT3 and a historic finish for its unique Hybrid Hydrogen Rapide S in one of the most grueling 24-hour races in recent years.

In a weekend that started with the British luxury sports car maker entering the history books with a zero CO2 emissions hydrogen-power....
Ferrari Challenge Europe Rolls Into The Czech Republic For Round TwoFerrari Challenge Czech's in to Brno

Brno, - The Ferrari Challenge Europe rolls into Brno in the Czech republic this weekend for the second round of the championship.

Local interest will be provided by Scuderia Praha lead driver and dealer principal Robert Pergl (No.11), who will compete in the Trofeo Pirelli category. The team will also enter 2 cars in the Coppa Shell category for Slovakian drivers Jakubik (No.188) and Kukacka (no.190).

Pergl is a highly experienced Ferrari race....
2014 MDX Acura
---
2014 CX-5 Mazda
---
2014 P1 McLaren
---
2014 911 GT3 Porsche
---
2014 918 Spyder Porsche

---
2013 R8 GRAND-AM Audi
---
2013 Continental GT3 Concept Bentley
---
2013 Z4 GTE BMW
---
2013 Corvette Z06 Chevrolet
---
2013 Viper GTS-R SRT Dodge
---
blog comments powered by

Disqus