Chubb Insurance Concours d'Elegance Judging Day Concludes Salon Prive 2012
• 'Best of Show' prize goes to the 1950 Ferrari 166 MM Barchetta entered by Dudley and Sally Masson-Styrron
• Most prestigious judging panel in Salon Privé history congratulates all category winners for the UK's most outstanding line-up of bikes and cars in 2012
Syon Park, West London, 10th September 2012 – The Chubb Insurance Concours d'Elégance judging day at Salon Privé London marked the close of the Luxury Super Car Show, with a fabulous line up of 111 cars and bikes shortlisted down to 39 Concours prize winners for 2012. Leading the winners with the coveted 'Best of Show' prize was a 1950 Ferrari 166 MM entered by Dudley and Sally Masson-Styrron. The Barchetta is the 16th of just 25 bodied by Carrozzeria Touring, and boasts a fantastic racing history. As a works car it competed at the famous Targo Florio and Mille Miglia events and more recently at the Monaco Historique and Goodwood Festival of Speed. Category winners:
Class A (Ferrari F40- Celebrating 25 Years of an Icon): 1992 Ferrari F40 entered by Tom Hartley Class B (Pre-War Rarities): 1932 Alfa Romeo 6c 1750 Gran Sport 5th Series entered by Deryk Haithwaite Class C (Closed Sports Cars from the Swinging Sixties): (and People's Choice winner) – 1968 Ferrari 275 GTB/4 entered by Nigel Allen Class D (Vee-Twins Through the Ages): Motorcycle category - 1953 Vincent Black Shadow Series C entered by Peter Bullard Class E (Open Sports Cars from the Swinging Sixties): 1961 Ferrari 250 GT SWB California Spyder entered by Joe Macari Class F (Collection of Shooting Brakes): 1941 Chrysler Town & Country Car entered by Peter Heydon Class G (Bugatti – The Vintage Competition Series): 1925 Bugatti Type 35 entered by Sir John Venables-Llewelyn Class H (Important Competition Machines): Motorcycle category - 1972 Harley Davidson XR750TT entered by John Warr Class I (The Design Class Featuring Carrozzeria Touring Superleggera) 1950 Ferrari 166 MM Barchetta entered by Dudley and Sally Masson-Styrron Class J (Mercedes-Benz Gullwing – The Legend at 60) 1955 Mercedes-Benz 300 SL Gullwing entered by Robert Lewis Special Awards: Best Interior: 1941 Chrysler Town & Country Car entered by Peter Heydon Most Sensitive Restoration: 1961 Ferrari 250 GT SWB California Spyder entered by Joe Macari Best Designed Car: 1969 Lamborghini Miura S entered by Jane Weitzmann Most Original Car: 1969 De Tomaso Mangusta entered by Jonathan Root Most Exciting Car: 1963 Shelby Cobra 289 entered by William Heinecke Most Elegant Car: 1961 Ferrari 250 GT SWB entered by Gavin Moule Most Original Motorbike: 1970 Dresda 650 Sport entered by David Degens The Biggest 'Wow' Factor: 1975 Honda SS100 entered by Allen Millyard Now in its seventh year, Salon Privé took place from the 5th to 7th of September at West London's Syon Park and is firmly established as the UK's most prestigious Super Car Show & Concours d'Elégance. Several new product debuts, as well as the Chubb Insurance Concours d'Elégance and a host of exclusive luxury goods exhibits, place Salon Privé among the leading automotive shows of the world, alongside the U.S.'s Pebble Beach and Italy's Villa d'Este. www.salonprivelondon.com
Recent Articles
Recall the Auto Avio 815 at the Maranello MuseumMaranello, 9 December – On Wednesday 11 December at 17h30, the Ferrari Museum in Maranello will hold a presentation for the book, 'La Prima corsa di Enzo Ferrari,' (Enzo Ferrari's first race) written by Gian Paolo Maini. Also present apart from the author, will be the Vicepresident of the Maranello marque and son of the Founder, Piero Ferrari and Claudio Rangoni Machiavelli, grandson of the marquis Lotario, the other protagonist of the volume edited by Imprimatur.

The book tells the ....
Car Expert Hans Wurl Joins Gooding & Company's Team of Classic Automobile SpecialistsSANTA MONICA, Calif. (December 9, 2013) – Gooding & Company, the official auction house of the Pebble Beach Concours d'Elegance®, is expanding its existing team with the addition of Hans Wurl, a well-known classic car specialist with a strong technical background. Wurl has served as advisor to noted collectors and participated in some of the best collector car events around the world. Based in Seattle, Wurl joins Gooding & Company's team of respected automotive specialists David Brynan,....
McLAREN P1™ JOINS THE EXCLUSIVE SUB-SEVEN MINUTE CLUB AT THE NÜRBURGRING◾The McLaren P1™ achieves its one remaining performance target
◾An average speed in excess of 178 km/h (111 mph) necessary to achieve the required lap time around the 20.8km (13 mile) circuit
◾Short film celebrating the team's achievement at the Nürburgring is available to view and embed at: http://youtu.be/E9IWiTpWeiM

The McLaren name was born on the racetrack and, 50 years on, is the most successful name in global motorsport. That desire and determination to push for every extra tenth of....
400TH BUGATTI VEYRON SOLD – THE VEYRON BEGINS ITS FINAL LAPJust 50 models of the super sports car are still available

• 400th Veyron is a Grand Sport Vitesse 'Jean-Pierre Wimille' of the six-part edition 'Les Légendes de Bugatti'

• Head of Bugatti Wolfgang Schreiber, 'A unique success story about the most exclusive and luxurious super sports car brand in the world'


Molsheim, 5 December 2013. Bugatti has sold its 400th Veyron. Since the production run of the Veyron and its variants is limited to just 450 models, thi....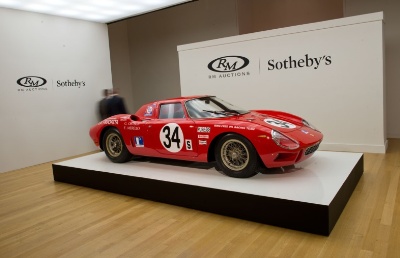 RM Auctions and Sotheby's Stun the Market with Incredible $63 Million 'Art of the Automobile' Sale in New York• RM Auctions and Sotheby's momentous Art of the Automobile auction generates $62,797,500 of sales in two hours of furious bidding
• Records tumble with the historic 1964 Ferrari 250 LM by Carrozzeria Scaglietti achieving $14,300,000 while the stunning 1938 Talbot-Lago T150-C SS Teardrop Cabriolet by Figoni et Falaschi sells for $7,150,000
• 93 percent of all lots sold to an international audience of bidders representing 17 countries
• Full results are available online at www.rmauctions.c....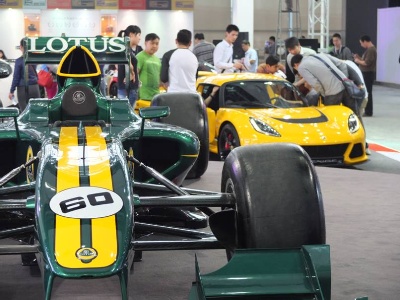 Lotus Gets Supercharged for Guangzhou MotorshowBritish sports car manufacturer Lotus showcases the jewels from its product line-up at the 2013 Guangzhou International Automobile Exhibition, further asserting its presence in the Chinese market as its popularity grows amongst China's fashion-conscious elite.

Chinese trend-setters looking for the ultimate in exclusivity and style, are warmly invited to the Guangzhou International Automobile Exhibition, where from 21 November, the iconic British sports car brand Lotus, affirms its commitment ....
Expert Symposium Delivered to Packed Room Ahead of 'Art of the Automobile' New York Sale• RM Auctions and Sotheby's deliver highly outstanding expert symposium to more than 700 people
• Six hugely influential and respected specialists set the scene in advance of truly groundbreaking Art of The Automobile sale
• Anticipation building for what is being regarded as one of the finest and most innovative collector car auctions ever held

NEW YORK, New York (November 20, 2013) – The eyes of the collector car community are firmly fixed on New York, as RM Auctions and Sotheby's,....
2014 Bentley Continental GT V8 S
---
2014 Bentley Continental GT V8 S Convertible
---
2014 BMW Z4
---
2014 Caterham Seven 620R
---
2014 Ferrari LaFerrari
---
2014 Jaguar Project 7 Concept
---
2014 Peugeot RCZ R
---
2014 Skoda Octavia RS
---
2013 Alfa Romeo Disco Volante Touring
---
2013 Aston Martin Vanquish Volante Neiman Marcus Edition
---