Nissan Prepares for British GT Showdown
The scene has been set for a dramatic showdown in the 2012 British GT Championship with a group of cars all in with a shot at the title at the season-closer in three weeks' time. This weekend's race at Silverstone produced a mixed result for many of the title contenders, not least the Nissan GT-R Nismo GT3 that finished in eighth place after a three-hour long battle at Silverstone. The No.35 Nissan GT-R is still in third place in the championship but the scores are so close that the Donington race looks set to become a winner-takes-all event. Even though it was Jann Mardenborough's 21st birthday last weekend, the young Nissan racer didn't get the winner's trophy this time out. With many of the top runners receiving time penalties for various on-track misdemeanours, the No.35 Nissan GT-R wasn't left out and had a few too many trips to the 'naughty step'. The weekend started well for the team and Jann qualified the GT-R in ninth place against the professional racers in the series. His team-mate Alex Buncombe took the start and was up to third place by lap four and then took third just a couple of laps later. It looked like they would be able to climb up the order and take a top result but then the penalties began to come. The main issue was with drivers running too wide at Copse corner but that extra bit of tarmac was far too enticing for most of the cars on track today, one of which got caught out six times!

Unfortunately for the team the GT-R later developed an ABS problem and Jann had to do his final stint without ABS or traction control so he was very busy in the car. 'That final run was tough,' said Jann. 'It is what it is though so I just got stuck in and made the best of it. We raced hard today and eighth place doesn't reflect the work that everyone put in. We will come back stronger at Donington and it looks like everything is still there for the taking so that is going to be an amazing event. We're up for the fight and I think our competitors are too so if you were going to watch a British GT race this year make it the next one!' 'It was annoying to have the problems with the car and it was annoying to have the penalties,' said team boss Bob Neville, summing up the day. 'The good news is that our main opposition also struggled and we managed to score some points so there is still a championship title up for grabs.' The Donington round of the 2012 British GT Championship takes place on September 30.
Recent Articles
Audi Customers Pass Tough Eifel Test◾Race interruption and high retirement rate due to extreme weather
◾G-Drive Racing by Phoenix best Audi customer team in fifth place
◾Three Audi R8 LMS ultra cars among the top ten

Ingolstadt/Nürburg, May 20, 2013 – The customer teams of last year's winner Audi experienced one of the toughest events of the Nürburgring 24 Hours this year. Heavy rain forced race control during the night to interrupt the race for more than nine hours. Numerous accidents caused a treacherous mix of oil, ....
Aston Martin Celebrates Centenary At Nürburgring 24 HoursNürburgring, 20 May 2013 – Aston Martin's weekend of centenary celebrations at the ADAC Zurich Nürburgring 24 Hours (N24) concluded this evening (Monday 20 May) with a thrilling top-ten result for its Bilstein-liveried V12 Vantage GT3 and a historic finish for its unique Hybrid Hydrogen Rapide S in one of the most grueling 24-hour races in recent years.

In a weekend that started with the British luxury sports car maker entering the history books with a zero CO2 emissions hydrogen-power....
Ferrari Challenge Europe Rolls Into The Czech Republic For Round TwoFerrari Challenge Czech's in to Brno

Brno, - The Ferrari Challenge Europe rolls into Brno in the Czech republic this weekend for the second round of the championship.

Local interest will be provided by Scuderia Praha lead driver and dealer principal Robert Pergl (No.11), who will compete in the Trofeo Pirelli category. The team will also enter 2 cars in the Coppa Shell category for Slovakian drivers Jakubik (No.188) and Kukacka (no.190).

Pergl is a highly experienced Ferrari race....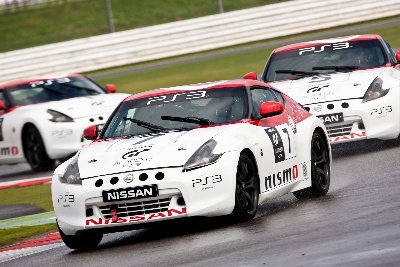 NISSAN AND PLAYSTATION ANNOUNCE BIGGEST EVER GT ACADEMY PROGRAMLONDON and PARIS - Nissan and Sony Computer Entertainment Europe have revealed that the innovative GT Academy competition will return for a fifth season. GT Academy 2013 will be the biggest yet, with more countries than ever before participating and the online gaming element of the competition set to be run in July on a demo of the hotly-anticipated Gran Turismo®6 game exclusively on PlayStation®3.

Since its inception in 2008, the highly acclaimed virtual-to-reality competition has att....
ELMS - 9 FERRARI'S HEAD FOR HOME RACE IN IMOLAMaranello 16 May - The second round of the European Le Mans Series (ELMS) arrives at Imola this weekend and nine Ferrari 458 will take to the grid.

By far the most popular car in the GTE category is the 458, Ram Racing have entered two cars for Silverstone pole sitters Johnny Mowlem and Matt Griffin and a second for American hot shots Gunnar Jeanette and Franck Montecalvo. JMW have one car for Andrea Bertolini and Joël Camathias. After a difficult round at Silverstone, AF Corse return with t....
Aston Martin Set To Take Nürburgring 24 Hours By Storm◾Debut of Aston Martin Bilstein Vantage GT3 at the Nordschleife
◾Hybrid Hydrogen Rapide S set to make history with zero CO2 emission lap
◾Close-to-production V12 Vantage targets class honours

Aston Martin heads to the ADAC Zurich 24 Hours of Nürburgring (N24) in Germany this weekend (18-20 May) with three very different race cars – an international championship-winning V12 Vantage GT3, a record-breaking Hybrid Hydrogen Rapide S and a close-to-production specification V12 Vantage.

Aston M....
Sony Computer Entertainment Inc. announces new version of the gaming classic Gran Turismo®: Three of the latest AMG vehicles celebrate their digital premiere in Gran Turismo® 6With the combined power of more than 1400 hp, Mercedes-Benz is taking to the starting grid of Gran Turismo® 6 with three of its latest models. All set to provide pure excitement and fascination in the new version of the gaming classic for the PlayStation®3 are three high-performance vehicles from AMG: the SLS AMG GT3 producing over 367 kW (more than 500 hp), the E63 AMG producing 410 kW (557 hp) and the A45 AMG producing 265 kW (360 hp). In addition to the three new vehicles, no fewer than 21 fu....
Af Corse To Take Part In Asian Le Mans Series With 458GtMaranello, 14 May – AF Corse will tackle a quartet of races in Asia, as the team is to compete in the 2013 Asian Le Mans Series. The 458 GT3 from the Amato Ferrari-run team will be entrusted to an Italo-Australian team made up of Andrea Bertolini, Michele Rugolo and Steve Wyatt, who will race in the GTC category.

There are four rounds on the calendar in this series, which gets underway in South Korea at the new Autopia circuit, near Inje on 4 August. It then moves to Japan (Fuji, 22 Septembe....
2014 P1 McLaren
---
2014 911 GT3 Porsche
---
2014 918 Spyder Porsche

---
2013 R8 GRAND-AM Audi
---
2013 Continental GT3 Concept Bentley
---
2013 Z4 GTE BMW
---
2013 458 Italia Grand Am Ferrari
---
2013 Gallardo GT3 FL2 Lamborghini
---
2013 MP4-12C Can-Am Edition Racing Concept McLaren
---
2013 MP4-12C SPIDER McLaren
---
blog comments powered by

Disqus