ITALIAN GP - A PODIUM WITH A WINNING FLAVOUR
Scuderia Ferrari picked up twenty seven points in the Italian Grand Prix, the biggest haul of any team today. Fernando Alonso was the author of a great climb up the order to third after his problems in qualifying yesterday and made it onto the Monza podium for the third consecutive year, in as many races with Ferrari. Felipe Massa also had a great race, coming home fourth after giving his all throughout the race. After 13 rounds of the 2012 season, Fernando still leads the Drivers' classification, increasing his lead over his closest pursuer to 37 points, while for the first time this year, Felipe is in the top ten. In the Constructors' the Scuderia is back in third spot, having made significant inroads into the points gap to the leader which is now down to 46. Both drivers made just one pit stop to switch from the Medium to Hard, on lap 19 for Felipe and 20 for Fernando. Stefano Domenicali: 'We often say it on Saturday after qualifying: the points are only given out on Sunday afternoon and today we saw that confirmed yet again. There was another confirmation, if indeed one was needed, that reliability has to be the absolute priority. After all the problems we had over this weekend, for us to be able to leave Monza with Fernando increasing his lead in the Drivers' championship, bringing it back to the level it had reached after Hungary and with enough points to consider the Constructors' championship open again, is very important for us. Fernando produced a great drive, as did Felipe. Sure, the regret relating to the pole that was within our grasp is still present, because starting from the first row rather than the fifth, the Spanish driver could have definitely been in the fight for the victory. Felipe proved to everyone, not to us, because we knew already, that he is a driver who can fight for the very top spot and that at Ferrari, we work as a team, united in our efforts to reach the targets we set ourselves. The European part of the Formula 1 season has come to a close and now the final leg begins, with seven races in a little over two months. Those seven will be very tough for everyone and all of us, back in Maranello and at the race tracks, will tackle them doing our very best, paying great attention to every little detail. That's the only way we will be able to achieve our goals, which, I repeat, are within our capabilities.' Fernando Alonso: 'This Sunday was perfect for the championship, almost like a film with a happy ending: another podium finish, three of my closest rivals with no points and an increased lead over my closest pursuer. I remain convinced that, but for the problem in qualifying yesterday, we could definitely have had every chance of starting from pole and if we can be equally competitive on Saturdays at the tracks that are coming up, it will be very important for the end of the season. We must try to win some more races and to manage the lead we have in the classification. Here we had to mark Vettel, but in Singapore it will be important to keep an eye on Hamilton, who is now second. When I found myself fighting with Vettel I went off the track and, from then on, the car was not right. It wasn't nice bouncing through the gravel but, afterwards, I was able to overtake him anyway a few laps later. I don't want to comment on the penalty he received, but what he did was definitely on the limit. The opening laps were the key to my race. I passed a few cars – Kimi, Di Resta and Michael – and finding myself sixth almost immediately put my race on a more even course. Racing for Ferrari at Monza and standing on the podium is something special: driving a red car is different because the fans are exceptional. If they were told not to eat for days to have the chance to drive a car from Maranello, they would do it and this is what makes the passion for Ferrari unique around the world.' Felipe Massa: 'I'm pleased with this result, even if I'd been hoping to make it to the podium. We faced higher tyre degradation than we expected, very different to what we had seen on Friday in free practice. A shame, because while the tyres were still working, I could match the pace of the McLarens, but then I began to lose the rear end earlier than they did. It was not an easy race: towards the end, Perez came back at me very strongly and there was nothing I could do to fend him off. I worked for the team, trying to help Fernando, which is as it should be. I have always done it and will do it whenever it's necessary. I don't think a two stop strategy would have worked: looking at the data, for us it was definitely slower than a single stop. When the team had no telemetry, we spoke for a long time on the radio and, all in all, we were able to manage the situation in the best way possible. I don't know if this race changes anything regarding my future, but definitely the most important thing for now is to keep going like this, working with great concentration and trying to do my best for the team.'

Pat Fry: 'Saying this has been an intense weekend would be something of a euphemism. We had various reliability problems on the cars in the past days and today we had one with the garage equipment which meant we were practically in the dark, in that we had neither telemetry nor television pictures on the pit wall, nor the link to the remote garage at Maranello, at what was a one of the crucial phases of the race, in other words as we were coming up to the pit stops. We had a bit of a communication problem and it was rather like taking a step back in time to the days when we didn't have all this equipment available: at one point we had to make do with the telephone to speak to Maranello and decide if it was the right time for the pit stop! We were able to manage the situation, but believe me, it was not a walk in the park. Then there was the incident when Fernando went off the track in his duel with Vettel: once the telemetry was working again, we spotted there was something not quite right at the rear, so in the final laps, we asked him to be cautious, avoiding the kerbs. When the car was in parc ferme, I have to say we could see the damage was quite bad, also affecting the aerodynamics. From a technical point of view, this afternoon, the tyre degradation was greater than we had expected going into the race: we must analyse the data carefully to understand why. We managed to recover almost completely from the situation we were in after yesterday's problems, but looking at the weekend as a whole, I have to say what happened over these days should ring some alarm bells for all of us: we have to do the maximum in every area if we want to win.'
Recent Articles
MONACO GP - DANCING IN THE STREETSMonaco, 23 May – It's part of the nature of Formula 1 and sport in general in the modern era, that what happens off the court, pitch or track can sometimes take on even more importance than the sport itself, with gossip, rumour and controversy dominating the headlines. However, on a beautiful day with clear skies and warm sunshine, the first time 22 Formula 1 dance around the track on the streets of the Principality of Monte Carlo provides a glorious reminder of what a fantastic sporting ....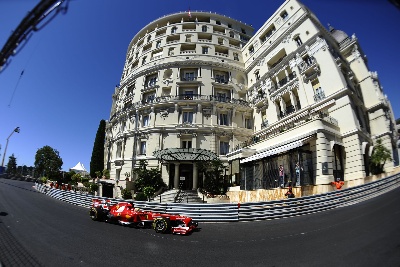 MONACO GP - ALL VERY CLOSEMonaco, 23 May – Nico Rosberg had the honour of topping the first Monaco Grand Prix timesheet of the weekend. He set the fastest time in the first free practice session of the sixth round of the World Championship, which as always here takes place on Thursday, with Friday being a day with no F1 track action. On this the most glamorous and exciting circuit on the calendar, the gaps between the front runners are all very close. Rosberg did a 1.16.195 in the Mercedes ahead of Fernando Alonso who to....
Usually In The Red In MonacoMaranello, 20 May – It's been many, too many years since the roulette wheel has stopped on Red in Monte Carlo. The last time a Ferrari won the Monaco Grand Prix was back in 2001, when Michael Schumacher and Rubens Barrichello secured an amazing one-two. Since then, no Ferrari has been first past the chequered flag, even in those years when Maranello's technical superiority seemed beyond doubt, such as 2002 and 2004.

However, there have been plenty of podium finishes in the past eleven....
Felipe Massa surprises fans in a Scuderia Ferrari Formula OneTM car at the Shell V-Power Nitro+ show in WarsawFelipe Massa brought Warsaw to a standstill today as he drove a Ferrari Formula One car through the city streets as part of the Shell V-Power Nitro+ Show.

There was a fantastic atmosphere as over 30,000 Ferrari fans turned out to witness Shell's first ever street demonstration with a Ferrari Formula One car in Poland and celebrate the launch of Shell's new gasoline, Shell V-Power Nitro+.

Massa demonstrated the power and performance of a Ferrari F60 around a specially-designed stree....
Gené At The Shell Eco-Marathon: 'A Good Chance To Focus On The Earth'Rotterdam, 16 May – The partnership between Shell and Ferrari is not just about petrol and oils but something more because the two companies share so many values – among them an interest in the ever more crucial theme of environmental sustainability.

This was clearly seen last week at Maranello at the Formula Ferrari event and today there was another signal with Marc Gené's participation in the Shell Eco-Marathon Europe 2013, held this year in Rotterdam (in the Netherlands).

The eve....
2014 LaFerrari Ferrari
---
2013 458 Italia Grand Am Ferrari
---
2013 F138 Ferrari
---
2013 FF Ferrari
---
2013 STALLONE Ferrari
---
2013 E21 Lotus
---
2013 Quattroporte Maserati
---
2012 458 Italia China 20th Anniversary Ferrari
---
2012 458 Spider Ferrari
---
2012 California Ferrari
---
blog comments powered by

Disqus