Iron Mike Rally Set To Drive 2013 Pinehurst Concours d'Elegance
- Pinehurst-to-Fort Bragg Event To Bring New Experience To Concours Entrants and Military - A distinctive experiential twist will await entrants of the 2013 Pinehurst Concours d'Elegance, the 'Iron Mike Rally.' This road rally, taking place on Friday, May 3, 2013, will include a picturesque route from the Pinehurst Resort to Fort Bragg, a show for the military and their families on the legendary Main Post Parade Field, as well as interactive experiences for all participants. Entrants who take part in the Iron Mike Rally will receive extra consideration as their vehicles undergo the judging process at the inaugural Pinehurst Concours d'Elegance, on Sunday, May 5, 2013. The Iron Mike Rally is named after the iconic 'Iron Mike' statue, located near Fort Bragg headquarters, that represents all paratroopers, past, present and future. Fort Bragg is home of the United States Army Airborne and Special Operations Forces and is one of the largest military complexes in the world, with approximately 57,000 military personnel, 11,000 civilian employees and 23,000 family members on site.

Accompanied by police and military escorts, rally participants will drive the approximately 35-mile route from Pinehurst Resort, winding through the towns of Pinehurst and Southern Pines, before entering the Longstreet Gate of Fort Bragg. Participants will then arrive at the heart of the base, wind around the traffic circle at the Iron Mike statue and then enter the Main Post Parade Field. The massive Parade Field has hosted celebrations and ceremonies since World War I, including those involving the President of the United States and foreign heads of state. Once the vehicles are parked, the Parade Field will open to military members and their families, who will have the opportunity to meet and interface with the Concours vehicle owners and drivers, and learn about the history and heritage of some of the world's most iconic vehicles. At the same time, the Concours participants will be introduced to some of our nation's greatest heroes, walking among and enjoying hands-on interaction with military displays and exhibits. A special award – the 'Soldier's Choice' – will be given to the vehicle with the most votes by military guests attending the event. 'The Iron Mike Rally accomplishes two goals,' said Dean Kessel, founder and CEO of the Pinehurst Concours d'Elegance. 'First it provides an exciting route for our entrants to exercise their cars and obtain an advantage at Sunday's Concours, but secondly – and more importantly – it's a way for the entrants to experience and interact with some of our nation's finest men, women and families.' Support for the Iron Mike Rally and all of the Pinehurst Concours d'Elegance events at Fort Bragg has been substantial, as opportunities have arisen to enhance the entrant and attendee experience. 'We are fortunate to have this opportunity provided for our soldiers and their families and look forward to being a part of the Iron Mike Rally,' said Tommy Bolton, Civilian Aide to the Secretary of the Army. 'There are many automotive enthusiast on the Ft. Bragg complex who will enjoy seeing the cars and meeting the entrants, and this will be a wonderful opportunity to share the story of the American Soldier and Fort Bragg with these car owners and drivers and others present.' 'There is plenty of valued benefit for all participants to share,' Bolton continued. 'This is indeed going to be a very special event.' The Next Stop on the Road to Pinehurst – A Call For Entrants Entries are now being accepted for the 2013 Pinehurst Concours d'Elegance via the 'Entrants' tab on the event's website. 'We have received numerous inquires regarding entering the event from major collections and museums,' said Brian Barr, Director of Events, Pinehurst Concours d'Elegance. 'We are already considering several submissions from owners of some very important cars and motorcycles, and we will continue our entrance procedure over the next six months.' A current list of vehicles entered into the Pinehurst Concours d'Elegance will be released on the event website by mid-fall. Tickets for the 2013 Pinehurst Concours d'Elegance and all events scheduled surrounding the concours week will be on sale no later than October 1, 2012. Advance information can be obtained by clicking on the 'Ticket' tab on the event website.
Recent Articles
Car Expert Hans Wurl Joins Gooding & Company's Team of Classic Automobile SpecialistsSANTA MONICA, Calif. (December 9, 2013) – Gooding & Company, the official auction house of the Pebble Beach Concours d'Elegance®, is expanding its existing team with the addition of Hans Wurl, a well-known classic car specialist with a strong technical background. Wurl has served as advisor to noted collectors and participated in some of the best collector car events around the world. Based in Seattle, Wurl joins Gooding & Company's team of respected automotive specialists David Brynan,....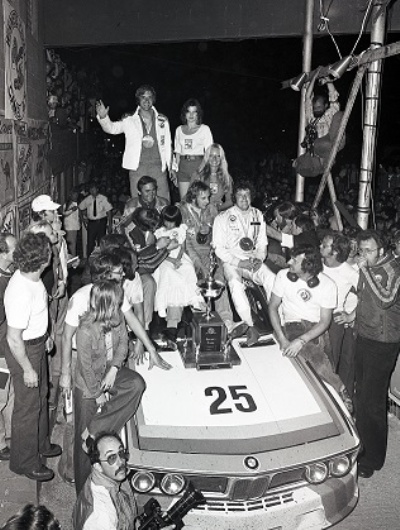 BMW's 'BATMOBILES' SET FOR 19th ANNUAL AMELIA CONCOURSScheduled to appear in the 19th Annual Amelia Concours' BMW 3.0 CSL 'batmobile class' are not only the 1975 Sebring 12 Hour and '76 Daytona 24 winners, but Alexander Calder's 1975 Le Mans 3.0 CSL with his trademark signature on the left rear fender.

BMW's 'Batmobile' racers were glorious mutants. They arrived from Europe wearing a frosting of giant wings, huge fender boxes and big spoilers, all powered by a 430 hp straight-six engine that made a glorious noise and propelled BMW's luxury cou....
400TH BUGATTI VEYRON SOLD – THE VEYRON BEGINS ITS FINAL LAPJust 50 models of the super sports car are still available

• 400th Veyron is a Grand Sport Vitesse 'Jean-Pierre Wimille' of the six-part edition 'Les Légendes de Bugatti'

• Head of Bugatti Wolfgang Schreiber, 'A unique success story about the most exclusive and luxurious super sports car brand in the world'


Molsheim, 5 December 2013. Bugatti has sold its 400th Veyron. Since the production run of the Veyron and its variants is limited to just 450 models, thi....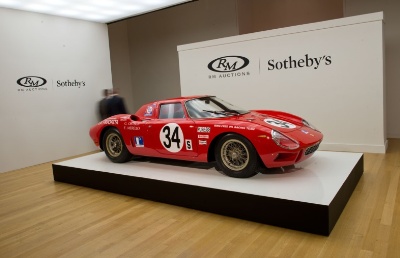 RM Auctions and Sotheby's Stun the Market with Incredible $63 Million 'Art of the Automobile' Sale in New York• RM Auctions and Sotheby's momentous Art of the Automobile auction generates $62,797,500 of sales in two hours of furious bidding
• Records tumble with the historic 1964 Ferrari 250 LM by Carrozzeria Scaglietti achieving $14,300,000 while the stunning 1938 Talbot-Lago T150-C SS Teardrop Cabriolet by Figoni et Falaschi sells for $7,150,000
• 93 percent of all lots sold to an international audience of bidders representing 17 countries
• Full results are available online at www.rmauctions.c....
Expert Symposium Delivered to Packed Room Ahead of 'Art of the Automobile' New York Sale• RM Auctions and Sotheby's deliver highly outstanding expert symposium to more than 700 people
• Six hugely influential and respected specialists set the scene in advance of truly groundbreaking Art of The Automobile sale
• Anticipation building for what is being regarded as one of the finest and most innovative collector car auctions ever held

NEW YORK, New York (November 20, 2013) – The eyes of the collector car community are firmly fixed on New York, as RM Auctions and Sotheby's,....
AMELIA ISLAND CONCOURS D'ELEGANCE WINS PRESTIGIOUSThe annual International Historic Motoring Awards, in association with EFG International and Octane magazine, announced this week that the Amelia Island Concours d'Elegance has been named the recipient of the 2013 Motoring Event of the Year award.

The Amelia Island Concours d'Elegance is the third winner of the Motoring Event of the Year Award, which honors automotive celebrations from Australia, Germany, Italy, the United States and the United Kingdom. Finalists in the 2013 events category ....
Gooding & Company Celebrates 10th Anniversary as Global Appreciation of Cars Push Markets to New High in 2013SANTA MONICA, Calif. (November 11, 2013) – The mystique of collectable cars continues to expand enthusiasm and buyer participation around the globe. In 2013, Gooding & Company, the auction house acclaimed for selling the world's most significant and valuable collector cars, celebrated its 10th anniversary and saw new and returning bidders flock to its three auctions. Demonstrating Gooding & Company's power in the marketplace is an annual auction total of $192.6 million for 286 lots with a....
Mecum's 2014 Schedule Expands To Include East Coast AuctionMecum Introduces New Auction in Harrisburg, Pennsylvania, July 24-26, 2014

Walworth, WI - November 12, 2013 -- Mecum Auctions – the largest collector car auction company in the world – will introduce a new auction to its already vast 2014 lineup extending its reach further into the East Coast. With 12 classic and collector car auctions and four vintage tractor auctions on the 2014 docket, Mecum will take the action to Harrisburg, Penn., in July for three days with an expected 1,....
2013 Dodge Viper GTS Launch Edition
---
2013 Ford GTR1
---
2013 McLaren MP4-12C SPIDER
---
2012 Bentley Mulsanne Convertible Concept
---
1972 BMW Turbo Concept
---
1971 Porsche 911
---
1965 Aston Martin DB5
---
1964 Ferrari 250 GT Lusso
---
1964 Ferrari 330 GT
---
1961 Ferrari 250 GT
---