Credit Suisse Prepares For Second Instalment of Historic Racing Forum At Goodwood Revival 2012
•Following success at GP de Monaco Historique, the Credit Suisse Historic Racing Forum will return at world's leading historic racing fixture •Provocative 'Is the spirit of historic racing under threat?' debate to lead 2012 Credit Suisse activities •Jochen Mass, Desiré Wilson and Anthony Reid comprise three-person panel, whilst renowned motoring journalist Simon Taylor returns as Moderator •Inaugural 'Credit Suisse Photo Award for Goodwood Revival' launches Zurich, September 13, 2012. Credit Suisse is gearing up for the 2nd Credit Suisse Historic Racing Forum which takes place tomorrow, September 14 at the Goodwood Revival.

Credit Suisse, which is now entering the fourth year of its partnership with Goodwood Revival, will hold the 2nd Historic Racing Forum at the Credit Suisse-sponsored Press Centre tomorrow, September 14, from 2.30 to 3.15 pm. The Forum, entitled 'Is the spirit of historic racing under threat?' will be followed by an Afternoon Tea at 3.15 pm, offering journalists the chance to network after the debate. Prior to the Forum at 2.15 pm there will be a unique photo call including the panelists, Goodwood CEO Lord March and some acting members of the Goodwood crowd dressed in period costume. None other than Sir Stirling Moss is expected to make a brief appearance. The eagerly-anticipated 2nd Historic Racing Forum will involve a panel of leading authorities from the world of motorsport. This includes Desiré Wilson, the only female driver ever to win an F1 race; Spa; ex-F1, sports car and touring car driver, Jochen Mass; as well as former BTCC, sports car and Le Mans 24 Hour driver, Anthony Reid. The session, which will again be moderated by renowned motoring journalist Simon Taylor – as the 1st Historic Racing Forum was in Monaco in May – is set to provoke a range of discussion points from the diverse members of the panel. Media will also have the chance to meet the panelists following the 45-minute debate. Jochen Mass commented: 'I have attended the Revival many times before, and to me it is undoubtedly the leading historic racing fixture on the calendar. I am delighted to be taking part in the 2nd Historic Racing Forum. The inaugural Forum in Monaco earlier in the summer proved a real success and there was plenty to be discussed. I am convinced the second instalment will be a riveting discussion that will air many different opinions about the spirit of historic racing, something for which Goodwood is so synonymous. I am already looking forward to taking part.' The 2nd Historic Racing Forum is Credit Suisse's headline event at this year's Revival. Tomorrow, Credit Suisse also launches its photographic competition for media, the inaugural 'Credit Suisse Photo Award for Goodwood Revival'. The competition will test the skills of photographers in three different categories – Action, Atmosphere and Historic Racing Forum. Credit Suisse's sponsorship of Goodwood forms part of the company's ongoing commitment to classic car racing, an association that began back in 2004 when it hosted two exclusive rallies for the first time. The company then went on to nurture partnerships with leading international historic motor sport events: the Grand Prix de Monaco Historique, Pebble Beach Concours d'Elegance, and of course Goodwood Revival.
Recent Articles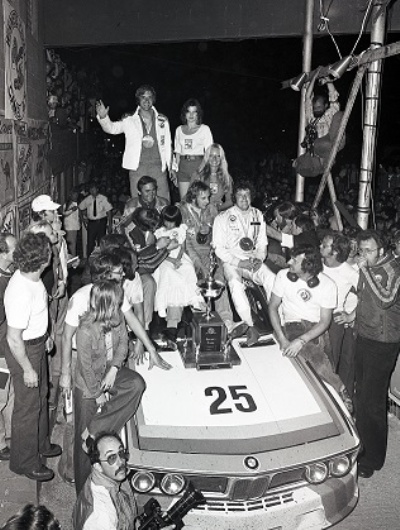 BMW's 'BATMOBILES' SET FOR 19th ANNUAL AMELIA CONCOURSScheduled to appear in the 19th Annual Amelia Concours' BMW 3.0 CSL 'batmobile class' are not only the 1975 Sebring 12 Hour and '76 Daytona 24 winners, but Alexander Calder's 1975 Le Mans 3.0 CSL with his trademark signature on the left rear fender.

BMW's 'Batmobile' racers were glorious mutants. They arrived from Europe wearing a frosting of giant wings, huge fender boxes and big spoilers, all powered by a 430 hp straight-six engine that made a glorious noise and propelled BMW's luxury cou....
400TH BUGATTI VEYRON SOLD – THE VEYRON BEGINS ITS FINAL LAPJust 50 models of the super sports car are still available

• 400th Veyron is a Grand Sport Vitesse 'Jean-Pierre Wimille' of the six-part edition 'Les Légendes de Bugatti'

• Head of Bugatti Wolfgang Schreiber, 'A unique success story about the most exclusive and luxurious super sports car brand in the world'


Molsheim, 5 December 2013. Bugatti has sold its 400th Veyron. Since the production run of the Veyron and its variants is limited to just 450 models, thi....
SEB AND THE RB9: AN AWARD-WINNING COMBINATIONLONDON – Sebastian Vettel has been named International Racing Driver of the Year and the RB9 handed the prize for Racing Car of the Year at this year's Autosport Awards in the UK, the fourth year in a row driver and team have been honored in the categories.

Seb, who took a record-equaling 13 grand prix wins in a single season in 2013 to win his fourth world title in a row, entered the auditorium in the company of dominant WRC champion Sébastien Ogier of the Red Bull VW team; later in t....
Aston Martin Aims For World Title Glory In Its Centenary YearGaydon, 26 November 2013 - Aston Martin Racing goes into the final round of the 2013 FIA World Endurance Championship (WEC), the Six Hours of Bahrain, this weekend (30 November) leading the highly-competitive eight-race series and looking to clinch victory and emerge as world champions in this, the marque's centenary year.

The team currently leads the LMGTE Manufacturers' World Cup on 232.5 points but, with Ferrari in second place on 215 points and Porsche in third on 199.5 points, any....
1956 24 Hours of Le Mans: Collins and Moss Come CloseThe 1955 24 Hours of Le Mans would be forever remembered, not for the 24 hours of racing, but for the tragic and terrible events that would take place after just two. The consequences would be dire and would send shockwaves throughout the racing world. Peter Collins would witness the events and would find it very hard to continue. However, he would do just that and would end up a very strong 2nd, practically handed the result by Mercedes. One year later, the mood would be lighter and Collins wou....
Cars As Art – Aston Martin Centenary Celebrations On CanvasAs luxury British sports car maker Aston Martin's centenary year draws towards its close the company is unveiling a collection of unique artworks created to celebrate and document its 100 years in business.

More than 150 of the sport car maker's owners, enthusiasts and advocates last night (21 November) joined key figures from the London art world at the brand's unique central London showcase – W-One – for the unveiling of the paintings created by Aston Martin's centenary artist-in-residence,....
2014 Bentley Continental GT V8 S
---
2014 Bentley Continental GT V8 S Convertible
---
2014 Ferrari LaFerrari
---
2013 Aston Martin CC100 Speedster Concept
---
2013 Aston Martin Vanquish Volante Neiman Marcus Edition
---
2013 BMW Concept M4 Coupe
---
2013 BMW Zagato Roadster
---
2013 Bugatti Veyron Grand Sport Vitesse Legend Jean-Pierre Wimille
---
2013 Bugatti Veyron Jean Bugatti
---
2013 Dodge Viper GTS Launch Edition
---