Final Countdown underway To RM Auctions' Charile Thomas Collection Sale
• RM Auctions presents the Charlie Thomas Collection on October 20, 2012, at the Gaylord Texan Resort near Dallas, Texas • Auction features 175 automobiles without reserve, including a 1935 Ford DeLuxe Three-Window Coupe, a pair of fuel-injected Chevrolet Corvette Convertibles, a 1956 Chevrolet Bel Air Nomad Station Wagon, and a 1968 Shelby GT500 Convertible • 100 percent of proceeds from the sale of the collection's 1952 Willys Military Jeep will benefit the Brookwood Community in Brookshire, Texas • Digital catalogue now available online at rmauctions.com RM Auctions, the world's largest collector car auction house for investment-quality automobiles, is set to continue its successful run of private collection sales next month with the presentation of the all-American Charlie Thomas Collection, October 20, at the beautiful Gaylord Texan near Dallas, Texas.
The product of two decades of careful and dedicated acquisition by prominent Texas businessman, life-long auto enthusiast and former owner of the Houston Rockets basketball team, Charlie Thomas, the 'Texas-sized' collection features 175 quality collector cars and spans the spectrum of the collector car market from early flatheads to '50s convertibles and '60s muscle and sports cars. Among highlights are a magnificent series of more than 80 Fords, including multiple Shelbys, and more than 40 Chevrolets, joined by numerous examples from other celebrated American marques, including Cadillac, Chrysler, Packard, and Oldsmobile, to name just a few. All lots are offered without reserve, providing an exciting range of ownership opportunities for savvy collectors. 'RM Auctions is honored and delighted to have been chosen to assist Charlie Thomas with the dispersal of his collection,' says Gord Duff, Car Specialist, RM Auctions. 'With a great eye for correct, quality examples of American iron from the pre-war and post-war periods, his collection truly has something for everyone, and he's taken great pride in regularly exercising these cars to ensure they run and drive beautifully.' Representing American pre-war classics, and highlighting the collection's magnificent Ford offering, is a 1935 Ford DeLuxe Three-Window Coupe with tremendous character and exceptional beauty. Benefiting from a high-point restoration, this coupe is radiant in rich Washington Blue and presents endless opportunities on the show field or at any number of driving events (Estimate: $45,000–$65,000). Another great pre-war automobile on offer is a classic 1929 Pierce-Arrow Series Model 125 Roadster that has been well cared for in the Charlie Thomas Collection for more than a decade and which constitutes a deserving addition to any noteworthy collection (Estimate: $100,000–$125,000). Chevrolets of the '50s and '60s are also prominently featured in the sale, led by an exceptional pair of fuel-injected Corvette convertibles, each wonderful examples of 'America's Sports Car.' The 1957 Chevrolet Corvette 'Fuel-Injected' Convertible is one of only 102 units with the Code CK, 283 fuel-injected V-8 rated at 250 horsepower, and it has been exquisitely restored to the last detail (Estimate: $125,000–$150,000). The 1957 model is joined by a matching-numbers 1962 Chevrolet Corvette 'Fuel-Injected' Convertible honored with an NCRS Top-Flight Award (Estimate: $75,000–$100,000). Additional highlights from Detroit's bowtie include the most expensive model built by Chevrolet at the time, a 1956 Chevrolet Bel Air Nomad Station Wagon, which benefits from a no-expense-spared restoration and is considered one of the best of its kind (Estimate: $60,000–$80,000); a well-optioned 1955 Chevrolet Bel Air Convertible presented in nearly new condition and with fewer than 1,000 miles since restoration (Estimate: $85,000–$100,000); and a wonderfully restored and spectacularly presented 1958 Chevrolet Half-Ton Cameo Carrier Pickup Truck (Estimate: $45,000–$60,000). Representing American muscle of the '60s are a pair of highly sought after 1968 Shelby GT500s, including one of the most desirable of all Shelby Mustangs, a 1968 Shelby GT500 Convertible with multiple options (Estimate: $140,000–$180,000) and a well-optioned 1968 Shelby GT500 KR Fastback, the all-powerful 'King of the Road' (Estimate: $100,000–$130,000). Additional notable entries from the Charlie Thomas Collection slated for next month's sale include: • a rarely offered 1955 Packard Caribbean Convertible that typifies the Detroit-built luxury of the 1950s (Estimate: $60,000–$80,000); • a 1970 Ford Mustang Boss 302 Fastback showing just 5,400 original miles (Estimate: $75,000–$100,000); • a one-of-a-kind 1946 Chrysler Town & Country Roadster, conceived and built over many years from period designs (Estimate: $125,000–$175,000); and • one of few known surviving 1951 Lincoln Cosmopolitan Convertibles, a cherished member of the collection for many years (Estimate: $60,000–$80,000). In addition to the above, the sale will lift the gavel on an exceptional 1952 Willys Military Jeep, with 100 percent of proceeds from its sale benefiting the Brookwood Community, a non-profit residential facility and vocational program in Brookshire, Texas supporting adults with disabilities (brookwoodcommunity.org). An exciting addition to any important Americana collection, the Jeep benefits from an excellent and detailed restoration and is presented in proper Army Olive Drab Green. Delivery of the vehicle will be handled free of charge to anywhere in the Continental U.S.A., courtesy of Reliable Carriers (Estimate: $30,000–$40,000). For additional information on RM's Charlie Thomas Collection, including the digital catalogue, please visit rmuactions.com or call toll free1 800 211 4371 (within North America) or +1 519 352 4575 (outside North America). Preferred accommodation rates at the beautiful Gaylord Texan are available by contacting RM Auctions' Client Services Department. Photo captions: Top: 1935 Ford Three-Window Coupe, photo credit 2012 (c) Darin Schnabel courtesy of RM Auctions Second: 1957 Chevrolet Corvette 'Fuel-Injected' Convertible, photo credit 2012 (c) Darin Schnabel courtesy of RM Auctions
Recent Articles
'WE CAN BE HEROES AT THE PETERSEN' FAMILY FUN DAY ON DECEMBER 14A new exhibit at the Petersen will showcase Kia vehicles inspired by DC Entertainment's 'The Justice League.' Launching the exhibit on Dec. 14is 'Heroes Day,' a day filled with activities for the entire family that honors our heroes—active police, firemen and military—with free museum admission.

Los Angeles, (Dec. 9, 2013) – 'We can be Heroes at the Petersen,' an entire day of family fun on Dec. 14, will kick off a new exhibit at the Petersen featuring Kia vehicles inspired by the Supe....
1958 FERRARI 250 GT LWB CALIFORNIA SPIDER STARS AT RM'S 15TH ANNUAL ARIZONA SALE• RM Auctions announces latest highlights for its two-day Arizona auction, January 16 – 17 in Phoenix, led by a highly prized 1958 Ferrari 250 GT LWB California Spider
• Most recent blue-chip entries join a spectacular roster of more than 120 handpicked automobiles for the sale at the beautiful Arizona Biltmore Resort & Spa
• Frequently updated list of entries available online at www.rmauctions.com

BLENHEIM, Ontario (December 10, 2013) – RM Auctions, the world's largest auctio....
LE MANS GREATS HEAD STUNNING ROSTER OF ADDITIONAL ENTRIES FOR RM'S 2014 PARIS SALE DURING RETROMOBILE WEEK• Anticipation builds ahead of RM's €25 million debut Paris sale on 5 February 2014
• More Le Mans greats join stunning competition car line-up at saleLatest highlights include a 1982 Rondeau M482 Le Mans GTP, a veteran of five Le Mans 24 hours races, and a mighty 2008 Peugeot 908 HDi FAP Le Mans Prototype, which finished 2nd at Le Mans, was driven by Jacques Villeneuve, and has been entrusted to be sold by RM by the Peugeot factory
• Other recently secured entries include a Bugatti Type 40 Ro....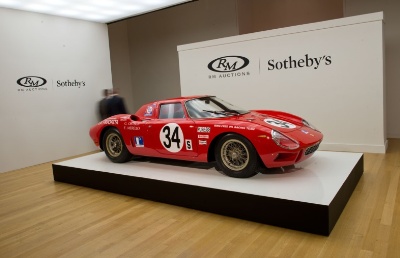 RM Auctions and Sotheby's Stun the Market with Incredible $63 Million 'Art of the Automobile' Sale in New York• RM Auctions and Sotheby's momentous Art of the Automobile auction generates $62,797,500 of sales in two hours of furious bidding
• Records tumble with the historic 1964 Ferrari 250 LM by Carrozzeria Scaglietti achieving $14,300,000 while the stunning 1938 Talbot-Lago T150-C SS Teardrop Cabriolet by Figoni et Falaschi sells for $7,150,000
• 93 percent of all lots sold to an international audience of bidders representing 17 countries
• Full results are available online at www.rmauctions.c....
Expert Symposium Delivered to Packed Room Ahead of 'Art of the Automobile' New York Sale• RM Auctions and Sotheby's deliver highly outstanding expert symposium to more than 700 people
• Six hugely influential and respected specialists set the scene in advance of truly groundbreaking Art of The Automobile sale
• Anticipation building for what is being regarded as one of the finest and most innovative collector car auctions ever held

NEW YORK, New York (November 20, 2013) – The eyes of the collector car community are firmly fixed on New York, as RM Auctions and Sotheby's,....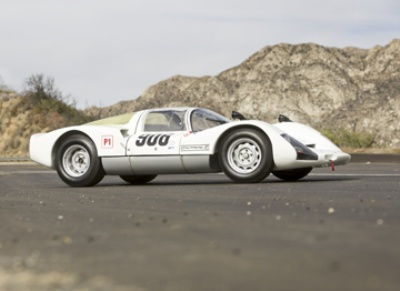 Sports and Racing Rarities Lead Early Highlights For RM's Two-Day Arizona Sale• RM Auctions returns to the Arizona Biltmore Resort & Spa in Phoenix from January 16–17 to kick off its 2014 collector car season
• Expanded to two days in 2014, the well-established sale will celebrate its 15th year by lifting the gavel on approximately 120 handpicked motor cars
• Early highlights span the spectrum of the market, led by a superb trio of sports and racing Porsches
• Annual sale kicks off RM's 2014 international auction calendar, which includes the company's highly anticipate....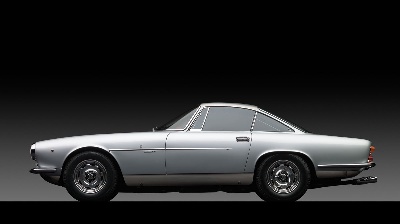 THE PINNACLE OF COLLECTOR CAR AUCTIONS: RM AND SOTHEBY'S OFFER A CENTURY OF AUTOMOTIVE HISTORY AND DESIGN IN NEW YORK CITY• Final countdown underway to RM Auctions and Sotheby's expertly curated Art of the Automobile sale, November 21, in New York City
• First major collector car auction to be held in Manhattan in over a decade; the sale's catalogue features examples of the upper echelons of design from each era of motoring
• Extraordinary exhibition that showcases all vehicles on offer will be held from November 18–20 on the 10th floor galleries at Sotheby's New York
• Official digital catalogue now availab....
2013 LA AUTO SHOW® HOSTS INAUGURAL MPG MOTORING INVITATIONAL PRESENTED BY FORZA MOTORSPORT 5 AND XBOX ONE◾Top Collectors and Celebrities to Display More Than 60 Unique Vehicles on November 20
◾More than 60 historic and unique vehicles to be displayed at Gilbert Lindsay Plaza
◾Influential icons, influencers, tastemakers, luminaries, collectors and celebrities to participate
◾The Motor Press Guild will announce its two Innovative Vehicle of the Year Awards at 7:30 AM
◾First-of-its-kind gathering for an international auto show
◾Event replaces the LA Auto Show's traditional opening keynote

L....
2011 Chevrolet Camaro SS Indy Pace Car
---
2011 Chevrolet Caprice Police Car
---
2006 Chevrolet Corvette Z06 Indianapolis 500 Pace Car
---
2006 Ferrari FXX
---
2004 Chevrolet Corvette
---
2004 Chevrolet SSR
---
2002 Chevrolet Bel Air Concept
---
2002 Chevrolet SSR
---
1996 Bentley Azure
---
1995 Lancia Hyena
---