Successful race weekend for AMG Customer Sports Teams worldwide: Two championship titles in the FIA GT3 European Championship
• HEICO-Gravity Charouz wins driver and team title in the FIA GT3 European Championship • ALL-INKL.COM Münnich Motorsport takes over the lead in the FIA GT1 World Championship • Black Falcon in the Blancpain Endurance Series on positions two and six • Victory and second position for AMG brand ambassador Maro Engel with Erebus Racing in the Australian GT Championship Affalterbach – The race weekend on the 22nd/23rd September 2012 shows an impressing success rate for the AMG Customer Sports Teams which operate with the Mercedes-Benz SLS AMG GT3 worldwide. Three victories and ten podium positions in seven races and two championship titles – these are the pleasing results of the races on the Nürburgring and on Phillip Island (Australia). Maximilian Buhk (GER) and Dominik Baumann (AUT) from the AMG Customer Sports Team HEICO-Gravity Charouz managed to win the driver title in the FIA GT3 European Championship. During the last race on the Nürburgring the German-Austrian driver duo achieved two confident victories on Saturday and Sunday. Their team colleagues Max Nilsson (SWE) and Mika Vahamaki (FIN) finished in positions three and eight. Due to these results, HEICO-Gravity Charouz also managed to secure their title in the team ranking, as they had already done in the 2011 season.

Norbert Brückner, team manager HEICO-Gravity Charouz Team: "We are all extremely happy about this super successful weekend here on the Nürburgring. Not only could we secure the FIA GT3 European Championship Title as a team but we even had the performance to build up on the success of 2011. Maximilian and Dominik managed to win the driver title already on Saturday with a confident start-finish victory! I want to thank the whole team which has been working hard for these results.' Maximilian Buhk: "Winning no fewer than two titles in the FIA GT3 European Championship for the HEICO-Gravity Charouz Team is more than I would have ever dared to dream of. My team colleague Dominik Baumann and I have had a great season!' Dominik Baumann: "Winning the team title in 2011 with HEICO-Gravity Charouz and building up on this success together with my team colleague Maximilian Buhk here at the last race weekend and also winning the driver title in the FIA GT3 European Championship means very much to me! During the entire season, the SLS AMG GT3 has been perfectly prepared and very reliable.' FIA GT1 World Championship: In the FIA GT1 World Championship, which was held parallelly, Marc Basseng and Markus Winkelhock (both GER) of ALL-INKL.COM Münnich Motorsport managed to finish third and second. Due to these results, they took over the lead in the driver ranking and thus have optimal prerequisites for the last race on the coming weekend in Donington (Great Britain). Their team colleagues Thomas Jager (GER) and Nicky Pastorelli (ITA) achieved positions six and eight. Due to these results, ALL-INKL.COM Münnich Motorsport was able to keep on its leading position in the team ranking. Markus Winkelhock: "It feels great to start the final race having the leading position in the driver ranking and the team ranking. It was a close fight in the race on Sunday – at first with BMW and McLaren and then with Lamborghini. However, our pace was very good and thus we could defend our positions and cross the finish line in the second position.' Blancpain Endurance Series: The AMG Customer Sports Teams Black Falcon (GER) and Preci-Spark (GB) took start positions in the penultimate race, which was also held on the Nürburgring. Black Falcon started the three-hour race from positions five and 13. The driver pair Congfu Cheng (CHN), Mike Parisy (FRA) and Jeroen Bleekemolen (NED), who participated in the PRO-Cup, came home second after a commanding finish. Their team colleagues Oliver Morley (GB), Steve Jans (LUX) and Sean Edwards (GB), who participated in the PRO-AM Cup, finished sixth and won the PRO-AM Cup. The British AMG Customer Sports Team Preci-Spark with the twins David and Godfrey Jones started from the last starting position after an accident at the beginning of the qualifying and crossed the finish line in position 38. Australian GT Championship: The guest entry of the AMG brand ambassador and former DTM driver Maro Engel in the Australian AMG Customer Sports Team Erebus Racing was a full success. Engel, who took part in the fifth race of the Australian GT Championship on Phillip Island as part of the AMG Driver Support, managed to bring home two podium positions. Maro Engel ended the first race on Saturday winning the second position and set up a new lap record after he entered the race from the pole position. Engel managed to achieve a confident victory in the second race on Sunday. His team colleague Peter Hackett (AUS) in the second SLS AMG GT3 of Erebus Racing, finished third on Saturday and second on Sunday. He managed to build up on his leading position in the Australian GT Championship. Ola Kallenius, Managing Director Mercedes-AMG GmbH: "I am very happy about the fact that the HEICO-Gravity Charouz Team managed to win no fewer than two titles in the FIA GT3 European Championship here on the Nürburgring. The start position in the FIA GT1 World Championship for the AMG Customer Sports Team ALL-INKL.COM Münnich Motorsport for the final in Donington on the coming weekend is more than promising. The guest entry of our AMG brand ambassador Maro Engel in the Australian GT Championship with one victory and a second position for Erebus Racing is also very pleasing. All of these successes on this race weekend are a welcome confirmation for our Customer Sports Programme with the SLS AMG GT3.'
Recent Articles
MAZDA6 SKYACTIV-D CLEAN DIESEL RACECARS TO TACKLE THUNDERHILL 25-HOURDecember 3, 2013 (IRVINE, Calif.) — There have always been rivalries: Yankees versus Red Sox. Beta versus VHS. Coke versus Pepsi. Tom versus Jerry. In the automotive retail world, that rivalry is Factory Guys versus Dealers. To finally put to bed who's faster, Mazda North American Operations (MNAO) has thrown down the gauntlet, entering three specially modified-for-racing 2014 Mazda6s in the longest endurance race in America, the National Auto Sport Association (NASA)'s US Air Force....
World Champions Audi second in Bahrain• Audi achieves 15th podium place in eight races

• Fassler/Lotterer/Tréluyer finish finale as runners-up

• Retirement of Duval/Kristensen/McNish



Audi finished the year in the FIA World Endurance Championship (WEC) in Bahrain in second place. The World Championship winning team* had to admit defeat only for the second time in eight races and can look back on a highly successful sporting season.

Until shortly before the race's midpoint, Audi Sport Team Joest was in....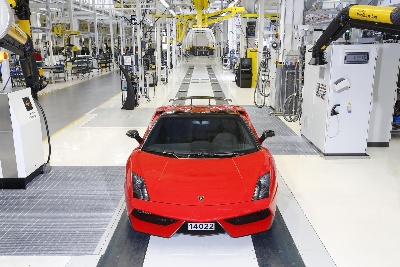 END OF PRODUCTION FOR THE LAMBORGHINI GALLARDO• Ten years of an Italian Icon

• The 'most sold' Lamborghini super sports car

• Still best in class with record lap times

Sant'Agata Bolognese, 25.11.2013 -- In the historic factory buildings of Sant'Agata Bolognese, the last Lamborghini Gallardo has left the production line. The final model is a Gallardo LP 570-4 Spyder Performante in Rosso Mars (red) and it is destined for a private collector. With a total of 14,022 units the Gallardo is not only by far the mo....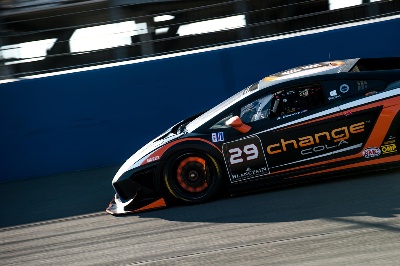 CHAMPIONS TO VIE FOR LAMBORGHINI BLANCPAIN SUPER TROFEO WORLD CROWNGlobal grid for Lamborghini World Finals

22 November 2013, Vallelunga, Campagnano Di Roma, Italy. Automobili Lamborghini today confirmed an international field for the Lamborghini Blancpain Super Trofeo World Finals at Vallelunga this weekend.

The inaugural event at the 4.085km circuit outside Rome that brings together the three Lamborghini Blancpain Super Trofeo series from Europe, Asia and North America, will deliver a World Champion following two 50 minute races on Saturd....
Audi tests talents for the DTM• Scouting event with eight young drivers in Spain

• Factory drivers Timo Scheider and Adrien Tambay as instructors

• Head of DTM Dieter Gass: 'Test is an investment in the future'


Audi has given eight young talents the opportunity to gather experience in the cockpit of an Audi A4 DTM at a scouting event. With instructions provided by the two factory drivers Timo Scheider and Adrien Tambay they completed an extensive program of testing on and off the track for three d....
DAYTONA INTERNATIONAL SPEEDWAY TEST: DAY 2 – NOV. 20, 2013DAYTONA BEACH, Fla. (Nov. 20, 2013) – The TUDOR United SportsCar Championship's November preseason testing concluded on Wednesday at Daytona International Speedway, with six GTLM and 19 GTD teams posting competitive laps in preparation for the season-opening Rolex 24 At Daytona on Jan. 25-26, 2014.

IMSA and Continental Tire officials decided Wednesday morning to suspend testing for Prototype (P) and Prototype Challenge (PC) race cars due to issues that came to light in Tuesday's sessio....
ASTON MARTIN AT THE GUANGZHOU AUTO SHOW - THE NEXT CENTURY OF POWER, BEAUTY AND SOUL(Guangzhou, 21 November 2013) Luxury sports car maker Aston Martin launches its most extreme sports car – the V12 Vantage S – in China today at 8.1 Hall at the 11th Guangzhou International Auto Show. The famous British brand reveals its most impressive model range ever at Guangzhou, with the exclusive and limited production Centenary Edition Vanquish, luxury four-door sports GT Rapide S, timeless GT DB9, and the iconic One-77 hypercar.

The V12 Vantage S, which is now available to order....
Alex Lynn wins 60th Macau Grand Prix – Formula 3 hat-trick for Mercedes-Benz• Alex Lynn wins prestigious Formula 3 Grand Prix in Macau
• Fifth victory for Mercedes-Benz Formula 3 engine in Macau GP
• Successful Formula 3 season for Mercedes-Benz: drivers use Mercedes power to win Formula 3 GP in Macau, Formula 3 Masters at Zandvoort and FIA ​​Formula 3 European Championship

Alex Lynn (Great Britain, 20, Theodore Racing by Prema) won the 60th Macau Grand Prix on Sunday. And so this year, drivers running the Mercedes-Benz Formula 3 engine have secured victories in t....
2015 Nissan GT-R Nismo
---
2015 Porsche 918 Spyder
---
2014 Aston Martin V12 Vantage S
---
2014 Audi A5 DTM Edition
---
2014 Dodge SRT Viper GT3-R
---
2014 Lamborghini Gallardo LP570-4 Squadra Corse
---
2014 McLaren P1
---
2014 Mercedes-Benz C63 AMG Edition 507
---
2014 Mercedes-Benz CLA 45 AMG
---
2014 Mercedes-Benz CLA 45 AMG Racing Series
---