Up 44%, Gooding & Company reports more than $189 million and 45 world records from its 2012 automotive auction sales
By: Gooding & Company
---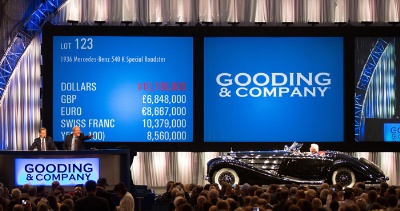 Gooding & Company, the auction house acclaimed for selling the world's most significant and valuable collector cars, is pleased to report its 2012 year-end sales of more than $189.6 million for 296 lots sold, averaging $640,635 per car. The 2012 year-end total is 44% higher than last year's results for the same number of cars sold, a significant increase that demonstrates the rising demand for extraordinary cars as well as the quality presented by the auction house. 'Our 2012 auctions attracted an unprecedented level of international spectators and new collectors, which shows us that there continues to be a growing demand all over the world for blue chip cars,' says David Gooding, President and Founder. 'I anticipate an even greater sophistication among buyers and sellers in 2013, greater appreciation for historic, pre-war cars and more interest in post-war European sports cars in our thriving, global community.' The auction house's top two record-breaking sales this year were the 1936 Mercedes-Benz 540 K Special Roadster that sold for $11,770,000, a double world record for a Mercedes-Benz and a pre-war car at auction, and the 1960 Ferrari 250 GT LWB California Spider Competizione that sold for $11,275,000, a world record for a Ferrari California Spider at auction. Both cars were sold at the Pebble Beach Auctions in August, in association with the Pebble Beach Concours d'Elegance, the world's premier car show, and also rank as the world's top two most valuable cars sold at auction in 2012, to date.
Summary of world records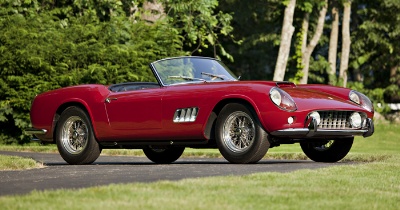 Gooding & Company realized 45 world auction records in 2012 for a variety of blue chip collector cars, heavily weighted by post-war examples of Ferrari and Porsche. Ten records were realized for historic pre-war automobiles of the marques Mercedes-Benz, Bentley, Packard, and Duesenberg.
Summary of cars sold over $1 million
An all-time high for the auction house as well as the automotive auction industry, Gooding & Company sold 41 cars over $1 million each this year compared to 27 cars in 2011. The top five sales ranged from $6.05 million to $11.77 million, constituted by the 1936 Mercedes-Benz 540 K Special Roadster, 1960 Ferrari 250 GT LWB California Spider Competizione, 1957 Ferrari 250 GT LWB California Prototype, 1955 Ferrari 857 Sport and 1928 Bentley 4 ½ Litre Le Mans Sports 'Bobtail.'
Cars for Charity
Gooding & Company has auctioned off more than $30 million in collector cars over the years benefitting charities that impact various causes and foundations around the world. Its highest profile charity moment this year occurred in August at the Pebble Beach Auctions when Gooding & Company auctioned Jay Leno's personal 2012 Fiat 500 Prima Edizione to raise money for Fisher House Foundation. The first-edition Fiat 500, valued between $25,000–$35,000 according to auction estimate, realized an extraordinary final price of $385,000 and attracted an additional $215,000 of charitable contributions, resulting in $600,000 in fundraising for the foundation. United States Secretary of Defense the Honorable Leon Panetta and Chief of Staff of the United States Army General Raymond Odierno joined Jay Leno as special guests on stage with David Gooding and Auctioneer Charlie Ross in support of the foundation.
---
Trending News