Paul Ianuario Named Chief Judge of 2013 Pinehurst Concours d'Elegance
The entrant experience takes a leap forward for the inaugural Pinehurst Concours d'Elegance with the naming of Paul Ianuario as Chief Judge for the event, slated for May 2 through 5, 2013. In this role, Ianuario will oversee the highly-competitive judging process, including selecting judges and assigning vehicle classes. Ianuario's reputation as a Concours judge is unimpeachable. He is a Master Classic Car Club of America (CCCA) and Antique Automobile Club of America (AACA) judge, and has judged at Concours in Pebble Beach, Amelia Island, Hilton Head, Louisville and many others. 'I am honored to be chosen as the Chief Judge for the inaugural Pinehurst Concours d'Elegance,' said Ianuario. 'It took a lot of discussion with Concours founder Dean Kessel and director of events Brian Barr for me to come to the decision to accept this position, but I am very confident that this event will be a success – it has all of the elements to make it so and I hope that my consultation and assistance will only enhance it further.' Hailing from Duncan, SC, Ianuario is a retired engineer with more than 45 years of experience working for companies such as Michelin Tire and his own company, SLR Support Services, which provides consulting and support for museums and vehicle-related events. Ianuario is also Curator of the BMW Zentrum museum in Spartanburg, SC, a Director of the AACA Museum in Hershey, PA, and is on the steering committee of the newly-opened LaMay Museum in Tacoma, WA. He also works for a variety of additional museums around the world, as well as consulting on collector-vehicle events.

But Ianuario's not just a judge. He's also the owner of an eclectic collection of several dozen automobiles, many of which are award-winning thanks to his meticulous nature. He regularly exercises many of these cars, which include a 1910 Chalmers Detroit, a 1912 Hudson, a 1941 Lincoln Continental, and a 1948 Chrysler Town and Country, at a variety of vintage events. Over the years, Ianuario has won a variety of awards for his contributions for preserving automotive history, including the prestigious Lee Iacocca Award in 2008, for demonstrating an 'extraordinary dedication to the classic car hobby through vehicle preservation, club participation, and is one who has unselfishly assisted and encouraged others in perpetuating an 'American Automotive Tradition.'' 'To have Paul Ianuario as the Chief Judge of the Pinehurst Concours d'Elegance is an incredible accomplishment,' said Dean Kessel, founder and CEO of the Pinehurst Concours d'Elegance. 'His depth of knowledge, resources, and contacts in the industry will elevate our Concours to a true top-tier U.S. event.' Entrants Continue to Roll Down the Road to Pinehurst Entries continue to roll in for the 2013 Pinehurst Concours d'Elegance via the 'Entrants' tab on the event's website. 'Word is getting out about the event and submissions are coming in on a daily basis,' said Brian Barr, Director of Events, Pinehurst Concours d'Elegance. 'There has been interest by owners and museums throughout the world, as well as car clubs and enthusiast groups offering to volunteer and submitting their own very interesting cars for this unique automotive experiential event.' Vehicle classifications will be announced within the next two weeks. About the Pinehurst Concours d'Elegance For more than 100 years, Pinehurst has crowned champions in some of the most prestigious golf events in the world. Now a new champion will be named on the storied links, this time for 'Best in Show' for automobiles at the Pinehurst Concours d'Elegance on Sunday, May 5, 2013. The Pinehurst Concours d'Elegance will combine the world-class amenities of Pinehurst Resort, special experiences for all attendees, some of the greatest vehicles ever created and an opportunity to benefit and honor the men and women of the military from nearby Fort Bragg, NC. Four days of events are planned for the Pinehurst Concours d'Elegance starting on Thursday, May 2nd. Highlights include the Iron Mike Rally, a collector car auction and 'The Pinehurst Concours Derby Party - A Celebration of Horsepower' gala event at Pinehurst Resort. The inaugural Pinehurst Concours d'Elegance, featuring more than 150 of the most historic automobiles and motorcycles from around the world, including significant military vehicles, takes place on Sunday, May 5th. Additional information about the Pinehurst Concours d'Elegance, including the latest news about the event, may be found at www.pinehurstconcours.com. Please also see the Pinehurst Concours d'Elegance on Facebook, Twitter, YouTube, Vimeo, Instagram and Pinterest page, all accessible via the website.
Recent Articles
STARS, STRIPES AND VICTORY FOR 'THE AMELIA'S' AUSTIN KIMBERLY IN BRITISH ROAD RACING CHAMPIOSNHIPAmerican teenager Austin Kimberly scored his first victory in the 2013 Avon Tyres National FF1600 Championship season at the 2.1 mile Anglesey road racing circuit in Wales (UK) last weekend (May 12). After qualifying third, the young American racer led every lap of the 25.1 mile championship race for 1600cc Formula Ford racers.

A go-kart racer since the age of nine, Austin opened the British Racing Sports Car Club's 2013 national Formula Ford Championship season with two podium appearances....
McLAREN AUTOMOTIVE RETURNS TO SALON PRIVÉ AS PART OF 50-YEARS ANNIVERSARY CELEBRATIONSSalon Privé 2013: from Wednesday to Friday the 4th to 6th September

Syon Park, London, 20 May 2013 – Salon Privé is delighted to confirm McLaren Automotive will be returning this September as part the marque's 50-years anniversary celebrations.

This is the second year McLaren Automotive has featured on the Super Car Lawn at Salon Privé, with the 12C and 12C Spider sure to be amongst the highlights.

September 2nd marks McLaren's 50th birthday, just two days before Salon Privé 20....
Spectacular 1936 Delahaye Type 135 Competition Court Coupe and 1969 Ford GT40 MKI take Best in Show at the Concours d'Elegance of TexasHouston, Texas. May 17, 2013. Last weekend, the award winning La Torretta Lake Resort & Spa in Montgomery, Texas, played host to the biggest celebration of vintage motoring in Texas, welcoming thousands of visitors through its doors for The Houston Classic Weekend and 2nd annual Concours d'Elegance of Texas. The weekend got off to a high-octane start when Concours participants took to the open road on the Texas Tour d'Elegance, led by Richard Rawlings of Fast N' Loud fame, in a newly re-s....
Pinehurst Concours Economic Impact Approaches $2 MillionVILLAGE OF PINEHURST, N.C. (May 13, 2013) – The inaugural Pinehurst Concours d'Elegance and the events surrounding the vintage auto showcase attracted more than 5,000 fans, and its economic impact approached $2 million despite unseasonably cool temperatures the first weekend of May, officials said.

'Having an event the caliber of a Concours in Moore County is significant, especially as it grows in recognition and importance in the Southeast,' said Caleb Miles, president and CEO of the Pinehur....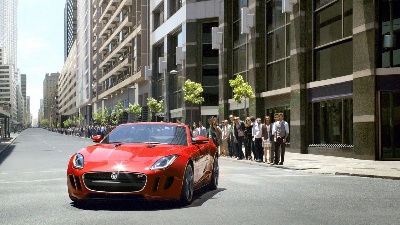 JAGUAR UNVEILS GLOBAL ADVERTISING CAMPAIGN TO LAUNCH THE F-TYPE- Jaguar F-TYPE arrives in U.S. retailers this month, starting at $69,000*
- Primary spots focus on F-TYPE's visceral impact
- Jaguar North America launches social media campaign, #MyTurnToJag, engaging consumers with the opportunity to experience the all-new F-TYPE
- U.S. campaign extensions include driving features with San Francisco 49er Colin Kaepernick; ESPN's Stuart Scott, and an initiative with ABC's 'Jimmy Kimmel Live'

(MAHWAH, N.J.) – May 13, 2013 – Today, Jaguar announced ....
American Classics from the Richard and Linda Kughn Collection Featured at RM's Annual Michigan Sale• RM Auctions returns to Plymouth, Michigan, July 27, for its well-established St. John's sale
• Single-day auction in automotive heartland features more than 80 historic collector cars
• Sale headlined by a wonderful selection of automobiles from the distinguished collection of Richard and Linda Kughn
• Auction acts as prelude to the Concours d'Elegance of America at St. John's on Sunday, July 28

BLENHEIM, Ontario (May 7, 2013) – RM Auctions, the official auction house of the Conc....
Legendary Car Designer Peter Brock Named Grand Marshal Of The 2013 Palos Verdes Concours D'EleganceRANCHO PALOS VERDES,CA -- Peter Brock, the legendary designer of the Corvette Stingray, the Cobra Daytona Coupe and other iconic high-performance automobiles, has been named Grand Marshal of the 2013 Palos Verdes Concours d'Elegance, to be held at the Trump National Golf Club in Rancho Palos Verdes, CA on Sunday, September 15.

Brock will drive his Superformance Coupe, a modern version of the famed Daytona Cobra Coupe, in the Concours' Pleasure Road Rallye on September 14, and the car ....
2014 LaFerrari Ferrari
---
2013 Zagato Roadster BMW
---
2013 Viper GTS Launch Edition Dodge
---
2013 MP4-12C Can-Am Edition Racing Concept McLaren
---
2013 MP4-12C SPIDER McLaren
---
2012 Mulsanne Convertible Concept Bentley
---
2012 F12berlinetta Ferrari
---
2012 X-1 Concept McLaren
---
2009 Iacocca Silver 45th Anniversary Mustang Ford
---
1995 GT90 Concept Ford
---
blog comments powered by

Disqus