Paul Ianuario Named Chief Judge of 2013 Pinehurst Concours d'Elegance
The entrant experience takes a leap forward for the inaugural Pinehurst Concours d'Elegance with the naming of Paul Ianuario as Chief Judge for the event, slated for May 2 through 5, 2013. In this role, Ianuario will oversee the highly-competitive judging process, including selecting judges and assigning vehicle classes. Ianuario's reputation as a Concours judge is unimpeachable. He is a Master Classic Car Club of America (CCCA) and Antique Automobile Club of America (AACA) judge, and has judged at Concours in Pebble Beach, Amelia Island, Hilton Head, Louisville and many others. 'I am honored to be chosen as the Chief Judge for the inaugural Pinehurst Concours d'Elegance,' said Ianuario. 'It took a lot of discussion with Concours founder Dean Kessel and director of events Brian Barr for me to come to the decision to accept this position, but I am very confident that this event will be a success – it has all of the elements to make it so and I hope that my consultation and assistance will only enhance it further.' Hailing from Duncan, SC, Ianuario is a retired engineer with more than 45 years of experience working for companies such as Michelin Tire and his own company, SLR Support Services, which provides consulting and support for museums and vehicle-related events. Ianuario is also Curator of the BMW Zentrum museum in Spartanburg, SC, a Director of the AACA Museum in Hershey, PA, and is on the steering committee of the newly-opened LaMay Museum in Tacoma, WA. He also works for a variety of additional museums around the world, as well as consulting on collector-vehicle events.

But Ianuario's not just a judge. He's also the owner of an eclectic collection of several dozen automobiles, many of which are award-winning thanks to his meticulous nature. He regularly exercises many of these cars, which include a 1910 Chalmers Detroit, a 1912 Hudson, a 1941 Lincoln Continental, and a 1948 Chrysler Town and Country, at a variety of vintage events. Over the years, Ianuario has won a variety of awards for his contributions for preserving automotive history, including the prestigious Lee Iacocca Award in 2008, for demonstrating an 'extraordinary dedication to the classic car hobby through vehicle preservation, club participation, and is one who has unselfishly assisted and encouraged others in perpetuating an 'American Automotive Tradition.'' 'To have Paul Ianuario as the Chief Judge of the Pinehurst Concours d'Elegance is an incredible accomplishment,' said Dean Kessel, founder and CEO of the Pinehurst Concours d'Elegance. 'His depth of knowledge, resources, and contacts in the industry will elevate our Concours to a true top-tier U.S. event.' Entrants Continue to Roll Down the Road to Pinehurst Entries continue to roll in for the 2013 Pinehurst Concours d'Elegance via the 'Entrants' tab on the event's website. 'Word is getting out about the event and submissions are coming in on a daily basis,' said Brian Barr, Director of Events, Pinehurst Concours d'Elegance. 'There has been interest by owners and museums throughout the world, as well as car clubs and enthusiast groups offering to volunteer and submitting their own very interesting cars for this unique automotive experiential event.' Vehicle classifications will be announced within the next two weeks. About the Pinehurst Concours d'Elegance For more than 100 years, Pinehurst has crowned champions in some of the most prestigious golf events in the world. Now a new champion will be named on the storied links, this time for 'Best in Show' for automobiles at the Pinehurst Concours d'Elegance on Sunday, May 5, 2013. The Pinehurst Concours d'Elegance will combine the world-class amenities of Pinehurst Resort, special experiences for all attendees, some of the greatest vehicles ever created and an opportunity to benefit and honor the men and women of the military from nearby Fort Bragg, NC. Four days of events are planned for the Pinehurst Concours d'Elegance starting on Thursday, May 2nd. Highlights include the Iron Mike Rally, a collector car auction and 'The Pinehurst Concours Derby Party - A Celebration of Horsepower' gala event at Pinehurst Resort. The inaugural Pinehurst Concours d'Elegance, featuring more than 150 of the most historic automobiles and motorcycles from around the world, including significant military vehicles, takes place on Sunday, May 5th. Additional information about the Pinehurst Concours d'Elegance, including the latest news about the event, may be found at www.pinehurstconcours.com. Please also see the Pinehurst Concours d'Elegance on Facebook, Twitter, YouTube, Vimeo, Instagram and Pinterest page, all accessible via the website.
Recent Articles
400TH BUGATTI VEYRON SOLD – THE VEYRON BEGINS ITS FINAL LAPJust 50 models of the super sports car are still available

• 400th Veyron is a Grand Sport Vitesse 'Jean-Pierre Wimille' of the six-part edition 'Les Légendes de Bugatti'

• Head of Bugatti Wolfgang Schreiber, 'A unique success story about the most exclusive and luxurious super sports car brand in the world'


Molsheim, 5 December 2013. Bugatti has sold its 400th Veyron. Since the production run of the Veyron and its variants is limited to just 450 models, thi....
AUDI STARTS FROM SECOND ROW IN BAHRAIN• Fassler/Lotterer/Tréluyer fastest Audi driver team
• In qualifying, Audi was in front of Toyota five times in the 2013 season
• Optimum use of tires will be decisive in Saturday's finale

Ingolstadt/Bahrain, November 29, 2013 – In the last qualifying session of the 2013 FIA World Endurance Championship (WEC), Audi had to admit defeat in Bahrain. The World Championship winning squad will start the race from positions three and four.

In the final qualifying session in Bahrai....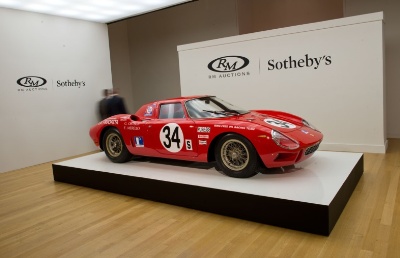 RM Auctions and Sotheby's Stun the Market with Incredible $63 Million 'Art of the Automobile' Sale in New York• RM Auctions and Sotheby's momentous Art of the Automobile auction generates $62,797,500 of sales in two hours of furious bidding
• Records tumble with the historic 1964 Ferrari 250 LM by Carrozzeria Scaglietti achieving $14,300,000 while the stunning 1938 Talbot-Lago T150-C SS Teardrop Cabriolet by Figoni et Falaschi sells for $7,150,000
• 93 percent of all lots sold to an international audience of bidders representing 17 countries
• Full results are available online at www.rmauctions.c....
FORMULA E CAR COMPLETES SUCCESSFUL TEST DEBUT• Fully-electric Spark-Renault SRT_01E breaks cover at La Ferte Gaucher circuit


LA FERTÉ GAUCHER, FRANCE, (21 November, 2013) – Formula E's new fully-electric race car, the Spark-Renault SRT_01E, completed is successful test debut recently at the La Ferté Gaucher circuit near Choisy-le-Roi, France.

Unveiled earlier this year (September) at the Frankfurt Motor Show, the new single-seater was driven by Lucas di Grassi who will be undertaking the early test and development work....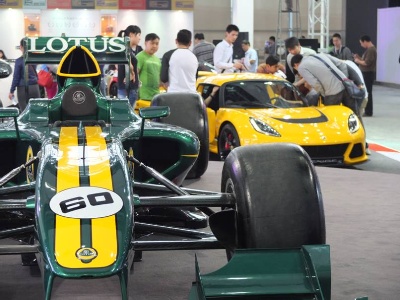 Lotus Gets Supercharged for Guangzhou MotorshowBritish sports car manufacturer Lotus showcases the jewels from its product line-up at the 2013 Guangzhou International Automobile Exhibition, further asserting its presence in the Chinese market as its popularity grows amongst China's fashion-conscious elite.

Chinese trend-setters looking for the ultimate in exclusivity and style, are warmly invited to the Guangzhou International Automobile Exhibition, where from 21 November, the iconic British sports car brand Lotus, affirms its commitment ....
Expert Symposium Delivered to Packed Room Ahead of 'Art of the Automobile' New York Sale• RM Auctions and Sotheby's deliver highly outstanding expert symposium to more than 700 people
• Six hugely influential and respected specialists set the scene in advance of truly groundbreaking Art of The Automobile sale
• Anticipation building for what is being regarded as one of the finest and most innovative collector car auctions ever held

NEW YORK, New York (November 20, 2013) – The eyes of the collector car community are firmly fixed on New York, as RM Auctions and Sotheby's,....
2015 Porsche 918 Spyder
---
2014 BMW 4 Series Coupe
---
2014 BMW M6 F13
---
2014 Cadillac CTS-V Coupe
---
2014 Cadillac CTS-V Sedan
---
2014 Cadillac CTS-V Sport Wagon
---
2014 Chevrolet HPE700 Corvette
---
2014 Ferrari 458 Speciale
---
2014 Ferrari LaFerrari
---
2014 Mercedes-Benz S-Class
---