Massa Stays In Ferrari
Maranello, 16 October - Scuderia Ferrari announces that it has renewed its contract with the driver Felipe Massa to the end of the 2013 race season. The Scuderia's driver line-up for next year is therefore made up of Fernando Alonso and the aforementioned Felipe Massa. MASSA: 'I AM VERY HAPPY, FERRARI IS MY RACING FAMILY' The announcement should have been made next week, but then the two parties involved decided it was time to take the bull by the horns (no pun intended) and do it now: Felipe Massa will stay at Ferrari, at least until the end of 2013.

President Luca di Montezemolo met the Brazilian driver in Maranello this morning, Felipe having come here straight from Korea yesterday. It was a very friendly meeting, in which Montezemolo congratulated Felipe for the great performances he has produced recently, especially in the Far East. Obviously, it did not take long to reach an agreement over renewing the contract: Ferrari knows Felipe from when he was little more than a boy and he has grown as a driver in Maranello, to the extent that he is beginning to be one of the 'old boys' among the team at the track. 'I am very happy to have reached this agreement,' commented the Brazilian. 'Ferrari is my racing family and throughout my entire time in Formula 1, I have always driven cars powered by engines built in Maranello: I can't see myself driving cars propelled by anything else! First and foremost, I want to thank President Montezemolo and Stefano Domenicali, who had faith in me and who have always supported me, even at the most difficult moments. The team and also all the fans can rest assured that I will do all in my power to help the Scuderia reach the targets it sets itself each year.' The satisfaction is also clear from the comments of Stefano Domenicali, who on Sunday at the Yeongam circuit already lets slip that things were heading towards a confirmation. 'We are pleased to have extended our relationship with Felipe for a further year,' declared the Team Principal. 'He has been part of our family for over a decade and has shown, expecially in this recent part of the season, that he is once again competitive at the highest level, which is what is expected of every driver who gets behind the wheel of a Ferrari. We have always supported Felipe, even in the most difficult moments of his career and we are certain of his worth and are sure he will know how to repay the confidence this renewal proves we have in him.' Now that Massa's situation has been cleared up, maybe speculation surrounding Ferrari drivers will calm down for a few days, but that's probably a vain hope: the rumour mill works round the clock, manned by people who, having said one thing and then the complete opposite, can congratulate themselves on having got it just right. Indeed, this was one of the reasons that pushed Montezemolo and Massa to decide on announcing the renewal today, to put an end to all the speculation. One thing is certain: having finalised the 2013 driver line-up every single drop of energy can now be concentrated on preparing for the final four races of this still very open 2012 World Championship. Everything is still possible and the men and women of the Scuderia are perfectly aware of that: everyone, starting with Fernando and Felipe, wants just one thing, to bring the world title back to Maranello.
Recent Articles
Felipe Massa surprises fans in a Scuderia Ferrari Formula OneTM car at the Shell V-Power Nitro+ show in WarsawFelipe Massa brought Warsaw to a standstill today as he drove a Ferrari Formula One car through the city streets as part of the Shell V-Power Nitro+ Show.

There was a fantastic atmosphere as over 30,000 Ferrari fans turned out to witness Shell's first ever street demonstration with a Ferrari Formula One car in Poland and celebrate the launch of Shell's new gasoline, Shell V-Power Nitro+.

Massa demonstrated the power and performance of a Ferrari F60 around a specially-designed stree....
Gené At The Shell Eco-Marathon: 'A Good Chance To Focus On The Earth'Rotterdam, 16 May – The partnership between Shell and Ferrari is not just about petrol and oils but something more because the two companies share so many values – among them an interest in the ever more crucial theme of environmental sustainability.

This was clearly seen last week at Maranello at the Formula Ferrari event and today there was another signal with Marc Gené's participation in the Shell Eco-Marathon Europe 2013, held this year in Rotterdam (in the Netherlands).

The eve....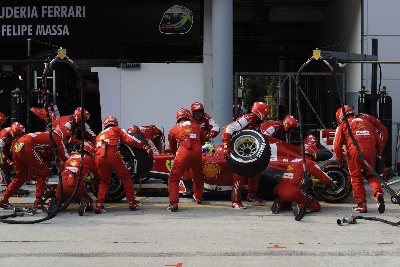 THE HORSE WHISPERER – TYRED AND EMOTIONALThese are difficult times for people with poor memories. Maybe it's because of the huge amount of information available today that people are too quick to talk, forgetting things that happened pretty much in the recent past. Or maybe the brain cells that control memory only operate selectively, depending on the results achieved on track by their owners.

A classic example of this is the current saga regarding the number of pit stops. Voices have been raised to underline the fact that various ....
Double Duties For Massa In MaranelloMaranello, 15 May – Felipe Massa was working in Maranello today. The Brazilian tackled a session in the simulator as part of the preparations for the Monaco Grand Prix, which is Felipe's second home race, as he and his family live just a stone's throw from the track. Felipe also took the opportunity to go over the F138's short and mid-term development programme with the Scuderia engineers.

Felipe also made an unexpected visit to the renovated Ferrari Store at Maranello, its new look h....
ELMS - 9 FERRARI'S HEAD FOR HOME RACE IN IMOLAMaranello 16 May - The second round of the European Le Mans Series (ELMS) arrives at Imola this weekend and nine Ferrari 458 will take to the grid.

By far the most popular car in the GTE category is the 458, Ram Racing have entered two cars for Silverstone pole sitters Johnny Mowlem and Matt Griffin and a second for American hot shots Gunnar Jeanette and Franck Montecalvo. JMW have one car for Andrea Bertolini and Joël Camathias. After a difficult round at Silverstone, AF Corse return with t....
DOMENICALI: 'A WIN WITHOUT IFS OR BUTS'Maranello, 14 May – Good traditions are always upheld and there is no exception to that rule at Maranello. That's why, after yesterday's flag raising, today it was time for the buffet with the men and women of the Scuderia, who all gathered together in the Logistics building to celebrate Fernando Alonso's win and Felipe Massa's third place in the Spanish Grand Prix.

'It's always nice to come together at moments like this, but it's important not just because of the result pure and simpl....
2014 LaFerrari Ferrari
---
2013 458 Italia Grand Am Ferrari
---
2013 F138 Ferrari
---
2013 FF Ferrari
---
2013 E21 Lotus
---
2013 Quattroporte Maserati
---
2012 458 Italia China 20th Anniversary Ferrari
---
2012 458 Spider Ferrari
---
2012 California Ferrari
---
2012 F2012 Ferrari
---
blog comments powered by

Disqus