1959 Dodge Custom Royal news, pictures, specifications, and information

Tweet
As the 1950s came to a close, manufactures continued to increase the outlandish designs fitting the vehicles with red rocket-like taillight lenses, dual antennas, huge twin tail fins, and other radical designs. One of the most recognizable vehicles from this era was the Dodge D500 Custom Royal Lancer with its 'swept wing styling' and chrome eyebrow arches across the top of the dual headlamps. In the rear of the car were booster-shaped taillight fins. To match this dramatic style, Dodge equipped the car five available V8 engine options.

This 1959 Dodge D500 Custom Royal Lancer underwent an extensive restoration in the early 1990s and the odometer reads 41,000 miles since new. under the bonnet is a powerful 383 cubic-inch V8 engine breathing through a four-barrel carburetor. There is a three-speed torque flight automatic transmission and drum brakes in the front and rear. The exterior is finished in metallic Jade Green and white paint. The interior is the factory correct matching green vinyl and cloth upholstery. It was ordered from the factory with power steering, power brakes, rear window defrost, deluxe radio, dual rear speakers, dual rear antennas, and swivel front seats.

It was brought to the 2007 Monterey Sports & Classic Car Auction presented by RM Auctions, where it had an estimated value of $50,000 - $70,000. It was offered without reserve and sold for a high bid of $66,000 including buyer's premium.
By Daniel Vaughan | Dec 2007
This 1959 Dodge Custom Royal Convertible is fitted with the Super D-500 V8 overhead valve engine. This means it has an impressive 345 horsepower at its disposal from the five-bearing, Two-Carter four-barrel carbureted engine. The base convertible Custom Royal sold for $3370 in 1959 and only 984 customers opted for this bodystyle. Even fewer selected the potent Super D-500 engine, which increased the base price by $415.
By Daniel Vaughan | Jun 2008
'Newest of everything great. Greatest of everything new'

Call it the glitter queen of the 'Forward Look.' From scowling face to 'Jet-Trail Tail Lamps,' the 1959 Dodge Custom Royal Lancer is as flamboyant as its extravagant name plate suggests. Did someone mention 'safety?' Dodge's track-tested 'Level-Flite Torsion-Aire' front suspension promised road-going confidence while the 'IndiColor' speedometer ribbon changed colors as speed increased.

The Dodge Custom Royal Lancer was apart of an elite class of dramatic styling that came to a pinnacle in 1959. The jukebox tail lamps, bright and multi-colored paint schemes, bright work, and size were part of the elements that made up this sheer styling drama.

All of the 1959 Dodge passenger cars were fitted with Torsion-Air front suspension and rear leaf suspension. 1959 was the final year for the body-on frame construction as the 1960 Dodge models would introduce a new Unibody design.

This Custom Royal Lancer Convertible is painted in yellow-and-black, and is one of just 984 Convertibles produced in 1959. Power is from a rare (and new for 1959) Super D-500, 383 cubic-inch engine producing 345 horsepower. Options include a TorqueFlite automatic transmission and push-button drive, power steering, power brakes, and swivel front seats.
By Daniel Vaughan | Aug 2013
This Dodge Custom Royal Convertible started life as a 2-door coupe but was modified to become a convertible for the 1989 Paramount Films movie, The Experts, starring John Travolta. The original hardtop is still with the car and can be easily bolted into place as desired.
By Daniel Vaughan | Jan 2014
Before the creation of the Daimler Chrysler in 1998, the Dodge Lancer was the model for the Dodge division and used to denote models three times in its history.

Designating both two and four door pillarless hardtop models in the Coronet, Royal and Custom Royal lines, the Lancer name was used by Dodge from 1955 to 1959.

A two door hardtop version of the mid-level models designed by Dodge in 1955, the Lancer ran in the production line until 1960.

On V8 powered models, a V8 emblem was customized to the side, just below the V in the side trim.

The Lancer name was passed on to a clone on the compact model Valiant which was met with huge success during the 1961 year. Given round taillights with full width grilles, Lancers used a Slant-6 engine.

South Africa introduced a right hand drive version of the Lancer that was sold from 1961 to 1963 though renamed as the DeSota Rebel. Equipped with the same 170 in³ Slant 6 engine, most came with the 3-speed manual transmission. In accordance to South Africican vehicle equipment ruglation, white reflectors were mounted to the front bumper.

Though not meeting sales expectations, possibley due to total resign of Dodge's compact car line, the Lancer was discontinued in 1963.

Re-introduced in 1985, a mid-sized 5-door hatchback version cloned from Chrysler LeBaronGTS and based on the Chrysler H platform.

Replaced by the Spirit, production ended April 7, 1989.

All production and design work was done in Sterling Heights Michigan.
By Jessica Donaldson
For more information and related vehicles, click
here
CHRYSLER GROUP LLC SCOOPS UP NINE AWARDS AT 24TH ANNUAL TEXAS TRUCK RODEO
◾Jeep® Grand Cherokee wins 'SUV of Texas' for the fifth consecutive year ◾Jeep Wrangler and Jeep Cherokee take consecutive year-over-year titles ◾Jeep brand SUVs victorious in every category entered ◾Ram wins Heavy Duty Truck of Texas for the second consecutive year ◾Ram Power Wagon scores Off-road Truck of Texas award ◾Chrysler Group's 3.0-liter V-6 EcoDiesel engine and Uconnect system score top honors October 13, 2014 , San Antonio - Jeep® and Ram Truck brands took top awards at...[Read more...]
2015 DODGE CHALLENGER SRT HELLCAT: THE FASTEST MUSCLE CAR EVER WITH A 1/4-MILE ELAPSED TIME OF 11.2 SECONDS
July 11, 2014 , Auburn Hills, Mich. - Dodge is giving its Challenger owners full on bragging rights at the drag strip and racing to the front line of the horsepower wars with its new 2015 Dodge Challenger SRT Hellcat. The 2015 Dodge Challenger SRT Hellcat is the fastest muscle car ever with a National Hot Rod Association-certified ¼-mile elapsed time of 11.2 seconds at 125 miles per hour (mph) with stock Pirelli P275/40ZR20 P Zero tires. With drag radials, the run dropped to just 10...[Read more...]
RARE CHRYSLER LA COMTESSE CONCEPT APPEARS AT AMELIA 2014
After decades in obscurity Chrysler's La Comtesse Concept Car will re-debut at the 19th annual Amelia Island Concours d'Elegance on March 9, 2014. The Fifties introduced new automotive chemical and paint technologies that helped summon a sea change in the way cars were purchased. It was a subtle component of Detroit's marketing equation, but color had risen near the top of the car buyer's priority list. The important fact was that women invariably chose the color of the new family car....[Read more...]
2014 JEEP® GRAND CHEROKEE AND 2014 RAM 1500 EARN SUV AND PICKUP TRUCK OF THE YEAR AWARDS FROM AUTOBYTEL.COM
January 6, 2014 , Auburn Hills, Mich. - Autobytel.com has named the 2014 Jeep® Grand Cherokee 'SUV of the Year,' while the 2014 Ram 1500 won the 'Pickup Truck of the Year' award. 'For 2014, the Jeep Grand Cherokee embodies a readiness to head off into the hills as an affordable family hauler wrapped around class-leading interiors chockfull of the safety, technology and comfort features that set the Grand Cherokee at the top of the heap,' said Michelle Naranjo, editor-in-chief, Autobyte...[Read more...]
Subaru Rally Team Usa Extends Championship Lead With Oregon Trail Rally Win
Subaru Rally Team USA dominated the Oregon Trail Rally to win the third round of the Rally America National Championship held in Portland and Hood River, Oregon on May 3-5. The British duo, David Higgins and co-driver Craig Drew, never relinquished their lead from the start and drove a masterful race to establish a 2 minute window over their competition and enough breathing room to drive the last day without difficulty. However, the team nearly ended their event when Higgins struck exposed be...[Read more...]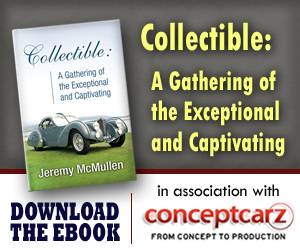 Similarly Priced Vehicles from 1959
Austin-Healey 3000 MK I ($3,050-$3,370)
Buick Invicta ($3,355-$3,840)
Fiat 750 GT Zagato ($3,455-$3,455)
Alfa Romeo Giulietta ($3,520-$4,340)
Porsche 356A ($3,580-$5,900)
MG MGA ($2,460-$3,640)

Average Auction Sale: $47,422
Dodge
Monthly Sales Figures
Volume
September 2014
44,020
August 2014
49,895
July 2014
43,118
June 2014
50,314
May 2014
57,923
April 2014
53,463
March 2014
60,575
February 2014
49,744
January 2014
34,905
December 2013
47,689
November 2013
41,506
October 2013
45,314
(More Details)
© 1998-2014. All rights reserved. The material may not be published, broadcast, rewritten, or redistributed.