1938 Peugeot 402BL Eclipse Decapotable news, pictures, specifications, and information

Tweet
Peugeot has the deepest roots in the continuously operating automobile manufacturing business. Les Fils des Peugeot Freres had a bicycle manufacturing business in Valentigny, France before switching to the production of automobiles in the late 1880s. The first vehicle by Peugeot was a steam powered car with an engine from Leon Serpollet that appeared in 1889. A year later he proved its potential and durability by driving it from Paris to Lyons. Next came Daimler-powered gasoline cars that had tubular frames and tillered steering wheels.

In 1935 Peugeot introduced the 402 model which was a departure from their traditional, boxy designs. It featured a sloped grille which carefully concealed two headlights.

In 1934 Parisian dentist Georges Paulin had successfully designed a retractable hardtop which he later patented. His first customer was Marcel Pourtout and was well received by many. Others followed and built atop of larger chassis. The patent was sold a year later to Peugeot and a small number were created in the years to come on the Peugeot 402 chassis. It is estimated that 481 Eclipse Decapotables were constructed with less than 30 in existence today.

This 1938 Peugeot 402BL Eclipse Decapotable was offered for sale at the 2006 Gooding & Company Auction held in Pebble Beach, Ca. it is powered by a 2148-cc four-cylinder OHV engine and matted to a three-speed manual gearbox. Its first owner was a Swiss businessman who kept the car for a number of years and traveled a total of 67,000 kilometers. It was then sold to a used car dealer and junkyard owner. It sat for nearly forty years when it was purchased by a collector who lived in the south of France. A complete restoration was undertaken and has since won numerous awards at many events and Concours d'Elegance through Europe.

This vehicle is finished in Eggshell White with a red leather interior.

At auction, the car was left unsold.
By Daniel Vaughan | Oct 2007
In 1934, George Paulin, a Parisian dentist and prolific designer, patented the first retractable hard top on the small (202) Peugeot chassis. In 1935, Peugeot bought the design. About 450 Eclipses were built prior to World War II of which 30 are believed to have survived. This metal retractable hard top was available 20 years ahead of the 1957 Ford Skyliner that was erroneously advertised as the 'Word's first retractable hardtop.'

This example is a rare 402 BC 'Big Block' Eclipse 2.2-liter model, and a smaller 2.0-liter model was also available. The overhead-valve, inline, four-cylinder engine develops 68 horsepower and coupled to a three-speed transmission, ahs a top speed of an estimated 70 mph.

In 1939, Peugeot sold this car to a Geneva man who kept it until 1947. It was then sold to a local parts dealer with 67,000 km (38,000 miles) showing on the odometer. He stored it in the back of his warehouse where it remained for 40 years. A French collector discovered the car, had it refurbished, and used it in vintage events. The current owner has had it since 2006.
By Daniel Vaughan | Mar 2007
This 1938 Peugeot 402BL Eclipse Decapotable was offered for sale at the 2007 Christie's auction of 'Exceptional Motor Cars at the Monterey Jet Center.' It has a four-cylinder engine with a single SU carburetor and can produce 75 horsepower. There are four-wheel mechanical drum brakes and a three-speed manual gearbox.

In recent times, this vehicle has been shown at many concours events across Europe and the United States. It was Best in class, People's Choice and Best in Show at the 2007 Great Autos of Yesteryear show in Los Angeles. It was Best French Car in the Best of France and Italy show in California in 2007. It was awarded the Engineering Excellence award at Amelia Island Concours d'Elegance. It received a third place overall and Mayor's Cup in the St. Petersburg, Florida Festival of Speed. In these four events it accumulated seven awards.

Potentially, this concours and show tour may have partly been done to promote the cars potential and get it ready for sale - or possibly the owner just wanted to amass many well-deserved awards. At auction it was estimated to sell for $200,000 - $250,000. Sadly, the car was left unsold.
By Daniel Vaughan | Oct 2007
Ford Studies Space Robots For Connected Vehicle Communications
◾Ford begins three-year research project with St. Petersburg Polytechnic University in Russia to observe the communication models of robots in space, with potential for connected vehicle communications applications ◾By studying communication between robots on the International Space Station and with Earth, the project aims to improve the reliability of connected vehicle communications and aid in the advancement of emergency vehicle communication methods ◾Ford is analyzing the most robust and r...[Read more...]
HONDA INDY GRAND PRIX OF ALABAMA TALKING POINTS
-This weekend's Honda Grand Prix of Alabama will be the fourth IZOD IndyCar Series event at the scenic, 2-3-mile Barber Motorsports Park circuit, and marks the third year American Honda has served as title sponsor of the event. -American Honda also sponsored last month's season-opening Honda Grand Prix of St. Petersburg; and will again be the title sponsor of the Honda Indy 200 at the Mid-Ohio Sports Car Course in August. In addition to these three events, Honda Canada entitles the Honda Indy T...[Read more...]
NISSANS GAIN EXPERIENCE IN FIRST TWO ROUNDS OF PIRELLI WORLD CHALLENGE AT ST. PETERSBURG
The first two rounds of the Pirelli World Challenge were a chance for the teams and driver to measure their cars against the competition. The Nissan teams held their own during the two races at the St. Petersburg street course, but the bar moved higher during the off season. 'The Nissan teams and drivers did a good job this weekend. Brian Kleeman moved up eight spots in a short race on a tight course, which is amazing,' said Rick Kulach of Nissan Motorsports. Tim Bell qualified the CRP Ra...[Read more...]
COLLECTORS SET TO DESCEND ON FLORIDA FOR RM'S HIGHLY ANTICIPATED SALE
• Final countdown underway to RM's John Staluppi Cars of Dreams Museum sale, December 1, in North Palm Beach, Florida
• Auction features nearly 120 automobiles without reserve, with a strong emphasis on American convertibles of the '50s and '60s
• Selection rounded out by more than 60 lots of memorabilia, including a historic 1918 Herschell-Spillman 32' Carousel, an elaborate Lionel Train Set, and a Cretors Antique Popcorn Wagon
• Digital catalogue and collection vide...[Read more...]
Famous Bentley 4¼-Litre 'Embiricos' Special Makes Star Appearance At Crewe Factory
One of the rarest and most valuable Bentleys in the world, the 4¼-Litre 'Embiricos' special, is making an historic appearance at the marque's home in Crewe. Fresh from taking part in the Louis Vuitton 'Serenissima Run' in Venice and featuring at the Le Mans Classic as part of the Bentley lineup, this magnificent car takes pride of place in the Lineage Showroom at the firm's Pyms Lane factory until September. Throughout the 1930s Bentley Motors, then owned by Rolls-Royce, was producing fast,...[Read more...]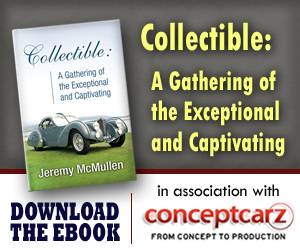 © 1998-2014. All rights reserved. The material may not be published, broadcast, rewritten, or redistributed.