1938 Peugeot 402BL Eclipse Decapotable news, pictures, specifications, and information

Tweet
Peugeot has the deepest roots in the continuously operating automobile manufacturing business. Les Fils des Peugeot Freres had a bicycle manufacturing business in Valentigny, France before switching to the production of automobiles in the late 1880s. The first vehicle by Peugeot was a steam powered car with an engine from Leon Serpollet that appeared in 1889. A year later he proved its potential and durability by driving it from Paris to Lyons. Next came Daimler-powered gasoline cars that had tubular frames and tillered steering wheels.

In 1935 Peugeot introduced the 402 model which was a departure from their traditional, boxy designs. It featured a sloped grille which carefully concealed two headlights.

In 1934 Parisian dentist Georges Paulin had successfully designed a retractable hardtop which he later patented. His first customer was Marcel Pourtout and was well received by many. Others followed and built atop of larger chassis. The patent was sold a year later to Peugeot and a small number were created in the years to come on the Peugeot 402 chassis. It is estimated that 481 Eclipse Decapotables were constructed with less than 30 in existence today.

This 1938 Peugeot 402BL Eclipse Decapotable was offered for sale at the 2006 Gooding & Company Auction held in Pebble Beach, Ca. it is powered by a 2148-cc four-cylinder OHV engine and matted to a three-speed manual gearbox. Its first owner was a Swiss businessman who kept the car for a number of years and traveled a total of 67,000 kilometers. It was then sold to a used car dealer and junkyard owner. It sat for nearly forty years when it was purchased by a collector who lived in the south of France. A complete restoration was undertaken and has since won numerous awards at many events and Concours d'Elegance through Europe.

This vehicle is finished in Eggshell White with a red leather interior.

At auction, the car was left unsold.
By Daniel Vaughan | Oct 2007
In 1934, George Paulin, a Parisian dentist and prolific designer, patented the first retractable hard top on the small (202) Peugeot chassis. In 1935, Peugeot bought the design. About 450 Eclipses were built prior to World War II of which 30 are believed to have survived. This metal retractable hard top was available 20 years ahead of the 1957 Ford Skyliner that was erroneously advertised as the 'Word's first retractable hardtop.'

This example is a rare 402 BC 'Big Block' Eclipse 2.2-liter model, and a smaller 2.0-liter model was also available. The overhead-valve, inline, four-cylinder engine develops 68 horsepower and coupled to a three-speed transmission, ahs a top speed of an estimated 70 mph.

In 1939, Peugeot sold this car to a Geneva man who kept it until 1947. It was then sold to a local parts dealer with 67,000 km (38,000 miles) showing on the odometer. He stored it in the back of his warehouse where it remained for 40 years. A French collector discovered the car, had it refurbished, and used it in vintage events. The current owner has had it since 2006.
By Daniel Vaughan | Mar 2007
This 1938 Peugeot 402BL Eclipse Decapotable was offered for sale at the 2007 Christie's auction of 'Exceptional Motor Cars at the Monterey Jet Center.' It has a four-cylinder engine with a single SU carburetor and can produce 75 horsepower. There are four-wheel mechanical drum brakes and a three-speed manual gearbox.

In recent times, this vehicle has been shown at many concours events across Europe and the United States. It was Best in class, People's Choice and Best in Show at the 2007 Great Autos of Yesteryear show in Los Angeles. It was Best French Car in the Best of France and Italy show in California in 2007. It was awarded the Engineering Excellence award at Amelia Island Concours d'Elegance. It received a third place overall and Mayor's Cup in the St. Petersburg, Florida Festival of Speed. In these four events it accumulated seven awards.

Potentially, this concours and show tour may have partly been done to promote the cars potential and get it ready for sale - or possibly the owner just wanted to amass many well-deserved awards. At auction it was estimated to sell for $200,000 - $250,000. Sadly, the car was left unsold.
By Daniel Vaughan | Oct 2007
FROM EAST TO WEST, THE LAMBORGHINI GALLARDO GT3 SEIZES THE OPENING ROUNDS OF THE MALAYSIAN SUPER SERIES IN SEPANG
From East to West, the Lamborghini Gallardo GT3 seizes the opening rounds of the Malaysian Super Series in Sepang (MAL) and of the Pirelli World Challenge held in St. Petersburg (USA). Last March weekend to remember for Automobili Lamborghini with Dilantha Malagamuwa (CLM) and Tomas Enge (CZE) that brought their Gallardo on top podium steps. Sant'Agata Bolognese, 1st April 2014. Double for Dilantha Malagamuwa in the first (out of five venues) of the Malaysian Super Series, F1 Gp support ra...[Read more...]
Nissan product offensive to propel production to record levels in Europe
New models and best sellers help Nissan towards goal of Number One Asian brand in region •Spain gears up to build all-electric e-NV200, which debuts at Geneva Motor Show •Russia anticipates the launch of Datsun brand, new models •UK works round-the-clock on key new models including top-selling Qashqai ROLLE, Switzerland – Fourteen new model launches and a total industrial investment of over 2 billion euros is set to propel Nissan's European production to record levels in 2014, acc...[Read more...]
Celebrating 60 Years of Corvette History at Rolex Monterey Motorsports Reunion
• Rarely Seen Corvettes Assemble for Exhibition August 16-19 in Monterey
Monterey, Calif., July 9, 2013 — There are Corvettes, and then there are The Corvettes. Recognizing the power, performance and durability that has made Corvette America's beloved sports car, Chevrolet has assembled a collection of Corvettes that have remarkable pedigrees for a special exhibition at the Rolex Monterey Motorsports Reunion August 16-18. The annual event on the Monterey Peninsula this year cel...[Read more...]
Spectacular 1936 Delahaye Type 135 Competition Court Coupe and 1969 Ford GT40 MKI take Best in Show at the Concours d'Elegance of Texas
Houston, Texas. May 17, 2013. Last weekend, the award winning La Torretta Lake Resort & Spa in Montgomery, Texas, played host to the biggest celebration of vintage motoring in Texas, welcoming thousands of visitors through its doors for The Houston Classic Weekend and 2nd annual Concours d'Elegance of Texas. The weekend got off to a high-octane start when Concours participants took to the open road on the Texas Tour d'Elegance, led by Richard Rawlings of Fast N' Loud fame, in a newly re-s...[Read more...]
2014 MAZDA6 WINS NEMPA GENE RITVO AWARD FOR DESIGN AND ELEGANCE
- MX-5 Miata Wins Favorite Entry-Level Convertible - WASHINGTON, May 10, 2013 - Last evening, the all-new 2014 Mazda6 was presented with the prestigious Gene Ritvo Award for Design and Elegance from the New England Motor Press Association (NEMPA) in conjunction with Boston's Museum of Fine Arts and the Larz Anderson Auto Museum. The Ritvo Award honors the best in design in the automotive world, whether it's a concept car, production vehicle, a marketing campaign or a particular elem...[Read more...]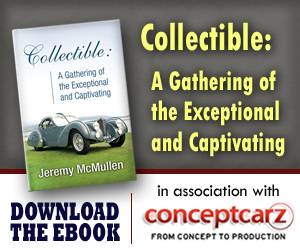 © 1998-2014. All rights reserved. The material may not be published, broadcast, rewritten, or redistributed.