1937 Packard 1501 Super Eight news, pictures, specifications, and information

Tweet
Packard entered the Classic era with a new straight eight engine replacing its early V12. This milestone engine used a unique crankshaft design and firing order that balanced the reciprocating forces and eliminated vibration. It was lighter than the V12, providing more power, better fuel economy and the inline configuration was compatible with the 'long hood' design themes that would be characteristic of the Classic era.

There were two 'Senior' Packard lines for 1937, and the Super Eight was one of them. Half of Packard's employees spent their time building the 7,093 premium series Packard Super Eights and Twelves for 1937. The other employees were tasked with assembling more than ten times as many much less costly 'junior' 120 Eights and 110 Sixes. Packard produced only 170 Super Eight 150 models with a list price of $2,680.

This 1937 Packard Super Eight rides on a 134-inch wheelbase and has an L-head Packard Eight under its long bonnet. The highly regarded 320 cubic-inch displacement engine produces 135 horsepower. The Sport Coupe listed for $2,450 and included a rumble seat. This example is equipped with an optional Packard trunk. It has been in the owner's collection for a decade and is believed to be one of only 19 that still survive and one of three restored.
This car was originally purchased for the German Consulate in Chicago, IL. Packard produced 5,793 1501 model vehicles in eight different body styles, this being the only convertible.

The car sits on a 134-inch wheelbase, weighs 4,580 pounds and sold for $2,680.

The car is powered by Packard's most powerful in-line eight-cylinder engine. It has a 320-cubic inch displacement and develops 135 horsepower.
Packard's 15th Series was introduced on September 3, 1936. An incredible 50 models were available for 1937. With the success of its 120 Model, Packard decided to go even further into the mid-price territory with the introduction of the 110 Model priced just $100 more than the top models of Chevrolet, Ford, and Plymouth. Now Packard dealers could offer new vehicles in nearly every price class and the market responded accordingly. Packard produced a record 109,518 cars, a number the company never attained before nor would ever again achieve in its history. Despite the new lower priced models, Packards continued to be owned by notables like Bob Hope, Jack Benny, Jean Harlow, Al Jolson, Dick Powell, Irene Dunne and President Franklin Roosevelt. New for the senior Packards were independent front suspension and hydraulic brakes.

This 1937 Packard was purchased new from the Packard dealer in San Francisco, California on September 8, 1937 by a 63-year old widow, Virginia Hobart Baldwin. Very prominent with the social elite and a highly respected 'Country Clubber', Baldwin was a patron of the arts and the daughter of California lumber pioneer Walter Scott Hobart. The car was sold in 1961 and put into storage for 37 years until 1998 when its fifth owner purchased the car and began showing it once again. It remains in spectacular original condition as delivered new.
The Packard Motor Company relied on making luxurious cars that were highly refined, fitted with luxurious coachwork, and powered by proven engineering. This belief had placed them among the elite in the auto industry during the early 1900s. As the world entered the Great Depression, the Packard Company was one of the few that managed to survive. In fact, they outsold all of their competitors combined. They had entered the Depression in excellent financial health and they emerged with strong financial footing. But the post depression era had them worried, as the number of potential buyers had dwindled as fortunes were lost. Production had dropped nearly half each year when compared with the previous, from 1929 to 1933. In response to the decline, Packard continued to make improvements each year.

In 1932, Packard introduced their Ninth Series. It featured many improvements which helped segregate it from other automakers in the industry. Improvements included a revised steering geometry which made steering smooth and easy. Braking was equally as easy thanks to the new driver adjustable power assisted braking system. The shifting action and clutch were improved making driving a very enjoyable activity. The drivers workload was eased even further with the spark advance and automatic choke.

By making these changes they attracted a growing segment of buyers and drivers - woman.

The 1933 Packard's were called the Tenth Series cars as the company still refused to adopt the convention of the model year system which called for new cars to be introduced in September or October to coincide with the auto show schedules. The following year, the reluctantly joined with other manufacturers which resulted in a shorted run for the tenth series, lasting just seven months. The new Packard model line was introduced in the fall. Because of the seven month production lifespan of the Tenth Series, very few were produced making them very rare in modern times.

The Tenth Series were given a new X-braced frames, dual coil ignition, and downdraft carburetors. The styling was updated with skirted fenders and a 'V'-shaped radiator shell. The interior featured upgraded trim and a new aircraft inspired dash.

Packard continued to offer three chassis, the Eight, Super Eight, and the Twelve. The Super Eight and Twelve both rested on a wheelbase that measured 142-inches and had a hood that was nearly six-inches longer than the Eight. The fenders were longer as well.

The bodies on the Twelve's and Super Eight were interchangeable, with the Super Eight featuring an eight-cylinder engine while the Twelve featured a twelve cylinder engine. During this time, Packard also produced the Eight, which had a smaller wheelbase size and the eight-cylinder engine. The Super Eight and Twelve differed by interior appointments and engine size. The bodies were constructed of wood and steel.

In 1936 Packard was producing their Fourteenth Series as the number thirteen had been skipped. It is believed that thirteen was not used due to superstitious reasons. The Fourteenth Series was the last year for Bijur lubrication, ride control, a semi-elliptic suspension, mechanical brakes, heavy vibration dampening bumpers and the 384.4 cubic inch straight eight engine. It was also the last year for the option of wire or wood wheels.

In 1936 the fourteenth series received a new radiator which was installed at a five-degree angle. The Super 8 had a new sloped grille with chrome vertical bars which gave the vehicle a unique look and served as thermostatically controlled shutters which opened or closed based on engine heat. The headlight trim, fender styling, and hood vents saw minor changes. A new Delco-Remy ignition system was the new updates for 1936 under the bonnet.

For 1936 there were a total of 1,492 Super Eights constructed.
By Daniel Vaughan | Apr 2008
For more information and related vehicles, click
here
BARRETT-JACKSON SALON COLLECTION TO HIGHLIGHT SCOTTSDALE AUCTION
•(Lot #5087), a 1949 Talbot-Lago T-26 Grand Sport Franay headlines Barrett-Jackson's Salon vehicle lineup •An exquisite 1929 Alfa Romeo 6C 1750 SS (Lot #5083) will be among the auctions most notable consignments •One of 300, a stunning silver 1955 Mercedes-Benz 3000 SL Gullwing (Lot #5075) will cross the Scottsdale auction block SCOTTSDALE – Jan. 5, 2015 – Barrett-Jackson, The World's Greatest Collector Car AuctionsTM, will feature a rare docket of exquisite Salon vehicles during its...[Read more...]
MERCEDES-BENZ 2014 G63 AMG: THE ULTIMATE G-CLASS
The latest technology for the AMG off-road icon: the new 2014 G63 AMG impresses with a state-of-the-art powertrain, expressive new design and improved efficiency. All this is largely attributable to the AMG 5.5-liter V8 biturbo engine delivering 536 hp and the AMG SPEEDSHIFT PLUS 7-speed automatic transmission. Every new AMG high-performance vehicle offers an outstanding mix of 'more power from less fuel' – and the G63 AMG is no exception. The 'strong man' in the AMG model range has been furt...[Read more...]
History Rolls into Hershey for RM's Annual Pennsylvania Sale
• Final countdown underway to RM's annual Hershey, Pennsylvania auction, held October 10 – 11 during the historic AACA Eastern Regional Fall Meet • Two-day sale features 116 vehicles, with an emphasis on Brass and Classic Era motor cars • Sale entries led by a rare, award-winning 1933 Chrysler CL Imperial Convertible Roadster • Auction also features number of vehicles steeped with local Pennsylvania history • Digital catalogue now available online at rmauctions.com BLENHEIM, Ontario (S...[Read more...]
The Champion in Touring Car Racing : The BMW M3
In August 1985, a rumour surfaced in motor magazine Auto-Deutschland which emanated from a new sports car. An A Group Car from BMW that was a thoroughbred racing car according to the rules but was also to be produced in a version licensed to drive on open roads for everyday use. Speculation about this dream car that could take to normal roads and was intended for the 'Most dynamic among BMW 3 Series drivers' was right on target. But the pundits missed the mark about the motor-sport car by a mile...[Read more...]
Auctions America By RM's 2012 Auburn Spring Auction
'Variety' is the buzzword for this year's Auctions America by RM June 1-3 Auburn Spring auction, which will offer a huge range of collector vehicles and an enormous private collection of automotive memorabilia. More than 600 American muscle cars, Classics, foreign sports cars and hot rods will cross the block at the historic Auburn Auction Park, the company's national headquarters in Auburn, Indiana. 'Last year was our first spring event at the park,' said Auctions America by RM's President ...[Read more...]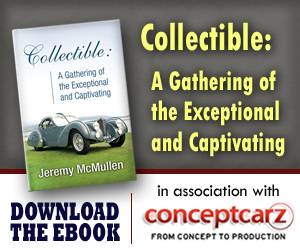 © 1998-2014. All rights reserved. The material may not be published, broadcast, rewritten, or redistributed.