1939 Packard 1708 Twelve news, pictures, specifications, and information

Tweet
Since 1939 was the last year for V-12 Packard's, All V-12's were manufactured on order only, there were 446 built, of the 86 that were the same model as this, there are only five known survivors.

This car was built for the Japanese Embassy in San Francisco, California. When the Imperial government of Japan bombed Pearl Harbor the car was impounded by the U.S. Government.

After the war, it was sold as war surplus to a farmer in Northern California who drove it for over forty years. He taught his eight children to drive in this car.

The car was later sold to the Disney Corporation for the Queen Mary project. When Disney pulled out, the current owners purchased the car.

The car has been driven on several long distance antique and classic car tours, from Newport, Rhode Island to San Francisco, California and a Canadian/American tour. The engine is a 473 cubic-inch V12 and the last of this type of engine to be built. Also, this is the last extensive use of wood in an inner body construction. All steel body construction was used from this point on. This model was the first to have a column shift. There is a radio in the rear compartment only, clock front and back, jump seats - seats nine people comfortably. For privacy, there is a division window between front and rear compartments. This vehicle has never been restored, repaired - yes, but never restored. Comfortable, quiet, and keeps up with modern day traffic.
This luxurious touring sedan sold new for $4,485.00. Only 446 Packard V-12's were built in 1939. All of the V-12's were built on a per-order basis, none left the plant unsold. The 1708 series V-12 Packard had a 139 inch wheelbase. 1939 introduced a transmission refinement to column shift versus the original floor shift of prior years.

This was the last year for the V-12 engine.

This Packard is the generous gift of the Robert Sommers family of Smithfield, VA.
Source - National Packard Museum
Packard Motor Car Company was in business in Detroit, MI from 1899 to 1958. This prestigious Packard Series 1708 V-12 is rare with limited production and is constructed on the relatively short wheelbase of 139 inches. This 5-passenger formal sedan was noted for its blind quarter window and a leather padded roof. The interior features a disappearing divider window, a single jump-seat and mirrored vanity cases. The engine is a 445.5 cubic-inch 12-cylinder that develops 160 horsepower.

This Packard was originally owned by the famous Opera singer Lily Pons and has been part of the Westerman family for 50 years. This automobile is completely unrestored.
Packard produced their 'Twin Six' model from 1916 to 1923. They had a long pedigree with the twelve-cylinder engine. When the multi-cylinder wars began to escalate in Detroit during the 1930s, Packard resurrected the Twin Six name with a completely new engine. It had a 67-degree vee, displaced 445 cubic-inches, and produced 75 percent more power than the prior engine. In 1933 the name was changed to the 'Packard Twelve.' Two years after that the displacement rose even further, to 743.3 cubic-inches. Horsepower rose as well to 175 brake horsepower. In 1937, Packard received coil springs in the front, hydraulic brakes, and a vacuum-assisted clutch. The Packard catalog listed a number of styles from the major coachbuilders including LeBaron, Dietrich, Rollston and Brunn.

The Brunn & Co., of Buffalo, New York, was established in 1908 by Hermann Brunn. In 1920 the company was given a contract for Lincoln bodies. The work continued when Henry Ford bought Lincoln in 1922. By the 1930s Brunn was creating custom and semi-custom bodies for Pierce-Arrow, Cadillac and Packard.

This Packard wears a Brunn body which has been treated to a restoration by Scottsdale specialist Barry Briskman. It is believed to be one of four built. The current owner purchased the car in 2007. It has received Premier honors from the CCCA. It won Third in Class at the 2004 Pebble Beach Concours d'Elegance.

The car is painted in black with dual sidemounts, and has a tan canvas top. The interior features black leather upholstery on the chauffeur's seat and tan cloth in the passenger compartment. It sold new for $8,335 making it the most expensive Packard in 1939. It was over a thousand dollars more than a V16 Cadillac or equivalent Lincoln.

In 2008 this 1939 Packard Twelve All Weather Cabriolet with coachwork by Brunn was brought to RM Auctions 'Vintage Motor Cars of Meadow Brook' where it was estimated to sell for $200,000-$255,000. Bidding reached $176,000 including buyer's premium which was enough to satisfy the reserve. The lot was sold.
By Daniel Vaughan | Sep 2008
1939 was the final year for the V12 Packard production and the Convertible Sedan was their most expensive model offered during that year. This 1939 Packard Twelve Convertible Sedan was recently discovered in California where it wore its 1951 California 'black plate.' It is in mostly original and untouched condition and wears its original paint finish. The body is straight and sound; there are some dings and dents, but no significant damage. The car includes a division window, dual enclosed side-mounted spare tires and a luggage rack. There are steel wheels with hubcaps and trim rings. The interior has leather upholstery, a heater, a defroster, a dash-mounted clock, and a pair of hassocks for the rear seat passengers.

In 2008, this car was brought to the 2nd Annual Vintage Motor Cars of Hershey presented by RM Auctions where it was estimated to sell for $80,000-$120,000. It was offered without reserve. A high-bid of $64,900 including buyer's premium was enough to secure new ownership. The lot was sold.
By Daniel Vaughan | Oct 2008
Packard's twin-six engine was ready for the 1932 model year and was a completely new engine. It was positioned at a 67-degree vee and had a displacement of 445 cubic-inches which meant it was 20 more than the old engine. Even with this small amount of increase, the horsepower rose by 75 percent. For 1933, the model name was changed to the 'Packard Twelve'. Two years later, the displacement rose to 473.3 cubic-inches and now produced 175 horsepower. The 1937 Packard Twelve's were fitted with coil springs in the front, vacuum-assisted clutch, and hydraulic brakes.

This particular car was built for Lazaro Cardenas Del Rio, who was the president of Mexico from 1934 through 1940. It was a gift from Cardena's close friend Ofario, a businessman and Packard representative.

The presidential position meant this car was given extra protection such as bulletproof glass and retractable side and rear windscreens when the top was up or down.

This car has been restored many years ago and is still in good condition. It is painted in black lacquer, with interior of tan leather and a tan Haartz cloth top. It was purchased in 2000 by a California collector and has been well maintained since that time. It was on display at the Petersen Automotive Museum in Los Angeles as part of their exhibition of 'Presidents, Popes and Potentates: Cars of Heads of State.'

In 2008, this vehicle was offered for sale at the 'Sports & Classics of Monterey' presented by RM Auctions where it had an estimated value of $500,000 - $900,000. It was sold for a high bid of $375,000 including buyer's premium.
By Daniel Vaughan | Jan 2009
This 1939 Packard Twelve Bohman & Schwartz Sport Sedan was a 'one-off' according to the book 'The Packard Story' and was the most expensive Packard built in 1939. It features a leather top with hard top type windows. The car was built for the Weyerhaeuser lumber family. It was also driven by Errol Flynn.
There were just 446 Packard Twelves built in 1939 and the Brunn Touring Cabriolets numbered in single digits. They were the priciest Packards, selling for $1,500 more than the most expensive Rollston Town Car.

This Brunn Collapsible Touring Cabriolet is body number 1 and is a largely original car. The original owner (believed to have been British-born bandleader and composer Ray Noble) purchased the car from Earle C. Anthony, the legendary Los Angeles distributor.

The exterior of the dark is painted in black and all the exterior brightwork is in good condition. There are wide whitewall tires, twin side-mount spares, with hard covers coupled with a commodious trunk and an external folding trunk rack. The interior is tan cloth with walnut accents in the passenger compartment. There is an optional column shifter and a L-head V12 engine offering 175 horsepower.

In 2009, this car was brought to RM Auctions 'Vintage Motor Cars of Meadow Brook' where it was estimated to sell for $175,000-$225,000. As bidding came to a close, the lot had been sold for the sum of $166,100, including buyer's premium.
By Daniel Vaughan | Sep 2009
1939 was a very significant year for Packards, as it was the last year for the Packard 12-cylinder automobiles. For 1939, fewer than 450 examples were built before production came to an end.

This example is a Model 1708, five-passenger convertible sedan. It has been given a comprehensive restoration and finished in the correct and Idium Grey metallic paint with a black Haartz cloth convertible top that features blind rear quarters for rear-seat occupants' privacy. The upholstery is finished in red leather with contrasting burl walnut dashboard. There are five uniformly round gauges on the inset panel and matching wood door accents. There is a steering column shift, an unusual feature among the larger displacement Full Classics, a modern amenity that provided additional front compartment floor space. There is a roll-up divider window behind the driver's seat that is surrounded by walnut trim. Mounted to the rear of the front-seat cowling is a rear-seat leather-wrapped lap robe rope with matching grab-straps at either end. Also, there is a correct Packard accessory heather that provides warmth to both driver and passengers.

The car was fitted with many options such as dual-enclosed side-mounted spares with rear view mirror; period-correct accessory fog lamps including a single rear lamp; and an unusual external rear trunk rack which, when lowered, has its own elegantly shaped chrome bumper to protect car and trunk alike.

In 2010, this Model 1708 was offered for sale at Gooding & Company's auction held in Amelia Island, Florida. The car was expected to sell for $175,000 - $225,000. As bidding came to a close, the car had been sold for the sum of $170,500, inclusive of buyer's premium.
By Daniel Vaughan | Apr 2010
Convertible Sedan
Chassis Num: B602122
Engine Num: B602122
Gearbox Num: Vehicle #: 1253-21844

Sold for $140,250 at 2013 RM Auctions.

The Packard Convertible Sedan, style number 1253, accounted for only a small number of sales, with just 20 built. It is believed that fewer than six has survived today. This example is early in the production run with a well-known history and has essentially been in Pennsylvania for its entire life. In 2000, Bernard Berman acquired it from the original owner's family. The car was later sold to Nicola Bulgari, for whom it underwent a cosmetic restoration. It is finished in Packard Maroon exterior.

The current owner acquired the car from Mr. Bulgari.
By Daniel Vaughan | Jan 2014
The Packard Twelve was produced from 1933 to 1939 with over 35,000 examples produced. It is considered by many to be one of the finest automobiles produced by Packard and one of the most significant creations of the classic car era. The long and flowing front hood hid a 445 cubic-inch side-valve twelve cylinder engine that was refined, powerful, smooth, and quiet.

The engine was originally destined for a front wheel drive project which eventually proved to have weaknesses. That and the anticipated development cost were too much to be practical so Packard decided to scrap the idea. Cadillac had introduced their 16-cylinder engine and other marques such as Pierce-Arrow were improving the performance of their offerings. Packard was feeling the pressure and decided to place the engine into the Deluxe Eight Chassis and dubbed it the Twin Six. The name was in honor of Packard's achievement fifteen years earlier when the introduced their first 12-cylinder engine. By 1933 the name was changed to Twelve to be inline with the rest of the Packard models.

Most of the Packard production Twelve's received factory bodies. Only a handful received custom coachwork by such greats as LeBaron and Dietrich.

In 1935 Packard introduced more horsepower and mechanical improvements. The suspension became more plush and comfortable while the steering became easier to operate. The cars were designed and built as one unit including the fenders, running boards, hood and body.

1936 the final year for 17 inch wire wheels and the double blade bumpers with hydraulic dampers.
By Daniel Vaughan | Apr 2008
For more information and related vehicles, click
here
BARRETT-JACKSON'S 43RD ANNUAL SCOTTSDALE AUCTION PROVES TO BE THE MOST SUCCESSFUL IN COMPANY HISTORY, EXCEEDING $113 MILLION
Barrett-Jackson Hosted Top-Tier Celebrities, Auto Legends, Auctioned the World's Most Sought-After Blue Chip Vehicles, Awarded Two Guinness World Records and Set World Records for Rare Corvettes and Thunderbird HIGHLIGHTS: • 1399 cars sold • Over $113 million gross sales • An estimated 300,000 attendees • 14 vehicles sold to benefit various national and local charities SCOTTSDALE, ARIZ. (Jan. 21, 2013) – Barrett-Jackson, The World's Greatest Collector Car Aucti...[Read more...]
BARRETT-JACKSON'S SCOTTSDALE 2014 SALON COLLECTION TO OFFER DIVERSE DOCKET OF WORLD'S MOST SOUGHT-AFTER COLLECTIBLES
Rare and Desirable Vehicles Plus One Fully-Operational Carousel Will Cross the Auction Block at Company's Monumental Scottsdale Auction, Jan. 12-19, 2014 SCOTTSDALE, ARIZ. (Dec. 18, 2013) – Barrett-Jackson, The World's Greatest Collector Car Auctions™, announced today a group of exceptional vehicles representing 85 years of automotive history will cross the auction block as part of the world-renowned Salon Collection. The collection will be offered during the company's 43rd Ann...[Read more...]
63rd Pebble Beach Concours d'Elegance Names 1934 Packard 'Best of Show'
The competition showcased 248 cars, including 48 from abroad PEBBLE BEACH, Calif. (August 18, 2013) -- A 1934 Packard 1108 Twelve Dietrich Convertible Victoria owned by Joseph and Margie Cassini III of West Orange, New Jersey, was named Best of Show at the 63rd Pebble Beach Concours d'Elegance, held Sunday on the 18th fairway of Pebble Beach Golf Links at Pebble Beach Resorts. The event showcased 248 cars from 36 states and 12 countries and raised $1,277,007 for charity. 'This Pack...[Read more...]
Edsel Ford's Restored 1934 Model 40 Special Speedster Returns to Amelia Island Concours d'Elegance
It has been 13 years since Edsel Ford's 1934 Model 40 Special Speedster first made headlines when it rolled onto the field at the Amelia Island Concours d'Elegance. The elegant roadster, which was rediscovered in 1999 by the show's founder and Chairman Bill Warner, will return again on Sunday, March 11 to the 17 the annual Concours; this time as part of the collection of the historic Edsel Eleanor Ford House (Ford House) and completely restored to its timeless elegance. The Speedster's ...[Read more...]
The Moretti Estate Collection of Packard Twelves
Gooding & Company, the world's leading auction house for collectors of rare and exceptional cars, announces that it will be presenting an exciting collection of Packard Twelves at its 2012 Scottsdale Auctions on January 20 & 21: six extraordinary automobiles from the estate of Thomas A. Moretti, the beloved and respected Packard Twelve collector. The centerpiece of Moretti's collection is an extremely rare 100-point 1932 Packard Twin Six Coupe formerly owned by Hollywood legend Clark Gable. ...[Read more...]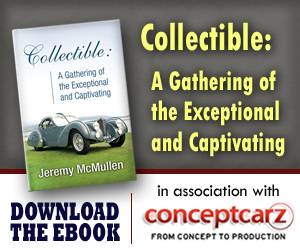 © 1998-2014. All rights reserved. The material may not be published, broadcast, rewritten, or redistributed.