1991 Chrysler 300 Concept news, pictures, specifications, and information

Tweet
It's likely that you've heard about Chrysler's legendary 300-series vehicles. They represent much of what Chrysler has been built upon - power and luxury. In 1991, Chrysler designers set out to design a vehicle that encapsulated all of what the 300-series has stood for over the years. The result? The 300 concept car.

Úsing the 450 horsepower V10 under development for the Dodge Viper, the 300's inspiration came from the Dodge Viper, the 300's inspiration came from the Monteverdi High Speed, a four-door sedan built in Switzerland in the 70s by Peter Monteverdi. And no coincidentally, Chrysler Hemi engines powered those legendary cars.

The 300 rode on a 125.9-inch wheelbase and was 206.5 inches long. It was also the first concept car to have monster-sized wheels - the front wheels were 19 inches while the rear wheels were 20 inches.

The vehicle had enough gadgets to satisfy any British secret agent. There was a coded key car that, when inserted in the center console, opened a door to the ignition button. The rear seats had cell phones, headphones, a TV and a VCR.

As wîth most things; if it sounds too good to be true, it probably is. As great as it might have been to build and produce the 300, its impracticalities to the real world kept it merely and inspiring concept car.
Source - Chrysler
RARE REUNION: CHRYSLER CONCEPT CARS GATHER AT AMELIA, 2014
Nine rare and important Chrysler Concept Cars from the forties, fifties and sixties will be presented together for the first time at the 19th annual Amelia Island Concours d'Elegance on March 9, 2014. From the two-seat Chrysler Thunderbolt roadster and the dual-cowl Chrysler Newport of 1941 through the radical 1963 Chrysler Turbine car, Amelia's Chrysler Concept Car Class shows the genesis of the styling and engineering philosophy that summoned Chrysler's industry-changing 'Forward Look...[Read more...]
MECUM TOPS $18.6 MILLION IN CHICAGO
Walworth, WI - October 15, 2013 -- The windy city welcomed Mecum Auctions with an exceptional sale and enormous crowds at the Schaumburg Convention Center in Schaumburg, Ill., this past weekend. With 965 cars crossing the block throughout the three-day event, 615 hammered sold for a 64 percent sell-through rate and $18,634,223 in sales. The one-of-a-kind personal driver of Corvette's original designer Harley J. Earl led auction sales with a hammer price of $1.5 million. Chicagoland was...[Read more...]
SEAT takes centre stage at the Spirit of Montjuic
SEAT continues to be heavily involved in the world of classic cars, and from April 12 to 14 the Spanish brand's classic vehicles will be attending one of the most important events for classic car lovers and car enthusiasts in general – the Sprit of Montjuïc Catalunya Classic Revival – which will be held at the Circuit de Catalunya. Just like last year, SEAT will be taking centre stage at the 2013 Spirit of Montjuïc. The brand will be exhibiting a major part of its history as Spain's main car...[Read more...]
The Mecum Marathon In Kissimmee Sets New Record As World's Largest
Unprecedented 10-day Auction Goes Where No Other Auction Has Ever Gone Before Mecum Auctions' record-setting 10-day auction, held Jan. 18-27, exceeded all expectations transforming more than 100 acres of land at Osceola Heritage Park in Kissimmee, Fla., into the nation's collector car epicenter. A total of 3,337 lots filled every building and 15 acres of tents with a total of 2,610 cars crossing the auction block and a huge selection of Road Art and memorabilia. With 1,811 vehicles sol...[Read more...]
Barrett-Jackson Generates Nearly $109 Million In Sales
• Sets Record Attendance At The 42nd Annual Scottsdale Auction
• Batmobile sells for $4.62 million dollars to a lifelong fan to worldwide audience; marks second-highest single-car sale at Barrett-Jackson
•1,343 cars sold •$108,766,069 gross sales – A 17% increase over 2012 •300,000 in attendance •Charity cars – 21 total for $5,005,000 Scottsdale, Ariz. – Jan. 22, 2013 – Barrett-Jackson Auction Company, The World's Greatest Collector Car Auctions™, generated nearly $1...[Read more...]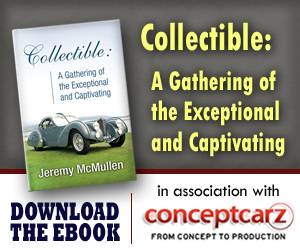 Chrysler
Monthly Sales Figures
Volume
March 2014
26,140
February 2014
25,230
January 2014
21,113
December 2013
20,270
November 2013
21,024
October 2013
23,452
September 2013
25,251
August 2013
28,678
July 2013
19,978
June 2013
27,249
May 2013
29,070
April 2013
27,836
(More Details)
© 1998-2014. All rights reserved. The material may not be published, broadcast, rewritten, or redistributed.