1991 Chrysler 300 Concept news, pictures, specifications, and information

Tweet
It's likely that you've heard about Chrysler's legendary 300-series vehicles. They represent much of what Chrysler has been built upon - power and luxury. In 1991, Chrysler designers set out to design a vehicle that encapsulated all of what the 300-series has stood for over the years. The result? The 300 concept car.

Úsing the 450 horsepower V10 under development for the Dodge Viper, the 300's inspiration came from the Dodge Viper, the 300's inspiration came from the Monteverdi High Speed, a four-door sedan built in Switzerland in the 70s by Peter Monteverdi. And no coincidentally, Chrysler Hemi engines powered those legendary cars.

The 300 rode on a 125.9-inch wheelbase and was 206.5 inches long. It was also the first concept car to have monster-sized wheels - the front wheels were 19 inches while the rear wheels were 20 inches.

The vehicle had enough gadgets to satisfy any British secret agent. There was a coded key car that, when inserted in the center console, opened a door to the ignition button. The rear seats had cell phones, headphones, a TV and a VCR.

As wîth most things; if it sounds too good to be true, it probably is. As great as it might have been to build and produce the 300, its impracticalities to the real world kept it merely and inspiring concept car.
Source - Chrysler
The 100 000th PEUGEOT 2008 produced less than a year after its launch
Less than a year after launch, the PEUGEOT 2008 urban crossover has just passed the milestone of 100 000th examples produced. This 100 000th 2008, labelled 'Origine France Garantie' (Made in France Guarantee) and manufactured at the Mulhouse plant, was handed over to its customer in the presence of Corinne Spilios, the Director of the Mulhouse production centre and Xavier Duchemin, Director of PEUGEOT France. Unveiled as a world first at the last Geneva Motor Show, the PEUGEOT 2008, arriving...[Read more...]
RON BURGUNDY ANCHORS NEW 2014 DODGE DURANGO ADVERTISING CAMPAIGN
◾Co-branded advertising campaign combines power of Detroit automaker, major Hollywood studio and Will Ferrell (as Ron Burgundy) in biggest ever original content promo ◾Campaign launches new 2014 Dodge Durango featuring 'Anchorman 2: The Legend Continues' character Ron Burgundy as its new pitchman ◾Multimedia campaign spans television, digital, social and print ◾Television spots debuted on television and online on Saturday, October 5 ◾Campaign champions holiday release of Paramount Pictures' ...[Read more...]
Five Minutes With Juergen Schmitz, General Manager Of Infiniti, Middle East
Juergen Schmitz has worked in the automotive industry for just over 20 years across several brands. He joined the Middle East team in September 2011 after four years as Infiniti Regional Director of central Europe. In his current role as General Manager, his main areas of responsibility are to enhance brand power, develop the interior and exterior design of existing dealerships and increase market share. Following are his comments before the Bahrain Grand Prix. The Middle East is a strong mar...[Read more...]
Barrett-Jackson Generates Nearly $109 Million In Sales
• Sets Record Attendance At The 42nd Annual Scottsdale Auction
• Batmobile sells for $4.62 million dollars to a lifelong fan to worldwide audience; marks second-highest single-car sale at Barrett-Jackson
•1,343 cars sold •$108,766,069 gross sales – A 17% increase over 2012 •300,000 in attendance •Charity cars – 21 total for $5,005,000 Scottsdale, Ariz. – Jan. 22, 2013 – Barrett-Jackson Auction Company, The World's Greatest Collector Car Auctions™, generated nearly $1...[Read more...]
Steve McQueen Chevrolet Styleline Leads Exciting List of Celebrity Rides At Auctions America's Ford Lauderdale Sale
• Auctions America kicks off its 2013 calendar, March 22 – 24, 2013 in Fort Lauderdale, Florida • Regarded as South Florida's premier collector car auction, multi-day sale expected to feature more than 550 quality collector cars • Star attraction: 1951 Chevrolet Styleline DeLuxe Convertible formerly owned by Steve McQueen to be offered at no reserve • Additional highlights include a diverse assortment of 1950s convertibles from 'The Gauthier Collection', 1967 Dodge Coronet WO23 Hemi Super Sto...[Read more...]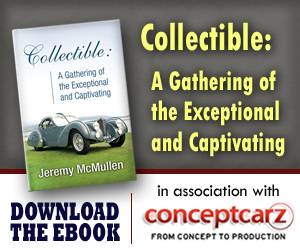 Chrysler
Monthly Sales Figures
Volume
August 2014
29,762
July 2014
23,455
June 2014
24,026
May 2014
22,592
April 2014
21,967
March 2014
26,140
February 2014
25,230
January 2014
21,113
December 2013
20,270
November 2013
21,024
October 2013
23,452
September 2013
25,251
(More Details)
© 1998-2014. All rights reserved. The material may not be published, broadcast, rewritten, or redistributed.