1991 Chrysler 300 Concept news, pictures, specifications, and information

Tweet
It's likely that you've heard about Chrysler's legendary 300-series vehicles. They represent much of what Chrysler has been built upon - power and luxury. In 1991, Chrysler designers set out to design a vehicle that encapsulated all of what the 300-series has stood for over the years. The result? The 300 concept car.

Úsing the 450 horsepower V10 under development for the Dodge Viper, the 300's inspiration came from the Dodge Viper, the 300's inspiration came from the Monteverdi High Speed, a four-door sedan built in Switzerland in the 70s by Peter Monteverdi. And no coincidentally, Chrysler Hemi engines powered those legendary cars.

The 300 rode on a 125.9-inch wheelbase and was 206.5 inches long. It was also the first concept car to have monster-sized wheels - the front wheels were 19 inches while the rear wheels were 20 inches.

The vehicle had enough gadgets to satisfy any British secret agent. There was a coded key car that, when inserted in the center console, opened a door to the ignition button. The rear seats had cell phones, headphones, a TV and a VCR.

As wîth most things; if it sounds too good to be true, it probably is. As great as it might have been to build and produce the 300, its impracticalities to the real world kept it merely and inspiring concept car.
Source - Chrysler
RARE CHRYSLER LA COMTESSE CONCEPT APPEARS AT AMELIA 2014
After decades in obscurity Chrysler's La Comtesse Concept Car will re-debut at the 19th annual Amelia Island Concours d'Elegance on March 9, 2014. The Fifties introduced new automotive chemical and paint technologies that helped summon a sea change in the way cars were purchased. It was a subtle component of Detroit's marketing equation, but color had risen near the top of the car buyer's priority list. The important fact was that women invariably chose the color of the new family car....[Read more...]
Global Ratings Confirm Volvo Cars' Safety Leadership
ROCKLEIGH, N.J. (Jan. 9, 2014) - Volvo Car Group (Volvo Cars) keeps moving toward its vision that by 2020 no one should be killed or seriously injured in a new Volvo. In 2013, top results from independent rating institutes all over the world emphasized the company remains on top when it comes to automotive safety. The most recent rating result is an IIHS Top Safety Pick+ for the Volvo S80 in the United States. During 2013, sales of Volvo cars equipped with systems for automatic braking...[Read more...]
Sold! Barrett-Jackson's 5000 Series Generates More Than $29.2 Million In Scottsdale
Original 1966 TV Batmobile Sells for $4.62 Million at The World's Greatest Collector Car Auctions™ and New World Records are Set January 19, 2013 •LOT #5037 The Original Batmobile is the highest selling car at the company's annual Scottsdale Auction •LOT #5019 1947 Talbot-Lago T-26 Grand Sport sets a new world record for the model •LOT #5034 1956 Chrysler Diablo Concept Convertible sets a new world record for Chrysler concept cars Scottsdale, Ariz. (Jan. 20, 2013) – Barr...[Read more...]
Barrett-Jackson Breaks Sales And Attendance Records At Its Spectacular 5th Annual Las Vegas Auction
The World's Greatest Collector Car Auctions™ Brings Together Auto Enthusiasts from Near and Far Barrett-Jackson, The World's Greatest Collector Car Auctions™, announced today that it generated more than $23 million in sales of rare, high-end collectible vehicles, exotics, customs, classics and Shelbys during its 5th annual Las Vegas auction. The auction company increased its overall hammer average from 2011, proving that the car market is stronger than ever. Automobilia sales reached m...[Read more...]
1984 Brazilian Grand Prix: An Overshadowed Overachievement
In 1983, a little-known Belgian driver by the name of Thierry Boutsen would buy his way into a drive with the Arrows Racing Team in time to take part in the Belgian Grand Prix. Though he would retire early in the race, he would follow the performance up with two-straight near misses of the points, beating his teammate in the process. He had been close with a car that was already overreaching. One year later, competing with an older and underdeveloped car, championship points couldn't have seemed...[Read more...]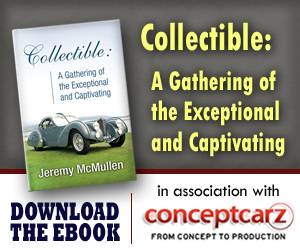 Chrysler
Monthly Sales Figures
Volume
February 2014
25,230
January 2014
21,113
December 2013
20,270
November 2013
21,024
October 2013
23,452
September 2013
25,251
August 2013
28,678
July 2013
19,978
June 2013
27,249
May 2013
29,070
April 2013
27,836
March 2013
33,905
(More Details)
© 1998-2014. All rights reserved. The material may not be published, broadcast, rewritten, or redistributed.