1991 Chrysler 300 Concept news, pictures, specifications, and information

Tweet
It's likely that you've heard about Chrysler's legendary 300-series vehicles. They represent much of what Chrysler has been built upon - power and luxury. In 1991, Chrysler designers set out to design a vehicle that encapsulated all of what the 300-series has stood for over the years. The result? The 300 concept car.

Úsing the 450 horsepower V10 under development for the Dodge Viper, the 300's inspiration came from the Dodge Viper, the 300's inspiration came from the Monteverdi High Speed, a four-door sedan built in Switzerland in the 70s by Peter Monteverdi. And no coincidentally, Chrysler Hemi engines powered those legendary cars.

The 300 rode on a 125.9-inch wheelbase and was 206.5 inches long. It was also the first concept car to have monster-sized wheels - the front wheels were 19 inches while the rear wheels were 20 inches.

The vehicle had enough gadgets to satisfy any British secret agent. There was a coded key car that, when inserted in the center console, opened a door to the ignition button. The rear seats had cell phones, headphones, a TV and a VCR.

As wîth most things; if it sounds too good to be true, it probably is. As great as it might have been to build and produce the 300, its impracticalities to the real world kept it merely and inspiring concept car.
Source - Chrysler
CRASH TESTS SHOW INDIA'S CARS ARE UNSAFE
Delhi, 31 January 2014… The first-ever independent crash tests of some of India's popular and important small cars have shown a high-risk of life threatening injuries in road crashes. All the cars selected by Global NCAP for testing in a frontal impact at 64km/h received zero-star adult protection ratings. The models tested included India's best-selling car, the Suzuki-Maruti Alto 800. The Tata Nano, Ford Figo, Hyundai i10 and Volkswagen Polo also underwent the safety assessment. Combi...[Read more...]
Honda Expands Accord Lineup This Fall With 2014 Accord Hybrid Featuring Class-Leading Mpg Ratings And Exclusive Styling
06/19/2013 - TORRANCE, Calif. ◾Class-leading 49 mpg EPA city fuel economy rating1 anticipated ◾Accord Hybrid shares Accord Sedan's sophisticated design highlighted with exclusive hybrid styling accents ◾Honda's first hybrid to be assembled2 in Marysville, Ohio ◾Accord Hybrid to go on-sale nationwide in October 2013 The first official photos of the U.S. version of the all-new 2014 Honda Accord Hybrid set to hit dealerships nationwide this October are now available on the Honda con...[Read more...]
FORD FUTURIST HONORED AMONG FAST COMPANY'S 100 MOST CREATIVE BUSINESS PEOPLE FOR 2013
- Sheryl Connelly, Ford's global trends and futuring expert, is the only member of the automotive industry named to Fast Company's Top 100 Most Creative People in Business for 2013, and the first woman from the auto industry to make the annual list - Connelly explores trends up to 20 years in the future. She created Ford's first annual consumertrend report –Looking Forward with Ford – which outlined 13 trends to watch for in 2013 and beyond - Connelly collaborates with product development, des...[Read more...]
2013 Honda Civic Sedan Leads All Small Cars In Safety Ratings With Top Nhtsa And Iihs Crash Scores
• Honda brand leads 2013 safety ratings; every Honda model tested for 2013 rated as IIHS TOP SAFETY PICK or TOP SAFETY PICK+
05/09/2013 - TORRANCE, Calif. The new 2013 Honda Civic Sedan, the most popular small car among individual buyers, has received the highest possible overall safety ratings from both the National Highway Traffic Safety Administration (NHTSA) and the Insurance Institute for Highway Safety (IIHS). The 2013 Civic Sedan recently received the top 5-Star Overal...[Read more...]
Barrett-Jackson Breaks Sales And Attendance Records At Its Spectacular 5th Annual Las Vegas Auction
The World's Greatest Collector Car Auctions™ Brings Together Auto Enthusiasts from Near and Far Barrett-Jackson, The World's Greatest Collector Car Auctions™, announced today that it generated more than $23 million in sales of rare, high-end collectible vehicles, exotics, customs, classics and Shelbys during its 5th annual Las Vegas auction. The auction company increased its overall hammer average from 2011, proving that the car market is stronger than ever. Automobilia sales reached m...[Read more...]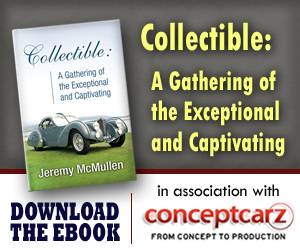 Chrysler
November 2014
27,243
October 2014
27,546
September 2014
28,781
August 2014
29,762
July 2014
23,455
June 2014
24,026
May 2014
22,592
April 2014
21,967
March 2014
26,140
February 2014
25,230
January 2014
21,113
December 2013
20,270
(More Details)
© 1998-2014. All rights reserved. The material may not be published, broadcast, rewritten, or redistributed.