1991 Chrysler 300 Concept news, pictures, specifications, and information

Tweet
It's likely that you've heard about Chrysler's legendary 300-series vehicles. They represent much of what Chrysler has been built upon - power and luxury. In 1991, Chrysler designers set out to design a vehicle that encapsulated all of what the 300-series has stood for over the years. The result? The 300 concept car.

Úsing the 450 horsepower V10 under development for the Dodge Viper, the 300's inspiration came from the Dodge Viper, the 300's inspiration came from the Monteverdi High Speed, a four-door sedan built in Switzerland in the 70s by Peter Monteverdi. And no coincidentally, Chrysler Hemi engines powered those legendary cars.

The 300 rode on a 125.9-inch wheelbase and was 206.5 inches long. It was also the first concept car to have monster-sized wheels - the front wheels were 19 inches while the rear wheels were 20 inches.

The vehicle had enough gadgets to satisfy any British secret agent. There was a coded key car that, when inserted in the center console, opened a door to the ignition button. The rear seats had cell phones, headphones, a TV and a VCR.

As wîth most things; if it sounds too good to be true, it probably is. As great as it might have been to build and produce the 300, its impracticalities to the real world kept it merely and inspiring concept car.
Source - Chrysler
RARE CHRYSLER LA COMTESSE CONCEPT APPEARS AT AMELIA 2014
After decades in obscurity Chrysler's La Comtesse Concept Car will re-debut at the 19th annual Amelia Island Concours d'Elegance on March 9, 2014. The Fifties introduced new automotive chemical and paint technologies that helped summon a sea change in the way cars were purchased. It was a subtle component of Detroit's marketing equation, but color had risen near the top of the car buyer's priority list. The important fact was that women invariably chose the color of the new family car....[Read more...]
CERTIFICATION TESTING IN LOS ANGELES HIGHLIGHTS FORD DOMINANCE IN POLICE SEDAN, UTILITY; ALL-WHEEL DRIVE
◾Ford EcoBoost®-powered Police Interceptor sedan bests high-performance V8 sedans from two competitors in 0-100 mph testing and average lap times ◾New Ford EcoBoost Police Interceptor utility vehicle accelerates faster than all base V6 sedan competitors ◾Wins for both sedan and utility vehicle confirms advantages of company's intelligent all-wheel drive on Ford Police Interceptor sales For the third straight year in Los Angeles Sheriff Department tests, EcoBoost®- and all-wheel-drive-equipp...[Read more...]
MASERATI GHIBLI SEDAN NAMED IIHS TOP SAFETY PICK
November 26, 2013, Englewood Cliffs, NJ - The Insurance Institute of Highway Safety today named the all-new 2014 Maserati Ghibli a 2013 Top Safety Pick. Heralding a new era of accessibility for the legendary Italian brand while maintaining the iconic Maserati pedigree, the highly anticipated Ghibli starting at just $65,600, has just begun deliveries to the vastly expanding Maserati retail network across North America. The Ghibli features a twin-turbo V6 produced by Ferrari with up to 4...[Read more...]
Mitsubishi Motors' Japanese-Spec Outlander Recognized as Fiscal Year 2012's Top Safety Performer Among New Passenger Vehicles in Japan
Mitsubishi Motors Corporation (MMC) announces its all-new Japanese-spec Outlander received the Japan New Car Assessment Program (JNCAP) Five Star Award in addition to the JNCAP First Prize for the 2012 Japanese fiscal year, cementing the SUV as a leader in automobile safety. The JNCAP Five Star Award is given to new automobiles introduced in Japan that earn the maximum five star overall rating in the JNCAP crash safety evaluation tests conducted by Japan's Ministry of Land, Infrastructure, Tr...[Read more...]
Barrett-Jackson Breaks Sales And Attendance Records At Its Spectacular 5th Annual Las Vegas Auction
The World's Greatest Collector Car Auctions™ Brings Together Auto Enthusiasts from Near and Far Barrett-Jackson, The World's Greatest Collector Car Auctions™, announced today that it generated more than $23 million in sales of rare, high-end collectible vehicles, exotics, customs, classics and Shelbys during its 5th annual Las Vegas auction. The auction company increased its overall hammer average from 2011, proving that the car market is stronger than ever. Automobilia sales reached m...[Read more...]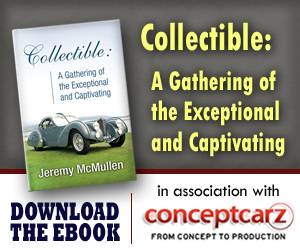 Chrysler
Monthly Sales Figures
Volume
July 2014
23,455
June 2014
24,026
May 2014
22,592
April 2014
21,967
March 2014
26,140
February 2014
25,230
January 2014
21,113
December 2013
20,270
November 2013
21,024
October 2013
23,452
September 2013
25,251
August 2013
28,678
(More Details)
© 1998-2014. All rights reserved. The material may not be published, broadcast, rewritten, or redistributed.