1952 Hudson Hornet news, pictures, specifications, and information

Tweet
Detroit department store magnate, J.L. Hudson and Roy D. Chapin joined forces to form the Hudson Motor Company in 1909. Their goal of this new venture was to build a low-priced car for under $1,000. When Hudson introduced their 'Twenty', it was one of the first low-priced cars on the American market and it was very successful with more than 4,000 sold in the inaugural year.

The Hornet was introduced in 1951 based on Hudson's 'step-down' design that featured unibody construction. It had a low center of gravity that contributed to improved handling and ride. The Hornet was powered by a 308 cubic-inch straight six engine that offered 145 horsepower. The engine was capable of much more power and combined with the car's handling, became unbeatable in stock car racing in the 1950s.

Hornet prices started at $2,540 and 35,921 were produced in 1952. The 'Twin H-Power' version introduced in 1952 offered dual single-barrel carburetors and a functional hood scoop that increased power to 170 horsepower.
This Hudson Hornet Sedan was one part of the Brooks Stevens Automotive Museum of Mequon, Wisconsin. Mr. Stevens was one of the most influential and versatile American designers of the 20th century. His work spanned from refrigerators to automobiles.

In the early 1990s, Southern California collector Larry Harvey purchased this Hornet from the Brooks Stevens Automotive Museum. At the time of purchase, the car had only 18,000 original miles on the odometer. Mr. Harvey commissioned a professional, sympathetic restoration.

The car is powered by a 308 cubic-inch L-head 6-cylinder engine with two Downdraft Carter carburetors offering 160 horsepower. There is a three-speed manual gearbox with overdrive and four-wheel Hydraulic Drum brakes.

In 2012, the car was offered for sale at the Pebble Beach auction presented by Gooding & Company. The car was estimated to sell for $50,000 - $70,000 and offered without reserve. As bidding came to a close, the car had been sold for the sum of $178,750 inclusive of buyer's premium.
By Daniel Vaughan | Nov 2012
This Hudson Hornet four-door sedan features the company's dramatic 'step-down' design with its dropped floor pan that positions the passenger compartment inside the car's frame. When entering the car, the driver and passenger step down. This was an unusual layout for the time that would later be used by other automotive manufacturers.

Power is from a 308 cubic-inch L-head six-cylinder engine breathing through two downdraft carburetors and offering 160 horsepower. There is a three-speed manual gearbox with overdrive and a 4-wheel hydraulic drum brakes.

The Hornet was a dominating force in the early 1950s with several checkered flag victories in NASCAR racing.

This car is finished in its classic original color scheme of white over black. The car has been repainted where appropriate with the original factory paint preserved wherever possible. Inside, the interior comfortably seats six. Front and rear bench seats are upholstered with original factory material, with the door-panel inserts finished in matching fabric. Color-coordinated carpets and headliner complete the compartment. The dashboard includes complete instrumentation as well as a factory-installed AM radio, heater, and tissue dispenser.

This sedan was originally sold in Bozeman, Montana. The odometer currently shows less than 58,000 miles.
By Daniel Vaughan | Apr 2014
The Hudson Motor Car Company came into existence in 1909 and produced vehicles until 1957. It was created by Howard Coffin, George W. Dunham, and Roy E. Chapin. Based in Detroit, Michigan, the company had it most successful year in 1929 when it produced and sold over 300,000 vehicles. From 1942 through 1945, the Hudson Corporation did its patriotic part by manufacturing war materials such as naval engines and aircraft parts, during the Second World War. After the war, the Company had its share of ups and downs before it merged with Nash Motors in January of 1954, when it became known as American Motors. The Hudson plant closed while the production of Nash vehicles bearing Hudson badges continued. The brand name ceased to exist after 1957.
In 1951 Hudson introduced the Hornet. The Hornet sat atop a modified version of the Super Six chassis and outfitted with a 262 and 308 cubic-inch inline six-cylinder power-plant. It dominated the NASCAR circuit in the early fifties. In 1952, it won 27 NASCAR Grand National races, 22 in 1953, and 17 in 1954.

The car sat low, giving it an excellent center of gravity. Its flowing, curvy lines and enclosed rear wheels gave it aerodynamic features. The car sold well for the company when first introduced but slowly faded into the history books. The Big Three auto manufacturers were able to change the faces of their model line-up every year, the Independent Auto Manufacturer, Hudson was not. So by the time the Hudson was discontinued, it was feeling and looking its age.

A wonderful car with seating for six and featuring an L-head straight six coupled with Twin-H Power carburetors was enough to breathe life into the Hudson Company for only a few years. The company had lasted through two World Wars and the Great Depression but it would ultimately find its demise at the hand of low-cost, mass-produced automotive giants.
By Daniel Vaughan | Mar 2006
LOGANO GIVES FORD SECOND STRAIGHT CHASE VICTORY AND CLINCHES BERTH IN NASCAR CONTENDER ROUND
◾Joey Logano's win is his fifth with Ford Racing and seventh of his NASCAR Sprint Cup Series career. ◾In addition, it's the first Chase victory of his career and second overall at New Hampshire Motor Speedway. ◾Ford Racing's 12 wins this season is the most for the manufacturer since 2005 (16). ◾The win is Ford's 26th Chase win and 630th all-time series victory. Ford Finishing Order: 1st – Joey Logano 6th – Aric Almirola 7th – Brad Keselowski 16th – Greg Biffle 17th – ...[Read more...]
Sunbeam Tiger Achieves Unprecedented Results on Day One at Russo and Steele's Monterey, California Auction Event!
Monterey, California (August 14, 2014) – In keeping with our signature high-energy auction experience, the first day's activity in Monterey has set an exciting tone for enthusiasts and industry watchers with another two days of high-octane action still to come. This evening, the auction presented an outstanding line-up of excellent collector automobiles, covering the spectrum from classics, customs, hot rods, and muscle cars, all the way to competition cars, classic sports cars, and j...[Read more...]
FUSION WINS FIRST NASCAR SPRINT CUP SERIES RACE AT KENTUCKY SPEEDWAY AS BRAD KESELOWSKI DOMINATES
· Brad Keselowski's win today is his second of the season and 12th of his career. · Ford Racing's six wins equals the single-season total for 2012 and 2013. · The win is Ford's 624th all-time series victory and the 33rd by Penske Racing with Ford. · This marks the second time in 2014 that Ford Racing has won consecutive NASCAR Sprint Cup Series races. Brad Keselowski and Carl Edwards captured Las Vegas and Bristol, respectively, during the first month of the se...[Read more...]
NELSON PIQUET JUNIOR CONFIRMS RX LITES ENTRY FOR LYDDEN HILL
Former Formula One driver Nelson Piquet Jr will compete in the RX Lites Cup at the second round of the FIA World Rallycross Championship presented by Monster Energy, AUTOSPORT World RX of Great Britain, which takes place at Lydden Hill race circuit this weekend (24-25 May). The Brazilian driver has a glowing CV in motorsport having finished runner-up in the coveted GP2 Series back in 2006 before stepping up to Formula One in 2007 to join the Renault F1 Team for three years. In 2010, Piquet J...[Read more...]
DISPLAYING A 2015 FORD MUSTANG CONVERTIBLE 1,000 FEET ABOVE MANHATTAN – SOME ASSEMBLY REQUIRED
◾Six weeks of preparation needed to bring a Ford Mustang convertible to the top of the Empire State Building ◾Ford and Empire State Building honor 50 years of Mustang with a car display 1,000 feet above the streets of Manhattan ◾Ford partners with longtime supplier to build the Mustang that will be displayed in New York As the world honors 50 years of Ford Mustang, what better way to celebrate one of the most iconic car brands than putting one back on top of one of the most iconic buildings...[Read more...]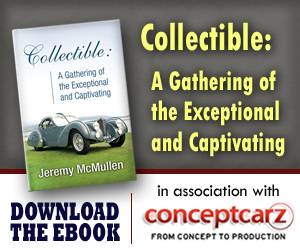 Similarly Priced Vehicles from 1952
Allard J2 ($3,244-$3,244)
Kaiser Virginian ($1,995-$2,780)
Packard 300 ($3,090-$3,090)
Buick Series 70 Roadmaster ($3,200-$3,977)
Oldsmobile Series Ninety-Eight ($2,530-$2,935)
Allard K2 ($3,100-$3,100)
Buick Series 50 ($2,480-$3,300)
Citroen Traction Avant ($2,285-$2,985)
Chrysler Saratoga ($3,185-$4,170)
Arnolt MG Bertone Coupe ($3,145-$3,145)
Packard 250 ($3,295-$3,450)

Average Auction Sale: $49,989
© 1998-2014. All rights reserved. The material may not be published, broadcast, rewritten, or redistributed.