1952 Chevrolet Corvette C1 EX-122 Prototype news, pictures, specifications, and information

Tweet
This is the Corvette prototype that made its debut at General Motors' Motorama in January, 1953. It was definitely the hit of the show, and GM announced that it would go into limited production by June. The first Corvettes were more 'eye candy' than sports car. They were grossly underpowered with Chevy's 'Blue Flame' six coupled with a two-speed automatic transmission. This prototype was retained by GM's engineering department and later used as a test bed for the new V-8 that would see production in 1955.

In 1953 the Corvette was debuted at the Motorama display at the Waldorf Astoria hotel in New York City. It was conceived by Harley J. Earl. It was a two seat convertible built by GM aimed at capturing the small car market from manufacturers like Jaguar and MG. All 1953 Corvettes were convertibles with black canvas tops, Polo white with red interiors, and built by hand.

Power came from an existing Chevrolet 235 cubic inch 6 cylinder engine. Modifications were done to it such as a three carburetor design and dual exhaust which resulted in higher horsepower ratings. The 150 hp 'Blue Flame Special' engine was paired with a a2-speed automatic gearbox. The first twenty-five vehicles used the standard Chevrolet 'baby moon' passenger car wheel covers due to a shortage of wheel covers.

During the 1953 production year, 300 Corvettes were produced making it the rarest Corvette. 255 are still in existence. In 1953 the base price for the Corvette was $3,498 with a heater and AM radio offered as optional equipment. The heater could be purchased for $91.40 and the AM Radio for $145.15.
By Daniel Vaughan | Sep 2008
Cadillac's 'Sixteen' Headlines The Amelia Concours d'Elegance Cadillac Concept Car Class
Cadillac's 2003 'Sixteen' will headline the 18th annual Amelia Concours d'Elegance's Cadillac Concept Car Class. A decade ago, the elegant excess of Cadillac's 'Sixteen' Concept Car set off alarms throughout the global auto industry as it rolled into the North American International Auto Show. Cadillac's 'Sixteen' Concept Car is a 1000 horsepower 13.6 liter V-16, 5000 pound, 19 foot long engineering and design statement taking conceptual cues from the legendary Cadillac V-16s of the 1...[Read more...]
Corvette Shines in the Big Apple
All-new Corvette Stingray comes to New York City 60 years to the day after Motorama debut 2013-01-16 Sixty years ago tomorrow, spectators lined New York City's posh Park Avenue, waiting to get a glimpse of the ground-breaking Chevrolet Corvette on display at the General Motors' Motorama show. On Thursday, the Corvette will be back in The Big Apple, marking the historic milestone with the all-new 2014 Chevrolet Corvette Stingray. The all-new Corvette Stingray debuted earlier...[Read more...]
Prototype Cadillac Not Seen In Decades Coming To Amelia
For the first time in 64 years the first Cadillac to wear the name 'Coupe de Ville' will make a public appearance. The site for this historic re-debut is the 18th annual Amelia Island Concours d'Elegance on March 10, 2013. Charlie Wilson was the CEO of General Motors from 1946 through 1953 and President Eisenhower's Secretary of Defense from 1953 through 1957. When Wilson left GM in 1953, the corporation gave him an extraordinary gift honoring his long service. What he got was the origina...[Read more...]
CADILLAC CONCEPT CARS STAR at AMELIA CONCOURS d'ELEGANCE
There are limited production cars, there are rare cars and there are concept cars that never find their way to the showroom. A fleet of Cadillac's rare and mythic Motorama and Detroit Auto Show Concept Cars will take to the field at the 18th Annual Amelia Island Concours d'Elegance on Sunday March 10, 2013. Created under the supervision of GM's legendary styling chief, Harley Earl, the Cadillac Concept cars of the 'Fifties were created as the stars of GM's Motorama shows. All are blood anc...[Read more...]
1955 MOTORAMA LaSALLES TO DEBUT AT AMELIA
The LaSalle show cars built for the 1955 General Motors Motorama will be featured at the 18th Annual Amelia Island Concours d'Elegance, March 10, 2013. Presented by Chubb Personal Insurance in partnership with the Bortz Auto Collection, Highland, Park, Illinois, the two cars, an unrestored sedan and the newly restored roadster, will be seen in public for the first time in 57 years. 'Joe Bortz has been on the cutting edge of dream car discoveries for over 40 years', commented Bill Warner, Chai...[Read more...]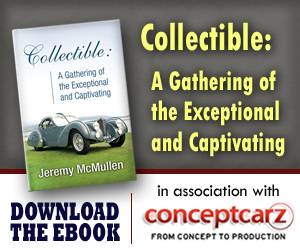 Chevrolet
Monthly Sales Figures
Volume
June 2014
188,567
May 2014
205,010
April 2014
181,648
March 2014
179,681
February 2014
153,913
January 2014
119,089
December 2013
153,493
November 2013
145,089
October 2013
155,214
September 2013
127,785
August 2013
187,740
July 2013
162,670
(More Details)
© 1998-2014. All rights reserved. The material may not be published, broadcast, rewritten, or redistributed.