1952 Chevrolet Corvette C1 EX-122 Prototype news, pictures, specifications, and information

Tweet
This is the Corvette prototype that made its debut at General Motors' Motorama in January, 1953. It was definitely the hit of the show, and GM announced that it would go into limited production by June. The first Corvettes were more 'eye candy' than sports car. They were grossly underpowered with Chevy's 'Blue Flame' six coupled with a two-speed automatic transmission. This prototype was retained by GM's engineering department and later used as a test bed for the new V-8 that would see production in 1955.

In 1953 the Corvette was debuted at the Motorama display at the Waldorf Astoria hotel in New York City. It was conceived by Harley J. Earl. It was a two seat convertible built by GM aimed at capturing the small car market from manufacturers like Jaguar and MG. All 1953 Corvettes were convertibles with black canvas tops, Polo white with red interiors, and built by hand.

Power came from an existing Chevrolet 235 cubic inch 6 cylinder engine. Modifications were done to it such as a three carburetor design and dual exhaust which resulted in higher horsepower ratings. The 150 hp 'Blue Flame Special' engine was paired with a a2-speed automatic gearbox. The first twenty-five vehicles used the standard Chevrolet 'baby moon' passenger car wheel covers due to a shortage of wheel covers.

During the 1953 production year, 300 Corvettes were produced making it the rarest Corvette. 255 are still in existence. In 1953 the base price for the Corvette was $3,498 with a heater and AM radio offered as optional equipment. The heater could be purchased for $91.40 and the AM Radio for $145.15.
By Daniel Vaughan | Sep 2008
BARRETT-JACKSON REACHES HISTORIC HIGHS FOR SALES, CROWDS AND CELEBRITY APPEARANCES IN SCOTTSDALE
• Barrett-Jackson sold 1,611 vehicles, which went for more than $130 million (unaudited), smashing records in the company's 44-year history during the 10-day auction at WestWorld of Scottsdale • Automobilia sales nearly tripled world records, with 2,000 pieces selling for more than $6.55 million • Celebrity attendance and crowds, along with ratings on Discovery and Velocity, spike SCOTTSDALE, Ariz. – Jan. 18, 2015 – Barrett-Jackson, The World's Greatest Collector Car AuctionsTM, reac...[Read more...]
NEXT-GENERATION CORVETTE TO DEBUT 1.13.13 IN DETROIT
New Crossed Flags logo illustrates the character of the all-new, 'C7' Corvette BRASELTON, Ga. – Chevrolet today confirmed the seventh-generation Corvette will debut on Sunday evening, Jan. 13, 2013, in Detroit. To start the countdown to 1.13.13, Chevrolet is showing the new Crossed Flags logo for the new 2014 Corvette. 'The all-new, seventh-generation Corvette deserved an all-new emblem,' said Ed Welburn, GM vice president of global design. 'The new Crossed Flags design ref...[Read more...]
Rare, Historic Cadillacs On Display At Pebble Beach
Custom 'none-of-a-kind' Fleetwood V-16s from 1930s featured Aug.16-19 A pair of one-of-a-kind Cadillac Fleetwood V-16s that were available but never ordered by customers during the Great Depression will be among the cars on display at the annual Pebble Beach Concours d'Elegance in Carmel, Calif., this week. Cadillac's exhibit, open to the public Aug. 16-19 at Peter Hay Hill, features Cadillac's newest cars, along with the two custom-built Fleetwood Convertibles from 1934 and 1937. ...[Read more...]
Pebble Beach Concours d'Elegance Introduces Its First Sport Customs Class
One-off Sport Customs designed to turn heads while tooling down Main Street USA will roll onto the 18th fairway of Pebble Beach Golf Links for the 2012 Pebble Beach Concours d'Elegance on August 19. This year, for the very first time, the Pebble Beach Concours d'Elegance is hosting an entire class dedicated to Sport Customs. 'These are one-of-a-kind cars built in the US, on modified American production chassis with American engines by individuals, designers and craftsmen,' explains auto...[Read more...]
GM Design: 85 Years of Making Art That Moves You
As GM Design celebrates its 85th birthday this month, the 1,900 men and women in GM's 10 global design centers are focused on the future, united in their vision to entice consumers to fall in love and see vehicles as they do: art that moves you. 'Our global team is united around its passion for designing vehicles that make an emotional connection with customers,' said Ed Welburn, GM vice president, Global Design. 'What was true 85 years ago is still true today: A designer's role is to create...[Read more...]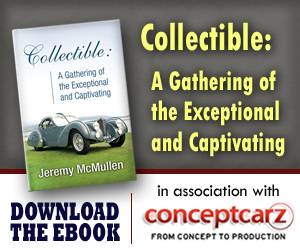 Chevrolet
Monthly Sales Figures
Volume
December 2014
184,938
November 2014
149,673
October 2014
155,965
September 2014
153,873
August 2014
185,930
July 2014
175,155
June 2014
188,567
May 2014
205,010
April 2014
181,648
March 2014
179,681
February 2014
153,913
January 2014
119,089
(More Details)
© 1998-2014. All rights reserved. The material may not be published, broadcast, rewritten, or redistributed.