1907 Ford Model K news, pictures, specifications, and information

Tweet
Henry Ford introduced the six-cylinder Model K in 1906. Originally offered only as a touring car, Ford quickly realized that there was a need for a sporty roadster. In November of 1907, the 6-40 Roadster was introduced at a price of $2,800. Capable of 70 mph, it was easy to operate, with a two-speed planetary transmission and good handling. Shifting into high gear was possible as slow as 3-4 mph, and braking was accomplished by internal emergency brakes as well as a foot brake that slowed the transmission. Only 50 roadsters were built out of a total Model K production run of 1,000 cars over a two-year period. This example has its original coachwork.
The Ford Model K was introduced in 1906 as a possible replacement for the Model B and to provide a luxury model to the Ford line-up. Equipped with a six-cylinder engine found in the front and powering the rear wheels, it was capable of producing 40 horsepower. The Model K sat atop a 114 inch wheelbase and could be ordered in standard touring or roadster bodywork.

It is considered the Ford Motor Company's first failure. The quality of the car was low and the sticker price was high, between $2500 to $3000 depending on the model and trim level. It was a departure from Ford's basic values, to provide affordable and dependable vehicles. The Model K was Fords last vehicle to feature a six-cylinder engine until 1941. The focus of the company went back to producing mass-produced and affordable vehicles. In 1908, production of the Model K ceased after only 900 examples produced.

Alexander Malcomson was one of the founding partners of the Ford Motor Company and a promoter of the luxury car line. He had felt that the evolving automobile market had a place for Ford in the production of luxury cars. When the Model K turned out to be a failure, he left the company. With Malcomson out of the company, Henry Ford became the majority shareholder. He shifted the company back to producing lightweight and durable vehicles. In October of 1908 the Model T was introduced and become the top-selling car in the world until it was discontinued in 1927.
By Daniel Vaughan | Mar 2008
The Ford Model K was powered by a 405 cubic-inch L-head six-cylinder engine with Holley updraft carburetor. It produced 40 horsepower and was sent to the rear wheels via a two-speed planetary transmission.

In 1906, Ford introduced two vehicles, a low-priced and simple four-cylinder Model N, and the six-cylinder Model K. The Model K was large and luxurious and weighed in at 2,500 lb curb weight and had a wheelbase of 114-inches (it was increased to 120-inches for 1907-1908 model). This was the first Ford to feature a six-cylinder powerplant.

It is believed that the first public showing of the Model K was at the 1906 American Motor Car Manufacturer's Association (AMCMA) Show held at the 69th regiment Armory, Lexington Avenue and 25th Street, New York in mid-January of 1906. Total Ford production for the model year was 8,828 units.

The Model K was available in either a Five-Passenger Touring car or sporty Runabout called the 640.

This Model K was part of the Clyde Ensor, Sr. Collection and formerly part of the Harrah's Collection in Nevada. Other noted owners included Elmer Bemis and Warren Anthony. This Touring car is one of just 25 known to exist.

This Touring Car is painted in a combination of dark blue with cream pin-striping, black interior, and black canvas top. Brass trim is included in the radiator, lights, cowl, horn, brake lever, gear shift handle, wheel hubs and steering column. There is black canvas top and is lined with red cloth.

In 2010, this car was offered for sale at the 'Sports & Classics of Monterey' presented by RM Auctions. It was estimated to sell for $275,000 - $375,000 and offered without reserve. As bidding came to a close, the car had been sold for the sum of $192,500 inclusive of buyer's premium.
By Daniel Vaughan | Dec 2010
Record numbers for a 'classicissima' Ferrari
Maranello, 5 February –Investment in classic cars seems to be paying off even more these days. This can be seen from yet more records set at special auctions and sales between private collectors. That is definitely the case if the car is a Ferrari. It's not by chance that today, the record sum of 28.99 million Euros was paid between collectors for an amazing 250 Testa Rossa, one of the most symbolic cars in the history of the Prancing Horse. The car, with the chassis number 0704, has ...[Read more...]
KIA MOTORS AMERICA ELECTRIFIES LAS VEGAS WITH MUSIC-DRIVEN SOULS AT SEMA
Inspired by the Eclectic World of Contemporary Music, Kia Partners with RIDES Magazine and Popular Mechanics to Open the Show in Amplified Fashion ◾Five 2014 Souls debut with live mobile performances, featuring a cutting-edge DJ station and a pro-sound-quality, plug-in-ready amplifier on wheels ◾NBC's The Voice and Vans Warped Tour are represented with their own themed Soul urban hatchbacks ◾A rolling music museum Soul pays homage to the art form with memorabilia spanning multiple genr...[Read more...]
2014 FORD F-150 TREMOR SPORT TRUCK WILL PACE FIELD FOR NASCAR TRUCKS RACE AT MICHIGAN INTERNATIONAL SPEEDWAY
◾2014 Ford F-150 Tremor has been chosen to pace the NASCAR Camping World Truck Series Michigan National Guard 200 on Saturday, Aug. 17 ◾2014 Ford F-150 Tremor sport truck with EcoBoost® engine cranks out 365 horsepower and 420 lb.-ft. of torque, delivering V8 power with V6 fuel economy ◾Ford F-150 Tremor will be on sale this fall The 2014 Ford F-150 Tremor – the first EcoBoost®-powered sport truck – will lead the field to the green flag at the always-fast Michigan International Speedway for...[Read more...]
EDWARDS PACES FORD QUALIFYING EFFORT AT INDIANAPOLIS WITH 3RD PLACE SHOWING
CARL EDWARDS, NO. 99 FASTENAL FORD FUSION (QUALIFIED 2nd) – 'We have a fast race car and I am pretty proud of that lap. If I did it again I don't know that I could go any faster. That was a pretty good lap. Hopefully that holds up for a top two or three. If we can start up front I think we have the pit crew and crew chief on the box and a car that can win this race. I want to win this thing badly. MARCOS AMBROSE, NO. 9 DEWALT FORD FUSION (QUALIFIED 10th) – 'We improved a lot and I am pretty ...[Read more...]
Edsel Ford's Speedster Stars at 'The Amelia'
Edsel Ford's 'continental car', a custom boattail speedster, will take its rightful place in the Sports Car Class of the 18th annual Amelia Island Concours d'Elegance. In the shape of Edsel's seminal speedster is the genesis of Ford's legendary design department. Edsel Ford was hardly 'a chip off the old block'. The acorn fell well away from the mighty oak that was Henry Ford, founder of the Ford Motor Company. Edsel was not just the President of Ford, he was a car guy to his core. His ta...[Read more...]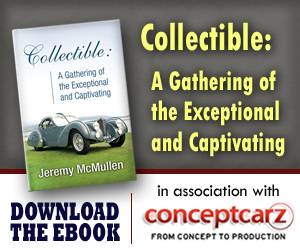 Ford
Monthly Sales Figures
Volume
November 2014
178,221
October 2014
179,014
September 2014
172,261
August 2014
214,028
July 2014
204,373
June 2014
214,793
May 2014
244,501
April 2014
203,552
March 2014
235,198
February 2014
177,286
January 2014
148,671
December 2013
210,074
(More Details)
© 1998-2014. All rights reserved. The material may not be published, broadcast, rewritten, or redistributed.