1907 Ford Model K news, pictures, specifications, and information

Tweet
Henry Ford introduced the six-cylinder Model K in 1906. Originally offered only as a touring car, Ford quickly realized that there was a need for a sporty roadster. In November of 1907, the 6-40 Roadster was introduced at a price of $2,800. Capable of 70 mph, it was easy to operate, with a two-speed planetary transmission and good handling. Shifting into high gear was possible as slow as 3-4 mph, and braking was accomplished by internal emergency brakes as well as a foot brake that slowed the transmission. Only 50 roadsters were built out of a total Model K production run of 1,000 cars over a two-year period. This example has its original coachwork.
The Ford Model K was introduced in 1906 as a possible replacement for the Model B and to provide a luxury model to the Ford line-up. Equipped with a six-cylinder engine found in the front and powering the rear wheels, it was capable of producing 40 horsepower. The Model K sat atop a 114 inch wheelbase and could be ordered in standard touring or roadster bodywork.

It is considered the Ford Motor Company's first failure. The quality of the car was low and the sticker price was high, between $2500 to $3000 depending on the model and trim level. It was a departure from Ford's basic values, to provide affordable and dependable vehicles. The Model K was Fords last vehicle to feature a six-cylinder engine until 1941. The focus of the company went back to producing mass-produced and affordable vehicles. In 1908, production of the Model K ceased after only 900 examples produced.

Alexander Malcomson was one of the founding partners of the Ford Motor Company and a promoter of the luxury car line. He had felt that the evolving automobile market had a place for Ford in the production of luxury cars. When the Model K turned out to be a failure, he left the company. With Malcomson out of the company, Henry Ford became the majority shareholder. He shifted the company back to producing lightweight and durable vehicles. In October of 1908 the Model T was introduced and become the top-selling car in the world until it was discontinued in 1927.
By Daniel Vaughan | Mar 2008
The Ford Model K was powered by a 405 cubic-inch L-head six-cylinder engine with Holley updraft carburetor. It produced 40 horsepower and was sent to the rear wheels via a two-speed planetary transmission.

In 1906, Ford introduced two vehicles, a low-priced and simple four-cylinder Model N, and the six-cylinder Model K. The Model K was large and luxurious and weighed in at 2,500 lb curb weight and had a wheelbase of 114-inches (it was increased to 120-inches for 1907-1908 model). This was the first Ford to feature a six-cylinder powerplant.

It is believed that the first public showing of the Model K was at the 1906 American Motor Car Manufacturer's Association (AMCMA) Show held at the 69th regiment Armory, Lexington Avenue and 25th Street, New York in mid-January of 1906. Total Ford production for the model year was 8,828 units.

The Model K was available in either a Five-Passenger Touring car or sporty Runabout called the 640.

This Model K was part of the Clyde Ensor, Sr. Collection and formerly part of the Harrah's Collection in Nevada. Other noted owners included Elmer Bemis and Warren Anthony. This Touring car is one of just 25 known to exist.

This Touring Car is painted in a combination of dark blue with cream pin-striping, black interior, and black canvas top. Brass trim is included in the radiator, lights, cowl, horn, brake lever, gear shift handle, wheel hubs and steering column. There is black canvas top and is lined with red cloth.

In 2010, this car was offered for sale at the 'Sports & Classics of Monterey' presented by RM Auctions. It was estimated to sell for $275,000 - $375,000 and offered without reserve. As bidding came to a close, the car had been sold for the sum of $192,500 inclusive of buyer's premium.
By Daniel Vaughan | Dec 2010
THE JAGUAR F-TYPE R COUPE TO MAKE ITS CANADIAN DEBUT AT THE 2014 TORONTO AUTO SHOW
(MISSISSAUGA, ON) February 13, 2014 - Jaguar will showcase its 2014 model year line up at the 2014 Canadian Auto Show held February 14 to 23, 2014. The 2015 F-TYPE R Coupe will be making its Canadian debut and the C-X17 Sport Crossover concept will also be on display. For 2014, Jaguar has showcased it most dynamic lineup ever. With the all-new F-TYPE sports car joining the family as the heir to the Jaguar sports car legacy, it has renewed Jaguar spirit and has represented a return to ...[Read more...]
SNAKEBIT AT SEMA: GENE SIMMONS, SHANNON TWEED UNVEIL CUSTOM 1956 FORD F-100, TO BE AUCTIONED FOR CHARITY IN 2014
◾KISS bassist Gene Simmons and his wife, actress Shannon Tweed, unveil custom 1956 Ford F-100 pickup ◾Custom 1956 Ford F-100, aptly named Snakebit, features styling cues that pay homage to classic Shelby Mustangs; power is supplied by Ford's supercharged 5.4-liter V8 engine ◾Snakebit will be auctioned next year by Barrett-Jackson, with proceeds going to help fund a children's hospital in Tweed's hometown in Canada Snakebit, a custom 1956 Ford F-100 with styling cues that salute the great Sh...[Read more...]
DODGE ANNOUNCES PRICING FOR NEW 2014 DODGE DURANGO
Best-equipped Seven Passenger SUV Loaded With Advanced Technology, Efficiency, Performance and Style for a Starting U.S. MSRP Less Than $30,000. ◾The new Dodge Durango features a slew of new standard features for 2014, including a new standard eight-speed automatic transmission with steering-wheel mounted paddle shifters, Uconnect Bluetooth, 5-inch Uconnect Touch Screen and 7-inch customizable gauge cluster, signature Dodge brand LED racetrack taillamps and standard three-row, seven pass...[Read more...]
FORD FUND CELEBRATES INNOVATION AS PART OF HENRY FORD'S LEGACY; ELENA FORD AWARDS INVENTORS WITH SPECIAL PRIZES
◾Two days before the 150th birthday of Henry Ford, Ford Motor Company Fund is sponsoring Henry Ford Maker Challenge, named after one of the most influential innovators of the 20th century ◾Elena Ford presented awards to three inventors out of the 400 participating in the fourth annual Maker Faire at The Henry Ford ◾Ford Fund supports innovation in education through long-term partnerships with nonprofits DEARBORN, Mich., July 28, 2013 – Two days before the 150th birthday of Henry Ford...[Read more...]
Barrett-Jackson Flavors Its January Scottsdale Auction With NASCAR Treats
• RACING HERITAGE, HIGH PERFORMANCE ARE RECIPES FOR CAR-COLLECTING FEAST
• SPEED™ SET FOR 39 HOURS of LIVE COVERAGE STARTING JAN. 15
The great Henry Ford once said, 'Auto racing began five minutes after the second car was built.' And for more than 60 years, there are few entities that better represent auto racing in America than NASCAR. From the hallowed grounds of Daytona International Speedway, to Sonoma, California's intricate and picturesque road course, the sp...[Read more...]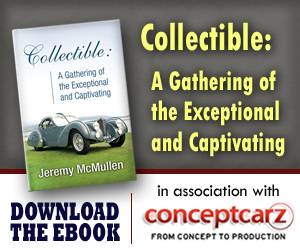 Ford
Monthly Sales Figures
Volume
September 2014
172,261
August 2014
214,028
July 2014
204,373
June 2014
214,793
May 2014
244,501
April 2014
203,552
March 2014
235,198
February 2014
177,286
January 2014
148,671
December 2013
210,074
November 2013
183,722
October 2013
184,854
(More Details)
© 1998-2014. All rights reserved. The material may not be published, broadcast, rewritten, or redistributed.