1935 MG PA news, pictures, specifications, and information

Tweet
The 'P' type was the last of the overhead cams to come out of the MG plant in Abingdon, England. This particular car, PA 1627, was completed at the factory on September 3rd of 1935. Mr. E. B. Newton of Kensington was the original owner and purchased it from the University Motors dealership. At the time of purchase the dealership was allowed to issue license plates using G as the two prefix letters. The original plates, MG4232, are still with this car. It has a four-cylinder single overhead camshaft 34.9 horsepower 347 cc engine with a four-speed gearbox and mechanical cable brakes (12 inch drums).

When MG had racing teams, George Eyston managed an all-female three car team of MG PAs at the 1935 LeMans 24 Hour Race. Eyston's 'Dancing Daughter's' as they were known, all finished the race in positions 23, 23 and 25.

These are the last of the overhead camshaft models to have been built in Abingdon.
This is arguably the most famous prewar MG in America. Originally one of three in Captain George Eyston's 'Dancing Daughters' female class-winning team for LeMans in 1935, its engine was subsequently updated to 939-cc PB specification and then sold by the factory to American sports car racer Miles Collier. The Collier brothers began competing wîth their friends on the driveways of Overlook, the Collier estate in Pocantico Hills, NY. From these teenage events, the Automobile Racing Club of America was born. This car was a regular on the ARCA circuit, where it raced unscathed despite Miles' spirited driving style. In 1937, however, a shunt wîth a New York taxi destroyed the bodywork. Seeing an opportunity to make a contender for overall victories, Miles had ARCA enthusiast John Oliveau design the aerodynamic body you see here. In 1939, in this car, Miles became the first American in a decade to race at LeMans, retiring at the eight-hour mark wîth a ruptured fuel tank. Miles' last victory in this car was at Bridgehampton in 1950, four years prior to his death.
Source - Historical notes courtesy of The Collier Collection
Although MG was a relatively unknown marque in the United States until after World War II, Morris Garages was one of the primary auto manufacturers in England in the first half of the twentieth century. They produced a full line of automobiles, generally of the light variety.

MG got its name from 'Morris Garages,' a dealer of Morris cars in England which began producing its own customized versions using the designs of Cecil Kimber, the general manager. The first MG-badged cars appeared in 1923 with custom two-seater touring bodies. The breakthrough car for the company was the 1928 Midget and at this point, MG became a separate company. It subsequently passed through a series of owners including British Motors, Rover, BMW and currently produces cars in China under a Chinese owner.

The P Midget was introduced in 1934 representing another advancement in MG's line of sports cars dating back to the 1928 M. It featured an improved overhead camshaft, crossflow 847 cc 4-cylinder engine with twin SU carburetors producing 36 horsepower. It rode on an 87-inch wheelbase chassis with a 4-speed non-synchromesh transmission. However, most of the improvements were in styling and creature comforts. The interior was widened and the instrument panel was in burled sequoia. Trafficators (British for turn signals) and a central lubrication system were included. The PA roadster cost 222 pounds sterling in 1935 and 2,000 were built.

This example underwent a meticulous 7-year restoration by a nationally recognized MG expert to original specifications. The duotone Ulster/Dublin Green with Apple Green interior is so subtle that the car almost appears to be monotone.
The MG Model P was produced from 1934 though 1936, during that time 2499 examples were produced. It was built as a replacement for the Model J. Using the same 847 cc engine but with a new 3 bearing crank it was more refined that its Midget predecessor. It continued the basic look defined by the J type. It had a fold-flat windscreen and a wheel strapped to the back of the car. The fuel tank was also located in the rear.

There were two series of the Model P, the PA and PB. The PA was produced from 1934 through 1935 with a total of 2000 examples being produced. The MG PB was produced from 1935 through 1936 with 526 examples produced. The PA was powered by a 847 cc four-cylinder engine similar to the one used in the Model J-Type. The PB had a 939 cc unit which raised horsepower to 43 horsepower. The other main difference between the Model PA and Model PB was the radiator grille. The PA had a honeycomb design while the PB had vertical slats.
By Daniel Vaughan | Dec 2006
For more information and related vehicles, click
here
2015 DODGE CHALLENGER SRT HELLCAT: THE FASTEST MUSCLE CAR EVER WITH A 1/4-MILE ELAPSED TIME OF 11.2 SECONDS
July 11, 2014 , Auburn Hills, Mich. - Dodge is giving its Challenger owners full on bragging rights at the drag strip and racing to the front line of the horsepower wars with its new 2015 Dodge Challenger SRT Hellcat. The 2015 Dodge Challenger SRT Hellcat is the fastest muscle car ever with a National Hot Rod Association-certified ¼-mile elapsed time of 11.2 seconds at 125 miles per hour (mph) with stock Pirelli P275/40ZR20 P Zero tires. With drag radials, the run dropped to just 10...[Read more...]
Cars and Courage: Iron Mike Rally Kicks off Pinehurst Concours Weekend
VILLAGE OF PINEHURST, N.C. (April 28, 2014) – The 2014 Pinehurst Concours d'Elegance weekend will begin in style with a display of cars and courage Friday morning as selected vintage autos and their owners will head to Fort Bragg to spend a day of fellowship with the troops and their families. Approximately 50 rare cars and their owners from the field of 119 participating in Sunday's auto showcase will head to the largest U.S. Army base, hosting 10 Heroic Soldiers for the ride in an in...[Read more...]
DANA ENABLES EFFICIENCY, PERFORMANCE OF AWARD-WINNING VEHICLES
MAUMEE, Ohio, Jan. 23, 2014 - Technologies from Dana Holding Corporation (NYSE: DAN) are enabling award-winning vehicles and engines to operate at peak efficiency and performance. The company's technologies are prominent on the 2014 Motor Trend Car and Truck of the Year, the North American Car and Truck of the Year, the Green Car of the Year, and six of this year's Ward's 10 Best Engines. Dana's innovative technologies help automakers increase overall vehicle performance and efficiency...[Read more...]
Bonhams smashes multiple world records at $32.7 million Quail Lodge motorcar auction
Bonhams 16th annual Carmel automotive auction – the longest running sale during the Monterey Peninsula Car Week – was a resounding success with a nearly 90 per cent sale-through rate and nearly $33 million realized. The Bonhams pavilion, situated on the spacious western lawns of Quail Lodge in sunny Carmel Valley, hosted an incredibly busy viewing in a lovely garden party atmosphere. Buyers from around the world came to view some of the rarest and most important cars ever offered, which resul...[Read more...]
Land Rover Celebrates 65 Years Of Technology And Innovation
SIXTY-FIVE YEARS OF LAND ROVER From our earliest days, the desire to create a vehicle that will tackle any terrain has made Land Rover famous around the world. Over the past 65 years, the Land Rover family has grown into the highly respected range of vehicles that are sold in record numbers today. As Land Rover continues to go from strength to strength, we thought it was time to look back at the milestones in our history that have got us here. The last 65 years have been an adventure. ...[Read more...]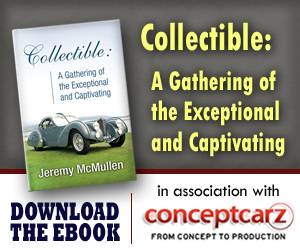 Similarly Sized Vehicles from 1935
MG PB
© 1998-2014. All rights reserved. The material may not be published, broadcast, rewritten, or redistributed.