1935 MG PA news, pictures, specifications, and information
Midget
Chassis Num:
PA 1627
The 'P' type was the last of the overhead cams to come out of the MG plant in Abingdon, England. This particular car, PA 1627, was completed at the factory on September 3rd of 1935. Mr. E. B. Newton of Kensington was the original owner and purchased it from the University Motors dealership. At the time of purchase the dealership was allowed to issue license plates using G as the two prefix letters. The original plates, MG4232, are still with this car. It has a four-cylinder single overhead camshaft 34.9 horsepower 347 cc engine with a four-speed gearbox and mechanical cable brakes (12 inch drums).
When MG had racing teams, George Eyston managed an all-female three car team of MG PAs at the 1935 LeMans 24 Hour Race. Eyston's 'Dancing Daughter's' as they were known, all finished the race in positions 23, 23 and 25.
These are the last of the overhead camshaft models to have been built in Abingdon.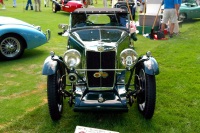 This is arguably the most famous prewar MG in America. Originally one of three in Captain George Eyston's 'Dancing Daughters' female class-winning team for LeMans in 1935, its engine was subsequently updated to 939-cc PB specification and then sold by the factory to American sports car racer Miles Collier. The Collier brothers began competing wîth their friends on the driveways of Overlook, the Collier estate in Pocantico Hills, NY. From these teenage events, the Automobile Racing Club of America was born. This car was a regular on the ARCA circuit, where it raced unscathed despite Miles' spirited driving style. In 1937, however, a shunt wîth a New York taxi destroyed the bodywork. Seeing an opportunity to make a contender for overall victories, Miles had ARCA enthusiast John Oliveau design the aerodynamic body you see here. In 1939, in this car, Miles became the first American in a decade to race at LeMans, retiring at the eight-hour mark wîth a ruptured fuel tank. Miles' last victory in this car was at Bridgehampton in 1950, four years prior to his death.
Source - Historical notes courtesy of The Collier Collection


MG got its name from 'Morris Garages,' a dealer of Morris cars in England which began producing its own customized versions using the designs of Cecil Kimber, the general manager. The first MG-badged cars appeared in 1923 with custom two-seater touring bodies. The breakthrough car for the company was the 1928 Midget and at this point, MG became a separate company. It subsequently passed through a series of owners including British Motors, Rover, BMW and currently produces cars in China under a Chinese owner.

The P Midget was introduced in 1934 representing another advancement in MG's line of sports cars dating back to the 1928 M. It featured an improved overhead camshaft, crossflow 847 cc 4-cylinder engine with twin SU carburetors producing 36 horsepower. It rode on an 87-inch wheelbase chassis with a 4-speed non-synchromesh transmission. However, most of the improvements were in styling and creature comforts. The interior was widened and the instrument panel was in burled sequoia. Trafficators (British for turn signals) and a central lubrication system were included. The PA roadster cost 222 pounds sterling in 1935 and 2,000 were built.

This example underwent a meticulous 7-year restoration by a nationally recognized MG expert to original specifications. The duotone Ulster/Dublin Green with Apple Green interior is so subtle that the car almost appears to be monotone.
Midget
Chassis Num:
PA2015
Sold for $52,800 at
2014 Bonhams
.
The MG P-Type was a replacement for the successful J2 Midget, and the PA followed the general lines of the model it replaced but came equipped with the more powerful version of MG's 847cc, four-cylinder, overhead-camshaft engine benefitted from a cross-flow cylinder head, better lubrication, and three-bearing crankshaft. The chassis became longer and it was given a strengthened transmission. The 8-inch brakes were replaced with 12-inch versions. Top speed was now in the neighborhood of 75 mph. The PA was built in two- and four-seat versions.
This particular P-Series Midget was finished at the Abingdon MG factory in April 1935. It was finished in duotone color-scheme of Dublin Green over Ulster Green, and trimmed with an Apple Green interior. It was purchased by its first owner, a Mr. G. Robinson of Kent, UK, in July of 1935. It is believed that the car remained in the UK for many decades, before being exported to New Zealand, where it reported to have been owned by a Mr. Frank Carter in the 1980s.
By the 2000s, the P-Type resided in Colorado, USA, where it is believed to have gone through a comprehensive restoration, before being purchased by the current owner.
This car is powered by an 847cc SOHC inline four-cylinder engine fitted with 2 SU carburetors. There is a four-speed manual transmission, leaf springs suspension, and four-wheel drum brakes.
By Daniel Vaughan | Nov 2014
Airline Coupe
Chassis Num:
PA0835
Engine Num: 770A135P
Sold for $132,000 at
2016 Bonhams
.
The MG PA was a replacement for the successful J2 Midget and followed the general lines of its predecessor. It gained a more robust version of the MG's inline four including a cross-flow cylinder head, better lubrication, and a three-bearing crankshaft. Chassis alterations were made including a longer wheelbase, strengthened transmission and 12-inch diameter brakes (an increased from the prior 8-inch units). They were built in two- and four-seater variants. In total, around 2000 examples of the PA were produced between 1934 and 1935 when the model was replaced by the short-lived PB.
The current owner acquired this MG PA Airline Coupe in January of 2003 from Arkansas. The Arkansan owner had bought the car from the United Kingdom a number of years prior as a project in pieces. When the car was purchased in 2003, not much of the restoration work had been completed. The MG's body had been stripped and repainted the current color. The current owner finished the restoration work. The work was completed in November of 2004, after which it won a number of Best of Show and First in Class awards at many local car shows, MG Club meets, and British Car events throughout the Midwest and Southeast.
Just 51 Airline Coupes were built and only 28 were PAs. It is believed that about a dozen PA Airlines currently survive. This car has an 847cc single overhead cam four-cylinder engine fitted with twin SU carburetors. The 36 horsepower engine is married to a four-speed manual transmission and has four-wheel drum brakes.
By Daniel Vaughan | Apr 2016
The MG Model P was produced from 1934 though 1936, during that time 2499 examples were produced. It was built as a replacement for the Model J. Using the same 847 cc engine but with a new 3 bearing crank it was more refined that its Midget predecessor. It continued the basic look defined by the J type. It had a fold-flat windscreen and a wheel strapped to the back of the car. The fuel tank was also located in the rear.

There were two series of the Model P, the PA and PB. The PA was produced from 1934 through 1935 with a total of 2000 examples being produced. The MG PB was produced from 1935 through 1936 with 526 examples produced. The PA was powered by a 847 cc four-cylinder engine similar to the one used in the Model J-Type. The PB had a 939 cc unit which raised horsepower to 43 horsepower. The other main difference between the Model PA and Model PB was the radiator grille. The PA had a honeycomb design while the PB had vertical slats.
By Daniel Vaughan | Dec 2006
Recent Vehicle Additions