1935 MG PA news, pictures, specifications, and information

Tweet
The 'P' type was the last of the overhead cams to come out of the MG plant in Abingdon, England. This particular car, PA 1627, was completed at the factory on September 3rd of 1935. Mr. E. B. Newton of Kensington was the original owner and purchased it from the University Motors dealership. At the time of purchase the dealership was allowed to issue license plates using G as the two prefix letters. The original plates, MG4232, are still with this car. It has a four-cylinder single overhead camshaft 34.9 horsepower 347 cc engine with a four-speed gearbox and mechanical cable brakes (12 inch drums).

When MG had racing teams, George Eyston managed an all-female three car team of MG PAs at the 1935 LeMans 24 Hour Race. Eyston's 'Dancing Daughter's' as they were known, all finished the race in positions 23, 23 and 25.

These are the last of the overhead camshaft models to have been built in Abingdon.
This is arguably the most famous prewar MG in America. Originally one of three in Captain George Eyston's 'Dancing Daughters' female class-winning team for LeMans in 1935, its engine was subsequently updated to 939-cc PB specification and then sold by the factory to American sports car racer Miles Collier. The Collier brothers began competing wîth their friends on the driveways of Overlook, the Collier estate in Pocantico Hills, NY. From these teenage events, the Automobile Racing Club of America was born. This car was a regular on the ARCA circuit, where it raced unscathed despite Miles' spirited driving style. In 1937, however, a shunt wîth a New York taxi destroyed the bodywork. Seeing an opportunity to make a contender for overall victories, Miles had ARCA enthusiast John Oliveau design the aerodynamic body you see here. In 1939, in this car, Miles became the first American in a decade to race at LeMans, retiring at the eight-hour mark wîth a ruptured fuel tank. Miles' last victory in this car was at Bridgehampton in 1950, four years prior to his death.
Source - Historical notes courtesy of The Collier Collection
Although MG was a relatively unknown marque in the United States until after World War II, Morris Garages was one of the primary auto manufacturers in England in the first half of the twentieth century. They produced a full line of automobiles, generally of the light variety.

MG got its name from 'Morris Garages,' a dealer of Morris cars in England which began producing its own customized versions using the designs of Cecil Kimber, the general manager. The first MG-badged cars appeared in 1923 with custom two-seater touring bodies. The breakthrough car for the company was the 1928 Midget and at this point, MG became a separate company. It subsequently passed through a series of owners including British Motors, Rover, BMW and currently produces cars in China under a Chinese owner.

The P Midget was introduced in 1934 representing another advancement in MG's line of sports cars dating back to the 1928 M. It featured an improved overhead camshaft, crossflow 847 cc 4-cylinder engine with twin SU carburetors producing 36 horsepower. It rode on an 87-inch wheelbase chassis with a 4-speed non-synchromesh transmission. However, most of the improvements were in styling and creature comforts. The interior was widened and the instrument panel was in burled sequoia. Trafficators (British for turn signals) and a central lubrication system were included. The PA roadster cost 222 pounds sterling in 1935 and 2,000 were built.

This example underwent a meticulous 7-year restoration by a nationally recognized MG expert to original specifications. The duotone Ulster/Dublin Green with Apple Green interior is so subtle that the car almost appears to be monotone.
The MG Model P was produced from 1934 though 1936, during that time 2499 examples were produced. It was built as a replacement for the Model J. Using the same 847 cc engine but with a new 3 bearing crank it was more refined that its Midget predecessor. It continued the basic look defined by the J type. It had a fold-flat windscreen and a wheel strapped to the back of the car. The fuel tank was also located in the rear.

There were two series of the Model P, the PA and PB. The PA was produced from 1934 through 1935 with a total of 2000 examples being produced. The MG PB was produced from 1935 through 1936 with 526 examples produced. The PA was powered by a 847 cc four-cylinder engine similar to the one used in the Model J-Type. The PB had a 939 cc unit which raised horsepower to 43 horsepower. The other main difference between the Model PA and Model PB was the radiator grille. The PA had a honeycomb design while the PB had vertical slats.
By Daniel Vaughan | Dec 2006
For more information and related vehicles, click
here
Introducing the 2015 Hennessey HPE550 Supercharged Escalade
While Cadillac has reinvented the Escalade, the preferred mount of rock stars, pro athletes and Hollywood's red carpet elite, Hennessey Performance (HPE) has put in overtime developing a supercharger upgrade for its new 6.2-liter direct-injected V8 engine. It's all the better for sneaking up on the unsuspecting Mercedes GL63 AMG or Range Rover Sport...that is, until the roar of the exhaust and subtle Hennessey branding give you away. 'Our HPE550 Supercharged Escalade is the perfect balance o...[Read more...]
JAGUAR LAND ROVER REPORTS U.S. SALES FOR JANUARY 2014
◾Jaguar Land Rover North America increases 15 percent in January, for its best January sales month result since 2004 ◾Land Rover brand has its best January sales ever increasing 11 percent on strong Range Rover Sport demand, up 29 percent ◾Jaguar continues growth streak with 31 percent growth in January on new XF sales, up 29 percent ◾Jaguar launches F-TYPE Coupe with British Villains campaign, debuted on broadcast of Super Bowl XLVIII on Fox. (MAHWAH, NJ) - February 3, 2014 - Jagua...[Read more...]
JAGUAR LAND ROVER REPORTS U.S. SALES FOR SEPTEMBER 2013
◾Jaguar Land Rover North America increases 1 percent in September ◾Jaguar continues U.S. growth streak with 31 percent growth in September on new XF and XJ all wheel drive models and F-TYPE sales ◾Land Rover Range Rover and Range Rover Evoque see strong increases in September, up 23 percent and 26 percent respectively ◾Land Rover U.S. sales decrease 7 percent for month due to tight supply of Range Rover Sport during launch; Land Rover brand up 12 percent year-to-date (MAHWAH, NJ) - Oct...[Read more...]
LAND ROVER ANNOUNCES 2014 U.S. MODEL LINEUP
(MAHWAH, N.J.) - September 12, 2013 - The 2014 model year continues the most dynamic product development and introduction period in the brand's history. An all-new Range Rover Sport is introduced, based on the all-new aluminum-intensive Range Rover that debuted for 2013. The Range Rover itself sees a significant increase in fuel efficiency for 2014 with the introduction of a new supercharged 3-liter V6 engine, for up to EPA-estimated 23 mpg in highway driving1, replacing the naturally asp...[Read more...]
JAGUAR EXPANDS POWERTRAIN CHOICE WITH TWO ADDITIONAL FORCED-INDUCTION PETROL ENGINES
As Jaguar expands its product offer in key global markets it is introducing two additional petrol units to its range to enhance customer choice; the new 3.0-litre V6 Supercharged Petrol, and the 2.0-litre I4 Turbocharged Petrol. Adrian Hallmark, Global Brand Director, Jaguar Cars, said: 'Jaguar currently has its strongest range of products for several decades. Our continued growth is dependent on two things; activating the awareness of the brand, and expanding our range to enable us to access...[Read more...]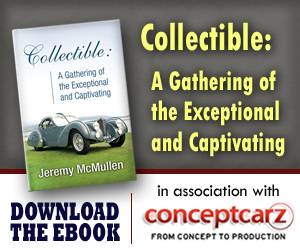 Similarly Sized Vehicles from 1935
MG PB
© 1998-2014. All rights reserved. The material may not be published, broadcast, rewritten, or redistributed.