1953 Nash Healey Pininfarina news, pictures, specifications, and information

Tweet
The Nash-Healey was a two-seat sports car produced for the American market between 1951 and 1954. Sometimes erroneously described as the first American sports car built since the Great Depression, it was in fact the product of an Anglo-American partnership between the Nash-Kelvinator Corporation and British engineer and automaker Donald Healey.

Nash Motors supplied the Ambassador's long, heavy & bulky inline six-cylinder OHV engine. Healey fitted a lighter, higher-compression aluminum cylinder head in place of the cast-iron stock item and also, on the smaller engine, installed the twin 1.75-inch SU carburetors that were popular on British sports cars.

Many judge the 1953-54 Farina-styled Nash-Healey's more critically than the 1951 models. Nevertheless, the 1953 'LeMans' model was awarded first prize in March of that year in Italy. In light of meager sales for the preceding years, Nash delayed introduction of the 1954 models until June 3 and discontinued the convertible, leaving just a slightly reworked 'Le Mans' coupe, distinguished by a three-piece rear window instead of the previous one-piece glass.

Nash cut the price by more than $1,200 to $5,128, but production finally ceased in August, 1954. A total of 507 production Nash-Healey's were built in the four-year model run.
This 1953 Nash-Healey Roadster was offered for sale at the 2007 Sports and Classic Car Auction presented by The Worldwide Group, in Hilton Head Island, SC where it was estimated to sell for $60,000 - $100,000. The vehicle was offered without reserve.

The managing director of the Donald Healey Motor Company of Warwick, England, Mr. Donald Healey, had created a car and outfitted it was a Nash Ambassador engine and drive line. The resulting creation was entered in the grueling 24-Hour of LeMans endurance race in July of 1950. At the conclusion of the race, the car was sitting in fourth place which was truly a remarkable accomplishment and a true testament to the durability of the automobile. In honor of this success, Nash ordered a limited number to be created for the public.

The cars came complete with an overdrive transmission, a six-cylinder engine fitted with an aluminum head and dual carburetion. A prototype example was created and given a light-weight aluminum body. Upon completion, it was shown at the 1950 Paris Automobile Show. Production began in December of 1950 with a total of 36 examples created in that month. From January through March of 1951, an additional 68 examples were created bringing the total of 104.

Standard equipment included the 234.8 cubic-inch engine that produced 125 horsepower, chrome wheel discs, adjustable steering wheel, leather upholstery, directional signals, foam rubber cushions, and five four-ply whitewall tires. Only two colors were available, Champagne Ivory and Sunset Maroon.

Production was frozen from April of 1951 through January of 1952 while Pinin Farina of Turin, Italy created a new roadster body. There would be a total of 150 examples of the Roadster created when production resume. Nash produced the engine and main parts in their Kenosha, Wisconsin plant. These parts were then sent to England where Donald Healey's Company assembled these parts to the chassis and 'trailing link' front-end suspension. This chassis was then sent to Pinin Farina who attached the custom bodies which had been built by hand.

The new Roadster made its debut at the Chicago Auto Show in February of 1952. A Nash-Healey was entered in the 1952 LeMans race where it emerged First in Class and third overall. A total of 58 cars had entered the race with only 17 crossing the finish line.

A hardtop model was introduced in early 1953. A total of 162 roadsters and hardtops were constructed during this year. The hardtop versions are often referred to as the LeMans hardtop.

In 1953, the Nash-Healey carried a hefty sticker price of $3,982.

This example is powered by a 4.1-liter straight six LeMans dual Jetfire engine coupled with twin Carter Sidedraft carburetors and producing 135 horsepower. It is finished in original Champagne Ivory with Burgundy top and interior. It is a well restored car that has seen very little use in the past few years.

On auction day the low range of the estimated value was $60,000. A high bid of $60,500 including buyer's premium was enough to secure new ownership. The lot was sold.
By Daniel Vaughan | Dec 2007
This automobile was designed by Donald Healey in England at the request of Nash Motors, USA. The coachwork was designed by Pinin Farina of Italy. The drive train was made of Nash components - frame, suspension, 6-cylinder motor, transmission and rear end. The 140 horsepower engine was a 250 cubic-inch 6-cylinder Nash engine with an aluminum high compression head, performance cam, and a three-speed Borg-Warner overdrive. The Lemans designation was used after Nash-Healey took first place in its class at LeMans in 1952. The coupe style was awarded first place in design at International Concours d'Elegance in Italy.

This automobile is the first of only 60 built in 1953 with production ending in 1954. This sports car is a blend of English, Italian, and American talent.
This 1953 Nash-Healey Roadster was brought to the 2007 Monterey Sports & Classic Car Auction presented by RM Auctions, where it had an estimated value of $110,000-$140,000. The lot was offered without reserve. It is powered by a 242 cubic-inch Dual Jetfire six-cylinder engine rated at 140 horsepower. There is a three-speed transmission with overdrive and four-wheel hydraulic drum brakes. It is fitted with numerous factory options such as dual fuel pumps, push-button ignition and whitewall tires. Its steel body is painted in red befitting its Italian heritage. It was treated to a restoration and in 2005 was invited to the Pebble Beach Concours d'Elegance in honor of Carrozzeria Pinin Farina's 75th anniversary. At the conclusion of the auction, the lot had been sold.
By Daniel Vaughan | Dec 2007
The president of Nash Motors and British sports car builder Donald Healey met in 1949 when they were passengers on the Queen Mary, bound for New York. They decided to develop a line of cars powered by Nash engines and sold through Nash dealerships. Thus we have the Nash Healey, which in 1952 benefited from design work by Pininfarina. However, only a few more than 500 cars were constructed before Nash was absorbed into American Motors.

This 1953 Nash Healey Roadster, one of 163 made that year, has been restored and has compiled a long list of concours trophies. It was purchased with 23,109 miles and then was restored in the owner's home garage.

Nash Healeys, when being built, made a long round trip from Kenosha, Wisconsin, where the engines and drivelines originated, to England for installation in Healey frames, to Italy where Pininfarina's workers fabricated the bodies, assembled the cars, and then shipped them back to the United States. In 1954 Nash delayed the introduction of its new models until June 3 and discontinued the convertible. The coupe was only slightly updated from 1953, the primary difference being a three-piece rear window in place of the one-piece window.
There was a new breed of vehicles capturing America's interest in the post-WWII era, and that was the sports cars. MG followed by Jaguar, Fiat, Mercedes-Benz and many others soon capitalized on this new desire. American automakers soon realized that this fad was here-to-stay, and began to design their owner interpretation of the sports car. Near the close of 1949, Nash's George Mason met Donald Healey; Healey was producing sports cars but was seeking a source to supply the engines. Soon, a prototype two-seater Nash Healey was shown at to the public at the London and Paris Auto Shows in 1950. The alloy body had been created by Panelcraft of England, and the chassis by Healey. Under the bonnet was a modified Nash Ambassador six-cylinder engine with a hotter camshaft, higher compression, and an aluminum head. It was fitted with dual SU carburetors with many of the mechanical components courtesy of Nash's Airflyte sedan.

The Nash Healey made its US debut at the 1951 Chicago Auto Show and soon after, sales began. It was not long before the cars were entered in competition. At the 1951 Mille Miglia, a specially-prepared car with a special body and a Lemans Dual Jetfire Ambassador Six engine finished ninth overall. At the 24 Hours of LeMans, it finished fourth overall. The following year, an open-bodied Nash Healey finished third overall and second in the Index of Performance.

In 1952, Pinin Farina re-styled the Nash Healey Roadster giving it a more curvaceous appearance. The aluminum body was replaced by steel and a larger Nash engine with twin carburetors replaced the old powerplant. The engines and mechanical components were shipped to Healey, who assembled the rolling chassis and sent it to Pinin Farina who added the body and finished the car.

In 1953, a closed coupe bodystyle joined the lineup. The LeMans Coupe bodystyle had a six-inch longer wheelbase than the roadster. It had a steel top and rear quarter windows. Standard equipment included leather upholstery, a tachometer, full wheel covers, cigar lighter and ashtray, and wide whitewall tires. The 1953 and 1954 Coupe versions are easily identified by their back windows. The 1953 version had a one-piece window while the 1954 coupe versions had a less-expensive three-piece window.

Production totals after four years amassed just 506 units.

This 1953 Nash-Healey LeMans Coupe has had a complete professional restoration. There is a black exterior with a chestnut interior with Wilton wool carpeting. It rides on chrome wire wheels, wide whitewall tires, and has the factory-correct aluminum cylinder head, as opposed to the cast iron head that many Nash Healeys have since been fitted with.

In 2008, this 1953 LeMans Coupe was offered for sale at the 'Sports & Classics of Monterey' presented by RM Auctions where it was estimated to sell for $100,000 - $125,000. It was offered without reserve. The lot was sold for $126,500, including buyer's premium.

In 2010, the car returned to the Sports & Classics of Monterey, again under the care of RM Auctions. It was estimated to sell for $100,000 - $125,000. As bidding came to close, the car had been sold for the sum of $77,500 inclusive of buyer's premium.
By Daniel Vaughan | Dec 2010
This 1953 Nash-Healey Roadster is finished in white with a red interior. It has been given a ground-up restoration and been fitted with all the correct equipment, accessories and trim. It was once part of the Skip Barber collection. It was sold by Barber near the close of the 1990s and exported to Europe where its German owner used this Healey for touring and rallying. In 2008, it returned to the United States, still well-preserved, and in great working condition.

In 2008, this Roadster was offered for sale at the Gooding & Company auction held in Pebble Beach, CA. It was estimated to sell for $200,000 - $250,000. As the gavel fell for the third and final time, the car had failed to find a bidder willing to satisfy its reserve. The car appeared at the 2009 Russo & Steele Auction held in Arizona a short time later.
By Daniel Vaughan | Mar 2009
This unique and rare Nash Healey Le Mans coupe is one of 62 coupes built in 1963, and one of only 506 Nash Healeys that were ever built. The Nash Healey was a hybrid, but not the kind that is so popular on today's roads. Rather, it combined the American straight-six Nash engine and transmission, a chassis from Britain's Donald Healey, and a body by Pininfarina in Italy. It was one of the first post-war production sports cars in the United States. The car was dubbed 'Le Mans' to commemorate a third-place finish at the famous French race. This car is chassis 13557, with engine NHA 11286.
Donald Healey and Nash-Kelvinator Chief George Mason collaborated on building a sports car. The duo came to an agreement, and soon Nash Ambassador six-cylinder and three-speed gearboxes with overdrive were shipped to Warwickshire, England. There, they were installed with Healey Silverstone chassis and a Panelcraft body of Healey design.

Production of the Nash-Healey for the 1951 model year began in December of 1950. Racing versions finished 9th in class in the Mille Miglia and 4th overall at Le Mans, proving they were very capable cars. The $4,063 price tag made it too expensive for most, and kept sales to just 104 units that first year. Mason was not very fond of the original slab styling of the car. He had already contracted with Italy's Battista 'Pinin' Farina to style the senior Nashes for 1952, and asked Farina to update the Nash-Healey as well. Steel bodywork replaced aluminum, and the price jumped to $5,858. Production totaled just 150 units.

For 1953, a six-inch longer wheelbase was used for the Le Mans Coupe bodystyle. Production remained low, with just 162 units built for the model year. Production continued for one more year, ending in 1954, after a total of 506 units had been built.

This particular Nash-Healey is believed to have been a New England car since its earliest days. It was acquired by Mr. John Moir from fellow New Hampshire resident Robert Valpey. Over the years, the car has been repainted but is otherwise unrestored. It has its original interior and many of the original mechanical components. The mileage since new is believed to be about 36,000.
By Daniel Vaughan | Nov 2014
In 1949 Donald Healey and George Mason had a chance meeting on an ocean liner. Healey was in the business of designing and producing sports cars while Mason was the president of Nash-Kelvinator. Their conversation led to sports car and resulted in an agreement that the Nash Company would provide engines for a new Healey sports car. In 1950, production began on this Nash-Healey alliance. In 1951, the Nash-Healey was debuted at the Chicago Auto Show. It was a sporty vehicle with amenities such as leather upholstery and adjustable steering wheel. A three-speed manual transmission with overdrive was coupled to the powerful Nash engine. The front suspension was comprised of a Healey trailing link with coil springs and anti-roll bar, attached to a ladder-type steel frame. The rear suspension was a rigid axle with coil springs and track bar. Drum brakes were placed on all four corners.

In 1950 a Nash-Healey was entered into the Mille Miglia where it finished respectively in ninth place. It was then entered in the grueling 24-hour of LeMans race where it achieved an impressive fourth place. There were nearly seventy cars that had been entered but when the checkered flag fell, less than thirty remained. It was re-entered in the 1951 LeMans race wearing a coupe body. It finished third in its class and sixth overall. In 1952, it finished third overall and second in its class.

In 1952 the coachwork was handled by Pininfarina. There were only 62 built guaranteeing its exclusivity. A Nash-Healey was entered in the International Concours d'Elegance where it won first place in the Foreign car custom body class. Under the hood was a 252 cubic inline six-cylinder Nash engine that had modifications courteous of Donald Healey. With aluminum heads and 2 SU carburetors, it was capable of producing 140 horsepower.
By Daniel Vaughan | Dec 2006
For more information and related vehicles, click
here
Automobiles with Exceptional Provenance Highlight Gooding & Company's Pebble Beach Auctions
SANTA MONICA, Calif. (July 10, 2014) – Gooding & Company, celebrated for its world-class automotive auctions and record-breaking results, will begin its second decade as the official auction house of the Pebble Beach Concours d'Elegance® on August 17 and 18. Gooding & Company is pleased to share a hand selected group of consignments from our Pebble Beach Auctions with exceptional provenance. Exciting entries include an extremely rare 1939 Alfa Romeo Tipo 256 Cabriolet with spectacular one...[Read more...]
RARE COLLECTOR VEHICLES ADDED TO UPCOMING AUCTIONS AMERICA CALIFORNIA SALE
• Auctions America's three-day sale returns to Burbank, California July 31 – August 2
• Early auction highlights include a 1967 Shelby Mustang Group II Notchback, a 1953 Ferrari 250 Europa by Pinin Farina, and a 1960 Mercedes-Benz 300SL Roadster
• Exclusive, live television coverage of the sale to air on NBCSN (NBC Sports Network), August 1-2
• Frequently updated list of entries available online at auctionsamerica.com
AUBURN, Indiana (June 11, 2014)– Af...[Read more...]
Honda Civic Type R Concept Model set for Worldwide Debut at the 2014 Geneva Motor Show
Honda today reveals its 2014 Geneva Motor Show line-up, including the worldwide debut of the Civic Type R Concept model, the European debut of the Fuel Cell Electric Vehicle (FCEV) Concept, the powertrain layout of the new NSX and the 2014 Civic World Touring Car Championship race car. Racing Car for the Road – Civic Type R Concept Honda's appearance at the 2014 Geneva Motorshow will lead with the worldwide reveal of the Civic Type R Concept model, providing the styling direction f...[Read more...]
THE PINNACLE OF COLLECTOR CAR AUCTIONS: RM AND SOTHEBY'S OFFER A CENTURY OF AUTOMOTIVE HISTORY AND DESIGN IN NEW YORK CITY
• Final countdown underway to RM Auctions and Sotheby's expertly curated Art of the Automobile sale, November 21, in New York City • First major collector car auction to be held in Manhattan in over a decade; the sale's catalogue features examples of the upper echelons of design from each era of motoring • Extraordinary exhibition that showcases all vehicles on offer will be held from November 18–20 on the 10th floor galleries at Sotheby's New York • Official digital catalogue now availab...[Read more...]
63rd Pebble Beach Concours d'Elegance Names 1934 Packard 'Best of Show'
The competition showcased 248 cars, including 48 from abroad PEBBLE BEACH, Calif. (August 18, 2013) -- A 1934 Packard 1108 Twelve Dietrich Convertible Victoria owned by Joseph and Margie Cassini III of West Orange, New Jersey, was named Best of Show at the 63rd Pebble Beach Concours d'Elegance, held Sunday on the 18th fairway of Pebble Beach Golf Links at Pebble Beach Resorts. The event showcased 248 cars from 36 states and 12 countries and raised $1,277,007 for charity. 'This Pack...[Read more...]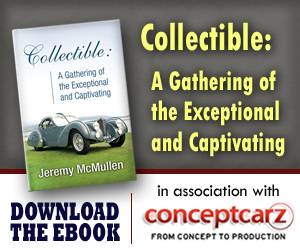 © 1998-2014. All rights reserved. The material may not be published, broadcast, rewritten, or redistributed.