1948 Plymouth Special Deluxe news, pictures, specifications, and information

Tweet
When automobile production began to get back into full swing after the War, buyers had to face car shortages, strikes and a sellers' market. In 1946, the Plymouth station wagon was listed for $1,539 from the factory, but it was difficult to find a dealer who would sell one for that price. By 1948, the same station wagon was priced $2,068 - the higher model prices due to escalating labor and material costs.

The 1948 model remained the same as previous years in accordance to corporate policy with no change in the appearance, construction or nomenclature with the exception of a smaller tire, which gave the model a lower appearance. Two-tone wood treatment continued to be offered as in past years, but chrome trim was only applied to the hood and cowl.

There were many options available for the 1948 Special Deluxe models including heater, defroster, radio and antenna, light-up hood ornament, fog lamps and spot lamp. A total of six body styles were offered in the Special Deluxe series.

Plymouth produced the woodie station wagon from 1946 through 1949 with a total of 11,913 examples produced. The body was built by Uschon Manufacturing Company in buffalo, New York with ash wood in the body with mahogany panels. There is seating for eight passengers in three rows of seats. Power is from a 218 cubic-inch flat-head six-cylinder engine delivering nearly 100 horsepower. It cost $2,068 when new and weighed 3400 pounds.

The owners of this vehicle purchased the car over 30 years. It was restored in 2004 with new paint, wood varnish and top and seat material. It has 30,000 original miles and has all original Chrysler parts - no aftermarket or reproduction parts.
This 1948 Plymouth Special Deluxe Six Station wagon was owned by Mr. Newman, a local florist in Elkin, North Carolina. Later in its life it was in the care of Michael Leith. In total, the car has had just three owners since new.

The car is finished in Casino Beige with brown upholstery and wears about 90% of its original paint, which was touched-up only where absolutely necessary. The original wood paneling is in excellent shape throughout, and the factory chrome shows only minimal wear. Inside, there is brown vinyl upholstery and a factory AM radio and heater. Only the brown vinyl top material has been completely replaced.
By Daniel Vaughan | Jan 2014
For more information and related vehicles, click
here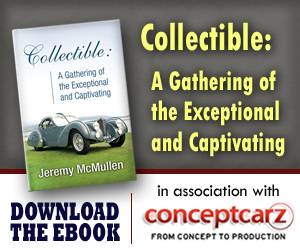 Similarly Priced Vehicles from 1948
Chevrolet Fleetline ($1,400-$1,502)
Oldsmobile Sixty Series ($1,600-$2,620)
Chrysler New Yorker ($2,065-$3,415)
Chevrolet Fleetmaster ($1,379-$2,000)
Pontiac Silver Streak ($1,500-$1,935)

Average Auction Sale: $29,231
© 1998-2014. All rights reserved. The material may not be published, broadcast, rewritten, or redistributed.