1957 DeSoto Adventurer news, pictures, specifications, and information

Tweet
In 1957 it would have been hard to imagine that within four years DeSoto would be history, but for the moment times were good. There was an overwhelmingly positive response to the all-new 1957 Forward Look DeSoto and big-car buyers loved the looks, the luxury, and the power.

Introduced two months after the other 1957 DeSotos, the Adventurer featured an exclusive color scheme (either white with gold accents or black with gold accents) and a 345 horsepower/345 cubic-inch Hemi V8 with twin four-barrel carburetors and a full-race camshaft. Even the wheel covers were gold-colored!

Just 1,950 Adventurers were built for 1957, including exactly 300 convertibles. The car has optional power windows, power six-way seats, Hi-Way Hi-FI (a 16 2/3 rpm record player), and factory air-conditioning. List price was $4,272 plus options.
The DeSoto Adventurer was a high-style, high-content American muscle car powered by the division's top 'Hemi' V-8 engine. The powerplant delivered one horsepower per cubic-inch, similar to its Chrysler 300 stable-mates.

This particular example is a replica that offered both the look and performance of an original. It has been given a nut-and-bolt restoration and modification process that began with an original Arizona car - an original Firedome chassis that has been expertly modified to replicate the Adventurer's design features. The interior features correct Adventurer-specification upholstery, added wood-grain dash, door-panel appliqués and air conditioning. Mechanical features include a conversion to a street rod-style front and rear air-suspension system. The original 345 cubic-inch 'Hemi' V-8 engine provides power with aftermarket dual-quad induction and modern 12-volt electrics, plus many painted and polished accessories. A GM 700R4 four-speed overdrive automatic transmission offers relaxed cruising, while a modern, dual-circuit master cylinder with vacuum-assist enhances braking.

Additionally with the car is a matching black and gold trailer that carries a restored fiberglass-hulled Duofoil Flying Fish boat from the late 1950s, mildly modified to match the DeSoto with a black and gold finish, tailfins and Adventurer upholstery.

In 2011, this vehicle was offered for sale at the Amelia Island auction presented by RM Auctions. The car was estimated to sell for $100,000 - $140,000. As bidding came to a close, the car and the boat had been sold for the sum of $110,000 including buyer's premium.
By Daniel Vaughan | Apr 2011
The DeSoto was introduced in 1956 and produced through 1960. The two-door hardtop Adventurer had received its name from a DeSoto concept car. During its production life span, the car would endure both good times and bad times. There were many reasons for the final demise of the vehicle. At the close of the 1950's the country was experiencing economic turmoil which was causing the sales of most automobiles to decline. DeSoto was unable to advertise its vehicles to the same degree that other manufacturers could due to a limited budget. In 1958 quality control and recall problems plagued the company. By 1960 the DeSoto Company, owned by the Chrysler Corporation, ceased production.

Gold plating adorned the Adventurers mesh grille and its wheels were turbine-style. When introduced it did not have elaborate styling or flashy components, it was simply a clean and powerful automobile. Under the hood lurked a Hemi 5.6-liter V8 that produced between 230 and 320 horsepower. Power brakes were offered as standard equipment and the suspension was modified to help control the horsepower produced by the engine. A push-button PowerFlite automatic, electric clock, dual rear view mirrors, padded dash, power windows, power steering, and power seats added to the amenities provided by the Adventurer. A record player was offered as optional equipment but it was never very popular and was quickly discontinued.

The base price for a 1956 Adventurer was around $3680. This was less than most of its competition.

At Daytona Beach a golden Adventurer was able to achieve 137 miles per hour. At the Chrysler's Chelsea Proving Grounds oval it topped 144 miles-per-hour. There were no other vehicles offered that could out pace the Adventurer.

During the Adventurers introductory year nearly 1000 examples were produced. For 1957 the styling was enhanced and fins were placed on the rear of the vehicle, a style that was growing in popularity at the time. A convertible option became available. The engine was enlarged from 341 to 345 cubic-inch increasing horsepower output to 345, one horsepower per cubic inch. The suspension was modified to keep up with the engine enhancements. These improvements helped the sale of 1950 Adventurers for 1957, an increase of almost half from the prior year.

For 1958 only 423 examples were produced. This was due to several factors including an economic recession and changing trends in the market place that had other manufacturers producing more vehicles. A big reason however was quality. The Hemi engine was replaced with a cheaper-to-build engine that produced equivalent horsepower. Fuel injection was standard but often failed, causing the company to issue recalls. The Bendix EFI system was later replaced with carburetors. Many of the DeSotos leaked, had faulty transmissions, or a slew of other problems. This kept people from visiting the DeSoto show rooms.

For 1959 the exterior of the car received aesthetic modifications. Swivel bucket seats were part of the interior modifications. This helped entry and exit from the low-sitting car. Sales climbed to a respectable 687 units.

For 1960 the Adventurer name was available on nearly all DeSoto automobiles. Sales for the entire vehicle line-up continued to decline causing the Chrysler Corporation to discontinue the DeSoto marque in mid-November of 1960.
By Daniel Vaughan | Jun 2007
RARE REUNION: CHRYSLER CONCEPT CARS GATHER AT AMELIA, 2014
Nine rare and important Chrysler Concept Cars from the forties, fifties and sixties will be presented together for the first time at the 19th annual Amelia Island Concours d'Elegance on March 9, 2014. From the two-seat Chrysler Thunderbolt roadster and the dual-cowl Chrysler Newport of 1941 through the radical 1963 Chrysler Turbine car, Amelia's Chrysler Concept Car Class shows the genesis of the styling and engineering philosophy that summoned Chrysler's industry-changing 'Forward Look...[Read more...]
RARE CHRYSLER LA COMTESSE CONCEPT APPEARS AT AMELIA 2014
After decades in obscurity Chrysler's La Comtesse Concept Car will re-debut at the 19th annual Amelia Island Concours d'Elegance on March 9, 2014. The Fifties introduced new automotive chemical and paint technologies that helped summon a sea change in the way cars were purchased. It was a subtle component of Detroit's marketing equation, but color had risen near the top of the car buyer's priority list. The important fact was that women invariably chose the color of the new family car....[Read more...]
Raw Power Has a Stamp of Its Own Muscle Cars Roar at Spring Classic Auction
What do you get when you bring the U.S. Postal Service and Dana Mecum's Original Spring Classic Auction together at the State Fairgrounds — a Muscle Car Extravaganza! Since it began 26 years ago, Mecum's Spring Classic auction in Indianapolis has featured the largest auction of muscle cars in the world. This year, the Postal Service will celebrate the raw power of the performance vehicle at the Spring Classic event by dedicating five, limited edition stamps featuring iconic muscle cars...[Read more...]
RICHARD PETTY DEDICATES MUSCLE CARS FOREVER STAMPS
Raw power gets a stamp of its own today as seven-time NASCAR National Champion Richard Petty helps dedicate the America on the Move: Muscle Cars Forever stamps. Petty, his son Kyle and Postmaster General Patrick Donahoe will dedicate the limited-edition stamps at the Daytona International Speedway where 'The King' won a record seven Daytona 500 Championships. Typically equipped with big, powerful engines, these high-performance vehicles began roaring across America in the 1960s. The limite...[Read more...]
Unique Mystery Mustang Headlines Amelia's Unique WWTT* Class
'The Amelia's' *WHAT WERE THEY THINKING? Class is much more than a place for what some might label weird, odd or strange. The class, with a philosophy unique to 'The Amelia', is a place for significant and interesting cars that fit no class, category or commercial orthodoxy. Nearly half a century later, we still don't know what Ford was planning when they commissioned the creation of Bill and Chris Snyder's 1964 ½ 'shorty' Mustang. We do know that they created one man's dream car. We just...[Read more...]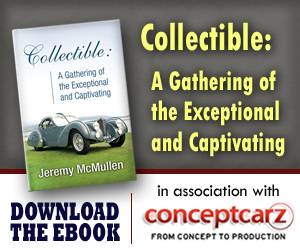 Similarly Priced Vehicles from 1957
DeSoto Fireflite ($3,485-$4,120)
Buick Series 75 Roadmaster ($3,945-$4,481)
Jaguar XK-140 ($3,665-$4,400)
Alfa Romeo Giulietta Veloce ($3,686-$4,195)
Mercedes-Benz 190 SL ($3,999-$4,290)
Mercury Turnpike Cruiser ($3,755-$4,100)
Chrysler New Yorker ($4,170-$4,745)

Average Auction Sale: $156,188
© 1998-2014. All rights reserved. The material may not be published, broadcast, rewritten, or redistributed.