1929 Auburn 8-120 news, pictures, specifications, and information

Tweet
Auburn was produced in the city of Auburn, Indiana from 1900 through 1936. In 1924 they approached Errett Lobban Cord, a highly successful automobile salesman, with an offer to run the company. Cord countered with an offer to take over completely in what amounted to a leveraged buyout. The Chicago group accepted and Cord aggressively marketed the company's unsold inventory to complete his buyout before the end of 1925. A victim of the Great Depression, Auburn closed its doors in 1936.

With a pointed boat tail, pontoon-style fenders, cutout doors and raked V-type windshield, the Speedster in Auburn's new top-line 1928 series was greatly admired and quickly copied by other automakers. It was also very fast. A Speedster with an optional high-compression cylinder head was clocked doing 108.5 mph at Daytona Beach. Wade Morton and Eddie Miller covered a record 2,033 miles in 24 hours on the Atlantic City Speedway in a Speedster. Also in 1928, Wade Morton randomly picked a Speedster off the Indiana assembly line and entered the Pikes Peak Hill Climb. He raced up the hill in 21 minutes 45.25 seconds on the 12-mile climb that rises 2,200 feet and ran through ice and snow in the upper elevations. Morton took home the Penrose Trophy for the stock production class. The current record is just a little over 10 minutes for any class. Other Speedsters raced in Europe and South America.

The 1929 Speedster sold for $1,895.

This automobile features an eight-cylinder, 244.1 cubic-inch Lycoming engine that develops 120 horsepower and a top speed of 99.4 mph.

This 1929 Auburn 8-120 Boattail Speedster is a previous Ault Park Concours 'Best of Show' winner. The Boattail design is a styling landmark.
This 1929 Auburn 8-120 Convertible Sedan wears an older, yet high-quality, body-off restoration and has accumulate a mere 250 miles since. It is painted in a two-tone exterior color finished in Cat's Eye Green and cream and fitted with a tan convertible top. There are dual side-mounted spare tires, dual chrome-plated cowl lights, and a rear-mounted luggage trunk. The interior is trimmed in tan upholstery, tan carpeting, and woodwork. Mounted under the bonnet is the original Lycoming eight-cylinder engine that displaces 244 cubic-inches and produces 120 horsepower. There is a three-speed manual gearbox and four-wheel drum brakes.

In 2008, this car was brought to the 2nd Annual Vintage Motor Cars of Hershey presented by RM Auctions where it was estimated to sell for $120,000-$160,000. Bidding reached $75,000 which was not enough to satisfy the vehicles reserve. The lot was left unsold.
By Daniel Vaughan | Oct 2008
This Auburn 8-120 Boat Tail Speedster was discovered in a 1950s junkyard with a crab apple tree growing out of the cowl and a goat tied to the bumper. After much time and dedication, the car has been restored to its original glory. These were elegant cars with hood louvers, a raked windshield, twin side-mounted spares, and a boat-tail rear end. The cars had a 130-inch wheelbase and powered by a 289 cubic-inch eight-cylinder Lycoming engine producing 125 horsepower. To speed was nearly 100 mph and only 100 of this model were produced.
By Daniel Vaughan | Aug 2010
| | | |
| --- | --- | --- |
| | | Boattail Speedster |
The first generation Auburn Speedster was built in 1928 and 1929 as a low-volume promotional model. With their daringly raked vee'd windshields, hood louvers, and door openings angled to match, they gave the impression of speed even while standing still.

The distinctive 'boattail' design is attributed to Count Alexis de Sakhnoffsky, a pioneer of streamlining, and future Cord L-29 designer Alan Leamy. The body by McFarlan features 18' wire wheels, dual golf club doors, dual side-mount spare tires, and a removable fabric top.

The Speedster was also equipped to turn head in terms of performance, with a Lycoming straight-eight that produced 93 horsepower. Coupled with the wide ratio transmission and special differential gearing, this meant that the Speedster could more than double the 45 mile per hour speed limit of the era. It features Lockheed hydraulic brakes, Bijur central lubrication, and Lovejoy hydraulic shock absorbers, all of which were typically found on more expensive cars.

This example is a 1929 model that went unsold due to the Great Depression, and was originally registered as a 1930 model. It was part of Michigan's Earl Collection for over forty years before being relocated to Ontario, Canada, to become part of the Corydon Collection.
In 1928 Auburn introduced two Lycoming-powered eight-cylinder engines, one rated at 88 horsepower and the other at 115 horsepower. These became the bases for the 8-88 Model and the 8-115 Model; their designation obviously in reference to the engine. These new models were given hydraulic drum brakes to aid in stopping power and to help keep the Speedsters in the driver's control.

The styling was performed by either Count Alexis de Sakhnoffsky or possibly Al Leamy. Al Leamy was a recent addition to the Auburn staff and would become famous in the years to come, with the design of the L-29 Cord automobile.

The Speedster models were very elegant and eye-catching. They featured hood louvers, a raked windshield, twin side-mounted spares, and a boattail rear-end.

The Model 8's were given a wide-ratio three-speed gearbox and rested on either a 125- or 130-inch wheelbase, depending on the model. The 8-115 had the larger size.

1929 brought few changes to the Speedsters; they were now known as the 8-90 and the 8-120. The naming scheme varied slightly from prior years, as horsepower was not rated at 96 and 125 respectively, but the names did not necessarily match. This increase in power was due to a change in the fuel system.

1929 was a great year for the Auburn 8 Models, and enjoyed record sales numbers. The company chose to make minimal changes for the following year, as the cars were selling well and most of their attention was diverted to the upcoming front-wheel drive Cord models.

In 1930 horsepower again improved, now rated at 100 for the smaller eight. The name 'Speedster' no longer appeared as part of the Model 8 name. It would re-appear the following year (In 1931), as the company wanted to put emphasis on performance.

The larger eight-cylinder engine was dropped, as was both of the six-cylinder engines. The 8-95 Model was bored-out to 268.6 cubic-inches and brought about the 8-98 model (and featured 98 horsepower). It was available in either Standard or Custom guise. The Custom line had an 'A' in the name to help distinguish it from the Standard line (appearing as 8-98A) and featured a free-wheeling, heavy, X-braced frame. Other options included dual-ratio rear axle, wire wheels, upgraded interior in hardware and fabric, and extra moldings.

Thanks in part to the onset of the Great Depression, the 8-98 sold for $350 less than the prior 8-95 Sedan of the 1930s. The Sedan sold for $995 while the Speedster for $945. Some experts say that the construction was not as solid as prior years, plus the Lockheed Hydraulics were replaced by Midland 'Steel-draulic' mechanical brakes. Still, Fortune reported the Auburn Model 8's as 'the biggest package in the world for the price.'

In 1932, the Styling remained mostly unchaged; mechanically, things were different. A new Startix automatic starter was added; Custom models were fitted with Delco ride regulations which were shock absorbers that were adjustable from the driver's compartment. This allowed a softer or firmer ride depending on the drivers needs at the time. Custom models also were given a vacuum-controlled two-speed axle known as Dual Ratio. This also gave drivers the freedom of selecting a 4.54:1 or 3.00:1 gear ratio. The 4.54 offered better performance while the 3.00:1 had better economy.

The Free-wheeling option, which had previously cost $85, was now standard on both the Custom and Standard models.

With all these mechanical improvements to the vehicle, it was amazing that prices continued to decrease. The Speedster sold for $845, a full $100 from the previous year.

In 1933, a Salon version was added to both the 8- and 12-cylinder series.
By Daniel Vaughan | Jun 2008
For more information and related vehicles, click
here
Auctions America Continues Successful 2013 Season with its Annual Fall Carlisle Sale
• Auctions America rounds out its 2013 auction season in Carlisle, Pennsylvania, October 3-4 • Two-day Fall Carlisle sale, held in conjunction with the Carlisle Events Collector Car Swap Meet & Corral, features a diverse roster of 300 classics, exotics, muscle cars, hot rods, and customs • Auction highlights include a desirable 1967 Chevrolet Corvette 427/435 Roadster, a 1969 Chevrolet Camaro Z-28 RS Sport Coupe, and a 1960 Mercedes-Benz 190SL Roadster • Full event details and a frequentl...[Read more...]
Hyundai Powered Unlimited Race Car Sets The Second Fastest Time In Pikes Peak Hill Climb History
PIKES PEAK, COLORADO, July 1, 2013 – Rhys Millen and his Hyundai-powered race car finished second overall and set the second fastest time in history at the 2013 Pikes Peak International Hill Climb today. Millen set a blistering pace to the summit in his specially-prepared Hyundai powered race car, needing only 9:02.192 to make international motorsports' most challenging ascent. For 2013, Millen's own race team, Rhys Millen Racing (RMR), built an all-new unlimited-class, tube frame racecar...[Read more...]
Quattro Silhouettes: Audi At Design Miami/Basel
- Scenographer Tim John exhibits his quattro installation - quattro the legend and quattro the legacy, united as silhouettes - Audi has been automotive sponsor of this renowned design show since 2006 At Design Miami/Basel held from June 11 to 16, Audi will showcase an installation by Tim John: 'Home of quattro.' The scenographer will portray milestones from quattro history as silhouettes. And two extraordinary Audi models will take center stage: the new Audi RS6 Avant – unveiled at the Ge...[Read more...]
TANNER FOUST WINS 2013 RALLYCROSS OPENER AMERICAN DRIVER REPEATS AT LYDDEN HILL CIRCUIT
Rockstar Energy Drink driver Tanner Foust earned the first win of an ambitious international rallycross campaign that will see him contest two major series on three continents this year. The popular American driver arrived at the Lydden Hill circuit in southeast England this weekend ready for a repeat of his dominant 2012 performance there. In addition to a refreshed look for the car and new sponsors including ENEOS Motor Oil and ODYSSEY Battery, the Olsbergs MSE team has again stepped up the...[Read more...]
Auctions America By RM's 2012 Auburn Spring Auction
'Variety' is the buzzword for this year's Auctions America by RM June 1-3 Auburn Spring auction, which will offer a huge range of collector vehicles and an enormous private collection of automotive memorabilia. More than 600 American muscle cars, Classics, foreign sports cars and hot rods will cross the block at the historic Auburn Auction Park, the company's national headquarters in Auburn, Indiana. 'Last year was our first spring event at the park,' said Auctions America by RM's President ...[Read more...]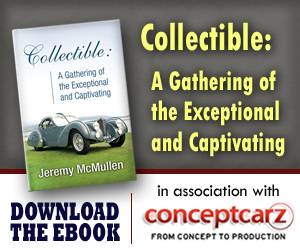 © 1998-2014. All rights reserved. The material may not be published, broadcast, rewritten, or redistributed.