1947 Rolls-Royce Silver Wraith news, pictures, specifications, and information

Tweet
The Silver Wraith was the first postwar Rolls-Royce model and was made at the Crewe factory from 1946 to 1959. The engine was based on the prewar Rolls-Royce Wraith but was increased to 4.3 liters and later 4.6 liters. This was the last Rolls-Royce model to be delivered as a chassis only so it received a wide variety of bespoke coachwork.

This particular Silver Wraith with chassis number WTA45, was ordered by Sir John Gaul of London and was initially sent to Freestone & Webb for its coachwork. Sir John had owned the Freestone & Webb-bodied Phantom III called 'Copper Kettle' and he initially wanted a similar body for his new car. But then he changed his mind and the Silver Wraith was sent to Saoutchik in Paris. The car was awarded Best of Show at the Monte Carlo Concours in 1948. After some styling changes it has been restored to its 1948 specification.

The ownership history is complete. In 2008, it was acquired in a disassembled and unhappy condition from a California family, who had attempted the restoration over a 25-year period. The restoration was completed by Vantage Motors of Miami in time for the 2010 Pebble Beach Concours d'Elegance where this car captured a class trophy in its show debut.
The Silver Wraith was sold new by the famous New York City dealer J.S. Inskip to a gentleman from New Haven, Conn. It carries a body by the noted British firm H.J. Mulliner, which features spectacular woodwork, including fighting cocks in the veneer. There are two inward-facing seats and two picnic tables, one with a bar.

The Silver Wraith is powered by a six-cylinder, 4.5-liter motor. The current owner has enjoyed this motorcar for 33 years and has received numerous awards, including 1st place in the touring division of the Rolls-Royce Owners Club.
This car (chassis number WZB36) was displayed at the New York Auto Show in 1949. The Silver Wraith was the first postwar Rolls-Royce model, and it was made at the Crewe factory from 1946 to 1959. This was the last Rolls-Royce model to receive a wide variety of bespoke coachwork, designed and made by a rapidly declining number of specialist coachbuilders. One of only two Rolls-Royce Silver Wraiths built by J.S. Inskip, this car was delivered in January of 1951. Inskip was the New York distributor for Rolls-Royce. Most of the Rolls-Royces Inskip imported at that time had British or French coachwork, but Inskip did built a handful of Inskip-badged bodies on Phantom III and Silver Wraith chassis.
This Silver Wraith is one of two built. It was on display at the New York Auto Show in 1949 and later delivered to Lawrence S. Donaldson in January of 1951. It was owned for many years by well known collector, Andrew Darling.
Source - Blackhawk Collection
This Silver Wraith wears coachwork by Carrosserie Franay. Only six drophead coupe bodies were built on the Silver Wraith chassis, and this is the first one. Each of the six examples were different.

This example was originally owned by Dr. M. Adel Latif of Geneva, Switzerland and is the 148th examples from the start of production. Since that time, the car has been restored and painted blue with a blue leather interior and a dark blue canvas top.

In 2011, the car was offered for sale at RM Auction's Arizona sale where it was estimated to sell for $125,000 - $150,000 and offered without reserve. As bidding came to a close, the car had been sold for the sum of $165,000, inclusive of buyer's premium.
The Silver Wraith, launched in 1947, was an evolution of the pre-war Wraith and was offered in the traditional chassis form ready for the fitting of Bespoke coachwork. The 4,257cc overhead-inlet, side-exhaust engine developed before the war was used, as well as a modified coil and wishbone independent front suspension. Hydraulic brakes were used for the first time on a Rolls-Royce wîth hydraulic brakes.

The Silver Wraith was constantly refined during its production. The engine was replaced wîth the 'big bore' 4,566cc in 1951 and automatic transmission was offered as an option in 1952.

Once again the press raved about the car. 'All the world knows that Rolls-Royce carry on an unremitting search for engineering perfection in everything they undertake. The qualities which made their aircraft engines famous, and their cars the finest procurable, are the result of hard work scientifically conducted, and of a painstaking attention to detail from the large to the most minute. And now a new range of cars is about to appear it is believed that the new cars are the best that Rolls-Royce have ever built.'


The Silver Wraith was described like this: 'In common wîth all Rolls-Royce cars, the Silver Wraith has an indefinable something about it, a delicacy of behaviour, which escapes definition in written words. it is a car for the connoisseur in cars'.
Source - Rolls-Royce Motor Cars
For more information and related vehicles, click
here
Famous Bentley 4¼-Litre 'Embiricos' Special Makes Star Appearance At Crewe Factory
One of the rarest and most valuable Bentleys in the world, the 4¼-Litre 'Embiricos' special, is making an historic appearance at the marque's home in Crewe. Fresh from taking part in the Louis Vuitton 'Serenissima Run' in Venice and featuring at the Le Mans Classic as part of the Bentley lineup, this magnificent car takes pride of place in the Lineage Showroom at the firm's Pyms Lane factory until September. Throughout the 1930s Bentley Motors, then owned by Rolls-Royce, was producing fast,...[Read more...]
Pebble Beach Concours d'Elegance Introduces Its First Sport Customs Class
One-off Sport Customs designed to turn heads while tooling down Main Street USA will roll onto the 18th fairway of Pebble Beach Golf Links for the 2012 Pebble Beach Concours d'Elegance on August 19. This year, for the very first time, the Pebble Beach Concours d'Elegance is hosting an entire class dedicated to Sport Customs. 'These are one-of-a-kind cars built in the US, on modified American production chassis with American engines by individuals, designers and craftsmen,' explains auto...[Read more...]
Bentley Sales Leap By A Third
•Six month results up 32% •US overtakes China to re-emerge as largest market •Sales of Bentley's flagship Mulsanne up 30% Bentley's half year results for 2012 show continued strong growth. Sales are up in every region leading to a global increase of 32% (3,929 cars delivered to customers). The US has re-emerged as Bentley's number one market with deliveries up by 25.7% (1,140 cars delivered to customers). Sales in China also remain extremely strong with results up 55.7% (1,059 car...[Read more...]
Cherished Classics From The Pettit Collection Will Be Offered Without Reserve
• The 1929 Duesenberg 'Blue J' and 11 collector cars from the William A. C. Pettit, III Collection will be sold at Gooding & Company's Pebble Beach Auctions
• Estate Proceeds will benefit the Shriners Hospital for Children®-Tampa
Gooding & Company, the acclaimed auction house celebrated for selling the world's most significant and valuable collector cars, is honored to present the finest automobiles of the William A.C. Pettit, III Collection at its Pebble Beach Auctions on Aug...[Read more...]
Last Mercer Will Compete At Pebble Beach Concours d'Elegance
When the Pebble Beach Motoring Classic commences on August 7, Johnny Crowell will don his leather cap and goggles and settle in behind the wheel of his 1925 Mercer Series 6 Raceabout -- the last Mercer ever to exit the factory. The Roebling family along with designer Finley Robertson Porter debuted the Mercer Raceabout Type 35R in 1911. The result was one of the most admired sports cars of the early era: a stripped-down, two-seat speedster designed to be driven fast. By 1925, they had perfec...[Read more...]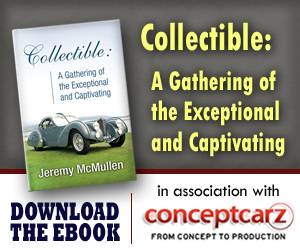 Rolls-Royce
Monthly Sales Figures
Volume
January 2014
86
October 2013
84
September 2013
84
August 2013
84
July 2013
84
June 2013
84
May 2013
84
April 2013
84
March 2013
84
February 2013
84
January 2013
38
(More Details)
© 1998-2014. All rights reserved. The material may not be published, broadcast, rewritten, or redistributed.