1949 Plymouth Special Deluxe news, pictures, specifications, and information

Tweet
For 1949 Plymouth offered to models, the Deluxe and Special Deluxe, with a slew of available bodystyles and configurations between the two of them. The very early part of the year, Plymouth marketed the P-15 Series conforming to the prior years specifications.

The P-17 Deluxe Series was Plymouths first postwar car, the cars prior to this were basically just updated versions of the cars sold prior to the war. The P-17 rested on a shortened wheelbase that measured a mere 111 inches. The P-18 Series rode on a slightly larger base, measuring 118.5-inches. These P-17 vehicles were offered at a very reasonable price, available in three-two door configurations including a business coupe, Suburban and fastback sedan.

All Plymouths for 1949 were powered by a six-cylinder L-head engine that displaced 217.8 cubic-inches. There were four main bearings, solid valve lifters and nearly 100 horsepower on tap. A three-speed manual gearbox was standard.

The Series 18 Deluxe Six was available in either a four door sedan or two door club coupe. The sedan was very popular, accounting for 61,021 sales. It was not the most popular Plymouth of the year, those honors fell on the Special Deluxe Six Series sedan which sold for $1,629 and totaled 252,878 sales.

The Special Deluxe Six Series was available as a chassis only, suitable for custom coachwork such as a truck body. Other bodystyles available were the sedan, club coupe, convertible and four-door station wagon. This series was the top-of-the-line for Plymouth in 1949 and featured bright metal windshields and rear window trim moldings. The dashboard was mahogany grain and the upholstery was created from richer fabrics.

The convertible Special Deluxe featured a power-operated folding convertible top. The station wagon had three seats with coverings similar to leather. The rear two seats could be removed for additional cargo carrying capacity. U.S. Steel & Forging Company provided the wood bodies and given an all-steel roof and steel tailgates.
By Daniel Vaughan | Dec 2007
The Plymouth P-18 Special Deluxe was both sporty and utilitarian, with the highest trim level offered by the manufactured in 1949. P-18 Special Deluxe Convertibles were equipped standard with power soft tops, leather interiors, and exclusive 'Special Deluxe' badges on the front fenders.

This Convertible was first owned by Mr. Pettit. It was given to him by his parents as a high school graduation gift in the Spring of 1949. The car was sold through the Pettit Brothers Plymouth-Chrysler dealership, and the young Mr. Pettit traveled to Detroit to take delivery of the new Plymouth off the assembly line.

A few years later, the P-18 was traded in to the family dealership. Mr. Pettit later realized his attraction to the car and began a search for his P-18. He eventually found it and traded a new IHC pickup truck in exchange for the red Plymouth Convertible in 1954. The car would remain a staple in Mr. Pettit's collection. It is currently equipped with Mopar fender skirts and a driver's-side spotlight.

The car is powered by a 218 cubic-inch L-head 6-cylinder engine with a Carter single-barrel carburetor. The engine produces nearly 100 horsepower and is mated to a three-speed manual gearbox. There are four-wheel hydraulic drum brakes and an independent front suspension.

In 2012, the car was offered for sale at the Pebble Beach auction presented by Gooding & Company. The car was estimated to sell for $20,000 - $25,000 and offered without reserve. As bidding came to a close, the car had been sold for the sum of $22,000 inclusive of buyer's premium.
By Daniel Vaughan | Nov 2012
For more information and related vehicles, click
here
ROAD & TRACK: FIAT 500E 'BEST ELECTRIC CAR OF 2013'
• Fiat 500e makes Road & Track's 'Best Cars' list
• Delivers 'big fun,' Road & Track editors say
• Best-in-class single-charge range of 87 miles, with typical city range of 100+ miles and EPA city/highway fuel-economy rating of 116 MPGe
• Unsurpassed frugality with EPA-estimated annual fuel-equivalent cost of $500
• Superior handling and unique 'blended braking' braking system
November 14, 2013 , Auburn Hills, Mich. - Road & Track has named the...[Read more...]
Just In Time For Winter: Jeep® Introduces New 2014 Wrangler Polar Edition For North American Market
◾Following debut at Frankfurt Motor Show, new Wrangler Polar Edition to hit Jeep® showrooms in November ◾New limited-edition Jeep Wrangler features new front grille with Black accents, body-color hardtop, aggressive 18-inch polished Gloss Black alloy wheels and Polar White interior finishes ◾Standard Trac-Lok limited-slip rear differential with available electronic locker for challenging the most extreme routes and the most demanding driving conditions in any weather October 23, 2013 , A...[Read more...]
Accessorizing The All-New Fiat 500L
August 22, 2013 , Auburn Hills, Mich. - The all-new Fiat 500L expands the appeal of the Fiat 500 by offering 42 percent extra interior space with comfortable seating for five. Mopar further expands its appeal by offering more than 100 proven, quality-tested accessories. 'Mopar accessories are made of high-quality materials with seamless fit and function,' said Pietro Gorlier, President and CEO of Mopar, Chrysler and Fiat Group's service, parts and customer-care brand. 'And they are des...[Read more...]
MOPAR's Father And Son Team Working Towards A Memorable Father'S Day At Bristol
◾Mopar competes at 13th annual NHRA Thunder Valley Nationals, the tenth of 24 national events ◾Johnson has earned three consecutive No. 1 qualifier honors at Bristol Dragway, his home track, but a Pro Stock win has eluded him ◾In 2012, Johnson finished runner-up in the closest finish in NHRA history, decided by less than .0000-second ◾Johnson hoping to celebrate Father's Day with the gift of a win for his father ◾Ron Capps is defending Funny Car winner for Mopar at Bristol ◾Hagan leads Funn...[Read more...]
CHRYSLER GROUP LLC AND FIAT S.P.A. ANNOUNCE MOST ACCESSORIZED VEHICLES AND TOP-SELLING ACCESSORIES
Mopar Offers More Than 25,000 Accessories Worldwide •Ram 1500, Jeep Wrangler and Dodge Challenger are most accessorized vehicles in North America •Side steps, Jeep Wrangler tops and floor mats are best-selling accessories in North America •Fiat 500, Fiat 500L and Jeep Grand Cherokee among most accessorized vehicles in other global regions •Top-selling accessories announced for Europe, Middle East, Africa, Asia Pacific and Latin America February 11, 2013 , Auburn Hills, Mich....[Read more...]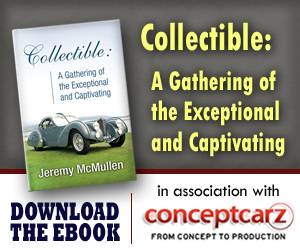 Similarly Priced Vehicles from 1949
Dodge Coronet ($1,913-$3,675)
Oldsmobile Rocket 88 ($2,045-$3,105)
Morris Oxford ($2,150-$2,150)
Hudson Commodore Custom ($2,350-$3,045)
MG TC ($1,895-$1,895)
Mercury Series 9CM ($1,980-$2,715)
Chevrolet GK Styleline DeLuxe ($1,500-$2,300)

Average Auction Sale: $24,530
© 1998-2014. All rights reserved. The material may not be published, broadcast, rewritten, or redistributed.