1949 Plymouth Special Deluxe news, pictures, specifications, and information

Tweet
For 1949 Plymouth offered to models, the Deluxe and Special Deluxe, with a slew of available bodystyles and configurations between the two of them. The very early part of the year, Plymouth marketed the P-15 Series conforming to the prior years specifications.

The P-17 Deluxe Series was Plymouths first postwar car, the cars prior to this were basically just updated versions of the cars sold prior to the war. The P-17 rested on a shortened wheelbase that measured a mere 111 inches. The P-18 Series rode on a slightly larger base, measuring 118.5-inches. These P-17 vehicles were offered at a very reasonable price, available in three-two door configurations including a business coupe, Suburban and fastback sedan.

All Plymouths for 1949 were powered by a six-cylinder L-head engine that displaced 217.8 cubic-inches. There were four main bearings, solid valve lifters and nearly 100 horsepower on tap. A three-speed manual gearbox was standard.

The Series 18 Deluxe Six was available in either a four door sedan or two door club coupe. The sedan was very popular, accounting for 61,021 sales. It was not the most popular Plymouth of the year, those honors fell on the Special Deluxe Six Series sedan which sold for $1,629 and totaled 252,878 sales.

The Special Deluxe Six Series was available as a chassis only, suitable for custom coachwork such as a truck body. Other bodystyles available were the sedan, club coupe, convertible and four-door station wagon. This series was the top-of-the-line for Plymouth in 1949 and featured bright metal windshields and rear window trim moldings. The dashboard was mahogany grain and the upholstery was created from richer fabrics.

The convertible Special Deluxe featured a power-operated folding convertible top. The station wagon had three seats with coverings similar to leather. The rear two seats could be removed for additional cargo carrying capacity. U.S. Steel & Forging Company provided the wood bodies and given an all-steel roof and steel tailgates.
By Daniel Vaughan | Dec 2007
The Plymouth P-18 Special Deluxe was both sporty and utilitarian, with the highest trim level offered by the manufactured in 1949. P-18 Special Deluxe Convertibles were equipped standard with power soft tops, leather interiors, and exclusive 'Special Deluxe' badges on the front fenders.

This Convertible was first owned by Mr. Pettit. It was given to him by his parents as a high school graduation gift in the Spring of 1949. The car was sold through the Pettit Brothers Plymouth-Chrysler dealership, and the young Mr. Pettit traveled to Detroit to take delivery of the new Plymouth off the assembly line.

A few years later, the P-18 was traded in to the family dealership. Mr. Pettit later realized his attraction to the car and began a search for his P-18. He eventually found it and traded a new IHC pickup truck in exchange for the red Plymouth Convertible in 1954. The car would remain a staple in Mr. Pettit's collection. It is currently equipped with Mopar fender skirts and a driver's-side spotlight.

The car is powered by a 218 cubic-inch L-head 6-cylinder engine with a Carter single-barrel carburetor. The engine produces nearly 100 horsepower and is mated to a three-speed manual gearbox. There are four-wheel hydraulic drum brakes and an independent front suspension.

In 2012, the car was offered for sale at the Pebble Beach auction presented by Gooding & Company. The car was estimated to sell for $20,000 - $25,000 and offered without reserve. As bidding came to a close, the car had been sold for the sum of $22,000 inclusive of buyer's premium.
By Daniel Vaughan | Nov 2012
For more information and related vehicles, click
here
ART EXHIBIT CELEBRATES CHRYSLER WORKERS' MULTIPLE TALENTS, CREATIVITY IN MANUFACTURING PROCESS
November 21, 2013 , Detroit - The UAW and Chrysler Group LLC today unveiled an art show that recognizes multidimensional employees from the shop floor and celebrates the role of the creative process in manufacturing automobiles. The jointly sponsored 2013-2014 Artists at Work Exhibition features 92 pieces of art by 50 UAW-represented and non-bargaining unit Chrysler Group employees. UAW and Chrysler Group officials honored the employee-artists at a reception this evening at the U...[Read more...]
GAINES AND BECKMAN PACE MOPARS IN FINAL QUALIFYING AT LAS VEGAS
◾Mixed qualifying results for Mopar at 13th annual NHRA Toyota Nationals, the second to last event of the season ◾Mopar's Gaines and points leader Coughlin are second and third behind No.1 Pro Stock qualifier Edwards ◾Reigning champ Johnson still focused on winning after frustrating results in final two sessions put him sixth in qualifying ◾Beckman is top DSR Mopar with third place qualifying effort in Funny Car qualifying; Hagan is fourth October 26, 2013 , Las Vegas - Final qualif...[Read more...]
'KNOX COUNTY DRILLER' SELECTED AS THIRD 2013 MOPAR TOP ELIMINATOR WINNER
◾Third 2013 Mopar 'Top Eliminator' selected at 59th annual NHRA U.S. Nationals in Indianapolis ◾2010 'Knox County Driller' Mopar Challenger Drag Pak owned by Sportsman racer Brent Jones selected as third Mopar 'Top Eliminator' ◾Fourth winner will be selected by Mopar aficionados online September 19, 2013 , Auburn Hills, Mich. - Mopar's 'Top Eliminator' program added the 2010 'Knox County Driller' Mopar Challenger Drag Pak owned by Brent Jones, 41, of Wheatland, Ind., as the third 20...[Read more...]
MOPAR'S JOHNSON EARNS NO.1 QUALIFIER FOR SECOND CONSECUTIVE YEAR AT NORWALK
◾Mopar is competing at seventh annual Summit Racing Equipment NHRA Nationals this weekend in Norwalk, Ohio. the 13th of 24 national events ◾Johnson earns first No.1 qualifier honors of the season; second at Norwalk in consecutive years ◾Capps is third as top Mopar Funny Car qualifier in his 400th NHRA national event July 6, 2013 , Norwalk, Ohio - Mopar's Pro Stock driver and defending NHRA world champion, Allen Johnson has earned his first No.1 qualifier honor of the 2013 season in t...[Read more...]
JOHNSON EARNS SECOND CONSECUTIVE NHRA NATIONAL TITLE AND THIRD WIN AT LAS VEGAS
-Johnson defends previous two Las Vegas National titles with a third and posts his 18th career victory to follow-up on his Gatornationals title. -National title victory also gives Johnson the 'Sweep Bonus' for following up on his K&N Horsepower Challenge win on Saturday -Fourth consecutive national event with a Mopar in the final round of eliminations and fifth win of 2013 -Johnson takes over as leader in the NHRA Pro Stock Championship points -Hagan is top Mopar finisher with semi-final app...[Read more...]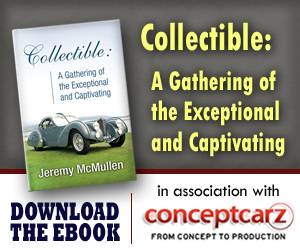 Similarly Priced Vehicles from 1949
Dodge Coronet ($1,913-$3,675)
Oldsmobile Rocket 88 ($2,045-$3,105)
Morris Oxford ($2,150-$2,150)
Hudson Commodore Custom ($2,350-$3,045)
MG TC ($1,895-$1,895)
Mercury Series 9CM ($1,980-$2,715)
Chevrolet GK Styleline DeLuxe ($1,500-$2,300)

Average Auction Sale: $24,530
© 1998-2014. All rights reserved. The material may not be published, broadcast, rewritten, or redistributed.