1949 Plymouth Special Deluxe news, pictures, specifications, and information

Tweet
For 1949 Plymouth offered to models, the Deluxe and Special Deluxe, with a slew of available bodystyles and configurations between the two of them. The very early part of the year, Plymouth marketed the P-15 Series conforming to the prior years specifications.

The P-17 Deluxe Series was Plymouths first postwar car, the cars prior to this were basically just updated versions of the cars sold prior to the war. The P-17 rested on a shortened wheelbase that measured a mere 111 inches. The P-18 Series rode on a slightly larger base, measuring 118.5-inches. These P-17 vehicles were offered at a very reasonable price, available in three-two door configurations including a business coupe, Suburban and fastback sedan.

All Plymouths for 1949 were powered by a six-cylinder L-head engine that displaced 217.8 cubic-inches. There were four main bearings, solid valve lifters and nearly 100 horsepower on tap. A three-speed manual gearbox was standard.

The Series 18 Deluxe Six was available in either a four door sedan or two door club coupe. The sedan was very popular, accounting for 61,021 sales. It was not the most popular Plymouth of the year, those honors fell on the Special Deluxe Six Series sedan which sold for $1,629 and totaled 252,878 sales.

The Special Deluxe Six Series was available as a chassis only, suitable for custom coachwork such as a truck body. Other bodystyles available were the sedan, club coupe, convertible and four-door station wagon. This series was the top-of-the-line for Plymouth in 1949 and featured bright metal windshields and rear window trim moldings. The dashboard was mahogany grain and the upholstery was created from richer fabrics.

The convertible Special Deluxe featured a power-operated folding convertible top. The station wagon had three seats with coverings similar to leather. The rear two seats could be removed for additional cargo carrying capacity. U.S. Steel & Forging Company provided the wood bodies and given an all-steel roof and steel tailgates.
By Daniel Vaughan | Dec 2007
The Plymouth P-18 Special Deluxe was both sporty and utilitarian, with the highest trim level offered by the manufactured in 1949. P-18 Special Deluxe Convertibles were equipped standard with power soft tops, leather interiors, and exclusive 'Special Deluxe' badges on the front fenders.

This Convertible was first owned by Mr. Pettit. It was given to him by his parents as a high school graduation gift in the Spring of 1949. The car was sold through the Pettit Brothers Plymouth-Chrysler dealership, and the young Mr. Pettit traveled to Detroit to take delivery of the new Plymouth off the assembly line.

A few years later, the P-18 was traded in to the family dealership. Mr. Pettit later realized his attraction to the car and began a search for his P-18. He eventually found it and traded a new IHC pickup truck in exchange for the red Plymouth Convertible in 1954. The car would remain a staple in Mr. Pettit's collection. It is currently equipped with Mopar fender skirts and a driver's-side spotlight.

The car is powered by a 218 cubic-inch L-head 6-cylinder engine with a Carter single-barrel carburetor. The engine produces nearly 100 horsepower and is mated to a three-speed manual gearbox. There are four-wheel hydraulic drum brakes and an independent front suspension.

In 2012, the car was offered for sale at the Pebble Beach auction presented by Gooding & Company. The car was estimated to sell for $20,000 - $25,000 and offered without reserve. As bidding came to a close, the car had been sold for the sum of $22,000 inclusive of buyer's premium.
By Daniel Vaughan | Nov 2012
For more information and related vehicles, click
here
CHRYSLER GROUP'S AWARD-WINNING WCM ACADEMY NOW HAS WHEELS
• Academy's mobile unit will bring classes directly to the plants
• Former motorsports trailer repurposed to expand World Class Manufacturing knowledge
• Cutting-edge tools used to teach key WCM concepts
• Kokomo, Ind., first stop on tour
November 21, 2013 , Auburn Hills, Mich. - Chrysler Group's award-winning World Class Manufacturing (WCM) Academy now has wheels and is hitting the road. In an effort to bring the innovative training academy and the ...[Read more...]
MOPAR LEAVES LAS VEGAS WITH RUNNER-UP FINISH BY GAINES
Coughlin Widens Points Lead; Championship Hopes Dashed for Johnson and Hagan ◾Gaines takes his Mopar to a runner-up Pro Stock finish at the 13th annual NHRA Toyota Nationals ◾Pro Stock points leader Coughlin keeps championship in his sights after a semi-final appearance at The Strip at Las Vegas Motor Speedway ◾Reigning Pro Stock champ Johnson sees hopes of defending his world title fade with a quarterfinal loss ◾Hagan's final shot at vying for the Funny Car Championship come to an end wit...[Read more...]
COUGHLIN GIVES MOPAR WIN AT CAROLINA NATIONALS AND CLOSES GAP TO THE LEADER IN NHRA'S 'COUNTDOWN TO CHAMPIONSHIP'
◾Mopar's Coughlin wins 6th annual Carlyle Tools Carolina Nationals at zMax Dragway and first NHRA event in the 'Countdown to the Championship' ◾Second seed Hagan drives Mopar machine to runner-up finish and maintains championship lead ◾Coughlin moves JEGS.com Mopar into second place in Pro Stock championship points standing; just 10 points from the leader September 16, 2013 , Concord, N.C. - Mopar driver Jeg Coughlin Jr. earned a hard fought Pro Stock title win at the 6th annual Carl...[Read more...]
HOLE SHOT WIN BY GRAY IN ALL-MOPAR FINAL AT NORWALK
◾Mopar advanced to final eliminations in both Pro Stock and Funny Car classes at seventh annual Summit Racing Equipment NHRA Nationals ◾Gray scored a hole shot win in a Mopar versus Mopar final elimination against DSR teammate Capps ◾No.1 qualifier Johnson finished runner-up in his 42nd Pro Stock final elimination appearance ◾Hagan remains Funny Car points leader with Mopar teammate Gray moving into second spot ◾Johnson and Coughlin are second and third in Pro Stock points standings Ju...[Read more...]
PRO STOCK DRIVER JOHNSON TO SPORT MOPAR'S 'EXPRESS LANE' FOR 2013 NHRA SEASON
-Mopar's 'Express Lane' to debut on Pro Stock driver Allen Johnson's Dodge Avenger this weekend at NHRA Nationals in Las Vegas -More than 800 Chrysler Group dealerships provide Mopar Express Lane service for light maintenance and world-class inspection for all make and model vehicles -Express Lane provides fast and convenient service with no appointment necessary April 5, 2013 , Auburn Hills, Mich. - Defending 2012 Pro Stock Champion Allen Johnson will race his Dodge Avenger through the ...[Read more...]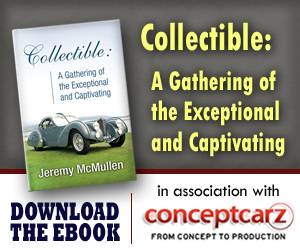 Similarly Priced Vehicles from 1949
Dodge Coronet ($1,913-$3,675)
Oldsmobile Rocket 88 ($2,045-$3,105)
Morris Oxford ($2,150-$2,150)
Hudson Commodore Custom ($2,350-$3,045)
MG TC ($1,895-$1,895)
Mercury Series 9CM ($1,980-$2,715)
Chevrolet GK Styleline DeLuxe ($1,500-$2,300)

Average Auction Sale: $24,530
© 1998-2014. All rights reserved. The material may not be published, broadcast, rewritten, or redistributed.