1932 Chevrolet Confederate Series BA news, pictures, specifications, and information

Tweet
The 1932 Chevrolet Sports Roadster could accommodate either 2 or 4 passengers. There were a total of 8552 units built as a Deluxe Sports Roadster. It was a straight six-cylinder overhead valve with 194 cubic-inch which produced 60 horsepower. It has a three-speed manual transmission.

The body has dual side-mount tires, dual horns, dual rear tail lights, rumble seat and dual cowl lights. The selling price was $500.
This 1932 Chevrolet Confederate Deluxe Special Sedan was offered for sale at the 2007 RM Auctions held in Meadow Brook where it had no reserve and estimated to sell between $30,000 - $40,000. The car is powered by a six-cylinder engine that displaces 194 cubic-inches and produces 60 horsepower. There is a three-speed synchromesh gearbox and four-wheel drum brakes.

The Chevrolet Company was named after the famous race car driver, Louis Chevrolet, and introduced by Bill Durant in 1912. Chevrolet cars were solid and reliable, and by The Great Depression of the 1930s had become the backbone of General Motors.

In 1932, Chevrolet introduced their Confederate model line that featured a long hood and flowing deep fenders. Deluxe models included extra chrome plated door louvers. 18-inch wire wheels, tilting windshield, build in sun visor, and an adjustable seat were all standard equipment.

This example has been treated to a restoration that kept the car as original and true to the era as possible. It is finished in Inverness Green with gold pin striping and light green wheels. There are twin side mounts, a luggage rack, drivers side windshield wiper, dual trumpet horns and polished hood louvers. The interior was reupholstered and finished in light gray mohair.

At auction, there was interest in the vehicle and bidding quickly closed in on the estimated value, settling just under that figure and selling for $27,500.
By Daniel Vaughan | Aug 2007
This 1932 Chevrolet Confederate Sport Roadster was one of two 1932 Chevrolet Confederate vehicles being auctioned at the 2007 RM Auctions held at Meadow Brook. This example was estimated to sell between $65,000 - $75,000. It has a history that is known from new. It has been used sparingly throughout its lifetime and seen very little weather that was not sunny. It has been restored with many of its components being original. This Sport Roadster is well equipped with a deluxe radiator ornament, twin trumpet horns, two tail lamps, and dual side mounted spares with the correct metal covers. The wheels are painted red and carry whitewall tires that have chrome trim rings and caps. In the rear is a very rare Low Boy metal trunk sitting on top of a luggage rack. Also in the rear is a rumble seat with additional seating for two, possibly three occupants.

Bidding reached as high as $52,500 but it was not enough to satisfy the reserve and the vehicle was not sold.
By Daniel Vaughan | Aug 2007
1932 was the first year for Chevrolet to use synchromesh transmission. Winner of AACA 2005 Louis Chevrolet Award with all of the restoration work done by owner. Called the 'Little Cadillac' for its decorative use of chrome on deluxe models.

First use of cowl vent for fresh air for passenger compartment.

First year for Chevrolet to use 'free wheeling.'
The Chevrolet BA Confederate model line was offered with a six-cylinder engine that displaced 194 cubic-inches and produced 60 horsepower. It had a counter-balanced crankshaft, coupled to a full synchromesh three-speed manual transmission.

This Sports Roadster wears an older restoration finished in glossy black with excellent bright-work. There are dual side-mounted spare tires with chrome-plated rearview mirrors, cowl lights, a rumble seat, red painted steel wire wheels with bright rims and hubcaps, and a set of period-correct wide whitewall tires. The floor is covered with original-type rubber matting with an embossed Chevrolet bowtie pattern.

In 2009, this car was offered for sale at the Vintage Motor Cars of Hershey presented by RM Auctions where it was estimated to sell for $40,000 - $60,000 and offered without reserve. The lot was sold for the sum of $82,500, including buyer's premium.
By Daniel Vaughan | Oct 2009
| | |
| --- | --- |
| | Convertible |
The features found on the DeLuxe models set it apart from other low-price entries - features that included chrome landau irons, chrome cowl lamps, chrome hood side doors, side mount spares, twin trumpet horns and a broad palette of color offering. This example is a Chevrolet DeLuxe Convertible Cabriolet that exemplifies the influence that Harley Earl's design team had on Chevrolet automobiles.
By Daniel Vaughan | Jan 2011
| | |
| --- | --- |
| | Sport Roadster |
In 1932, Chevrolet introduced a completely restyled line which, like all the General Motors brands for 1932, shared a striking resemblance to that year's Cadillac. Of all the body styles offered by Chevrolet in 1932, the Deluxe Sport Roadster is considered one of the most attractive cars of the era. Yet, Chevrolet was an automaker for the everyman, and total production of the Sports roadster only represented 2-percent of Chevrolet production in 1932.

Besides the added 'curb appeal,' the 1932 Chevrolet now included a synchromesh three-speed manual transmission and 18-inch wire wheels as standard equipment, and delivered reliable, trouble-free driving. The big news for 1932, however, came from Ford with its introduction of the first affordable V-8 and its instant popularity among buyers.

This Sport Roadster was restored by the late owner of Donohoe Chevrolet - a mainstay of Brooklyn, MI for over three decades.
STATEMENT ON PASSING OF ROAD AMERICA BOARD MEMBER AND LEGENDARY RACER JIM JEFFORDS
ELKHART LAKE, Wis., March 25, 2014 - A statement from Road America President and General Manager, George Bruggenthies, about the death of long time Road America board member and racer, Jim Jeffords: 'Jim Jeffords was the definitive example of a gentlemen racer with a heart of gold. He loved racing for the thrill of competition, not for the money. Jim will be best remembered for how his passion for racing carried over into many successful years behind the wheel and many more beyond tha...[Read more...]
GM DESIGN'S TOM PETERS EARNS LIFETIME ACHIEVEMENT AWARD
PASADENA, Calif. – In addition to more than 30 years of designing some of General Motors' most memorable vehicles, Tom Peters led the exterior studio teams that produced two of GM's most important product introductions this year – the 2014 Chevrolet Corvette Stingray and 2014 Chevrolet Silverado full-size pickup. On Sunday, Peters received a lifetime achievement award for his work from his alma mater, Art Center College of Design, which has been at the forefront of art and design educ...[Read more...]
DUKE AND DUCHESS OF WINDSOR'S 1941 CADILLAC TO BE AUCTIONED IN NEW YORK CITY
• RM Auctions and Sotheby's offer one-of-one Cadillac custom built for the Duke and Duchess of Windsor, without reserve, November 21, in New York City • Delivered to the royal couple at the Waldorf, the Cadillac — long thought to be destroyed —has been missing from the public eye since 1952 • Known affectionately as 'The Duchess,' this bespoke limousine is an important piece of automotive and society history • Full sale details now available online at www.rmauctions.com NEW YORK...[Read more...]
GM Design: 85 Years of Making Art That Moves You
As GM Design celebrates its 85th birthday this month, the 1,900 men and women in GM's 10 global design centers are focused on the future, united in their vision to entice consumers to fall in love and see vehicles as they do: art that moves you. 'Our global team is united around its passion for designing vehicles that make an emotional connection with customers,' said Ed Welburn, GM vice president, Global Design. 'What was true 85 years ago is still true today: A designer's role is to create...[Read more...]
Automotive Hall of Fame Inductees Named
Awards to be Presented in Conjunction with the Concours d'Elegance of America The Automotive Hall of Fame will present its annual induction and awards ceremony on Thursday, July 26, 2012 as one of the week-long Concours d'Elegance of America events. It will be held at The Inn at St. John's in Plymouth, Michigan. Both the Concours d'Elegance of America and the Automotive Hall of Fame celebrate the heritage and history of Detroit. The show highlights the evolution of the automobile's...[Read more...]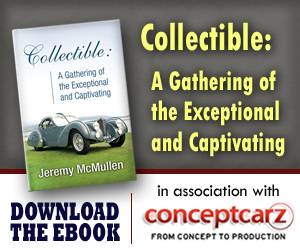 Chevrolet
Monthly Sales Figures
Volume
August 2014
185,930
July 2014
175,155
June 2014
188,567
May 2014
205,010
April 2014
181,648
March 2014
179,681
February 2014
153,913
January 2014
119,089
December 2013
153,493
November 2013
145,089
October 2013
155,214
September 2013
127,785
(More Details)
© 1998-2014. All rights reserved. The material may not be published, broadcast, rewritten, or redistributed.