1932 Packard Model 900 Light Eight news, pictures, specifications, and information

Tweet
The 1932 Packard 900 Light Eight Coupe-Roadster was produced for only one year, 1932. Its selling price ranged from $1,795 to $1,940. The engine was a L-head in-line 8, iron block, aluminum crankcase, rated at 319 cubic-inches, generating 110 horsepower. It has a three-speed transmission. The car weighed 3,990 lbs, with an overall length of the car is 195 inches.

The shovelnose grille is unique to the Light Eight. Other features include: parking and headlights have the Packard Yoke, ride control, windshield opens outward, ventilators in cowl and both kick panels, freewheeling vacuum clutch, golf bag door and rumble seats.
James Ward Packard built his first automobile at Warren, Ohio in 1899. Detroiter Henry Joy became enthusiastically involved and moved the company there. His successor, Alvan Macauley, teamed with engineer Jesse Vincent to make Packard one of the finest automobiles in the world. Struggling to the end to build fine cars, the company was plagued by numerous problems, most significantly a poor merger. Although the marque name lasted until 1958, the last true Packard was built two years earlier.

The series 900 Packard was an attempt to deal with the depression yet it still sold for nearly $1,800, an enormous amount in 1932. Although according for nearly half that year's Packard sales, it proved unprofitable due to design and manufacturing costs. Unique, and for Packard, racy in design, the 900 introduced many improvements that were carried forward. The beautiful lines of the car, alas, were dropped in 1933, making it unique and rare, even if one of the most beautiful factory bodies Packard produced.

This car was originally restored for the famous Harrah collection in 1963. Sold to a collector after Harrah's death, it languished in a museum in St. Louis until bought by its present owner. It remains his favorite driver although he makes no pretense that it is a 'show car.'
'In presenting its Light Eight, Packard now adds a new fine car at a new low price to the distinguished line of famous Packard Eights. Lighter in weight through engineering and manufacturing advances, this car is nevertheless ample in power, roomy in size, modern in beauty, replete with every device for comfort and convenience, and, Literally Packard in 'Body and Soul.' The 900 Series Light Eight was introduced in 1932 as Packard's attempt to survive the Great Depression. The engine is an eight-cylinder of 320 cubic-inches and 110 horsepower. The price was $1,795 to $1,940. Production was 6,785 units and accounted for over half of Packard's Sales. The Light Eight was only offered in 1932.
Throughout the 1910s and 1920s, Packards were among the elite in luxury automobiles. The company, along with Pierce-Arrow and Peerless, was one of the 'Three Ps' of American motorcar royalty. With the stock market crash in 1929 the auto industry was in trouble; the 900 Series Light Eight was built in 1932 as Packard's attempt to survive the Great Depression. The shovel-nose grill is the feature that immediately identifies the Light Eight.
For more information and related vehicles, click
here
Concours d'Elegance at Stan Hywet Hall & Gardens
The inaugural Concours d'Elegance at Stan Hywet Hall & Gardens welcomed over 180 rare and exclusive automobiles, motorcycles, and bicycles on the well-manicured 70-acre landscape. The backdrop for this elegant affair was the 6th largest historic estate open to the public - the Stan Hywet – which has the reputation as being the home of The Goodyear Tire & Rubber Co. co-founder F.A. Seiberling. On the day of the concours, the weather report predicted rain. Instead, the enthusiasts and colle...[Read more...]
MERCEDES-BENZ 2014 G63 AMG: THE ULTIMATE G-CLASS
The latest technology for the AMG off-road icon: the new 2014 G63 AMG impresses with a state-of-the-art powertrain, expressive new design and improved efficiency. All this is largely attributable to the AMG 5.5-liter V8 biturbo engine delivering 536 hp and the AMG SPEEDSHIFT PLUS 7-speed automatic transmission. Every new AMG high-performance vehicle offers an outstanding mix of 'more power from less fuel' – and the G63 AMG is no exception. The 'strong man' in the AMG model range has been furt...[Read more...]
History Rolls into Hershey for RM's Annual Pennsylvania Sale
• Final countdown underway to RM's annual Hershey, Pennsylvania auction, held October 10 – 11 during the historic AACA Eastern Regional Fall Meet • Two-day sale features 116 vehicles, with an emphasis on Brass and Classic Era motor cars • Sale entries led by a rare, award-winning 1933 Chrysler CL Imperial Convertible Roadster • Auction also features number of vehicles steeped with local Pennsylvania history • Digital catalogue now available online at rmauctions.com BLENHEIM, Ontario (S...[Read more...]
The Champion in Touring Car Racing : The BMW M3
In August 1985, a rumour surfaced in motor magazine Auto-Deutschland which emanated from a new sports car. An A Group Car from BMW that was a thoroughbred racing car according to the rules but was also to be produced in a version licensed to drive on open roads for everyday use. Speculation about this dream car that could take to normal roads and was intended for the 'Most dynamic among BMW 3 Series drivers' was right on target. But the pundits missed the mark about the motor-sport car by a mile...[Read more...]
Auctions America By RM's 2012 Auburn Spring Auction
'Variety' is the buzzword for this year's Auctions America by RM June 1-3 Auburn Spring auction, which will offer a huge range of collector vehicles and an enormous private collection of automotive memorabilia. More than 600 American muscle cars, Classics, foreign sports cars and hot rods will cross the block at the historic Auburn Auction Park, the company's national headquarters in Auburn, Indiana. 'Last year was our first spring event at the park,' said Auctions America by RM's President ...[Read more...]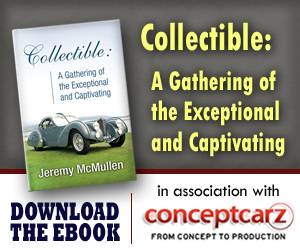 © 1998-2014. All rights reserved. The material may not be published, broadcast, rewritten, or redistributed.