1932 Packard Model 900 Light Eight news, pictures, specifications, and information

Tweet
The 1932 Packard 900 Light Eight Coupe-Roadster was produced for only one year, 1932. Its selling price ranged from $1,795 to $1,940. The engine was a L-head in-line 8, iron block, aluminum crankcase, rated at 319 cubic-inches, generating 110 horsepower. It has a three-speed transmission. The car weighed 3,990 lbs, with an overall length of the car is 195 inches.

The shovelnose grille is unique to the Light Eight. Other features include: parking and headlights have the Packard Yoke, ride control, windshield opens outward, ventilators in cowl and both kick panels, freewheeling vacuum clutch, golf bag door and rumble seats.
James Ward Packard built his first automobile at Warren, Ohio in 1899. Detroiter Henry Joy became enthusiastically involved and moved the company there. His successor, Alvan Macauley, teamed with engineer Jesse Vincent to make Packard one of the finest automobiles in the world. Struggling to the end to build fine cars, the company was plagued by numerous problems, most significantly a poor merger. Although the marque name lasted until 1958, the last true Packard was built two years earlier.

The series 900 Packard was an attempt to deal with the depression yet it still sold for nearly $1,800, an enormous amount in 1932. Although according for nearly half that year's Packard sales, it proved unprofitable due to design and manufacturing costs. Unique, and for Packard, racy in design, the 900 introduced many improvements that were carried forward. The beautiful lines of the car, alas, were dropped in 1933, making it unique and rare, even if one of the most beautiful factory bodies Packard produced.

This car was originally restored for the famous Harrah collection in 1963. Sold to a collector after Harrah's death, it languished in a museum in St. Louis until bought by its present owner. It remains his favorite driver although he makes no pretense that it is a 'show car.'
'In presenting its Light Eight, Packard now adds a new fine car at a new low price to the distinguished line of famous Packard Eights. Lighter in weight through engineering and manufacturing advances, this car is nevertheless ample in power, roomy in size, modern in beauty, replete with every device for comfort and convenience, and, Literally Packard in 'Body and Soul.' The 900 Series Light Eight was introduced in 1932 as Packard's attempt to survive the Great Depression. The engine is an eight-cylinder of 320 cubic-inches and 110 horsepower. The price was $1,795 to $1,940. Production was 6,785 units and accounted for over half of Packard's Sales. The Light Eight was only offered in 1932.
Throughout the 1910s and 1920s, Packards were among the elite in luxury automobiles. The company, along with Pierce-Arrow and Peerless, was one of the 'Three Ps' of American motorcar royalty. With the stock market crash in 1929 the auto industry was in trouble; the 900 Series Light Eight was built in 1932 as Packard's attempt to survive the Great Depression. The shovel-nose grill is the feature that immediately identifies the Light Eight.
For more information and related vehicles, click
here
2014 SPANISH GRAND PRIX - PREVIEW
Round Five of the 2014 Formula One World Championship brings us to Barcelona for the Spanish Grand Prix, held at the Circuit de Barcelona-Catalunya. Contents · Driver / Senior Management Quotes o Lewis Hamilton o Nico Rosberg o Toto Wolff o Paddy Lowe · Circuit de Barcelona-Catalunya: The Inside Line o In the Cockpit o On the Pit Wall · Anniversaries · #GlobalGrandstand Lewis Hamilton It's been good to have a bit of a...[Read more...]
Techno Classica 2014: more than 30 racing cars to celebrate 120 years of Mercedes-Benz motor racing history
•Cars that were the heroes of magical moments put their stamp on this high-powered, most comprehensive show presentation •With more than 30 vehicles, Mercedes-Benz Classic presents motor racing history in all its unique breadth and depth •120 years of Mercedes-Benz motor sport in the focus of the leading international classic motor show 120 years of Mercedes-Benz motor racing history have produced a timeline of extraordinary victories which since 1894 also stand for outstanding innovations ...[Read more...]
RM Auctions Announces New Paris Sale To Take Place During Retromobile Week
• RM Auctions expands European presence with all-new sale in Paris during the Retromobile show week • Auction to be held within the beautiful surroundings of 'Les Invalides' in central Paris, 4-5 February, 2014 • Magnificent ex-works Gordini 24S already consigned in anticipation of another exceptional RM sale LONDON (20 June, 2013) – RM Auctions, the world's largest collector car auction house for investment-quality automobiles, is delighted to announce the addition of a new sale to...[Read more...]
The Mercedes Benz S Class: automobile comfort of the highest standard
• S Class: the epitome of automobile comfort • Every generation of vehicles provides ground-breaking solutions to the expectations of customers with regard to comfort The history of the Mercedes Benz S Class shows that automobile comfort is far more than just a luxurious ambiance, size and performance. In fact it is far more the intelligent support of the driver and passengers through innovative technical solutions providing answers to current questions and requirements which contribute to t...[Read more...]
Auctions America Announces Exciting List of Attractions for its Auburn Spring Collector Car Weekend
• Final countdown underway to Auctions America's Auburn Spring collector car weekend, May 9 – 11 at the historic Auburn Auction Park in Auburn, Indiana • Sale lifts the gavel on approximately 500 quality collector cars and features full day of memorabilia • Latest auction highlights include a 1930 Packard Dual Cowl Sport Phaeton, a 1938 Cadillac V-16 Convertible Coupe, and a very rare 1967 Ford Fairlane 500XL R-Code in addition to the previously announced John Soneff estate collection • Week...[Read more...]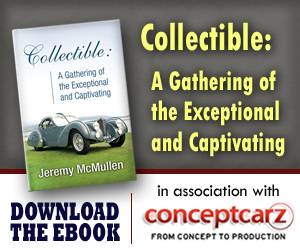 © 1998-2014. All rights reserved. The material may not be published, broadcast, rewritten, or redistributed.