1933 Alfa Romeo 8C 2300 news, pictures, specifications, and information

Tweet
Just 188 Alfa Romeo 8C 2300 were built between 1931 and 1933. The model's eight cylinder, 2.3-liter engine was the work of renowned engineer Vittorio Jano. It was essentially two four-cylinder engines aligned in a row, with a Rootes type supercharger, delivering over 165 horsepower. Because of the low production run, the Alfa Romeo 8C 2300s are among the most sought after prewar Alfas. In short wheelbase 'Monza' form, they were very successful in Grand Prix races in the hands of Tazio Nuvolari and Luigi Chinetti, and they helped Alfa team manager Enzo Ferrari establish his reputation. This Touring bodied 8C with chassis number 2211102, previously won its class at Pebble Beach in 1985. Other styling houses that bodied 8Cs included Zagato.
The Alfa Romeo 8C 2300 is considered one of the best sports cars built in its time. It was designed by Vittorio Jano, who created a straight-8 cylinder engine of light alloy with twin overhead camshafts, one carburetor, and a Roots supercharger on a stiff chassis. The engine was capable of 142 bhp and delivered speeds exceeding 100 mph. This particular example is a third series Alfa Romeo 8C 2300, one of 89 built in 1933 on a long chassis. Stylist Emilio Castagna of Milan's Carrozzeria Castagna & Company was responsible for the coachwork of this car. Castagna was famous for the luxury bodies it produced for major Italian and German automakers.

In 2009, This Alfa-Romeo was offered for sale by Gooding & Company at their Pebble Beach auction. The lot was sold for the sum of $4,180,000, inclusive of buyer's premium.
This very original and beautiful Alfa Romeo 8C 2300 (chassis 2211094) was delivered to its first owner in Sardinia in 1933. The Touring-bodied Spider was then sold to another Sardinian Alfa Romeo enthusiast just as war broke out, and he kept the car safely out of harms way until peace returned in 1945. The car was sold in 1949 to Alfa collector and racing driver, Frank Griswold, winner of the 1948 US Grand Prix at Watkins Glen. Griswold entered the car in the 1949 Bridgehampton Races, and it was after that race that Alfa collector David Uihlein bought car and treasured it for the next five decades. The Spider lived in his garage in Milwaukee, and Uihlein drove the car in a number of races and road tours over many miles in the United States. The car has not been restored and displays the sort of patina that derives from lavish amounts of care and attention.
This particular 8C2300 Touring Spider was delivered new to Switzerland and was originally owned by Walter Grosch of the Swiss Grosch & Greif Department Store empire. He participated in the 24 Hours of Spa in Belgium and the Coppa di Prinicipessa die Piemonte in Italy in 1933. From the 1950s until 2002, the car was owned by a Swiss owner, who started a restoration but never got around to completing it. The current owner had the car fully restored by Dino Cognolato in Padova, Italy from 2005 to 2008.
This special factory Zagato-bodied show car was loaned to racecar driver Tazio Nuvolari for the 1933 LeMans 24-hour where it finished 1st overall with co-driver Raymond Sommer. During the 1933 Spa 24-Hour race, Sommer and Henri Stoffer finished 2nd overall. The car was sold to Nuvolari in July 1934 and used by him and Sommer in the 24-Hours of Pescara (Targa Abruzzo). Barron Collier of New York purchased the car in 1936 and used it to win the Mt. Washington Hill-Climb in 1937.

The car is powered by a 2.3 liter (2336 cc) 8-cylinder engine coupled to a 4-speed manual gearbox and rated at 165 horsepower. The eight cylinders were divided into two four-cylinder blocks, each mounted under a chrome-covered crankcase. The car was built for speed and got less than 10 mpg.
This Alfa was originally registered in Austria as a 2-seater Drophead, converted to a shortened chassis with a Zagato body. It was restored with a Monza style body in the early 90s. It was vintage raced in England with FIA papers. All mechanicals and chassis have matching numbers.

This Alfa is powered by a water-cooled, double-overhead-cam, bi-block, straight-8, 2,556 cc, engine developing between 165 to 178 horsepower. This engine amounts to two light alloy four-cylinder engines set back-to-back with the timing and power drive gears mounted between them. The car is equipped with a 4-speed gearbox and top speed listed at 140 mph.
This 'one-off' Figoni bodied Alfa Romeo 8C-2300 was assembled in Paris.

The car is unusual in that it is a two-passenger roadster fitted on a long wheelbase chassis that provides luggage space.

The car is powered by a double overhead cam, 2.3 liter, eight-cylinder engine rate at 165 hp, coupled to a 4-speed manual gear box. The car has a top speed of 115 mph and takes 9.4 seconds to go from 0-60 mph.

Also unusual is the French radiator emblem.
Vittorio Jano was responsible for the design of the magnificent engineering marvel, the 8C 2300. The name was formed by following Alfa Romeo's naming convention; the 8C represented the eight cylinder engine while the 2300 represented the cubic-capacity. The engine is comprised of two four-cylinder engine with the cylinders aligned in a row. Central gearing drives the overhead twin camshafts. A Roots-type supercharger was used to force air to the carburetor aiding in the production of 140 horsepower. Further modifications to the OHV engine increased the horsepower output to nearly 180.

The first 8C 2300 made an appearance in prototype form at the 1931 Mille Miglia. Two Grand Prix 8C 2300 models were later entered in the Italian Grand Prix at Monza where they finished first and second. In honor of this achievement, Alfa Romeo used the name 'Monza' on all their 8C 2300 Grand Prix vehicles. In 1932 the 8C 2300 became a dominant force, winning at Targa Florio followed by three consecutive victories at Le Mans. It was undefeated at the Grand Prix circuit, defeating the powerful Mercedes SSK and SSKL models and brining an end to their dominance. It achieved many prestigious victories such as the Spa 24 Hours and the Monaco Grand Prix and more. Compliments of the vehicles capabilities and durability.

The 8C 2300 was available in a wide variety of body styles including short and long wheel-based chassis. The long wheelbase was dubbed 'Lungo' while the short-wheelbase were 'Corto'. The Lungo models were suitable for traveling on the open roads at high speeds while the Corto models were smaller, lighter, and more agile, suitable for racing, many being prepared by Scuderia Ferrari. The Lungo series produced 140 horsepower with a 4.25 final drive. The Spider Corsas often featured a 165 horsepower engine built specifically to satisfy customer specifications. A 3.76:1 or 4.08:1 final drive was left to the customer to select.

As was customary at the time, many of the automobiles were supplied to custom coachbuilders such as Pininfarina, Figoni, Touring, Castagna, and Zagato. The results were uniquely designed and eloquently outfitted automobiles that were as much works of art as they were high performance machines.

The 8C 2300 was produced from 1931 through 1933. During their production life span only 188 examples were produced. By today's standards, many 8C 2300 models easily sell for over a million dollars.

8C 35
The Alfa Romeo 8C-35 was a Scuderia Ferrari works car which raced at Monza, Modena, Nurburgring, Lucca, Monaco and more. They were driven by famous drivers such as Dreyfus, Farina, Brivio, and Nuvolari.

One of the most historical races for the 8C-35 was at Coppa Cieno. Nuvolari's Alfa Romeo Tipo C 12C-36 suffered a broken transaxle after only two laps. He ran to the pits and got into an 8C-35. By the time Nuvolari re-entered the race, he was already seven laps down. By the time the race concluded, Nuvolari was in first place.

8C 2900
The 8C 2900 was built in two series, the 2900A and the 2900B. The 8C represented the engine size, a straight eight powerplant while the 2900 represented the size of the engine, 2905 cc. The engine was created by mounting two four-cylinder alloy blocks on a single crankcase. With the twin Roots-type superchargers attached, the 2.9-liter engine could produce between 180 hp for the 8C 2900B and 220 hp for the 8C 2900A. The suspension was all-independent with wishbones in the front and the rear had swing-axles.

The Alfa Romeo 8C 2900A was a two-seater with Grand Prix style bodywork. They were purpose-built to race and win at Italy's famous Mille Miglia. In 1936, three examples were entered and were able to capture a first through third finish. A year later, they repeated their success again capturing the top three places. The success of the 2900A spawned the decision to create a road-going version that Alfa Romeo could supply to its customers. The 8C 2900B models were built upon two different wheelbases and had bodies that were very aerodynamic. Similar to the 2900A mechanically, the 2900B models were given a de-tuned engine that produced 40 horsepower less than the 2900A but still fast enough to be claimed the fastest production vehicle in the world with a top speed of nearly 110 mph. The Corto were short 2800mm wheelbase version while the Lungo were the long 3000 mm wheelbase versions. As was customary at the time, custom coachbuilders were often tasked with building the bodies. The 2900B had most of its coachwork handled by Touring of Italy. The vehicles could be purchased in Berlinetta, Roadster or Spyder bodies. These supercars were not only fast but they were expensive too. Since they were mechanically capable to match most vehicles on the racing circuit, many of the 2900B models were raced. Alfa Romeo constructed 13 examples of the 8C 2900B but with the 220 hp engine and most with Roadster bodies. In 1938 and in 1947, the 2900B with the 220 hp engine were able to capture the checkered flag at the Mille Miglia.

During its production lifespan, only 41 examples were produced. Three wee type 8C 2900 A with the remaining being the type B.

8C 2900B Spyder
Evolving from the successful 1936 8C 2900A, the 2900B is the highly cultured son of the grand champion athlete. Hidden under the long and graceful hood lives an engine with a racing heritage. The 2900 cc straight eight cylinder supercharged masterpiece features dual camshafts, dual magnetos and dry sump oiling. Despite reduced compression compared to 2900A, it still produces an astounding 180 horsepower, delivered through a four-speed gearbox.

Two of Italy's finest designers provided appropriate coachwork for the 2900B, Carrozzeria Touring and Stabilimenti Farina. Only thirty examples were produced and each is somewhat unique.
By Daniel Vaughan | Oct 2006
For more information and related vehicles, click
here
PEBBLE BEACH CONCOURS D'ELEGANCE AND PEBBLE BEACH TOUR D'ELEGANCE PRESENTED BY ROLEX
CLASSIC MASTERPIECES ON TRACK AND FIELD The Monterey Classic Car Week is one of those rendezvous moments: a must genuine must-do in a world seemingly full of unique and iconic events. The week features concours, tours, racing and auctions; it offers something for everyone interested in the history of the automobile or, indeed, society, given the impact the car has had in its century or so of popular appeal. In 2014, four events stood out head and shoulders above the other happenings....[Read more...]
The Trident is Raised
One of Italy's most famous marks, and perhaps most troubled, the trident-bearing automaker continues to provoke passion through its search of excellence. Five brothers would come together in December of 1914 to found a motor company bearing their name—Maserati. Alfieri, Bindo, Carlo, Ettore and Ernesto had all demonstrated a passion for automobiles, particularly racing, during those early years at the turn of the 20th century. The foundations of the company would actually begin ...[Read more...]
1982 German Grand Prix: Unfortunate Fortuity and Great Loss
On the podium at Imola in late-April of 1982, the look on Gilles Villeneuve's face would speak volumes. Then there would be the tragic events at Zolder just a couple of weeks later. But while many would want to point fingers at Villeneuve's teammate, the sad fact of the matter is that Didier Pironi and Gilles would compliment each other in so many ways that it would be inevitable there would be friction, perhaps even a collision. In fact, they were so connected, so complimentary of each other, t...[Read more...]
Talk on racing legend Nuvolari set for Nov. 2 at IMRRC
WATKINS GLEN, N.Y. (Oct. 18, 2013) - Legendary Italian racer Tazio Nuvolari will be the subject of a Center Conversations talk on Saturday, Nov. 2, at the International Motor Racing Research Center in Watkins Glen, N.Y. Long fascinated with Nuvolari, Joe Tierno of Honeoye Falls, N.Y., will highlight his free talk, 'Tazio Nuvolari: His Life and Times,' with photographs and film to illustrate Nuvolari's career and the world in which he became a champion. The talk begins at 1 p.m. ...[Read more...]
Home again: the last Auto Union Type D twin-supercharger Silver Arrow returns to Audi
• Audi Tradition buys back the second 'Karassik restoration' car
• Auto Union Type D built in 1939, then lost in the USSR for many years
• Thomas Frank, Head of Audi Tradition: 'One of the most emotional moments in our heritage work for AUDI AG'
'This is one of the most emotional moments in our heritage work for AUDI AG – we have come full circle,' says Thomas Frank, Head of Audi Tradition. A few weeks ago, the car manufacturer was able to repurchase an extremely rare...[Read more...]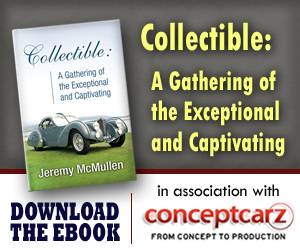 © 1998-2014. All rights reserved. The material may not be published, broadcast, rewritten, or redistributed.