Image credits: © Cadillac. GM Corp.
1934 Cadillac 452D V16 news, pictures, specifications, and information

Tweet
The Cadillac V-16 was Cadillac's top-of-the-line car from its January 1930 launch until production ceased in 1940 as the war in Europe hurt sales. All were finished to custom order, an the model was built in very small numbers; only 4,076 cars were constructed in the eleven years the model was offered. The majority of these were built in the single years of 1930, before the Great Depression really took hold. This was the first V-16 powered car to reach production status in the United States.

The 1934 catalog listed 52 Cadillac V16 body styles, yet only 56 were produced.

This one and only example of outstanding American coachwork by Fleetwood is the graceful 1934 Victoria Styled Convertible Coupe. Long, sleek and perfectly proportioned in every detail, these Cadillacs were the largest cars produced in the U.S. at that time. The 21-foot 6-inch vehicle rides on a 154 inch wheelbase, is powered by the V16 engine producing 185 horsepower, coupled to a three-speed synchromesh transmission and weighs 6,100 pounds. Other

This Cadillac features telescopic bumpers, bumper guards, wheel shields, Delco master radio and a V-16 185 horsepower engine with a 3-speed synchromesh transmission (a Cadillac invention in 1927).

The original owner shipped this Cadillac to Paris, France several times on extended trips. This car also holds the honor of being the centerfold of the GM book, 'The First 75 Years of Transportation Products.'
The Cadillac 452D was designed by the legendary Harley Earl and was first debuted at the 1933 Chicago World Fair. It was powered by a V-16 engine placed in the front and powering the rear wheels. Large 15 inch mechanical drum brakes were placed on all four corners and the transmission was selective synchromesh transmission with three gears.

The V-16 Cadillac was the company's top-of-the-line car until production ceased in 1940. In total, there were just 4,076 examples built during the eleven years the model was offered. Most of the Sixteen's were built in the single year of 1930 before the Great Depression really took hold. For 1933, the boxy looks of the Twenties were giving way to the streamlined look of the Thirties featuring flowing, fully skirted fenders and graceful vee'd grilles with painted shells blending into the bodywork. The V16s featured a longer 149-inch wheelbase, unique grille, a larger 'Goddess' hood ornament and massive 'four-bar' bumpers. These cars were serially numbered with the owner's name displayed on a plate inside the car.

Twenty examples of this Convertible Sedan body style were produced from 1934 to 1937. The twin bi-plane style bumpers were only offered in 1934. This car rides on a 154-inche wheelbase, is 240-inches long (the longest of any American car) and weighed 6,800 pounds. Power is from the 452 cubic-inch engine produced 165 horsepower. Base price for this car in 1934 was $8,150.

This particular car was built for DuPont heiress, Edith duPont-Reigel, when she was just 21 years old. Her inheritance had placed her on Forbes list of the 400 richest Americans. The current owner acquired the car in 2007 from a family who owned it for 44 years. A restoration to its original color was completed in 2008.
Depending on coachwork, the 452 Cadillac's could reach a top speed of 100 mph. They had massive amounts of torque, smooth acceleration and quiet ride. This large engine was used to carry the equally large coachwork, resting on a platform that measured 154-inches. There was a long list of body-styles with one of the more exclusive versions being the five-passenger Aerodynamic Coupe with style number 5799.

The Aerodynamic Coupe design was created by Harley Earl's Art and Color Section of General Motors. It was a fastback coupe design that was first seen at the 1933 Chicago World's Fair. It featured teardrop fenders, a slanted windshield, all-steel roof and a hidden spare tire.

There were only eight examples of the five-passenger Aerodynamic Coupes created between 1934 and 1937. Three were built in 1934. This vehicle, with chassis number 5100034 was the final example created in 1934.

During the Second World War, this car was relegated to use as a beer delivery truck. It was later sold to William T. Walter Sr. of Drexel Hill, Pennsylvania who retained the car until 1984.

It was treated to a comprehensive restoration a few years ago which still shows well in modern times. In 2007 it was offered for sale at the Gooding & Company auction where it was estimated to sell for $750,000 - $950,000. Those estimates were proven nearly accurate as the lot was sold for $616,000 including buyer's premium.
By Daniel Vaughan | May 2008
Only 56 Cadillac V16s were built during 1934 and this is one of the most unique and unusual. The 154-inch wheelbase offered what has to be the most substantial underpinning for a two-passenger coupe, but the result is a car that exudes an almost sinister elegance. This coupe is one of the rarest styles known to survive from 1934.
Designed for the Edgewater Beach Hotel Auto Show, Chicago Il, this automobile was purchased from the floor of the General Motors Rotunda at the 1933-1934 Chicago World's Fair. Originally owned by the Williams family, of Western and Southern Life Insurance, this Cadillac has been locally owned since new.

This automoible is one of five Convertible Sedans built in the 1934 year and the only one manufactured with the modern feature of the spare tire being concealed in the trunk.

The Sixteen Cylinder engine was one of Cadilalcs crowning achievements, a 452 cubic-inch, 185 horsepower marvel.
In 1934, Fleetwood Coachbuilders, by then a division of Cadillac, published its 'Annual Book of Fleetwood' in which were featured three custom designs that could be built on a 16-cylinder chassis by special order. This was an attempt to bolster very weak sales through those depression years, but due to the economic and social woes of that era, none were built.

Thinking this to be one of the great styling achievements in American cars, Sam Mann decided to build this car. He made full-size drawings using a published Fleetwood rendering as reference and designed all the details, which were not apparent. Starting with a V-16 sedan as a donor car, the body was fabricated in England then shipped back to Mann for restoration. The five-year project was completed in 1998.
Carrozzeria, Italian meaning coachbuilder, is an individual or company that bodies carriages or automobiles. The name in German is Karosserie. These skills were needed during the early part of the 1900's to fabricate enclosures for rolling chassis. The materials used were mostly wooden or metal. As the evolution of automobile production evolved, manufacturers brought the design and development in-house, making individual coachbuilders a dying breed.

Unibody construction has mostly eliminated the need for coachbuilders. Many coachbuilders were purchased or merged by the automobile manufacturers. Others became highly specialized and worked on a contract basis, mostly for high priced, luxury automobiles.

Fleetwood Metal Body was a coachbuilder during the early 1900s. The name is from Fleetwood, Pennsylvania the birthplace of the company. They specialized in the production of wood and metal bodies. They were large and luxurious and often purchased by the rich and famous. Fleetwood was purchased by Fisher Body in 1925 and integrated into General Motors in 1931.

The luxury segment of General Motors was Cadillac, so it was only natural that Fleetwood would aide in the design and creation of bodies for the Cadillac marque. In 1927 the name appeared on Cadillac's representing their top of the line vehicles. In 1946 Cadillac offered an upscale version of its Series 60, dubbed the Series 60 Special Fleetwood. The name was later used on the Series 70 and Sixty Special models through 1976. The name continued to appear on Cadillac vehicles as late as 1996.
By Daniel Vaughan | Dec 2012
Mr. Thomas H.W. Stonborough placed an order for a new 1934 Cadillac V-16 through the New York Cadillac agency. Specified with Fleetwood style number 5780, the V-16 was completed as a five-passenger convertible sedan with a Vee'd windscreen and divider between the passenger compartments and the driver. The car was finished in brown and given a black Victoria leather top and custom ordered with a silver 'goddess' mascot. Mr. Stonborough paid approximately $7,850 car, which was retained as a chauffeur-drive conveyance during summer months.

After World War II, Mr. Stonborough returned to Europe, presumably selling the Cadillac prior to his departure. In 1949, the car was purchased by Archie Marcotte who drove it home to Dickinson, North Dakota. With the help of his friend Richard Wehner, he removed the 16-cylinder engine and began to construct a race car around the powerplant. First he used a 1937 Ford chassis and later a custom-built tubular frame. Trying to get even more horsepower from the engine, Marcotte replaced the stock camshaft with a three-quarter race cam from the Los Angeles, California, performance equipment company Harmon and Collins, Inc. He installed a special intake manifold with eight Stromberg 97s. He fabricated a streamlined, sheet metal exterior and dubbed the Cadillac-powered special, the 'Sweet Sixteen.'
The Cadillac, now without an engine, was given a Mercury flathead V-8 and was used by Marcotte as his primary tow vehicle. Marcotte later moved to Glendive, Montana and later lost interest in his various race car project. The Convertible Sedan and Sweet Sixteen later changed hands, though the pair always remained side-by-side.

The current owner purchased both vehicles in 1974. Over the next two decades he collected many original parts and spares. In the late 1990s, a Pebble Beach quality restoration began. The engine was returned to its correct factory specifications and reunited with the Cadillac chassis. As work was nearing completion, the owner received an invitation to display the V-16 at Pebble Beach, not as a complete car but as a fully restored, rolling chassis. In August of 2001, the Stonborough V-16 Cadillac made its concours debut at Pebble Beach. After the show, the rest of the restoration work was completed.

In August of 2009, the V-16 made its second appearance on the lawn at Pebble Beach, this time as a fully restored, complete automobile. It was in the Class C-2: American Classic Open 1933-1941 where it earned Second in Class honors. It later earned Best in Class honors at the Kirkland Concours d'Elegance and most recently a CCCA First Prize, scoring 100 points.

In 2012, the car was offered for sale at the Gooding & Company auction held in Pebble Beach, California. It was estimated to sell for $500,000 - $650,000. As bidding came to a close, the car had been sold for the sum of $550,000, inclusive of buyer's premium.
By Daniel Vaughan | Dec 2012
Henry Martin Leland and his son Wilfred were partly responsible with making Cadillac one of the finest of all American Automobiles. Henry was renowned for his precision engineering and for standardizing manufacturing. He helped make Cadillac into one of the finest of all American Automobiles. Later, he founded Lincoln. Even after the Leland's departed from Cadillac, the marque remained a top-of-the-line figure.

Cadillac did not rely on four- or six-cylinder power. Every one of the company's cars was fitted with a V engine of 8, 12 or 16 cylinders. They were smooth and powerful.

During the late 1920s, the cylinder race was in full force. Cadillac's engineer Owen Knacker was tasked with developing a V16 engine that would keep Cadillac at the fore-front of the race. Their hopes were to displace Packard at the top of the luxury car market.

From 1930 through 1940 Cadillac produced a monsterous sixteen-cylinder engine. It was first displayed to the automotive community at the Detroit Opera House prior to the Detroit Auto Show. This was the largest number of cylinders to power an automobile of all time. The hood that housed the engine was intimidating, larger and longer than any other vehicle. Up to this point, there were only a few manufacturers that produced a twelve-cylinder engine, mechanical achievements in their own right. The introduction of the sixteen-cylinder engine was historical and seen as revolutionary at the time.

Up to the 1990's there have only been three manufacturers of a sixteen cylinder engine. The Bugatti Type 47 never made series production while the Marmon Corporation offering was short lived. In comparison, the Marmon built V-16 was more powerful. By using aluminum, the 491 cubic-inch engine with its overhead values weighed just over 900 pounds. The engine was formed by merging twin-eight cylinder engines in a 45-degree angle, giving the engine an impressive look and an astonishing 200 horsepower. The use of steel cylinder sleeves added to the longevity and durability of the engine. The V-16 engine earned Howard Marmon the Society of Automotive Engineers annual design award.

The Cadillac V-16 was the first and remained in production for eleven years.

A new sixteen-cylinder engine was introduced by Cadillac in 1938. This was not their first V16 enigne; their first had been designed by engineer, Owen Nacker of Marmon fame. It had an overhead valve design and mounted at a 45-degree to one another. Each back of the sixteen cylinders had their own exhaust and fuel system. The engine featured hydraulic valve adjusters that helped with the silent valve train operation. The exterior of the engine was equally as impressive, with all the wiring and hoses concealed under cover and finished in chrome, polished aluminum, porcelain and baked enamel. The result was a 452 cubic-inch engine that was nearly unmatched in the industry at the time.

A V12 version followed shortly after the introduction of the V16; it displaced 368 cubic-inches and was basically three-quarters of a V16. Both of these engines remained in production through 1937. The V12 did not resume production for 1938. A new engine was introduced in 1938 and that very different than its predecessors. It was an L-head design, cast in a 135-degree vee, and featured a monobloc design. The was easier and more economical to manfacutre and it weighed 250 pounds less, had 21 fewer cubic-inches, but developed the same power.

The V12 engine was used to power the Series 85 for 1937. The Series 75 and Series 85 were the same vehicle, with the exception of the powerplant. The Series 75 used a V8 engine. In 1938 the V12 was discontinued, and the V16 took its place. The sixteen-cylinder cars were shortened to a length similar to the Series 75, and the chassis and bodies were interchangeable.

There were twelve bodystyles available, including coupes, convertible coupes, and sedans, as well as the larger seven-passenger sedans and limousines. These larger vehicles were called Formal Sedans or Imperial sedans depending on whether they had a division partition.

The Series 90 experienced its best year in 1938 with 315 examples built. The five-passenger Touring Sedan was the most popular, with 41 sold.

In 1939, the front of the V8 Cadillacs were midly updated. The grille was raked back and the headlights were now mounted to the nose and flush with the top of the grille. Chrome moldings were added to the running boards and the fender ornamentaion was now fully chromed. The rear license plate was moved from the left fender to the trunk lid.

There were a total of 138 V16 cars produced in 1939. Few changes or modifications to the car followed for 1940. A total of 61 V16 cars were built this would be the final year for their production. A total of 4,400 examples were built over an eleven year period.
By Daniel Vaughan | May 2008
For more information and related vehicles, click
here
NEW WORLD RECORD SET WITH THE NISSAN LEAF IN THE LEAD
CUPERTINO, Calif. – California has witnessed the world's largest ever parade of electric vehicles (EVs), 507 cars in one place ... and most were Nissan LEAFs. This new record was set during Plug-in America's National Drive Electric Week, at a time when EV sales continue to climb for Nissan. 'We are currently at around 61,000 sales in the United States since the launch of LEAF four years ago. It is number one in the market (and) number one in the world. It is a natural fit for an opport...[Read more...]
RARE COLLECTOR VEHICLES ADDED TO UPCOMING AUCTIONS AMERICA CALIFORNIA SALE
• Auctions America's three-day sale returns to Burbank, California July 31 – August 2
• Early auction highlights include a 1967 Shelby Mustang Group II Notchback, a 1953 Ferrari 250 Europa by Pinin Farina, and a 1960 Mercedes-Benz 300SL Roadster
• Exclusive, live television coverage of the sale to air on NBCSN (NBC Sports Network), August 1-2
• Frequently updated list of entries available online at auctionsamerica.com
AUBURN, Indiana (June 11, 2014)– Af...[Read more...]
LONDON TAXI DRIVERS AND BORIS JOHNSON ARE FIRST TO TEST DRIVE ALL-NEW ZERO-EMISSIONS METROCAB
◾Leading London taxi associations evaluate and drive the new Metrocab for first time ◾London Mayor Boris Johnson dubs it 'a masterpiece of British engineering' ◾Production versions to be trialled in London during summer 2014 Mytchett, Surrey, UK: April 2014 – The all-new British-built and engineered Range Extended Electric (REE) Metrocab has been tested for the first time by London's taxi drivers and Mayor Boris Johnson. Licensed Taxi Drivers Association (LTDA) General Secretary S...[Read more...]
Expert Symposium Delivered to Packed Room Ahead of 'Art of the Automobile' New York Sale
• RM Auctions and Sotheby's deliver highly outstanding expert symposium to more than 700 people • Six hugely influential and respected specialists set the scene in advance of truly groundbreaking Art of The Automobile sale • Anticipation building for what is being regarded as one of the finest and most innovative collector car auctions ever held NEW YORK, New York (November 20, 2013) – The eyes of the collector car community are firmly fixed on New York, as RM Auctions and Sotheby's,...[Read more...]
Joe Bortz to Host Historic Dream Car Discussion Panel
Dream car collector and historian Joe Bortz has prepared a special treat for participants at the 40th Annual Pontiac-Oakland Club International Convention in St. Charles Illinois, this coming July 17-21. In addition to bringing his four historic Pontiac Dream Cars, he has also assembled a panel, conisisting of two noted designers, a retired engineer and two veteran authors to examine the topic of Pontiac's early concept vehicles. The panel discussion will be held on Friday, July 20th at 1...[Read more...]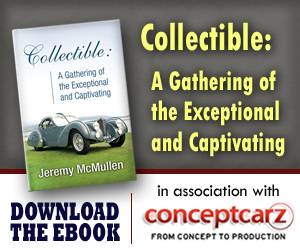 Similarly Priced Vehicles from 1934
Packard 1108 Twelve ($4,200-$14,000)
Packard 1106 Twelve ($7,750-$7,800)
Packard Twelve ($4,590-$6,800)
Lincoln Model KB Series 271 ($4,205-$6,805)
Duesenberg Model J ($8,500-$8,500)
Packard 1105 Super Eight ($3,300-$7,060)

Average Auction Sale: $529,320
Cadillac
Monthly Sales Figures
Volume
December 2014
16,150
November 2014
13,148
October 2014
13,615
September 2014
13,829
August 2014
16,650
July 2014
15,241
June 2014
13,941
May 2014
14,688
April 2014
13,900
March 2014
14,765
February 2014
13,437
January 2014
11,386
(More Details)
© 1998-2014. All rights reserved. The material may not be published, broadcast, rewritten, or redistributed.