1954 Chrysler GS-1 Ghia news, pictures, specifications, and information

Tweet
Based on the 1953 Thomas Special Chrysler Ghia, the Chrysler Ghia GS-1 cars were designed by Virgil Exner at Chrysler and built by Carrozzeria Ghia in Turin during the mid-1950s. A production run of 400 was the target, but in fact only 12 were ever built - and all were slightly different.

This example has quad-headlights and an unusual hood treatment. Virgil Exner transformed what was a modified show car into a limited-edition grand tourer. The GS Specials were built on a New Yorker chassis with a 125.5-inch wheelbase. A Chrysler 331 cubic-inch 'hemi-head' V8 with the new PowerFlite two-speed automatic transmission made up the power train.
During the early years of automobile production, especially in Europe, it was not uncommon for an automobile maker to supply only the chassis and mechanics. Custom coachbuilders were tasked with creating the bodies often building to meet customer specifications, resulting in truly unique creations. By the 1940's, this practice had all but vanished in the United States. In Europe it was still being utilized by companies such as Ferrari.

In 1950 Chrysler Corporation approached Finin Farina, one of the more reputable custom coachbuilders, to produce a prototype body. Negotiation did not progress fruitfully, so Chrysler tasked Carrozzeria Ghia of Turin in 1951 to build a series of cars based on designs by Virgil Exner, Chrysler's chief stylist. This transatlantic agreement between Ghia and Chrysler lasted for fifteen years.

In 1954, the limited production Chrysler Ghia GS-1 coupe was introduced. They were sold exclusively in Europe by Societe France Motors. The vehicle was built atop a Chrysler 125.5 inch chassis, the same used on most of the Chrysler automobiles. Power was supplied by a 180 horsepower Chrysler Hemi V8 engine. The vehicles were equipped with either a Fluid Torque transmission or the newer PowerFlite two-speed automatic.
By Daniel Vaughan | Oct 2005
For more information and related vehicles, click
here
RARE REUNION: CHRYSLER CONCEPT CARS GATHER AT AMELIA, 2014
Nine rare and important Chrysler Concept Cars from the forties, fifties and sixties will be presented together for the first time at the 19th annual Amelia Island Concours d'Elegance on March 9, 2014. From the two-seat Chrysler Thunderbolt roadster and the dual-cowl Chrysler Newport of 1941 through the radical 1963 Chrysler Turbine car, Amelia's Chrysler Concept Car Class shows the genesis of the styling and engineering philosophy that summoned Chrysler's industry-changing 'Forward Look...[Read more...]
RARE CHRYSLER LA COMTESSE CONCEPT APPEARS AT AMELIA 2014
After decades in obscurity Chrysler's La Comtesse Concept Car will re-debut at the 19th annual Amelia Island Concours d'Elegance on March 9, 2014. The Fifties introduced new automotive chemical and paint technologies that helped summon a sea change in the way cars were purchased. It was a subtle component of Detroit's marketing equation, but color had risen near the top of the car buyer's priority list. The important fact was that women invariably chose the color of the new family car....[Read more...]
RM Auctions and Sotheby's Stun the Market with Incredible $63 Million 'Art of the Automobile' Sale in New York
• RM Auctions and Sotheby's momentous Art of the Automobile auction generates $62,797,500 of sales in two hours of furious bidding • Records tumble with the historic 1964 Ferrari 250 LM by Carrozzeria Scaglietti achieving $14,300,000 while the stunning 1938 Talbot-Lago T150-C SS Teardrop Cabriolet by Figoni et Falaschi sells for $7,150,000 • 93 percent of all lots sold to an international audience of bidders representing 17 countries • Full results are available online at www.rmauctions.c...[Read more...]
Crowd Shakers And History Makers At Mecum's Chicago Auction Oct. 10-12
• Hemi Under Glass Collection and Harley J. Earl Corvette Part of 1,000-Car Lineup
Walworth, WI - September 16, 2013 -- Mecum Auctions is taking the gavel to Chicagoland this Oct. 10-12 with 1,000 vehicles expected to cross the block at the breathtaking Schaumburg Convention Center. The lineup is already fraught with headline-worthy consignments including the most famous wheel-standers in drag racing history– the Hurst Hemi Under Glass Collection – as well as the one-of-a-kind,...[Read more...]
Volkswagen Celebrates 60 Years Of The Karmann Ghia
◾Volkswagen Karmann Ghia prototype shown internally in 1953 ◾Osnabrück-made sportster started the Volkswagen brand's move upmarket Wolfsburg, August 20, 2013 – Thanks to the Karmann Ghia, Volkswagen had a car in the mid-1950s in its line-up that was positioned above the Beetle, allowing the company to appeal to a broader customer base. It is now 60 years since that prototype was shown internally, on the occasion of the Paris Motor Show. The car went into full production in 1955. Today...[Read more...]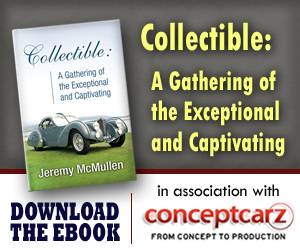 Chrysler
Monthly Sales Figures
Volume
November 2014
27,243
October 2014
27,546
September 2014
28,781
August 2014
29,762
July 2014
23,455
June 2014
24,026
May 2014
22,592
April 2014
21,967
March 2014
26,140
February 2014
25,230
January 2014
21,113
December 2013
20,270
(More Details)
© 1998-2014. All rights reserved. The material may not be published, broadcast, rewritten, or redistributed.