Image credits: © Alfa Romeo.
1968 Alfa Romeo Tipo 33/2 news, pictures, specifications, and information

Tweet
By the mid-1960s, Alfa Romeo had returned to GT racing and appeared poised to reclaim its place of prominence amongst the motor racing world, a place it once held with its 158/159 single-seater grand prix cars throughout the late 1940s and into the first couple of years of the '50s decade. In charge of heading up the assault would be the Autodelta team directed by chief engineer Carlo Chiti.

By 1968, Chiti had an idea for an 'all-new' design that would compose Alfa's main thrust in endurance racing. Utilizing the H-shape that had been first debuted in 1967, Chiti would set about designing a chassis that was totally different than the previous couple of years. And by the end of '67 this new chassis would take to the track for testing and being readied for the 1968 season that was rapidly approaching.

The car Chiti had designed would become known as the Tipo 33/2. The car would feature elegantly flowing lines at the front of the chassis and stout looks toward the back. Of course, one of the most prominent features would be the radiator sidepods that would extend out of either side of the car.

The beautiful coupe bodies would be ready in time for the 24 Hours of Daytona. When the short-tailed version of the car arrived for the race it would receive the name 'Daytona'. Making use of its 270 bhp 2.0-liter engine, three 33/2 'Daytona' would sweep the 2.0-liter P-class and would finish 5th, 6th and 7th overall. This would be followed up with another sweep of the P2.0 class and a 4th, 5th and 6th place finish overall at the 24 Hours of Le Mans. All in all, the Tipo 33/2 would be a very successful car for Alfa Romeo and seemed to signal the manufacturer's return to form.

One of those Tipo 33/2 'Daytona' sports racers that would take part in the 1968 season would be 75033.029. While much of the records surrounding Alfa Romeo chassis of that period remain relatively unknown, this particular chassis being offered at the 2012 RM Auctions in Monaco would have a lot of history known about it.

Of the twenty or so believed to be built, 75033.029's race history would be able to be confirmed through race entry forms and other such diaries kept by people like Teodoro Zeccoli who did most of the testing. And since the certainly surrounding the car is relatively high its place in Alfa Romeo history is unquestionable, and therefore, its value, especially to Alfa's beloved fans, only grows.

Still, much about 029 is up for debate. While it is known the car would take part in the 500km of Imola, a non-championship event held in September of '68, it would be unclear some of the other races in which the car had, for sure, taken part.

Nonetheless, at Imola the car would be driven by Nino Vaccarella and Teodoro Zeccoli to an overall victory despite Galli and Giunti having set the pace throughout practice and the early part of the race.

This result, and a comment by Vaccarella, would have many investigators believing 029 had also been used back in July of that year to win the Circuit of Mugello. If this were to be true, 029 would have helped Alfa Romeo earn its best result since its one, two, three sweep of the P2.0 category at the 24 Hours of Daytona.

Autodelta was developing a 3.0-liter car for the 1969 season. As a result of this, a few of the 2.0-liter 33/2 chassis would be sold to interested privateers. Fortunately for 029, it would be one of those that would be sold. The car would be sold to Antonio Zadra who would race it along with friend Giuseppe Dalla Torre.

Zadra and Dalla Torre would enter the car in the 1969 1000km of Monza and would come away with a 10th place overall finish and a victory in the P2.0 class. If some of the claims concerning the car are correct, this would have made at least three victories for chassis 029. Then, in the Austrian 1000km, amongst the new Tipo 33/3s, Zadra and Dalla Torre would end up being the only Alfa Romeo to finish the race. They would finish 17th overall.

029 would continue to compete well into the early 1970s. It would compete in races throughout Europe and would even enjoy a stint in the United States in the 1980s before it returned to Europe where it would be found by Paul and Matt Grist.

Paul and Matt Grist would set about restoring the car and would end up entering it in a number of historic races and events including the French Tour Auto. Taking up its place in historic motor races 029's drivers would find it very surprising. In fact, it owner would comment saying, 'It's well-sorted and blindingly fast for an 8 cylinder 2.0-liter.'

Perhaps easily regarded as the best looking of Alfa Romeo's design running between 1966 through to 1977, the Tipo 33/2, with its elegantly shaped and flowing front end countered by a square and stout backend, offers the paradox many only come to realize when they sit behind the wheel and drive it.

As Classic and Sports Car would attest, 'Once you're in the groove, it has a lightness of touch not unlike that of a Grand Prix racer.' And while all Alfa Romeos models have a place in the heart of Alfa aficionados, the Tipo 33/2, with its truly aggressive looks certainly has the ability to win over the most ardent of detractors. And given the rare known history of 029's racing heritage, and even some of the questionable historical achievements, the value of this particular chassis to any serious racing collection would be hard to underestimate. This is why it would go on to garner 1,008,000 EUR at auction.

Sources:
'Lot No. 333: 1968 Alfa Romeo Tipo 33/2 'Daytona'', (http://www.rmauctions.com/CarDetails.cfm?SaleCode=MC12&CarID=r303&Currency=EUR). RM Auctions. http://www.rmauctions.com/CarDetails.cfm?SaleCode=MC12&CarID=r303&Currency=EUR. Retrieved 14 May 2012.

'Alfa Romeo Tipo 33 (105-33)', (http://www.alfa-models.com/index.php?option=com_content&view=article&id=88&Itemid=91). Alfa-Models.com. http://www.alfa-models.com/index.php?option=com_content&view=article&id=88&Itemid=91. Retrieved 14 May 2012.

'1968 Alfa-Romeo Tipo 33/2 News, Pictures and Information', (http://www.conceptcarz.com/vehicle/z10330/Alfa-Romeo-Tipo-33/2.aspx). Conceptcarz.com: From Concept to Production. http://www.conceptcarz.com/vehicle/z10330/Alfa-Romeo-Tipo-33/2.aspx. Retrieved 14 May 2012.

'Daytona 24 Hours 1968: Race Results', (http://www.racingsportscars.com/results/Daytona-1968-02-04.html). Racing Sports Cars. http://www.racingsportscars.com/results/Daytona-1968-02-04.html. Retrieved 14 May 2012.

'Le Mans 24 Hours 1968: Race Results', (http://www.racingsportscars.com/results/Le_Mans-1968-09-29.html). Racing Sports Cars. http://www.racingsportscars.com/results/Le_Mans-1968-09-29.html. Retrieved 14 May 2012.
By Jeremy McMullen
For 1967, Chiti produced the Tipo 33 with a 1995 cc 90-degree V-8 engine, designed by Alfa Romeo engineers Orazio Satta and Giuseppe Busso. Only 4 were ever constructed.
The engine is of light alloy construction throughout, with twin overhead camshafts per bank of cylinders, Lucas fuel injection and a power output of 260 hp at 9000 rpm, a very competitive figure for the time. The engine is mounted at the rear between two projecting magnesium-alloy members linked by a fabricated sheet-steel metal section that carries the rear suspension. The transmission was by a 6-speed gearbox. Ventilated disc brakes were fitted front and rear, with those at the rear mounted inboard.

The cars were plagued with reliability problems and two drivers were killed while testing. The Tipo 33 ran only a few races during the 1967 season and the only win was at an unimportant Bettojia Trophy race on the Vallelunga circuit at Rome.

By 1968 the 33/2 had been improved and was now a serious contender. A 33/2 finished second a Daytona and took a clean sweep in its class at Le Mans en route to finishing fourth, fifth and sixth overall.
By Daniel Vaughan | Oct 2005
| | | |
| --- | --- | --- |
| | | LeMans Coupe |
The Tipo 33/2 model was built by Alfa Romeo between 1967 and 1969, and this chassis is the most significant of its type. It achieved class wins at LeMans, Targa Florio, Nurburgring and Imola during the 1968 season, and was part of the three car Autodelta team that placed 1st, 2nd, and 3rd at Daytona in 1968. The engine is a mid-mounted, two-liter V8 with 260 horsepower at 8800 rpm. The car has the classic LeMans long tail design with vertical fins and downforce stabilizers in the front. After its competitive life ended, the car was placed in a French museum where it remained for 20 years and was then bought by its current owner.
LeMans Coupe
Chassis Num: 015

In 1967 Carlo Chiti, working for Alfa Romeo and Autodelta designed the T33/2 to compete with the dominating Porsche 910's.

Local hero Nino Vaccarella and Udo Schutz ran the Targa Florio and Vaccarella had the car in second place behind Scarfiotti's Porsche 907 when he handed over to Schutz. That second might have translated into a win because the Porsche was soon to retire, but Vaccarella forgot to warn his co-driver of a patch of loose gravel about eight miles from the pits. It caught Schutz unaware and the car ended up in the wall.

In the Nurburgring 100kms it was driven by Schutz and Lucien Bianchi. There it proved stiff opposition to the works Porsches until delayed by a broken alternator belt - it finally finished seventh. A fourth place followed in the Austrian GP and then won at Mugello, a World Championship round in 1968, driven by Vaccarella, Bianchi and Ignazio Giunti.

The car raced a further six times in 1969, at Monza, in the Targa Florio, the Spa 1000kms, the Nurburgring 1000kms, in the Austrian GP and at LeMans. By this time the works was usually fielding 3-liter cars, but it finished 6th at Spa and 8th at Monza.
The Alfa Romeo Tipo 33 name was used from 1967 through 1977 for Alfa Romeo sports racing prototypes and even a few road going cars. Alfa Romeo's history in sports car racing goes back to pre-World War vintage. They legacy continued in 1950 and 1951 as they won the first two Formula 1 World Championships. After this accomplishment, they retired from racing to focus on the production of road-going vehicles. Their absence from racing would be only for a short time, as their Zagato-bodied TZ1 was introduced in 1963. Its light alloy body, tubular frame, disc brakes, and independent suspension gave the vehicle superior handling and performance. The work had been managed by Carlo Chiti of Autodelta, a new competition department formed by Alfa Romeo. The Giula 1600 GTA soon followed and was a dominate force at many of their racing expeditions.

During the early 1960s, Alfa Romeo began designing a new racer which was given the codename '105.33'. The designs were later sent to Autodelta for further development. The '105' was later dropped and the vehicle became known as the '33' when it was introduced for the 1967 season. As the iterations of the Tipo 33 evolved, the names of the original cars became known as the '33/2', with the '2' representing their two-liter engines. Mounted mid-ship was a quad-cam V8 engine that was highly tuned to produce an impressive 270 horsepower. For its inaugural race at the Belgium hillclimb the Tipo 33/2 proved its potential by emerging victorious. The rest of the season was plagued by mechanical issues which made the racer unreliable.

Work and testing to evolve the Tipo 33 continued for the 1968 season. The bodywork and engine were slightly improved in an effort to resolve reliability issues and to improve the vehicles performance. Udo Schütz and Nino Vaccarella were able to navigate the 2-liter Tipo 33 at the 24 Hours of Daytona. A few other impressive victories and podium finishes followed throughout the season, but the Porsche rivals with their bigger engines often outpaced the Alfa Romeos. Alfa Romeo team finished third in the World Championship for 1968.

The Tipo 33/2 were able to secure many class victories but it was not powerful enough to contend for overall victories. Work began on a three-liter unit that would be able to contend with the competition. The V8 3-liter unit was given four valves per cylinder and adapted to an aluminum monocoque type chassis which had shrunk in size by 10 cm. At the 12 Hours of Sebring in 1969, Alfa Romeo debuted the 33/3. The racer had 400 horsepower and in the same class as the Ferrari 312P and the Porsche 908. The Alfa Romeo team would have a dismal season and often started the 33/2 in place of the 33/3.

For 1970 there were two bodystyles created, a long and short version. The long tail spider version was known as the Le Mans Spider. Worked continued to improve the vehicles reliability issues. The car was unable to contend with the dominate Porsche 917 and Ferrari 512.

In 1970 an Alfa Romeo Tipo 33/3 was in Steve McQueen's movie 'Le Mans'.

In 1971 the Tipo 33/3 was given a five-speed gearbox. Many of the issues had been resolved and the 33/3 had a rather successful season, finishing second in the Constructor's World Championship. Rolf Stommelen and Nanni Galli had driven their cars to class wins at the 1000km Buenos Aires. At Sebring, the class win victory was repeated. At the 1000km Brands Hatch, De Adamich and Pescarolo were able to outpace the Porsche 917's and secure an overall victory. Vaccarella and Hezemans won outright victories at the Targa Florio, the vehicles most impressive accomplishment of the season.

Near the close of the 1971 season, Autodelta introduced a new prototype racer dubbed the 33 TT3. The 'TT' meant Tellaio Tubulare - meaning tubular chassis for the vehicles spaceframe type chassis. Much had been learned from the prior racers and adapted to this new vehicle. The weight distribution was greatly improved by moving the driving position forward and relocating the gearbox ontop of the engine.

In 1973 a Carlo Chiti-designed 12-cylinder box engine was placed in the vehicle. Alfa Romeo's fitted with this engine were known as the 33 TT 12. With the increase in power, the Alfa Romeo team won many of the races in 1974 and by 1975 was dominating the competition. The Alfa Romeo team scored seven victories in eight championship races. They repeated their accomplishments in 1976 with the Tipo 33 SC 12.

The Tipo 33 SC 12 had a 2995cc 12-cylinder boxer engine that produced 520 horsepower. Alfa Romeo secured the Sports Car Championship in 1977. The final race of the season had been raced with a turbocharged version of the 12-cylinder engine which increased horsepower to 640.

Part of the reasons for Alfa Romeo's success with the Tipo 33 models were its continued development, excellent drivers and dwindling competition. Ferrari had left sports car racing in 1974 to compete in Formula One. FIA had added new regulations throughout the early 1970's which made formidable contenders such as the Porsche 917 and Ferrari 512 ineligible to compete.
By Daniel Vaughan | Aug 2007
For more information and related vehicles, click
here
VIC ELFORD RECEIVES RRDC'S 2015 PHIL HILL AWARD
DAYTONA BEACH, Fla. (Jan. 22, 2015) - Vic Elford, considered one of the fastest race-car drivers of the Sixties and Seventies, was honored by the Road Racing Drivers Club with the 2015 Phil Hill Award. RRDC president Bobby Rahal made the presentation at a dinner prior to the running of the Rolex 24 At Daytona, the season opener of the 2015 TUDOR United SportsCar Championship. The Phil Hill Award has been presented annually since 1993 to the person who the RRDC feels has rendered outsta...[Read more...]
Luigi Musso: Talented, Tempting and Troubled
Following Alberto Ascari's back-to-back titles in 1952 and 1953 there have been no Italian Formula One World Champions. While there has been a great amount of hope throughout the years, Italians have been left without a World Champion. Perhaps, it could be argued, all such hopes died with Luigi Musso on the 6th of July in 1958. Since Ascari there have certainly been some notable Italian drivers within Formula One history books. Such names as Michele Alboreto, Elio de Angelis, Alex Zanardi, Ri...[Read more...]
ROLEX MONTEREY MOTORSPORTS REUNION : LA DOLCE VITA
There is a direct translation for 'the good life' in just about every language, and today la dolce vita pervaded the air at practice sessions for the Rolex Monterey Motorsport Reunion where Italian car manufacturer Maserati, celebrating its 100th anniversary, is this year's distinguished marque. Nearly 550 authentic and historic race cars, split into 15 different competition groups, roared through the turns and straights of Mazda Raceway Laguna Seca, warming up for weekend racing that will dete...[Read more...]
NISMO TURNS UP INTENSITY TO 11 AND VOWS TO EAT, SLEEP, RACE AND REPEAT THIS SUMMER
◾Nissan's performance arm, NISMO, asks fans to join them on a non-stop journey of #eatsleepRACErepeat ◾Intense summer of racing highlights the huge diversity of Nissan's global motorsport program and celebrates 30 years of NISMO ◾Nissan remixes famous dance tune to celebrate #eatsleepRACErepeat, to be released this Friday during major motorsport announcement LONDON – On any given Sunday, NISMO competes across the globe in an intense schedule of events. The next six weeks turn that in...[Read more...]
CREDIT SUISSE CREATES MEMORABLE MOMENTS AT THE 2014 GRAND PRIX DE MONACO HISTORIQUE
◾Credit Suisse celebrated the 10th anniversary of its Classic Car Program by creating many memorable moments at the 9th Grand Prix de Monaco Historique from May 9-11, 2014 ◾A strongly attended 4th Credit Suisse Historic Racing Forum saw a star line-up of racing driver panelists – Sir Stirling Moss, Derek Bell, Jochen Mass and Romain Dumas – discussing the theme of 'Dream Circuits' in the Credit Suisse Drivers Club ◾Sir Stirling Moss also returned to Monaco with Credit Suisse to recall his memo...[Read more...]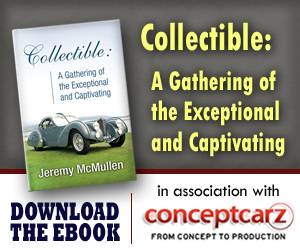 Alfa Romeo
Monthly Sales Figures
Volume
December 2014
67
November 2014
24
(More Details)
© 1998-2014. All rights reserved. The material may not be published, broadcast, rewritten, or redistributed.