1969 Plymouth GTX news, pictures, specifications, and information

Tweet
The Plymouth GTX was introduced in 1967. It was a performance machine that had reliability and a standard 440 cubic-inch V8 engine offering 375 horsepower. It was based on Plymouth's two-door Belvedere hardtop and convertible, with subtle performance cues such as a special grille and tail panel, simulated hood scoops and a 'pit stop' chrome gas cap.

The GTX was updated in 1969 from all the updates to the intermediate Belvedere line that year as well as well as a heavy duty battery, exhaust trumpets, red or white reflective stripes, a performance cam, big valve and ports, a heavy-duty Torqueflite transmission and heavy-duty underpinnings.

This 1969 Plymouth GTX has been in the same ownership for 28 years before it was acquired by the current owner in the mid-2000s. There is a 440 cubic-inch V8 engine mated to an automatic transmission and produces about 375 horsepower. There were only about 700 GTX Convertibles built for 1969, as compared to nearly 15,000 GTX Coupes. There are options such as power steering, power brakes, factory AM/FM radio, Air Grabber hood and a factory tachometer.

In 2009, it was offered for sale at the Vintage Motor Cars of Meadow Brook presented by RM Auctions. It was estimated to sell for $50,000 - $75,000 and offered without reserve. The lot was sold for the sum of $33,550 including buyer's premium.
By Daniel Vaughan | Sep 2009
This Plymouth GTX hardtop has had only one owner from new - 41 years in the same garage. It has always been an Ohio car. It currently shows 50,421 miles on its odometer.

This GTX was built with the 440 cubic-inch V-8 motor that develops 415 horsepower. The car was ordered with the air grabber induction and radio/stripe delete. It maintains all of its original sheet metal, floor pan and glass.

The car has had one repaint since new - in the original color - and the engine was recently rebuilt. Most chrome items have been re-plated and the front seat covers and carpets have been replaced.
This Plymouth GTX Coupe is a matching numbers example that is finished in V02 factory paint with T3 Gold top and T7 bronze body. Power is from a 440 cubic-inch 4-barrel engine mated to a TorqueFlite automatic transmission. Options include a center console, power steering, tachometer, redline tires, N96 'Air Grabber' hood, tan interior with bucket seats, and a rear-window defogger.
By Daniel Vaughan | Jan 2014
In 1967 Plymouth introduced the GTX as an optional package on the Belvedere model line. The GTX was a two-door vehicle that could be purchased in either convertible or hardtop configuration. It had all the performance options pre-installed and packaged in a stylish vehicle design. The excellent handling was courteous of the leaf springs, modified shocks, ball joins, and torsion bars. Under the hood was a 440 cubic-inch eight-cylinder engine, dubbed the Super Cammando 440, producing an astonishing 375 horsepower. A 426 cubic-inch Hemi engine was optional, and boosted horsepower to 425. It cost just a little over $540 for the Hemi engine and only 720 buyers purchased this option. The three-speed automatic transmission was standard but a four-speed manual could be purchased to replace the automatic gearbox.

Plymouth offered a Super Stock R023 version that included the Hemi engine and intended for the drag strip racing circuit. To reduce weight, all non-essential items were removed including the heater, radio, and carpet. Only 55 examples were produced. The 440 was a tunable engine, still able to be driven on the street, and was not plagued with the same tire-spin that the Hemi endured.

In 1968 the GTX was modified both aesthetically and mechanically. The taillights and grill were revised and a new hood design was used in place of the former design. In the front were disc brakes. The suspension was modified, the tires became wider, and it now featured a limited slip differential. It shared many of the same mechanics as the Plymouth Road Runner, an economical, performance machine. The TorqueFlite automatic gearbox was standard but could be replaced with a four-speed manual at no-cost. Only 450 GTX's were ordered with the Hemi option, costing the $564 over the base $3355 price.

For 1969, the GTX was modified only slightly with most of the changes to the grill and taillights. The big news was the Hurst shifter, Air Grabber option, and various rear axles. There were now three engine options. The 440 cubic-inch engines single four-barrel carburetor was replaced with a three two-barrel carburetor resulting in 390 horsepower. It was dubbed the 440+6 and cost just $120 over the base 440 cubic-inch engine that produced 375 horsepower. Only 209 buyers shelled out the $700 for the Hemi engine. This was the final year the convertible option was offered.

In 1970 the GTX was restyled and given a hood scoop that did nothing but add to the aggressive look of the car. A bulge in the hood completed the look of the vehicle. The 440 cubic-inch 8-cylinder engine was standard. The 440+6 and 426 Hemi were optional. The 440+6 was a popular option with 768 buyers opting for the performance increase. Only 72 buyers purchased the Hemi. Sales were slow for the GTX in 1970 with only 7,748 examples being produced. The Road Runner was partially responsible. It was a lost cost alternative that was faster than the GTX. Plymouth decided to produce the GTX in 1971 but it was the final year. The styling was updated, its lines were curvy and it sat atop a shortened wheelbase. To improve the handling, the GTX received a wider track. The Air Grabber was optional. The 440 cubic-inch engine was standard, now producing five less horsepower than the private year. 30 examples of the Hemi was ordered. The 440+6, still available, produced 390 horsepower. With only 2,942 examples sold, Plymouth decided to make the GTX as an option on the Road Runner for 1972.
By Daniel Vaughan | Jun 2007
707-HORSEPOWER DODGE CHARGER SRT HELLCAT EARNS EPA HIGHWAY FUEL-ECONOMY RATING OF 22 MPG
◾22 miles per gallon (mpg) achieved with award-winning 707-horsepower supercharged 6.2-liter HEMI® Hellcat V-8 and segment-exclusive TorqueFlite eight-speed automatic transmission ◾With NHRA-certified quarter-mile elapsed time of 11.0 seconds and top speed of 204 miles per hour, 2015 Dodge Charger SRT Hellcat, is quickest, fastest and most-powerful sedan ever ◾World's only four-door muscle car; starting U.S. MSRP of $63,995 December 10, 2014 , Auburn Hills, Mich. - The 2015 Dodge Cha...[Read more...]
SPIRIT OF THE LEGENDARY DODGE BROTHERS LIVES ON IN NEW AD CAMPAIGN INTRODUCING 2015 MODEL YEAR DODGE MUSCLE CARS
◾First television ad in series begins Saturday, Oct. 4, for the new 2015 Dodge Challenger ◾Fully integrated campaign highlights the Dodge Brothers' passion for making great cars and how that passion and spirit still drives Dodge brand today ◾Additional television, print and digital ads launch later this year for 2015 Dodge Charger and Dodge SRT Hellcats and Viper ◾View ads at www.youtube.com/dodge October 3, 2014 , Auburn Hills, Mich. - One-hundred years after John and Horace Dodge ...[Read more...]
CHRYSLER GROUP CUSTOMERS ON TRACK TO SAVE $2.5 BILLION, 700+ MILLION GALLONS OF GASOLINE WITH TORQUEFLITE TRANSMISSIONS
TorqueFlite eight-speed automatic transmissions now in more than one million vehicles worldwide Vehicles projected to save more than 700 million gallons of gasoline; worth an estimated $2.5 billion, based on fuel-price forecasts Total estimated reduction in C02 emissions – more than six million metric tonnes TorqueFlite transmissions in model-year 2014 vehicles contribute to 19 fuel-economy/driving-range benchmarks across four vehicle segments TorqueFlite availability expanding to HEMI®-equi...[Read more...]
2014 JEEP® GRAND CHEROKEE AND 2014 RAM 1500 EARN SUV AND PICKUP TRUCK OF THE YEAR AWARDS FROM AUTOBYTEL.COM
January 6, 2014 , Auburn Hills, Mich. - Autobytel.com has named the 2014 Jeep® Grand Cherokee 'SUV of the Year,' while the 2014 Ram 1500 won the 'Pickup Truck of the Year' award. 'For 2014, the Jeep Grand Cherokee embodies a readiness to head off into the hills as an affordable family hauler wrapped around class-leading interiors chockfull of the safety, technology and comfort features that set the Grand Cherokee at the top of the heap,' said Michelle Naranjo, editor-in-chief, Autobyte...[Read more...]
Chrysler Group LLC Reports December 2013 U.S. Sales Increased 6 Percent – Best December Sales in Six Years; Full-Year Sales Up 9 Percent – Strongest Annual Sales Since 2007
•45th-consecutive month of year-over-year sales gains •Chrysler Group full-year U.S. sales increase 9 percent in 2013; fourth-consecutive year of annual sales growth •Jeep® and Ram Truck brands each post double-digit sales increases in December compared with same month a year ago •Jeep brand posts best December sales ever with 34 percent sales gain; brand sets global sales record in 2013 •All-new 2014 Jeep Cherokee sales top 15,000 units in its second full month of sales; sales up 48 percent...[Read more...]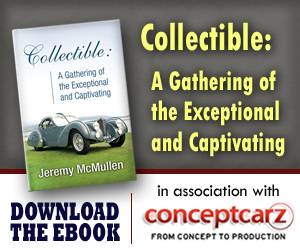 Similarly Priced Vehicles from 1969
Dodge Dart ($2,399-$3,415)
AMC Ambassador ($2,910-$4,000)
Pontiac Firebird ($2,831-$3,775)
Mercury Cougar ($3,000-$3,575)
Oldsmobile Delta 88 ($3,220-$4,605)
Dodge Coronet R/T ($3,440-$3,660)
Chevrolet Caprice ($3,295-$3,675)
Citroen DS21 ($3,615-$4,170)
Buick Sportwagon ($3,465-$3,620)
Plymouth Fury ($2,700-$3,715)

Average Auction Sale: $50,561
© 1998-2014. All rights reserved. The material may not be published, broadcast, rewritten, or redistributed.