1969 Plymouth GTX news, pictures, specifications, and information

Tweet
The Plymouth GTX was introduced in 1967. It was a performance machine that had reliability and a standard 440 cubic-inch V8 engine offering 375 horsepower. It was based on Plymouth's two-door Belvedere hardtop and convertible, with subtle performance cues such as a special grille and tail panel, simulated hood scoops and a 'pit stop' chrome gas cap.

The GTX was updated in 1969 from all the updates to the intermediate Belvedere line that year as well as well as a heavy duty battery, exhaust trumpets, red or white reflective stripes, a performance cam, big valve and ports, a heavy-duty Torqueflite transmission and heavy-duty underpinnings.

This 1969 Plymouth GTX has been in the same ownership for 28 years before it was acquired by the current owner in the mid-2000s. There is a 440 cubic-inch V8 engine mated to an automatic transmission and produces about 375 horsepower. There were only about 700 GTX Convertibles built for 1969, as compared to nearly 15,000 GTX Coupes. There are options such as power steering, power brakes, factory AM/FM radio, Air Grabber hood and a factory tachometer.

In 2009, it was offered for sale at the Vintage Motor Cars of Meadow Brook presented by RM Auctions. It was estimated to sell for $50,000 - $75,000 and offered without reserve. The lot was sold for the sum of $33,550 including buyer's premium.
By Daniel Vaughan | Sep 2009
This Plymouth GTX hardtop has had only one owner from new - 41 years in the same garage. It has always been an Ohio car. It currently shows 50,421 miles on its odometer.

This GTX was built with the 440 cubic-inch V-8 motor that develops 415 horsepower. The car was ordered with the air grabber induction and radio/stripe delete. It maintains all of its original sheet metal, floor pan and glass.

The car has had one repaint since new - in the original color - and the engine was recently rebuilt. Most chrome items have been re-plated and the front seat covers and carpets have been replaced.
This Plymouth GTX Coupe is a matching numbers example that is finished in V02 factory paint with T3 Gold top and T7 bronze body. Power is from a 440 cubic-inch 4-barrel engine mated to a TorqueFlite automatic transmission. Options include a center console, power steering, tachometer, redline tires, N96 'Air Grabber' hood, tan interior with bucket seats, and a rear-window defogger.
By Daniel Vaughan | Jan 2014
In 1967 Plymouth introduced the GTX as an optional package on the Belvedere model line. The GTX was a two-door vehicle that could be purchased in either convertible or hardtop configuration. It had all the performance options pre-installed and packaged in a stylish vehicle design. The excellent handling was courteous of the leaf springs, modified shocks, ball joins, and torsion bars. Under the hood was a 440 cubic-inch eight-cylinder engine, dubbed the Super Cammando 440, producing an astonishing 375 horsepower. A 426 cubic-inch Hemi engine was optional, and boosted horsepower to 425. It cost just a little over $540 for the Hemi engine and only 720 buyers purchased this option. The three-speed automatic transmission was standard but a four-speed manual could be purchased to replace the automatic gearbox.

Plymouth offered a Super Stock R023 version that included the Hemi engine and intended for the drag strip racing circuit. To reduce weight, all non-essential items were removed including the heater, radio, and carpet. Only 55 examples were produced. The 440 was a tunable engine, still able to be driven on the street, and was not plagued with the same tire-spin that the Hemi endured.

In 1968 the GTX was modified both aesthetically and mechanically. The taillights and grill were revised and a new hood design was used in place of the former design. In the front were disc brakes. The suspension was modified, the tires became wider, and it now featured a limited slip differential. It shared many of the same mechanics as the Plymouth Road Runner, an economical, performance machine. The TorqueFlite automatic gearbox was standard but could be replaced with a four-speed manual at no-cost. Only 450 GTX's were ordered with the Hemi option, costing the $564 over the base $3355 price.

For 1969, the GTX was modified only slightly with most of the changes to the grill and taillights. The big news was the Hurst shifter, Air Grabber option, and various rear axles. There were now three engine options. The 440 cubic-inch engines single four-barrel carburetor was replaced with a three two-barrel carburetor resulting in 390 horsepower. It was dubbed the 440+6 and cost just $120 over the base 440 cubic-inch engine that produced 375 horsepower. Only 209 buyers shelled out the $700 for the Hemi engine. This was the final year the convertible option was offered.

In 1970 the GTX was restyled and given a hood scoop that did nothing but add to the aggressive look of the car. A bulge in the hood completed the look of the vehicle. The 440 cubic-inch 8-cylinder engine was standard. The 440+6 and 426 Hemi were optional. The 440+6 was a popular option with 768 buyers opting for the performance increase. Only 72 buyers purchased the Hemi. Sales were slow for the GTX in 1970 with only 7,748 examples being produced. The Road Runner was partially responsible. It was a lost cost alternative that was faster than the GTX. Plymouth decided to produce the GTX in 1971 but it was the final year. The styling was updated, its lines were curvy and it sat atop a shortened wheelbase. To improve the handling, the GTX received a wider track. The Air Grabber was optional. The 440 cubic-inch engine was standard, now producing five less horsepower than the private year. 30 examples of the Hemi was ordered. The 440+6, still available, produced 390 horsepower. With only 2,942 examples sold, Plymouth decided to make the GTX as an option on the Road Runner for 1972.
By Daniel Vaughan | Jun 2007
2015 DODGE CHALLENGER EARNS FIVE-STAR OVERALL SAFETY RATING FROM U.S. NATIONAL HIGHWAY TRAFFIC SAFETY ADMINISTRATION
2015 Dodge Challenger coupe earns five stars overall, the highest possible score in NHTSA's safety rating program ◾More than 70 safety and security features, including new for 2015 class-exclusive Forward Collision Warning, adaptive cruise control, Blind-spot Monitoring and Rear Cross Path detection ◾All-new 2015 Dodge Challenger starts at $26,995 (excluding tax, destination and title) December 18, 2014 , Auburn Hills, Mich. - The all-new 2015 Dodge Challenger has earned a five-star ...[Read more...]
CHRYSLER GROUP LLC SCOOPS UP NINE AWARDS AT 24TH ANNUAL TEXAS TRUCK RODEO
◾Jeep® Grand Cherokee wins 'SUV of Texas' for the fifth consecutive year ◾Jeep Wrangler and Jeep Cherokee take consecutive year-over-year titles ◾Jeep brand SUVs victorious in every category entered ◾Ram wins Heavy Duty Truck of Texas for the second consecutive year ◾Ram Power Wagon scores Off-road Truck of Texas award ◾Chrysler Group's 3.0-liter V-6 EcoDiesel engine and Uconnect system score top honors October 13, 2014 , San Antonio - Jeep® and Ram Truck brands took top awards at...[Read more...]
CHRYSLER GROUP IN 2015, UNDER THE HOOD: MORE POWER, GREATER EFFICIENCY AND EXCEPTIONAL VALUE
◾Introducing the HEMI® Hellcat – Chrysler Group's most powerful V-8 ever; 18th new engine added to Company lineup in less than five years ◾Celebrated TorqueFlite family grows by one with most robust eight-speed automatic in Chrysler Group history; 15th new transmission ◾TorqueFlite transmissions – projected to save current Chrysler Group customers more than 700 million gallons of gasoline – now available across entire Dodge full-size car lineup ◾Debut of new, high-efficiency, lightweight axle...[Read more...]
Elio Motors to Make Appearance at Barrett-Jackson
• Automotive company expects to inform and impress auction attendees
TROY, Mich., Jan. 15, 2014 – Start up transportation company Elio Motors will attend the Barrett-Jackson Collector Car Auction in Scottsdale, AZ from Jan. 12 to Jan. 19 to showcase their 84 mpg, three-wheel vehicle. The Elio booth will be located in the Sponsor Pavilion of the internationally distinguished and widely popular auction, which caters to car owners and automotive enthusiasts with the sale of automo...[Read more...]
CHRYSLER GROUP LLC DRIVES AWAY WITH HIGHEST AND MOST HONORS AT THE 20TH ANNUAL TEXAS TRUCK RODEO
Vehicles from Ram Truck and Jeep® brands win eight of 19 awards from the Texas Auto Writers Association at this year's Texas Truck Rodeo •'Truck of Texas' awarded to the 2013 Ram 1500 •Jeep Grand Cherokee - the most awarded SUV in history – captures 'SUV of Texas' award for third consecutive year October 22, 2012 , SAN ANTONIO, Texas - Ram Truck and Jeep® brand vehicles won significantaccolades this year at the 20thannual Texas Auto Writers Association (TAWA) Texas Truck Rodeo. ...[Read more...]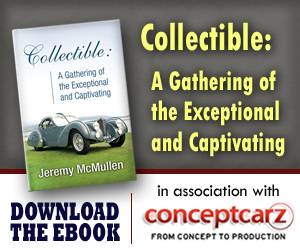 Similarly Priced Vehicles from 1969
Dodge Dart ($2,399-$3,415)
AMC Ambassador ($2,910-$4,000)
Pontiac Firebird ($2,831-$3,775)
Mercury Cougar ($3,000-$3,575)
Oldsmobile Delta 88 ($3,220-$4,605)
Dodge Coronet R/T ($3,440-$3,660)
Chevrolet Caprice ($3,295-$3,675)
Citroen DS21 ($3,615-$4,170)
Buick Sportwagon ($3,465-$3,620)
Plymouth Fury ($2,700-$3,715)

Average Auction Sale: $50,561
© 1998-2014. All rights reserved. The material may not be published, broadcast, rewritten, or redistributed.