1969 Plymouth Barracuda news, pictures, specifications, and information

Tweet
Over 31,000 Barracudas were sold by Plymouth in the 1969 model year but only 402 were the newly introduced, high performance 'Cuda.' Incorrectly labeled as a 'pony' car, it is a little known fact that Chrysler introduced the Barracuda line a week before Ford's Mustang.

This highly original Cuda has been in the possession of the second owner since 1975. It was featured in the November 1968 issue of 'Motor Trend' magazine. Powered by a 340 cubic-inch, 275 horsepower engine, it can turn a sub-13 second quarter mile.
This Plymouth Barracuda Formula S Fastback is powered by a 383 cubic-inch Big Block V8 and a 727 console automatic. Total production in this configuration was just 272 cars. It has a factory X9 black velvet, factory fender tag, and been treated to a complete nut-and-bolt restoration. There are factory black deluxe vinyl bucket seats, factory console, Rallye dash, A53 Formula package, 383-4 barrel, interior decor group, light package, factory front disc brakes, and L31 fender mounted turn signals. There are chrome MOPAR Ralley wheels on factory original 5-lug 4-inch bolt pattern.

This was the last year of this Barracuda body style.
By Daniel Vaughan | Jan 2013
Plymouth added the new high-performance option, called the 'Cuda 340' for 1969. It came with either fastback or hardtop styling. The Cuda came with a four-speed manual transmission, sport tires, and heavy-duty suspension and brakes. The base Barracuda V8 engine was the '318', with '383' and '340' engines.

The base engine in the Barracuda was the 225 cubic-inch Slant Six. They came standard with the government required safety equipment, all-vinyl interior, bucket seats, Pit-Stop gas cap, rally lights, shoulder belts in the front except on the convertible, and aluminized horizontal rear deck panel with Barracuda block lettering. The V8-engine equipped cars came with red or white stripe tires. Fastback body-styles came with beltline molding.

1969 Barracudas had new side marker lamps which were now rectangular. The grilles and hoods were also slightly revised.

Plymouth produced 12,757 examples of the hardtop and 17,788 were 2-door Fastbacks. Just 1,442 were convertibles. Pricing began at $2,675 for the six-cylinder hardtop and over $3,000 for the V8-powered convertible.
By Daniel Vaughan | Nov 2013
The first series of the Barracuda was produced from 1964 through 1969, distinguished by its A-body construction. From 1970 through 1974 the second series was produced using an E-body construction.

In 1964, Plymouth offered the Barracuda as an option of the Valiant model line, meaning it wore both the Valiant and Barracuda emblems. The base offering was a 225 cubic-inch six-cylinder engine that produced with 180 horsepower. An optional Commando 273 cubic-inch eight-cylinder engine was available with a four-barrel carburetor, high-compression heads and revised cams. The vehicle was outfitted with a live rear axle and semi-elliptic springs. Unfortunately, the Barracuda was introduced at the same time, separated by only two weeks, as the Ford Mustang. The Mustang proved to be the more popular car outselling the Valiant Barracuda by a ratio of 8 to 1.

The interior was given a floor-shifter, vinyl semi-bucket seats, and rear seating. The rear seats folded down allowing ample space for cargo.

By 1967, Plymouth redesigned the Barracuda and added a coupe and convertible to the model line-up. To accommodate larger engines, the engine bay was enlarged. There were multiple engine offerings that ranged in configuration and horsepower ratings. The 225 cubic-inch six-cylinder was the base engine while the 383 cubic-inch 8-cylinder was the top-of-the-line producing 280 horsepower. That was impressive, especially considering the horsepower to weight ratio. Many chose the 340 cubic-inch eight-cylinder because the 383 and Hemi were reported to make the Barracuda nose-heavy while the 340 offered optimal handling.

In 1968 Plymouth offered a Super Stock 426 Hemi package. The lightweight body and race-tuned Hemi were perfect for the drag racing circuit. Glass was replaced with lexan, non-essential items were removed, and lightweight seats with aluminum brackets replaced the factory bench, and were given a sticker that indicated the car was not to be driven on public highways but for supervised acceleration trials. The result was a car that could run the quarter mile in the ten-second range.

For 1969 a limited number of 440 Barracudas were produced, giving the vehicle a zero-to-sixty time of around 5.6 seconds.

In 1970 the Barracuda were restyled but shared similarities to the 1967 through 1969 models. The Barracuda was available in convertible and hardtop configuration; the fastback was no longer offered. Sales were strong in 1970 but declined in the years that followed. The muscle car era was coming to a close due to the rising government safety and emission regulations and insurance premiums. Manufacturers were forced to detune their engines. The market segment was slowly shifting from muscle-cars to luxury automobiles. 1974 was the final year Plymouth offered the Barracuda.
By Daniel Vaughan | Aug 2010
For more information and related vehicles, click
here
Low Mileage Collectables offered at Fort Lauderdale Auction
• Auctions America kicks off its 2014 collector car calendar March 14-16 in Fort Lauderdale • Leading recent entries are fantastic low mileage examples including a 2005 Ford GT, a 2006 Ford GT Heritage Edition, a 1954 Chevrolet Corvette and a 1967 Chevrolet Corvette 427/435 Coupe • Additional vehicle highlights include a 1973 Ferrari 365 GTB/4 Daytona, a 1971 Ford Mustang Mach 1 and a 1935 Hudson Terraplane driven by Johnny Depp in the movie 'Public Enemies' • Regarded as South Florida's pre...[Read more...]
Holden Celebrates 35 Years of Commodore
Holden is celebrating the 35th anniversary of its most iconic nameplate, Commodore. For over three decades, the Holden Commodore has delivered significant advances in vehicle performance, safety and comfort on the way to becoming Holden's longest-standing and most successful nameplate. Holden Executive Director, Vehicle Sales, Service and Marketing, Phil Brook, said Holden was extremely proud of Commodore's success. 'There are not many nameplates in Australia that can lay claim to a ric...[Read more...]
Auctions America Continues Successful 2013 Season with its Annual Fall Carlisle Sale
• Auctions America rounds out its 2013 auction season in Carlisle, Pennsylvania, October 3-4 • Two-day Fall Carlisle sale, held in conjunction with the Carlisle Events Collector Car Swap Meet & Corral, features a diverse roster of 300 classics, exotics, muscle cars, hot rods, and customs • Auction highlights include a desirable 1967 Chevrolet Corvette 427/435 Roadster, a 1969 Chevrolet Camaro Z-28 RS Sport Coupe, and a 1960 Mercedes-Benz 190SL Roadster • Full event details and a frequentl...[Read more...]
Barrett-Jackson Flavors Its January Scottsdale Auction With NASCAR Treats
• RACING HERITAGE, HIGH PERFORMANCE ARE RECIPES FOR CAR-COLLECTING FEAST
• SPEED™ SET FOR 39 HOURS of LIVE COVERAGE STARTING JAN. 15
The great Henry Ford once said, 'Auto racing began five minutes after the second car was built.' And for more than 60 years, there are few entities that better represent auto racing in America than NASCAR. From the hallowed grounds of Daytona International Speedway, to Sonoma, California's intricate and picturesque road course, the sp...[Read more...]
TOPLINE COLLECTORS PLACE SPOTLIGHT on SPEED'S BARRETT-JACKSON BROADCAST FROM SCOTTSDALE
• TOPLINE COLLECTORS PLACE SPOTLIGHT on SPEED'S BARRETT-JACKSON BROADCAST FROM SCOTTSDALE
• 'LOST' SHELBY DUAL PROTOTYPE, HAGERTY GIVEAWAY & SALON COLLECTION HIGHLIGHT 39 HOURS OF LIVE COVERAGE
The 42nd annual Barrett-Jackson Scottsdale (Ariz.) Collector Car Event, the first of four set for live coverage in 2013, kicks off the auction season in grand style as some of the world's most sought-after machines cross the block starting Tuesday, Jan. 15 at 7 p.m. ET/4 p.m. PT. SP...[Read more...]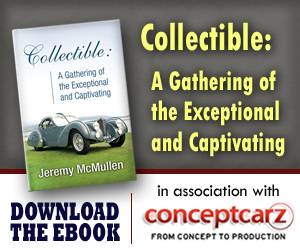 Similarly Priced Vehicles from 1969
Chevrolet Camaro ($2,635-$2,850)
Ford Mustang ($2,615-$3,120)
Plymouth Road Runner ($2,946-$3,310)
Dodge Dart ($2,399-$3,415)
AMC Rambler Hurst S/C ($2,995-$2,995)
Pontiac GTO ($2,831-$4,210)
Chevrolet Chevelle Series ($2,485-$3,270)

Average Auction Sale: $30,765
© 1998-2014. All rights reserved. The material may not be published, broadcast, rewritten, or redistributed.