1934 MG PA/B news, pictures, specifications, and information

Tweet
This car was 1 of 3 PA/B MG's entered by the factory in the 1935 Le Mans 24 hour race. They were all driven by a team of six woman drivers. This particular car #56 finished first in class with the other 2 cars finishing 2nd and 3rd.

The engine is 497 cc, 4-cylinder with single overhead camshaft and 2 side draft SU carburetors, developing 56 horsepower.

Car #56 serial # 1711, is the only surviving car in Le Mans configuration.

The current owner acquired the car from Sir Fredrick Royston and had a total restoration completed in 1995.
This car is one of three MG PA Midgets to be prepared for the LeMans 24 Hours in 1934. Powered by a 934-cc four-cylinder supercharged engine with overhead camshaft, this car was driven by an all-female team of drivers, and finished first out of the three cars on the factory team. It is the only surviving example in the LeMans configuration.
From 1930 through 1934, the M-Type Midget, C-Type race Midget, D-Type Midget, F-Type Magna, J-Type Midget, K1 and K2 Magnette, K3 race Magnette, L-Type Magna, QA Type Midget, N-Type Magnette and finally the P-type Midget were produced. The bread-and-butter models were the M, J, and P-Type Midgets which each generated thousands of sales.

The first of the P-Types was the PA, which resolved many f the problems with the M and J-Types, most noticeably the vibration issues from the engines. This example is powered by a four-cylinder, single-overhead camshaft engine that displaces 847cc and produces 36 horsepower. There are four-wheel 12-inch drum cable operated brakes and a four-speed non-synchromesh gearbox. It is painted in British Racing Green paintwork with green leather interior and rides on 19-inch Rudge chrome wheels. It wears an older restoration yet still shows well in modern times.

In 2008 it was offered for sale at the Hilton Head Sports & Classic Car Auction presented by Worldwide Auctioneers. It was estimated to sell for $30,000 - $40,000. Those estimates were proven accurate as the lot was sold for $36,300 including buyer's premium.
By Daniel Vaughan | Nov 2008
Brooklands Racer
Chassis Num: PA-450
Engine Num: 698AP

This 1934 MG PA Single Seat Racer is a Brooklands Replica fitted with a supercharger to its original engine. The Roots-type supercharger is crankshaft driven and set to provide six-pounds of boots equivalent to a 10:1 compression ratio. The carburetor is a Winfield racing model BB on a custom manifold incorporating an intercooler.

The hydraulic brakes are from a 1936 MG TA with factory finned drums and fitted with a stronger 'T' series axle. The instruments are from a Lockheed P38 and a Lancaster bomber, with a Spitfire starter button and aircraft fuel primer.

The original gearbox has been replaced with the later PB gears due to their better ratios. The exhaust system incorporates a 'Brooklands' silencer and 'fishtail' diffuser. The body is hand formed in aluminum.
The MG Model P was produced from 1934 though 1936, during that time 2499 examples were produced. It was built as a replacement for the Model J. Using the same 847 cc engine but with a new 3 bearing crank it was more refined that its Midget predecessor. It continued the basic look defined by the J type. It had a fold-flat windscreen and a wheel strapped to the back of the car. The fuel tank was also located in the rear.

There were two series of the Model P, the PA and PB. The PA was produced from 1934 through 1935 with a total of 2000 examples being produced. The MG PB was produced from 1935 through 1936 with 526 examples produced. The PA was powered by a 847 cc four-cylinder engine similar to the one used in the Model J-Type. The PB had a 939 cc unit which raised horsepower to 43 horsepower. The other main difference between the Model PA and Model PB was the radiator grille. The PA had a honeycomb design while the PB had vertical slats.
By Daniel Vaughan | Dec 2006
JAGUAR LAND ROVER REPORTS U.S. SALES FOR JANUARY 2014
◾Jaguar Land Rover North America increases 15 percent in January, for its best January sales month result since 2004 ◾Land Rover brand has its best January sales ever increasing 11 percent on strong Range Rover Sport demand, up 29 percent ◾Jaguar continues growth streak with 31 percent growth in January on new XF sales, up 29 percent ◾Jaguar launches F-TYPE Coupe with British Villains campaign, debuted on broadcast of Super Bowl XLVIII on Fox. (MAHWAH, NJ) - February 3, 2014 - Jagua...[Read more...]
Rare 1963 Shelby 289 Cobra Leads Exciting Line Up At Auctions America's Fort Lauderdale Sale
• Auctions America kicks off its 2014 collector car calendar March 14 – 16, 2014 in Fort Lauderdale, Florida • Regarded as South Florida's premier collector car auction, the multi-day sale is expected to feature more than 450 cars spanning all segments of the collector car market • Vehicle highlights include a 1963 Shelby Cobra, a 1972 Ferrari Dino 246 GT, a 1965 Shelby GT350, a 1970 Chevelle Super Sport LS6 and a 1936 Auburn 852 Supercharged Phaeton AUBURN, Indiana (Dec. 4, 2013) ...[Read more...]
LAND ROVER INVITES CONSUMERS TO ENGAGE WITH 2014 RANGE ROVER SPORT VIA AN INTERACTIVE DIGITAL EXPERIENCE, 'RACE THE SUN'
◾RACE THE SUN tells a highly suspenseful, original story through an interactive film that features competitive gaming functionality ◾Project aligns with the adventure and high-performance elements of Land Rover's DNA ◾RACE THE SUN is a key component of the Range Rover Sport marketing campaign, 'Driven to Another Level' (MAHWAH, NJ) – October 15, 2013 – Today, Land Rover is releasing RACE THE SUN, an interactive digital experience that supports the recent launch of the all-new 2014 Ra...[Read more...]
BMW ANNOUNCES PRICING FOR ALL-NEW X5 SPORTS ACTIVITY VEHICLE
Woodcliff Lake, NJ – June 24th, 2013 … It isn't often that an automobile manufacturer gets to launch an entirely new vehicle segment, but that's exactly what BMW did in 1999 when it introduced the world's first Sports Activity Vehicle – the BMW X5. Two generations and some 1.3 million vehicles later, the BMW X5 is set to enter its third generation. As its predecessors have done before, the all-new 3rd generation X5 will again set new standards for luxury, versatility and – because it is a BMW f...[Read more...]
Bonhams to offer the renowned Oldenburg family collection of classic automobiles at Scottsdale
More than 30 American, British and Italian cars of various vintages head to Scottsdale, Arizona Bonhams is honored to have been chosen to represent the highly esteemed Oldenburg Family Automobile Collection at its second annual Scottsdale Auction in January. The extensive collection of more than 30 cars from the prominent horse breeding family includes multiple models of the same marque, including Ferrari and Jaguar. The Italians Leading the impressive assembly are ...[Read more...]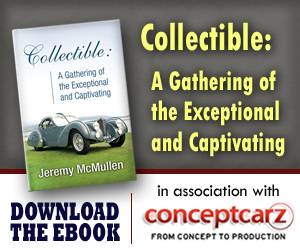 © 1998-2014. All rights reserved. The material may not be published, broadcast, rewritten, or redistributed.