1934 MG PA/B news, pictures, specifications, and information

Tweet
This car was 1 of 3 PA/B MG's entered by the factory in the 1935 Le Mans 24 hour race. They were all driven by a team of six woman drivers. This particular car #56 finished first in class with the other 2 cars finishing 2nd and 3rd.

The engine is 497 cc, 4-cylinder with single overhead camshaft and 2 side draft SU carburetors, developing 56 horsepower.

Car #56 serial # 1711, is the only surviving car in Le Mans configuration.

The current owner acquired the car from Sir Fredrick Royston and had a total restoration completed in 1995.
This car is one of three MG PA Midgets to be prepared for the LeMans 24 Hours in 1934. Powered by a 934-cc four-cylinder supercharged engine with overhead camshaft, this car was driven by an all-female team of drivers, and finished first out of the three cars on the factory team. It is the only surviving example in the LeMans configuration.
From 1930 through 1934, the M-Type Midget, C-Type race Midget, D-Type Midget, F-Type Magna, J-Type Midget, K1 and K2 Magnette, K3 race Magnette, L-Type Magna, QA Type Midget, N-Type Magnette and finally the P-type Midget were produced. The bread-and-butter models were the M, J, and P-Type Midgets which each generated thousands of sales.

The first of the P-Types was the PA, which resolved many f the problems with the M and J-Types, most noticeably the vibration issues from the engines. This example is powered by a four-cylinder, single-overhead camshaft engine that displaces 847cc and produces 36 horsepower. There are four-wheel 12-inch drum cable operated brakes and a four-speed non-synchromesh gearbox. It is painted in British Racing Green paintwork with green leather interior and rides on 19-inch Rudge chrome wheels. It wears an older restoration yet still shows well in modern times.

In 2008 it was offered for sale at the Hilton Head Sports & Classic Car Auction presented by Worldwide Auctioneers. It was estimated to sell for $30,000 - $40,000. Those estimates were proven accurate as the lot was sold for $36,300 including buyer's premium.
By Daniel Vaughan | Nov 2008
Brooklands Racer
Chassis Num: PA-450
Engine Num: 698AP

This 1934 MG PA Single Seat Racer is a Brooklands Replica fitted with a supercharger to its original engine. The Roots-type supercharger is crankshaft driven and set to provide six-pounds of boots equivalent to a 10:1 compression ratio. The carburetor is a Winfield racing model BB on a custom manifold incorporating an intercooler.

The hydraulic brakes are from a 1936 MG TA with factory finned drums and fitted with a stronger 'T' series axle. The instruments are from a Lockheed P38 and a Lancaster bomber, with a Spitfire starter button and aircraft fuel primer.

The original gearbox has been replaced with the later PB gears due to their better ratios. The exhaust system incorporates a 'Brooklands' silencer and 'fishtail' diffuser. The body is hand formed in aluminum.
The MG Model P was produced from 1934 though 1936, during that time 2499 examples were produced. It was built as a replacement for the Model J. Using the same 847 cc engine but with a new 3 bearing crank it was more refined that its Midget predecessor. It continued the basic look defined by the J type. It had a fold-flat windscreen and a wheel strapped to the back of the car. The fuel tank was also located in the rear.

There were two series of the Model P, the PA and PB. The PA was produced from 1934 through 1935 with a total of 2000 examples being produced. The MG PB was produced from 1935 through 1936 with 526 examples produced. The PA was powered by a 847 cc four-cylinder engine similar to the one used in the Model J-Type. The PB had a 939 cc unit which raised horsepower to 43 horsepower. The other main difference between the Model PA and Model PB was the radiator grille. The PA had a honeycomb design while the PB had vertical slats.
By Daniel Vaughan | Dec 2006
VOLKSWAGEN ANNOUNCES PRICING FOR 2014 PASSAT SPORT
◾Black roof, black mirror caps, sport seats and interior carbon trim add to Sport's unique look ◾Available with new EA888 Gen 3 1.8-liter turbocharged and direct-injected four-cylinder engine ◾Will arrive in showrooms in early 2014 ◾Starts at $28,495 with a six-speed automatic transmission Herndon, VA –Volkswagen of America, Inc., announced today that it will offer a production version of the Passat Performance Concept shown at the 2013 North American International Auto Show (NAIAS)...[Read more...]
'Best of Show' Named at 2013 Hilton Head Island Motoring Festival & Concours d'Elegance
HILTON HEAD ISLAND, S.C. (Nov. 3, 2013) – The coveted 'Best of Show' and 'People's Choice' honors were awarded today at the prestigious Hilton Head Island Motoring Festival & Concours d'Elegance, held at the Port Royal Golf Club on Hilton Head Island, S.C. The top honor at Sunday's Concours d'Elegance, 'Best of Show,' was awarded to a 1929 Stutz Supercharged Coupe owned by Richard and Irina Mitchell of Montgomery, Texas. This car is the only example of its kind still in existence. ...[Read more...]
Bonhams smashes multiple world records at $32.7 million Quail Lodge motorcar auction
Bonhams 16th annual Carmel automotive auction – the longest running sale during the Monterey Peninsula Car Week – was a resounding success with a nearly 90 per cent sale-through rate and nearly $33 million realized. The Bonhams pavilion, situated on the spacious western lawns of Quail Lodge in sunny Carmel Valley, hosted an incredibly busy viewing in a lovely garden party atmosphere. Buyers from around the world came to view some of the rarest and most important cars ever offered, which resul...[Read more...]
VOLKSWAGEN BEETLE TURBO AND JETTA GLI RECEIVE POWER BOOST
- New EA888 Gen 3 engine, produced in Silao, Mexico, makes its U.S. debut - Engine offers 10 hp increase over previous Gen 2 powerplant - Beetle models have a manufacturer estimated fuel economy improvement of up to eight percent on the combined cycle - Beetle R-Line® coupe will be priced from $30,135 with the six-speed manual transmission Herndon, VA - The Volkswagen Beetle Turbo, Beetle Turbo Convertible, and the Jetta GLI receive a number of running changes to 2013 model year car...[Read more...]
Citroen Shifts Into Racing Gear For 2012 Goodwood Festival Of Speed
•New Citroën Racing driver, Thierry Neuville, will be putting DS3 WRC through its paces on the hill climb & Forest Rally Stage •Hot blooded 256bhp DS4 Racing concept making its UK premiere on the Citroën stand •New Citroën DS5 taking part in the Moving Motor Show Citroën is showcasing the very best of its stylish flair, 'Créative Technologie' and racing pedigree at this year's Goodwood Festival of Speed with the DS3 WRC in action; the UK premiere of DS4 Racing concept and a display of th...[Read more...]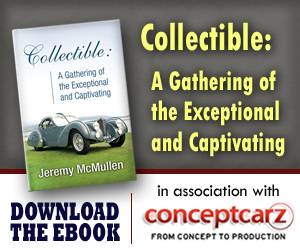 © 1998-2014. All rights reserved. The material may not be published, broadcast, rewritten, or redistributed.