1934 MG PA/B news, pictures, specifications, and information

Tweet
This car was 1 of 3 PA/B MG's entered by the factory in the 1935 Le Mans 24 hour race. They were all driven by a team of six woman drivers. This particular car #56 finished first in class with the other 2 cars finishing 2nd and 3rd.

The engine is 497 cc, 4-cylinder with single overhead camshaft and 2 side draft SU carburetors, developing 56 horsepower.

Car #56 serial # 1711, is the only surviving car in Le Mans configuration.

The current owner acquired the car from Sir Fredrick Royston and had a total restoration completed in 1995.
This car is one of three MG PA Midgets to be prepared for the LeMans 24 Hours in 1934. Powered by a 934-cc four-cylinder supercharged engine with overhead camshaft, this car was driven by an all-female team of drivers, and finished first out of the three cars on the factory team. It is the only surviving example in the LeMans configuration.
From 1930 through 1934, the M-Type Midget, C-Type race Midget, D-Type Midget, F-Type Magna, J-Type Midget, K1 and K2 Magnette, K3 race Magnette, L-Type Magna, QA Type Midget, N-Type Magnette and finally the P-type Midget were produced. The bread-and-butter models were the M, J, and P-Type Midgets which each generated thousands of sales.

The first of the P-Types was the PA, which resolved many f the problems with the M and J-Types, most noticeably the vibration issues from the engines. This example is powered by a four-cylinder, single-overhead camshaft engine that displaces 847cc and produces 36 horsepower. There are four-wheel 12-inch drum cable operated brakes and a four-speed non-synchromesh gearbox. It is painted in British Racing Green paintwork with green leather interior and rides on 19-inch Rudge chrome wheels. It wears an older restoration yet still shows well in modern times.

In 2008 it was offered for sale at the Hilton Head Sports & Classic Car Auction presented by Worldwide Auctioneers. It was estimated to sell for $30,000 - $40,000. Those estimates were proven accurate as the lot was sold for $36,300 including buyer's premium.
By Daniel Vaughan | Nov 2008
Brooklands Racer
Chassis Num: PA-450
Engine Num: 698AP

This 1934 MG PA Single Seat Racer is a Brooklands Replica fitted with a supercharger to its original engine. The Roots-type supercharger is crankshaft driven and set to provide six-pounds of boots equivalent to a 10:1 compression ratio. The carburetor is a Winfield racing model BB on a custom manifold incorporating an intercooler.

The hydraulic brakes are from a 1936 MG TA with factory finned drums and fitted with a stronger 'T' series axle. The instruments are from a Lockheed P38 and a Lancaster bomber, with a Spitfire starter button and aircraft fuel primer.

The original gearbox has been replaced with the later PB gears due to their better ratios. The exhaust system incorporates a 'Brooklands' silencer and 'fishtail' diffuser. The body is hand formed in aluminum.
The MG Model P was produced from 1934 though 1936, during that time 2499 examples were produced. It was built as a replacement for the Model J. Using the same 847 cc engine but with a new 3 bearing crank it was more refined that its Midget predecessor. It continued the basic look defined by the J type. It had a fold-flat windscreen and a wheel strapped to the back of the car. The fuel tank was also located in the rear.

There were two series of the Model P, the PA and PB. The PA was produced from 1934 through 1935 with a total of 2000 examples being produced. The MG PB was produced from 1935 through 1936 with 526 examples produced. The PA was powered by a 847 cc four-cylinder engine similar to the one used in the Model J-Type. The PB had a 939 cc unit which raised horsepower to 43 horsepower. The other main difference between the Model PA and Model PB was the radiator grille. The PA had a honeycomb design while the PB had vertical slats.
By Daniel Vaughan | Dec 2006
THE JAGUAR F-TYPE R COUPE TO MAKE ITS CANADIAN DEBUT AT THE 2014 TORONTO AUTO SHOW
(MISSISSAUGA, ON) February 13, 2014 - Jaguar will showcase its 2014 model year line up at the 2014 Canadian Auto Show held February 14 to 23, 2014. The 2015 F-TYPE R Coupe will be making its Canadian debut and the C-X17 Sport Crossover concept will also be on display. For 2014, Jaguar has showcased it most dynamic lineup ever. With the all-new F-TYPE sports car joining the family as the heir to the Jaguar sports car legacy, it has renewed Jaguar spirit and has represented a return to ...[Read more...]
VAUXHALL'S 'LIMITED EDITIONS' HAVE UNLIMITED SPEC APPEAL
◾ Limited Edition Vauxhalls get lavish standard specification ◾ Available on Astra GTC, Astra Hatch, Insignia and Corsa ◾ Prices start from just £8,995 for the fashionable Corsa Sting Luton – With exceptionally generous standard spec and prices starting from just £8,995, Vauxhall has bolstered its range with stylish new 'Limited Edition' models including Astra GTC, Astra 5-door hatchback, Insignia and Corsa. Available through Flexible Finance* or Flexible Personal Co...[Read more...]
KIA MOTORS AMERICA ELECTRIFIES LAS VEGAS WITH MUSIC-DRIVEN SOULS AT SEMA
Inspired by the Eclectic World of Contemporary Music, Kia Partners with RIDES Magazine and Popular Mechanics to Open the Show in Amplified Fashion ◾Five 2014 Souls debut with live mobile performances, featuring a cutting-edge DJ station and a pro-sound-quality, plug-in-ready amplifier on wheels ◾NBC's The Voice and Vans Warped Tour are represented with their own themed Soul urban hatchbacks ◾A rolling music museum Soul pays homage to the art form with memorabilia spanning multiple genr...[Read more...]
Honda Factory Performance Package Now Available For Accord Coupe V6
07/16/2013 - TORRANCE, Calif. The limited-edition Honda Factory Performance® (HFP®) package for the Honda Accord Coupe V6 goes on sale today at select Honda dealers in the United States. First shown at the 2012 SEMA Show in Las Vegas and recently performance tested by Honda's North American racing company, Honda Performance Development, Inc. (HPD), the HFP package adds significantly enhanced vehicle dynamics and distinctive styling cues to the already-sporty Accord Coupe. To verify th...[Read more...]
RM Offers Distinguished Don Davis Collection Without Reserve
• Final countdown underway to RM Auctions' Don Davis Collection sale, April 27, in Fort Worth, Texas • Single-day auction features 64 motor cars without reserve • Offering comprises diverse roster of European sports and GT cars and American horsepower, including superb series of Porsche and Corvette automobiles • Complete digital catalogue now available online at rmauctions.com Following its record-setting sale of the Bruce Weiner Microcar Museum earlier this year, RM Auctions is proud to c...[Read more...]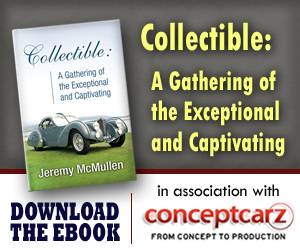 © 1998-2014. All rights reserved. The material may not be published, broadcast, rewritten, or redistributed.