1959 Mercedes-Benz 220SE news, pictures, specifications, and information

Tweet
The car was originally owned by actress Judy Garland. Later acquired by the son of a European Baron, it was in this estate that the current owners purchased the car. Before entering the collection of the new owners it underwent a careful restoration.

Only approximately 350 Mercedes Benz 220 SE Cabriolets were hand built each year during 1958-1960. The 220 SE is equipped with a 2.2 liter overhead cam six-cylinder engine, Bosch mechanical fuel injection, and a four-speed manual transmission with shifter on the column. Top speed of 100 MPH can be attained.

The superb coachwork features a thick padded top, rich Roser leather, wool carpets and bountiful Macassar ebony wood allows passengers to tour in total comfort. The 220 SE Cabriolet looks much like a roadster. Its rear seat can accommodate two passengers or be folded flat to create additional luggage space.

The car's odometer is only showing 33,000 miles. The car is complete with owner's manual, factory tool roll and German build sheet.
The 220SE Coupe is counted among the rarer Mercedes-Benz post war vehicles with only 830 units produced from 1958 thru 1960. In January 1959 the 220SE Coupe sold for $7,641 plus $55 added for the 2.2 Bosch Fuel Injection, which was only produced for one year.

The car utilizes a unitized frame floor construction with sub-frame. The car has co-cylinder gasoline fuel-injected engine with 134 horsepower at 5000 RPMs. It also has a four-speed fully-synchronized transmission.
This 1959 Mercedes-Benz 220 SE Cabriolet was offered for sale at the 2006 Gooding & Company Auction held in Pebble Beach. It is finished in a two-tone color scheme and has been treated to a total restoration by Bob Platz of Precision Autoworks in New Jersey. It comes equipped with the original Mexico radio and correct burgundy leather interior.

It is powered by a 2195-cc inline six-cylinder engine that produces 134 horsepower. The power from the fuel-injected engine is sent to the rear wheels through a four-speed manual gearbox. There are four-wheel servo-assisted brakes and coil suspension in both the front and rear.

It was offered for sale without reserve and estimated to sell at auction for $90,000-$120,000. The car did find a new owner, though it was just under the estimated value. The selling price was $83,600.
By Daniel Vaughan | Feb 2007
The Mercedes-Benz 220SE was introduced in 1958 and remained in production until 1959 with a total of 1974 examples being produced. 1112 of those were cabriolets. The 'SE' was considered an upgraded version of the 220 and offered in coupe, sedan and cabriolet body styles.

The 220SE were built with high attention to detail, almost mimicking the 330SC. They came equipped with polished wooden dashboards and door cappings, leather upholstery, and chrome trim. Under the hood was a 2.2-liter engine that produced nearly 135 horsepower and could carry the 220SE to speeds of 100 mph. The use of Bosch fuel-injection meant the increase in power while a reduction in fuel consumption.

A cabriolet, also known as a 'Ponton Series', cost just under $9,000 when new. These were among the first of the postwar, modern, Mercedes-Benz designs. Their styling retained the traditional Mercedes-Benz touches while adapting a modern style that appealed to a wider generation.
By Daniel Vaughan | Feb 2007
For more information and related vehicles, click
here
MAZDA KICKS OFF 2014 SEASON AT ROLEX 24
• Mazda SKYACTIV Prototype Begins New TUDOR Championship Era
January 21, 2014 (IRVINE, Calif.) — Mazda Motorsports is known for several things – sports cars, endurance racing, and taking the engineering path less traveled. This coming weekend, Mazda Motorsports will begin a new era of professional sports car racing when its latest SKYACTIV-powered Mazda Prototype takes the green flag at the first ever TUDOR United SportsCar Championship race. The season opening Rolex 24 at ...[Read more...]
2014 RANGE ROVER NOW AVAILABLE FOR ORDER WITH A CHOICE OF SUPERCHARGED V6 & V8 ENGINES
•Following the sales success of the all-new 2013 Range Rover, the 2014 Range Rover is now available for order, with deliveries beginning this summer •A new 340hp 3-liter supercharged V6 will offer improved efficiency with reduced emissions and uncompromised capability •A 510hp supercharged 5-liter V8 will continue to be available •The 2014 Range Rover will be equipped with a new Intelligent Stop/Start system which reduces idling to reduce emissions and save fuel •Both engines will be pa...[Read more...]
McLaren GT Confirms Details of Enhanced 12C GT3 To Compete Globally in 2013
•Additional production run of the 12C GT3 confirmed to compete globally •Revisions designed to improve overall efficiency and reliability •12C GT3 competitive debut season summary available to view at the official McLaren Automotive YouTube channel: http://youtu.be/72jgg4BqYsY As was confirmed at the close of last year, McLaren GT will produce further examples of the 12C GT3 available to compete in the 2013 season. These new models are eligible for all GT3 championships and, for the fir...[Read more...]
TOPLINE COLLECTORS PLACE SPOTLIGHT on SPEED'S BARRETT-JACKSON BROADCAST FROM SCOTTSDALE
• TOPLINE COLLECTORS PLACE SPOTLIGHT on SPEED'S BARRETT-JACKSON BROADCAST FROM SCOTTSDALE
• 'LOST' SHELBY DUAL PROTOTYPE, HAGERTY GIVEAWAY & SALON COLLECTION HIGHLIGHT 39 HOURS OF LIVE COVERAGE
The 42nd annual Barrett-Jackson Scottsdale (Ariz.) Collector Car Event, the first of four set for live coverage in 2013, kicks off the auction season in grand style as some of the world's most sought-after machines cross the block starting Tuesday, Jan. 15 at 7 p.m. ET/4 p.m. PT. SP...[Read more...]
2013 KIA SOUL WINS ACTIVE LIFESTYLE VEHICLE OF THE YEAR AWARD IN URBAN CATEGORY
•Hip Hatchback Earns Praise for Its Roomy Interior and Cargo Space •With 19 cubic feet of cargo space, 14 storage zones and fold down seats, the Soul can accommodate mountain bikes, snowboarding gear and other outdoor necessities •The Soul's fun-to-drive factor and signature style make it the perfect ride to take to the mountains, desert or the beach IRVINE, Calif., Oct. 24, 2012 - The 2013 Kia Soul, Kia Motors America's (KMA's) wildly popular hip hatchback, has been named the Act...[Read more...]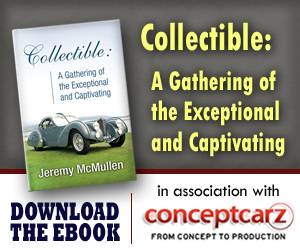 Mercedes-Benz
Monthly Sales Figures
Volume
December 2014
37,297
November 2014
37,110
October 2014
30,733
September 2014
29,523
August 2014
28,958
July 2014
29,406
June 2014
28,707
May 2014
26,617
April 2014
28,281
March 2014
29,316
February 2014
22,609
January 2014
23,892
(More Details)
© 1998-2014. All rights reserved. The material may not be published, broadcast, rewritten, or redistributed.