1965 Lola T70 MKII news, pictures, specifications, and information

Tweet
British race car builder Eric Broadley was one of the first to combine light weight mid-engine chassis with American V-8 power, in the Lola GT that ran at Le Mans in 1963. In 1965 he introduced the T70, which for two years was the world's fastest racing car.

Developed by World champion driver John Surtees, with 500 HP and weighing 1750 pounds, it had blinding acceleration, 0 to 100 mph in less than six seconds with stable, predictable handling.

Surtees won the first Can-Am Championship with a T70 in 1966.

Of the forty-odd originally built, few T70 roadsters have survived, and very few with as much of the original car intact as this one.
In 1965 and 1966 the Lola T70 was the fastest racing car in the world, faster than even a Formula One car. It was designed by Eric Broadley, whose first V8 powered race car evolved into the Ford GT40, and was developed by World Champion driver John Surtees. With 500 horsepower and blinding acceleration- 0 to 100 mph in less than six seconds - Surtees and Broadley recognized that to be a winner it must also be stable and easy to drive. The Mark II became known as one of the sweetest-handling race cars ever, and Surtees won the first Can-Am Championship wîth one in 1966 (serial number SL/71/16).

Few T70 roadsters have survived, and very few wîth as much of the original car intact as this one. The third Mark II built (SL/71/18), it won two races (at Riverside and Watkins Glen) in the 1966 Ú.S. Road Racing Championship, driven by its owner Buck Fulp of South Carolina. Fulp didn't finish one race because a stone broke his goggles, and he missed two more because his eye got infected, but even so, he was leading the last race - and the championship - when he had his only mechanical problem of the year: the shift lever broke.

At the end of 1966 Fulp sold the car, and it was driven in Can-Am races in 1967 by Roger McCluskey. By then the design was two years old, but my car was still fast enough to finish fifth in the second Can-Am round, at Mosport.


Mark Donohue, in The Únfair Advantage, p. 71.
Source - Mark Donohue, in The Unfair Advantage, p. 71.
In 1965 the Lola Racing Cars Group introduced the T70. During its lifetime from 1965 through 1969 over 100 examples were produced in three versions. They were designed for endurance racing with excellent aerodynamics and flowing lines. The chassis was constructed of aluminum monocoque that was both lightweight and rigid. The project was undertaken by Eric Broadley of Lola Cars with assistance from F1 world champion John Surtees. Originally, Broadley had been considered by Ford to build a racer which could defeat Ferrari at LeMans. Colin Chapman of Lotus and Cooper were also considered. After some consideration, the project was given to Broadley of Lola. Ford had been impressed with the Lola Mark VI mid-engined racer which was powered by a Ford 4.2-liter engine and produced around 350 horsepower. The sleek body had been created by John Frayling and utilized some of the most exotic materials available. By 1965 Ford had their Ferrari slayer and Broadley was ready to again work under his own supervision. He was not fond of how the GT40 had progressed and felt that it had gone in too many directions with each decision being analyzed by a committee. Work began on the T70 which would share many similarities to the GT40. In a sense, the Lola T70 was a result of Enzo Ferrari, since the GT40 had been created to defeat Ferrari at Le Mans. The first version was the MKII open-roofed version. The second version was the MKIII Coupe-version followed by the MK IIIB.

The stright back end soon gave it the nickname of 'breadvan' as it resembled delivery trucks of that era. The rear body shape was the result of lessons-learned from the GT40 project and its handling on the Mulsanne straight at Le Mans. It was designed to eliminate some of the lift created a high speeds. The GT40 created 300 kg of lift at speed while the Lola T70 only created 200 kg of down force though it did increase drag.

Though designed for endurance racing, the T70 proved most potent on the short sprint races where its lightweight body and superior handling made it very competitive. Reliability issued plagued the car on races of more than three hours. The Chevrolet small-block power-plant was unsuitable to utilize the high octane fuels which powered other racers. The engine was unable to fully utilize European fuels and as such, did not perform as well as intended in international competition.

The T70 MKII was entered in the competitive and newly formed CanAm series where it dominated at nearly ever race it entered, winning five of the six rounds. John Surtees won the title after winning three of those races in a factory car. The cars were also successful in Group 7 racing until the series came to a halt in 1966. 1966 was the final year for a successful season for the Lola T70s in CanAm racing as McLaren would dominate the following year. The T70 would win only one CanAm race in 1967. The powerful McLaren M6 racers easily overpowered the T70. In retaliation, the T70 IIIB was introduced which improved power and performance. The front was improved to separate the airflow between the bottom and top of the car, thus, minimizing pressure underneath the vehicle. Power came from a 327 small-block Chevrolet engine which was later upgraded to a 350 cubic-inch unit. It would go on to win many international endurance races. One of the most famous of its victories was the 1969 Daytona 24 Hours driven by Mark Donohue and Chuck Parsons. The demise of the racer occurred when rule changes which limited the size of then engine made it obsolete. This benefited the Ferrari 312 and Porsche 917 as their F1 engines were appropriate and highly tuned.

By 1968 a new car was needed; Lola introduced the T160 which was lighter and more powerful than its predecessor.

The Lola T70 was important for sports racing for many reasons with the most recognizable being the importance of down force at a cost of extra drag. The cars won many important victories during the close of the 1960's and have continued in competition to this day, with many racing in historic racing events.
By Daniel Vaughan | Feb 2008
For more information and related vehicles, click
here
McLaren: 50 Years of Winning Gold
Throughout its 50 year history, McLaren has worn a number of different liveries from orange, to red and white, to silver and black. However, there is one color that is even more synonymous with the name—gold. In the world of Formula One, Mclaren, as of this moment, sits in 2nd place behind Ferrari as the most successful manufacturer in Formula One with more than 180 wins. Ferrari might be in the lead but consider for a moment that Ferrari would take part in the Formula One World Championshi...[Read more...]
1958 Monaco Grand Prix: An Unlikely Frenchman Steals the Show…Again
In 1955, perhaps the most unlikely of drivers would survive the attrition and the beckoning Monaco harbor to claim his only victory in Formula One. Some three years later, and more unlikely than ever to even win a second race at any circuit, the same Frenchman would steal the crown jewel to become just the second man in Formula One history to earn two or more victories on the streets of the principality. Maurice Trintignant's victory in the chaotic and drama-filled 1955 Monaco Grand Prix was...[Read more...]
1964 Nurburgring 1000 Kilometers: Survive for One Last Victory
During the late 1950s, Richie Ginther would begin a relationship with John von Neumann and this partnership would result in one of the most dominant periods of American sportscar racing in which Ginther and Porsche would be virtually unbeatable. Nearly a decade later, that same combination would again join forces to provide one more moment of glory. By the mid-1950s Porsche had developed its 550. This was a small car more than capable of dominating its class and consistently able to challenge...[Read more...]
1961 Monaco Grand Prix: Outdueled by a Legend
Powering his way around Tabac, Richie Ginther would find that his time had run out. He had doggedly fought and wrestled his way around the tight, twisty streets of Monaco in pursuit of Moss. The British veteran had an answer for everything but it required perhaps the best drive of his life to hold off the undersized American. Paul Richard 'Richie' Ginther started out his career in racing as a mechanic and preparer of racing cars. One of his friends and customers would be the great Phil Hill. ...[Read more...]
1967 Can-Am Road America: The Beginning of the 'Bruce and Denny Show'
While Formula One will be forever considered the pinnacle of motorsport, from a period between 1966 and 1986 there existed a series that would likely be the closest to 'anything goes' as any motor racing series could truly get. Based upon the FIA Group 7 cars but allowed to showcase unlimited engine sizes and unfettered aerodynamics, the Can-Am cars would have to be considered the pinnacle of motorsport technology and power of their era. And for more than a couple of years there would be one tea...[Read more...]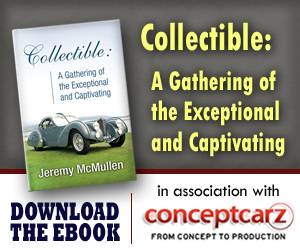 © 1998-2014. All rights reserved. The material may not be published, broadcast, rewritten, or redistributed.