1940 Packard 120 news, pictures, specifications, and information

Tweet
The One-Twenty is an important car in Packard's history because it signified the first time that Packard entered into the highly competitive mid-priced eight-cylinder car market.

The introduction of the One-Twenty was a necessary move to keep Packard in business during the final years of the Great Depression. The reason the company decided to forgo the development of a companion brand name to sell the less expensive models may have been linked to its single production line capability at its Grand Avenue manufacturing plant as much as to the expense of launching a new brand of automobile. By making the One-Twenty a Packard, the car could be brought to market quickly, and would afford buyers the cachet of owning a Packard.

The One-Twenty was offered in a full range of body styles from coupe to Touring Limousine, with prices for the model range between $1,099 and $1,856.

The series name One-Twenty officially became hyphenated for model year 1940. Introduced in August 1939, total model year output was 28,138 units.

In its seven years in the Packard line-up, the One-Twenty saw a total production of 175,027 units.
The Eighteenth Series Packards were introduced on August 8th of 1939, well ahead of other manufacturer's introductory dates. Power came from a 282-cubic inch straight eight offering 120 horsepower. These Junior models received new cylinder heads for improved aspiration, although their horsepower remained the same. The Convertible Sedan was priced at $1,573 which included leather interior. A total of 28,138 One-Twenties were produced in 1940 over nine different body styles.

This particle example is a triple-black Convertible Sedan that has recently been released from two decades in a private collection in California. Before moving to the West Coast, the car spent time in the mid-1980s with collector Dino Drosas, from South Carolina, before passing in 1987 to Jim Sweeney, from Massachusetts and Florida, who commissioned a cosmetic restoration that was carried out in the mid-1990s.

The car has a dash clock, a DeLuxe steering wheel, fog lights, bumper guards in the front and rear, and dual side-mounted spares with full metal covers, including correct decorative spears and pedestal mirrors. The correct original jack is also included.

The car has been treated to a restoration and has accumulated fewer than 3,000 miles since that time.
By Daniel Vaughan | Jan 2014
Packard's first entry into the medium-price field - the One-Twenty - was introduced in 1935. This was followed by a six-cylinder model, dubbed the Six in 1937 and later called the One-Ten. These two Junior models quickly became Packard's best-sellers and accounted for over 92 percent of production for 1940. Among the 98,000 examples produced, just 1,761 were One-Twenty convertible coupes.

For 1940, the Packard eighteenth series received the traditional Packard grille flanked by two vertical side grilles, while sealed beam headlights were fitted directly on the fenders with parking lights mounted on the fender crowns. The cylinder heads were redesigned for better intake gas flow, the hood length was increased to allow for easier mounting of side-mount spares when ordered, and the options list was longer than ever. Packard also became the first manufacturer to offer air conditioning.

This example features the optional 'Glass Wing Deluxe Emblem,' known by some as the 'Goddess of Speed' hood ornament. This vehicle also has fog lights and sleek rear wheel fender skirts. It has an older restoration and was sold new in Beverly Hills, California but has most recently been part of a collection in Tennessee. It is finished in maroon with tan Haartz top and dark maroon leather interior. The eight-cylinder engine displaces 282 cubic-inches and offers 120 horsepower. There is a three-speed synchromesh manual transmission and four-wheel hydraulic brakes.

In 2012, the car was offered for sale at the St. Johns sale presented by RM Auctions. It was estimated to sell for $70,000 - $100,000. Bidding reached $47,500 but was not enough to satisfy the vehicle's reserve. It would leave the auction unsold.
By Daniel Vaughan | Oct 2012
| | |
| --- | --- |
| | Club Sedan |
Packard built premier luxury and quality automobiles from 1899 until 1958. While founded in Warren, Ohio, Packard is best known for their Detroit, Michigan produced automobiles. Unique symbols such as the trademark red hexagon and Coat of Arms readily identify the marque. Their radiator ornaments were equally graceful and well known with the most famous being The Goddess of Speed, Adonis at the Well, and the Cormorant. Their most memorable slogan was 'Ask the Man Who Owns One.'

Production of the 1940 models started in August of 1939. Records show that this Packard was delivered to a dealership in October 1939. The Packard 120 features a 120 hp @ 3200 RPM, 282 cubic-inch flathead straight eight engine.
The Packard 110 and the 120 were given a major redesign for 1940 with the distinctive Packard grille now flanked by two side grilles and the hood louvres also restyled. The front fenders now housed sealed beam headlamps with streamlined parking lights situated at the top of the fender crowns. There were several important mechanical upgrades such as a new cylinder head design for improved fuel intake. Even with these mechanical upgrades, the horsepower remained the same at 120 bhp.

For 1940, there were a total of 28,138 examples of the Model 120 produced. This station wagon example was given a no-expense-spared, 10-year restoration that was completed in mid-2005.

Coachwork for the station wagon bodies was handled by the Hercules Body Company of Evansville, Indiana, who also built wagon bodies for Buick. The Hercules Body number is 143. The body is painted in its original shade of Inverness Green and has several options such as an overdrive transmission, dual side-mount tires, tire metal covers, front and rear bumper guards and grille guards, a Packard script locking fuel cap, dual heaters and a six-button Packard custom radio.

In 2006 and 2007 it has earned its AACA National Junior and Senior awards and the AACA Joseph Parkin Award in 2008 for the best prewar Packard in the Eastern Division.

In 2009, this Station Wagon was offered for sale at the Gooding & Company auction in Scottsdale, Arizona. The car was estimated to sell for $220,000 - $270,000. The lot was sold for a high bid of $198,000, including buyer's premium.
By Daniel Vaughan | Apr 2009
The Packard One-Twenty was given its name due to the size of its wheelbase (120-inches). It was powered by an eight-cylinder engine capable of producing 110 horsepower. This, along with the 110 series became known as the 'Junior' model line, and during the Great Depression years, they became the companies 'bread-and-butter.'

The Packard 120 models were offered in a wide range of bodystyles, an independent suspension, and hydraulic brakes.

This 1940 Packard 120 Convertible Coupe has less than 36,000 original miles. It has been given a recent professional restoration and there is a new tan convertible top.

In 2008 it was offered for sale at the Hilton Head Sports & Classic Car Auction presented by Worldwide Auctioneers. It was estimated to sell for $80,000 - $100,000. Bidding failed to satisfy the reserve and the lot was left unsold.
By Daniel Vaughan | Nov 2008
This Roadster under went an extensive restoration more than five years ago. It now resides in a private museum, and is shown on a very limited basis. It is fully loaded with dual side mounted spares, fog lamps, dual spot-lights, luggage rack, heater, Warner Gear overdrive, factory power top, bumper guards and a power top.

It is powered by a 120 horsepower 282 cubic-inch inline-eight with a 3-speed shifter. It also has independent front suspension and four-wheel hydraulic brakes.

This 1940 Packard 120 Convertible Coupe returned to Hilton Head Island, SC in 2007 where it was offered for sale at the Sports and Classic Car Auction presented by The Worldwide Group. It was estimated to sell for $80,000 - $100,000.

This car is finished in a stunning French Blue color and is one of only a few that were given this color from the factory. It has been treated to a restoration and traveled just 167 miles since that time.

At auction the car found an interested buyer and was sold for $72,100, falling just short of the estimated value.
Convertible Victoria
Coachwork: Darrin

This Packard 120 Eight was one of the Darrin bodied Packards that were built in Hollywood, California before production moved to Connersville, Indiana, where the balance of the Darrin-designed Packards were built. It remains in 'as found' condition, with only minor cosmetic work performed as needed.

The 1940 120 Darrin Convertible Victoria is powered by Packard's dependable 120 horsepower, 282 cubic-inch straight eight engine. Interestingly, the 1940 Packards were the industry's first production cars to offer air conditioning.

This is the only Darrin Town Coupe built. It was built in California and remained there until acquired by the current owner. The body is similar to ones used on the Super Eight Victorias with the exception of short rear fenders and running boards. The 120 series used Packard's standard, 120 horsepower in-line eight.

By 1940, these customized Packards now appeared in Packard sales literature and were favorites of individuals who wanted something just a bit more distinctive than Packard's regular offerings.
The Packard One-Twenty was produced from 1935 through 1937 and again from 1939 through 1941. The One-Twenty signified Packard's move into the mid-priced eight cylinder market; a highly competitive segment that was filled with many marques with numerous offerings, options and price ranges. The move had been made due to financial reasons and the need to stay competitive; the Great Depression was taking its tool on the entire automotive industry but mostly on the high priced manufactures. The lower cost marques also had a tough time but a few were still able to move a considerable amounts of products and wade out this terrible time in history.

The One-Twenty was quickly designed, created, and made ready for sale. First offered in 1935, it could be purchased in numerous body styles that included coupes, convertibles, and two- and four-door configurations. Under the hood lurked an L-Head eight cylinder engine capable of producing 110 horsepower. The price range was competitive, with prices ranging from the mid $900's to the low-$1000's. This combination of mid-cost and adorned with the Packard nameplate proved to be the right combination and in its first year nearly 25,000 examples were created. The rest of the Packard model lines only accumulated to around 7000 examples being sold.

For 1936 Packard increased the displacement of the engine and horsepower rose to 120 and gave the One-Twenty a top speed of 85 mph. A convertible four-door sedan was added to the line-up with a $1395 price tag, making it the most expensive One-Twenty body style. Sales continued to be strong and more than doubled over the prior year. This would be the best sales year for the Packard One-Twenty.

Packard introduced the Six in 1937. This was the first time in ten years that a six-cylinder engine could be found in a Packard. The reasoning was again economics and the constant struggle to stay in business by offering a quality product at a reasonable price. The Packard Six meant that the One-Twenty was to move higher up the market, being offered with more amenities and options. Two of these options were the 'C' and 'CD' trim levels. A wood-bodied station wagon and Touring Sedan were added to the line-up. A limousine body style, sitting atop a 138 inch wheelbase was also available for the first time, setting the buyer back a hefty $2000. There were 50,100 examples of all One-Twenty body styles producing during this year.

To conform to Packard's standard naming conventions, the One-Twenty was known as the Packard Eight for 1938. A year later, it was back to being called the One-Twenty. There were still a slew of body styles to choose from, able to satisfy all of their customer's desires and needs. The price range was competitive, costing from around $1100 to $1856. Though the product and the price were good, sales were slow with only 17,647 units being produced. The recession was taking its toll. Packard had even introduced many new mechanical improvements such as placing the shifter on the column rather than on the floor. For the following years, sales began to rise again, now amassing to 28,138 examples being produced. The name One-Twenty was now hyphenated.

For 1941 Packard offered the One-Twenty in eight body styles. The styling had been modified from the prior years, with the headlamps now residing in and on the fenders.

The One-Ten and One-Twenty were both dropped in 1942 and their names were merged with the Packard Six and Packard Eight lines. The One-Twenty had in production for seven years and 175,027 examples were produced.
By Daniel Vaughan | Sep 2010
For more information and related vehicles, click
here
2014 CHEVROLET CAMARO Z/28 PRICED AT $75,000
DETROIT – Chevrolet today announced the 2014 Camaro Z/28 will go on sale this spring with a suggested retail price of $75,000, including a $995 destination charge, but excluding tax, title, license and dealer fees. The new Z/28 is offered in five exterior colors – Red Hot, Black, Silver Ice Metallic, Ashen Gray Metallic and Summit White. Only a single option is available: A $1,150 package that adds air conditioning and a total of six audio speakers. The standard Z/28 package includes o...[Read more...]
POTEET, CIZEK EARN TOP AWARDS AT GOODGUYS 16TH PPG NATIONALS
Columbus, OH – Tennessee's George Poteet and Nebraska's Ron Cizek collected the top two awards at the Goodguys 16th PPG Nationals in Columbus, Ohio last weekend. Under brilliant sunshine and in front of record crowds, Poteet's vintage NASCAR-inspired '69 Torino won the Goodguys 2013 Optima Batteries Street Machine of the Year while Cizek's popular Ridler award-winning '40 Ford coupe collected the Goodguys 2013 Classic Instruments Street Rod of the Year title. For Cizek, it's the second ma...[Read more...]
Land Rover Celebrates 65 Years Of Technology And Innovation
SIXTY-FIVE YEARS OF LAND ROVER From our earliest days, the desire to create a vehicle that will tackle any terrain has made Land Rover famous around the world. Over the past 65 years, the Land Rover family has grown into the highly respected range of vehicles that are sold in record numbers today. As Land Rover continues to go from strength to strength, we thought it was time to look back at the milestones in our history that have got us here. The last 65 years have been an adventure. ...[Read more...]
Magnificent Series of Coachbuilt Classics To Grace RM's Amelia Island Concours D'Elegance Sale
• RM Auctions returns as the official auction house of the Amelia Island Concours d'Elegance, March 9, 2013 • Single-day sale features breathtaking roster of more than 80 investment-quality collector cars • Notable highlights include an outstanding series of coachbuilt classics headlined by a multi-million-dollar 1935 Duesenberg Model SJ Walker-LaGrande Convertible Coupe and a trio of Cords from the personal collection of Jim Fasnacht • Frequently updated list of entries available online at r...[Read more...]
Barrett-Jackson Breaks Sales And Attendance Records At Its Spectacular 5th Annual Las Vegas Auction
The World's Greatest Collector Car Auctions™ Brings Together Auto Enthusiasts from Near and Far Barrett-Jackson, The World's Greatest Collector Car Auctions™, announced today that it generated more than $23 million in sales of rare, high-end collectible vehicles, exotics, customs, classics and Shelbys during its 5th annual Las Vegas auction. The auction company increased its overall hammer average from 2011, proving that the car market is stronger than ever. Automobilia sales reached m...[Read more...]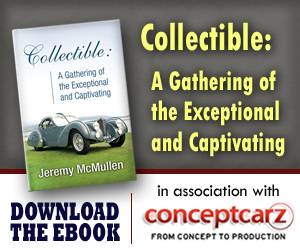 © 1998-2014. All rights reserved. The material may not be published, broadcast, rewritten, or redistributed.