1936 Bentley 3.5 Liter news, pictures, specifications, and information

Tweet
This car was exhibited at the 1936 New York Motor Show on the Brewster stand and was the last 3½ liter chassis.

In January, 1937, the first private owner was Francis (Frank) DuPont, who designed the Interstate Highway system for President Dwight D. Eisenhower.

This Derham customized body was changed from a Tourer to a Drop Head. It is the only Bentley bodied by Derham. It is the only Bentely with two body builders from New York: Vanden Plas - England - Tourer Body and J. J. Derham - USA - 2-door Drophead Body. It is powered by a 3,669 cc in-line, six-cylinder engine.
From 1933 through 1936, there were 1,177 Bentley 3.5-Litre cars produced. Just only chassis were delivered to Windovers, a British coachbuilder that was founded in 1796 and continued until 1956.

This is a one-off Bentley and features custom coachwork by Windover Coachworks. The Sedanca body design is attributed to Howard 'Dutch' Darrin.

This award-winning Bentley earned the 'Best European Car' award at the prestigious Pebble Beach Concours d'Elegance following a frame-off restoration.

The 1933-37 3½ litre Bentley was the first Bentley built after the original firm folded in 1931 and was sold to Rolls-Royce. It was known as 'the Silent Sportscar.' All Bentleys carried bodies by custom coachbuilders such as Windover.

This car was tailored for its original owner, B. Gootnick, who accepted delivery in March of 1936. It was later owned by Dr. Mark Sheppard, followed by Herbert Boyer. Mr. Boyer showed the car at the Pebble Beach Concours d'Elegance in 1983, where it won First in Class and the Lord Montague Trophy. Then, it underwent an extensive body-off restoration before it was shown by him again at Pebble Beach in 1993. Owner shop later changed to the Blackhawk Collection. In 2002, it was sold by Mr. Williams of the Blackhawk Collection to Mr. Swimmer. In 2003, it was shown at Pebble Beach.

The overhead valve, six-cylinder 3½ litre motorcars were built at Derby, not Cricklewood. Wheelbase was 126 inches. Total production of the 3½ litre Bentley was 1,177.
In 1931 Bentley Motor was purchased by Rolls-Royce. As a result the Bentley factory was moved to Derby. Many of the future designs of the Bentleys utilized the Rolls-Royce creations and borrowed many of their mechanical components. The first example of this was in 1933 with the introduced of the Bentley 3 1/2 Liter which was very similar to the newly introduced Rolls Royce 20/25. To continue Bentley's heritage and racing accomplishments the Bentleys were given a sportier design and a more powerful engine. The Rolls Royce vehicles were outfitted with luxurious amenities and elegant designs.
As was customary at the time, automobile manufacturers supplied various coachbuilders with rolling chassis and left it to the coach builder to design and build the body of the vehicle. This meant that each vehicle could be created to the exact requirements as dictated by the customer. By utilizing a similar chassis, the coachwork for the Bentley's and the Rolls-Royce were streamlined, making it easier on the coachbuilder.

During the production lifespan of the Bentley 3.5 Liter which lasted from 1933 through 1937, around 1177 examples were created in various size, configuration, and coachwork. Power was supplied from a straight-six cylinder engine with overhead valves and two SU carburetors. The 110 horsepower was distributed to the rear wheels through a four-speed manual gearbox. Performance was modest with a top speed nearing 100 mph. The performance of the Bentley was further increased with the introduction of the Bentley 4 1/4 Liter which featured a larger engine and a higher compression ratio.

The low production figures of the Bentley 3 1/4 guarantees their exclusivity in modern times and is further amplified by the unique designs created by some of the most famous coachbuilders during that era to include Mulliner, Vandenplas, and others.

Derby Bentley's
The vehicles that were first produced by Bentley under the ownership of Rolls Royce in the factory located in Derby, are commonly referred to as the Bentley Derby's. The union between Rolls Royce and Bentley was a marriage of quality construction, reliability and sporting heritage. The engine and chassis of the Derby Bentley's were constructed by Bentley with the final construction and assembly handled by coachbuilders, selected by the customer and built to their specifications.

The engine sizes ranged throughout the years from a 3.5 liter unit to a 4.25 Liter unit, later fitted with overdrive. There were over 1,100 examples of the 3.5 liter vehicle created in less than three years. Most were bodied by Park Ward and given the standard bodies consisting of wood and aluminum or steel. Other coachbuilders include Rippon, Thrupp & Maberly, Saoutchik and vanvooren, Vanden Plas, James Young, Barker, Freestone & Webb, Gurney Nutting, Hooper, Mann Egerton, Mulliner, Figoni, Kellner, and more.

A total of 2422 examples left the Derby factory. Most were in Saloon configuration. Drophead Coupe configuration was next most popular configuration.
By Daniel Vaughan | Oct 2006
For more information and related vehicles, click
here
Postwar Ferrari Named Best of Show at 2014 Pebble Beach Concours d'Elegance
1954 Ferrari 375 MM Scaglietti Coupe Named 'Best of Show' PEBBLE BEACH, Calif. (August 17, 2014) -- Excited cheers echoed across the 18th fairway of Pebble Beach Golf Links Sunday when a 1954 Ferrari 375 MM Scaglietti Coupe was named Best of Show at the 64th annual Pebble Beach Concours d'Elegance. The car, owned by Jon Shirley of Medina, Washington, was the first postwar car to take the top award at the prestigious event in nearly five decades. It was also the first Ferrari to win. ...[Read more...]
ROLLS-ROYCE CELEBRATES THE 2013 GOODWOOD REVIVAL
Rolls-Royce Motor Cars will celebrate a record Goodwood Revival this weekend, with all three days of the popular event selling out a month ahead of the event for the first time. The local manufacturer of super-luxury motor cars will host customers, prospects, VIPs and also entertain the thousands of visitors to the world's most popular historic motor race meeting in true Rolls-Royce style. This year the Rolls-Royce showroom at the March Motor Works – an authentic recreation of a 1960s dealers...[Read more...]
Gooding & Company's 10th Anniversary Pebble Beach Auctions Realizes More Than $112 Million
28 New Auction Records Set at Two-Day Pebble Beach Auctions in 2013 Pebble Beach, Calif. (August 20, 2013) – Gooding & Company, official auction house of the Pebble Beach Concours d'Elegance® and acclaimed for selling the world's most significant and valuable collector cars, realized more than $112 million at its Pebble Beach auctions over the weekend. During the two-day sale, Gooding & Company sold 116 of the 127 lots offered, for a 91% sale rate, with an average price per lot ...[Read more...]
RM Auctions Posts a Spectacular $95 Million in Monterey
• RM Auctions generates more than $95.7* million in sales, with a strong 89 percent of all lots sold, at its celebrated Monterey, California sale • 20 cars achieve over $1 million, five of which exceed the $5 million mark • Two-day sale establishes numerous new auction records, including a new world record for the most expensive American automobile ever sold at auction • Top-sellers: 1968 Ford GT40 Gulf/Mirage Lightweight Racing Car achieves $11,000,000; 1962 Ferrari 250 GT SWB California Sp...[Read more...]
Final Countdown Underway to RM's Michigan Sale
RM Auctions, the official auction house of the Concours d'Elegance of America, has secured a wonderful selection of classic automobiles for its St. John's sale, July 28, in Plymouth, Michigan. Hosted on the beautiful grounds of the Inn at St. John's, the single-day sale is a mainstay on the auction concours circuit and boasts a reputation for including exceptional American classics. The upcoming sale, featuring more than 70 quality collector cars, presents nearly a century of American and Eu...[Read more...]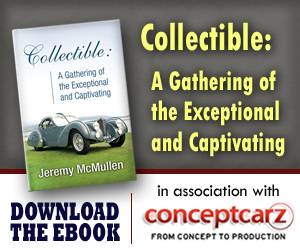 Bentley
Monthly Sales Figures
Volume
December 2014
412
November 2014
323
October 2014
282
September 2014
236
August 2014
241
July 2014
201
June 2014
216
May 2014
233
April 2014
209
March 2014
280
January 2014
192
(More Details)
© 1998-2014. All rights reserved. The material may not be published, broadcast, rewritten, or redistributed.