Acura RL Luxury Performance Sedan Combines Sleek Styling, Super Handling All-Wheel Drive(TM) (SH-AWD) and a Comprehensive List of Technology Features
With a powerful VTEC-V-6 engine, the Super Handling All-Wheel Drive system (SH-AWD(TM)), Real Time Traffic and sleek styling, the Acura RL has broken sales records each month since it debuted in October of 2004 and carved a niche for itself in the extremely competitive luxury performance category. For 2006, Acura debuts an optional RL Technology Package wîth three new leading edge technology features: the first North American application of a Collision Mitigation Braking System(TM) (CMBS(TM)), Adaptive Cruise Control (ACC) and Michelin(R) PAX(R) Run-flat tires. In addition, the RL, like all 2006 Acura models, will be covered by a six-year or 70,000 mile limited powertrain warranty in addition to the four-year or 50,000 mile limited standard bumper-to-bumper warranty.
(R)The Technology Package for the RL provides the ultimate in Acura safety technology,' said Dick Colliver, vice president, sales. (R)The addition of CMBS and PAX Run-flat tires to the existing suite of safety features highlights Acura's commitment to safety through innovation.'
The new optional Technology Package marks Acura's first application of CMBS technology. Úsing a millimeter-wave radar unit located inside the grille, the CMBS system monitors the distance and closing rate between the RL and the vehicle directly in front of it. It then uses that information to continuously calculate the likelihood of a frontal collision.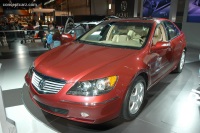 CMBS operates in three stages. In the first two stages, if the system determines that the closing rate between the RL and the vehicle directly in front of it has increased beyond an acceptable level the RL uses audible, visual and tactile warnings to alert the driver, and help the driver avoid a collision, and in stage two, applies light braking. If the system determines that a collision has become inevitable, the system activates its third stage, forcefully retracting the driver's and front passenger's seatbelts and forcefully activating the brakes to reduce the speed of impact and mitigate the damage of a collision.
The optional technology package also includes Adaptive Cruise Control (ACC). This unique system not only functions like a conventional cruise control system, allowing the RL to maintain a constant pre-set speed, it can also compensate for varying traffic flow, adjusting vehicle speed automatically by applying throttle and braking to maintain a consistent following interval (measured in seconds) between the RL and the car directly in front.
The third component of the RL Technology Package is Michelin PAX Run-flat tires. This unique tire and wheel design helps provide enhanced safety and convenience by allowing the RL to drive up to 125 miles at 50 mph following a tire puncture.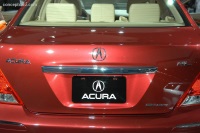 And while the RL is one of the most comprehensively equipped vehicles in its class from a safety standpoint, it is no less well equipped from a performance standpoint. It features a groundbreaking all-wheel drive system that gives it the most precise handling in its class. The Super Handling All-Wheel Drive(TM) System (SH-AWD(TM)) is the only all-wheel drive platform that distributes the optimum amount of torque not only between the front and rear wheels but also between the left and right rear wheels. During straight line cruising and moderate cornering, up to 70 percent of torque is delivered to the front wheels. During full throttle acceleration or spirited driving, up to 70 percent of available torque is directed to the rear wheels for increased acceleration and enhanced cornering. In addition to varying the torque front to rear, SH-AWD varies the amount of torque to the left and right rear wheels. When cornering, this ground-breaking technology overdrives the outer rear wheel by up to 5 percent using an exclusive acceleration device, while electromagnetic clutches send up to 100 percent of rear torque to that wheel to dramatically enhance the RL's cornering, §teering feel, handling and stability. The result is class-leading cornering performance and cornering stability as well as enhanced traction on dry or wet surfaces.
The RL's 3.5-liter, 24-valve, all-aluminum VTEC engine is the most powerful engine ever in an Acura, generating 290hp SAE net (rev 8/04)* at 6200 rpm and 256 lb-ft of torque SAE net (rev 8/04) at 5,000 rpm. A variable flow exhaust system helps to generate additional. (*For the 2006 model year, all Acura horsepower and torque specifications have been updated to reflect revised Society of Automotive Engineers (SAE) J1349 (Rev 8/04) net calculations that went into affect in January of 2005. These new calculations reflect a number of significant changes in the way horsepower and torque are measured and may cause SAE net horsepower and torque totals published in 2006 media materials to differ from the figures published in previous years. To avoid confusion, all 2006 Acura press materials will specify (R)SAE net (Rev 8/04)' after all horsepower and torque figures to denote adherence to the new standards) horsepower. It is equipped wîth two close-coupled primary catalytic converters for quicker light off and a secondary underfloor catalytic converter, which help it to meet LEV2-ÚLEV standards.
( posted on conceptcarz.com)
In addition to the extra power, the RL achieves fuel economy of 18/26 mpg (city/highway)
The RL features a 5-speed Sequential SportShift automatic transmission that enables gears to be shifted manually using the shift lever on the center console or wîth the paddle-shifters located on the §teering wheel. This compact gear box features wide gear ratios optimized for precise shifting, dynamic performance and superior fuel economy.
To complement the high performance powertrain, Acura gave the RL a highly rigid unit body structure that is also light due to aluminum sub frames, hood, trunk lid, and front fenders. The trunk lid and fenders are made using an innovative new blow molding process, which increases rigidity and allows shaping that would not be possible wîth other molding methods.
The RL is the first Acura model to utilize the Advanced Compatibility Engineering(TM) (ACE(TM)) body structure, designed to enhance passenger safety. The ACE structure helps to disperse collision forces over a larger frontal area. The system also helps provide enhanced protection for vehicle occupants while at the same time increasing compatibility wîth other vehicles in a frontal collision.
The RL's lightweight chassis and 4-wheel independent suspension components are tuned to complement the SH-AWD system and deliver a linear cornering feel, optimum cornering traction and a smooth ride. The standard 17x8-inch alloy wheels are fitted wîth P245/50R17 98 V-rated Michelin all-season high performance tires that fill the wheel wells and add to the RL's aggressive stance. Large 4-wheel disc brakes wîth aluminum 4-piston front calipers, ABS, Electronic Brake Distribution (EBD) and Brake Assist provide optimum stopping power.
The RL's sleek exterior styling reflects the abundant power under the hood. In front, a dramatically sloping hood leads down to an aggressive front fascia wîth angular headlight treatments, a signature Acura five-sided grill and distinctive lower air intake openings. A sleek cockpit, a forward sloping beltline and a short deck lid accent the RL's pronounced wedge shape, making it look fast from any angle.
The RL also features the Active Front Lighting System (AFS) for increased illumination and visibility. Low beams swivel up to 20 degrees in either direction in response to vehicle speed and input from the §teering wheel. During straight-line driving the headlights perform like conventional systems by illuminating the road directly in front of the vehicle. When cornering, the inboard light swivels according to input from §teering and vehicle speed sensors to illuminate a larger area of road surface throughout the corner, thus minimizing blind spots.
Inside, the RL is as luxurious as it is sporty. The interior features rich leather, genuine wood trim, and an assortment of leading-edge technology including standard real-time traffic information integrated into an in-car satellite navigation system featuring AcuraLink(TM)*. Útilizing the XM NavTraffic(TM) service beamed via satellites, the large 8-inch navigation screen can display a variety of up-to-the-minute traffic information where available, including flow (traffic speed), accidents, and construction on freeways in 22 major metro areas including Los Angeles, New York and Chicago. Flow and accident information are updated continuously, allowing drivers to take the least congested route to their destination. For 2006, traffic flow graphics have been enhanced and sharpened for enhanced visibility.
In addition to enabling the real-time traffic feature, the AcuraLink satellite communication system allows for communication between Acura and the vehicle, providing customers wîth the latest diagnostic information specific to their vehicle as well as vehicle-related messages. Because it works wîth the car's HandsFreeLink(TM) wireless telephone interface, drivers can respond to messages or one-touch-dial Acura dealers and Acura Roadside Assistance (TLC) using their Bluetooth phone.
The RL also features a premium 10-speaker Acura/BOSE(R) DVD-Audio system that uses Bose Cabin Surround(TM) circuitry to deliver surround sound to all seating positions. This innovative system utilizes eight distinct channels (compared to two on a typical premium stereo system) to deliver sound resolution 500 times greater than CD. In addition, Centerpoint(TM) signal processing circuitry processes stereo recordings to five independent channels, to deliver simulated surround sound from conventional CDs. Road, wind and other intrusive noise is neutralized through the application of AudioPilot noise compensation technology, which monitors cabin noise and adjusts the sound balance accordingly.
Another standard feature is the Acura Navigation System wîth Voice Recognition(TM). This easy to use system features a menu of 560 voice commands, an 8-inch display, a comprehensive destination guide wîth over 7 million points of interest, 3-D graphics for freeway interchanges, on and off-ramps and turn-by-turn voice guidance. In addition, Ú.S. cities and street names (1.7 million) may be accessed through the voice recognition command. The system can be accessed through the §teering wheel-mounted voice recognition buttons or by using the Interface Dial located on the instrument panel.
The RL also features a Bluetooth-based wireless phone interface as standard equipment. The HandsFreeLink(TM) wireless telephone interface enables a Bluetooth wireless interface wîth mobile phones, allowing calls to be made and received utilizing the RL's §teering wheel-mounted HandsFreeLink button, which connects their phone to the system.
The RL is the first Acura equipped wîth the Keyless Access System, which allows owners to lock and unlock doors, open the trunk, and start the car without using a key. The RL's key fob is equipped wîth a transmitter that communicates wirelessly wîth sensors in the car. When the fob comes within approximately two and a half feet of the car, the system links and the doors can be locked or unlocked simply by touching the door handle. The engine is turned on and off by using a switch on the §teering column.
In addition to the ACE body structure and the optional Technology Package, the RL incorporates an assortment of the latest safety systems and devices including a full complement of front, side and side curtain airbags, as well as Vehicle Stability Assist (VSA(TM)). The RL has earned 5 Stars, the highest possible ratings awarded, in frontal and side crash tests for all seating positions and a 5-star rollover resistance rating from the Ú.S. Department of Transportation's Highway Traffic Safety Administration (NHTSA). The RL is only the fourth vehicle in the history of the program to earn the top rating of 'five stars' in all three categories.
Acura offers a full line of premium performance vehicles through a nationwide network of more than 264 dealers. The 2006 Acura lineup features five distinctive models including the RL luxury performance sedan, the TL performance luxury sedan, the TSX sports sedan, the race-bred RSX sports coupe, and the award-winning MDX luxury sport utility vehicle.
Source - Acura Media